Home Donate New Search Gallery Reviews How-To Books Links Workshops About Contact
LEICA 35mm f/2.8
LEITZ SUMMARON (1958-1974)
© 2009 KenRockwell.com. All rights reserved.
Intro Specs Performance Compared Recommendations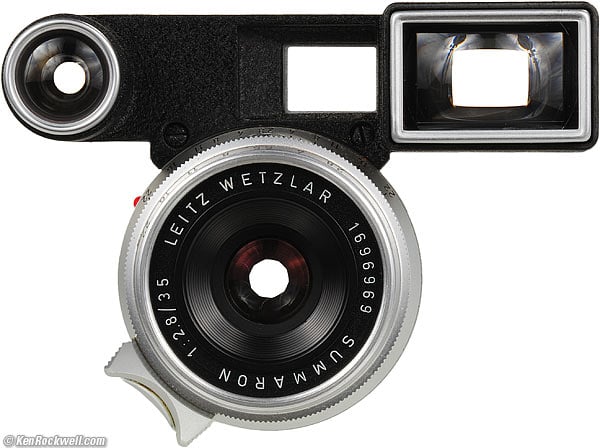 LEICA LEITZ 35mm f/2.8 SUMARON at f/5.6. This sample is an M3 version crafted in 1959. enlarge. (39mm filter, 8.420 oz./238.7g, about $800 used). This free website's biggest source of support is when you use these links, especially this link directly to them at eBay (see How to Win at eBay) and at Adorama, when you get anything, regardless of the country in which you live. Thanks! Ken.
April 2012, May 2009 LEICA Reviews LEICA Lenses Recommended Lenses
How to Afford Anything LEICA Lens Names
| | |
| --- | --- |
| Optics: | |
| Mechanics: | |
| Ergonomics: | |
| Usefulness: | |
| Availability: | |
| Price | $300 - 900 used |
| Overall: | |
Ideal Uses
Perfect lightweight, inexpensive 35mm lens for LEICA. Even the goggled version shown here weighs 1/2 oz (15g) less than today's 35mm f/2 ASPH!
Not for
Works great for everything, unless you really need f/2 or f/1.4.
Introduction top
Intro Specs Performance Compared Recommendations
This goofy-looking 50-year-old lens works marvelously well compared to LEICA's newest lenses.
The LEICA Leitz 35mm f/2.8 Summaron is exceedingly sharp, possibly sharper than the newest 35mm f/2 ASPH and 35mm f/1.4 ASPH at moderate apertures, has no distortion, and gives the same bold, vivid colors as LEICA's newest lenses.
Not only are the optics superb, nothing feels like a fine LEICA lens from LEICA's heyday. There are no compromises: LEICA is the best. Even the focus tab is solid metal, not the plastic of LEICA's best lenses of today.
The smooth focus feel of this 1959 sample still feels exactly like the focus of brand-new LEICA lenses, no small feat for any manufacturer.
The magic infinity-focus lock of this Summaron is far superior to earlier lenses like the collapsible 5cm f/2 Summicron, that had to be pressed backwards.
Considering that this 35mm f/2.8 sells used for about one-tenth the price of a new 35mm f/1.4 ASPH, and that even with the additional M3 optics shown above it's perfectly compatible with LEICA's newest cameras like the M7, this old lens is an extremely useful tool for today's LEICA photographer.
Finders, Versions and Compatibility
All the Leitz 35mm f/2.8 lenses use the same excellent optics.
The 35mm f/2.8 Summaron comes either with auxiliary reducing optics for optimum results with the LEICA M3, or without them for use on newer cameras.
Leitz calls these auxiliary optics a "finder attachment" and laypeople call them "goggles." Whatever you call them, I think it makes the lens look like the Milhouse character from The Simpsons.
Oskar's spirit lives on in all LEICAs. Even this goggled version is perfectly compatible with the newest LEICAs, including of course LEICA's newest M7. On newer cameras like the LEICA M9, the goggled version selects the 50mm frame and the reducing optics fit the 35mm field of view into it.
I'm reviewing the goggled version you see here.
This same lens is also found without the additional finder optics, which is what most people shooting anything else other than an M3 will prefer. The non-goggled (M2) version came in both modern M bayonet mount, as well as screw mount.
The M3 has an almost life-sized finder, but because it's so big, the widest lens it covers is 50mm. The additional finder attachment of the M3 version squeeze the 35mm field into the 50mm viewfinder frame.
The goggles are two little backwards telescopes: the rectangular one covers the finder, and its little brother ensures that the rangefinder spot matches the main view.
Don't dare attempt to remove the goggles for use on newer cameras. If you do, you will be cursed by the spirit of Oskar Barnack and the 35mm lens will continue to select the camera's 50mm framelines!
Worse, if you try to remove Oskar's goggles, the lens' rangefinder coupling is calibrated to see an 0.7x reduction through the rangefinder, so if you remove the goggles, you will now need to recalculate a different distance to set on the focus ring for each distance indicated on the focus ring when focused without the goggles. Leave them on and you won't have to worry about any of this.
Buy a goggle-free version if you wish, called the M2 version in its day because the M2 had a smaller finder with a 35mm frame that the larger M3 finder did not.
If you use the screw-mount version on a screw-mount LEICA, or draw the short straw and get an M2 version without the supplemental optics and want to shoot it on an M3, no problem: use an external 35mm finder.
Format introduction top
I write these reviews for the true LEICA photographer. He shoots full-frame.
I'm shooting and testing these on full-frame digital and film.
Full frame digital? Easy! I have my lab scan everything as they run my film, so I already have every shot backed up at high-resolution (50MB) on DVD when I pick up my film. They do this cheaply enough that I have everything scanned as I have it processed. They're more than happy to do your film, too, by mail.
I load these DVDs into my system faster than fiddling with memory cards, and I'm done, at far higher resolution than if I wasted my time with an M8.
I'm largely ignoring the half-frame M8, which should blow over as did Nikon's half-frame DX cameras like the D1X and D2Xs.
The M8 came out back in 2006 when people still settled for half-frame digital. I'm not going to bother reviewing lenses on the M8.2, since I don't feel like re-writing my reviews when LEICA replaces the M8.2 with a full-frame M-Kamera and we can all pretend the M8.2 never happened. I'm not made of money like the LEICA Man.
Compatibility Examples introduction top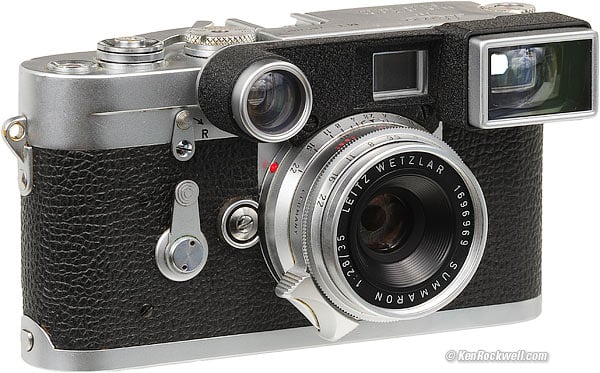 Leitz 35mm f/2.8 on a LEICA M3, as its creator intended. enlarge.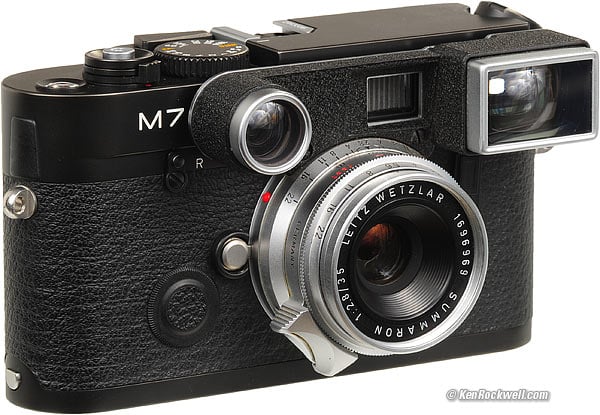 Leitz 35/2.8 on a LEICA M7, perfectly compatible as designed. enlarge.
The M2 (no extra optics) version is as compatible as every other LEICA M lens with everything.
Regardless of your LEICA, the M3 version shown here calls up 50mm frame lines and works swell.
If you're lucky enough to score the M3 version with the extra optics, it works great with real LEICA cameras, but not with non-LEICA cameras. Non-LEICA cameras put their finders in different places.
With non-LEICA cameras like the CLE, CL or those dirty little Voigtländers, the M3 lens works swell, but you'll lose focus and/or viewing.
The Zeiss Ikon has its finder and rangefinder close enough so that focus and framing work, even if they are far enough off that the view is wishy-washy.
Actual Size introduction top
Presuming you have a standard 106 DPI monitor, this is its actual size, which is 3.858" (98.00mm) wide, 2.815" (71.5mm) tall and 1.408" (35.77mm) deep: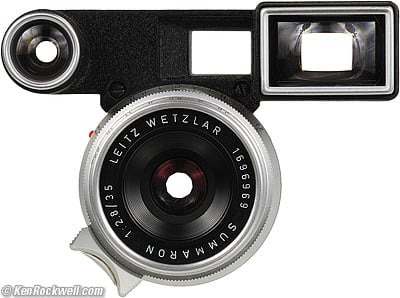 LEICA 35mm f/2.8 Summaron, actual size. enlarge.
The illustrations in this review have been enlarged to fit the page.
History introduction top
1974 - today
LEICA discontinued the 35mm f/2.8 in 1974.
I don't know if it was from lack of demand compared to the more expensive 35mm f/2 Summicron (sold in various versions since 1958) and the 35mm f/1.4 Summilux, introduced in 1961, or if LEICA decided to cancel the f/2.8 to try to push people into the more expensive lenses.
In those days, lens speed was everything because fast film was ASA 100.
1958-1974: Leitz 35mm f/2.8 Summaron
The lens reviewed here has 6 elements in 4 groups.
It is a faster and otherwise similar lens to the previous f/3.5, except that now LEICA refers to it as 35mm instead of 3.5cm.
1946-1960: Leitz 3.5cm f/3.5 Summaron
This similar 6 element, 4 group lens replaced the earlier 3.5cm f/3.5 Elmar.
If you're not paying attention, the latest M version of this f/3.5 lens looks and handles the same as the f/2.8 version revived here.
1931-1950: Leitz 3.5cm f/3.5 Elmar
The 35mm f/3.5 Elmar was LEICA's first 35mm lens.
It was a simple 4 element, 3 group Tessar variant.
Specifications with commentary top
Intro Specs Performance Compared Recommendations
Name Focal Length Angle-of-View Optics Diaphragm
Filter Thread Close Focus Case Caps Hoods
Size Weight Part Numbers Price
Name specifications top
LEICA calls this the LEITZ SUMMARON 35mm f/2.8.
Summaron means nothing except a LEICA-brand f/3.5 or f/2.8 lens.
Focal Length specifications top
35mm.
35mm equivalent: 35mm. Duh, this is a full-frame 35mm lens.
Digital Equivalent: 35mm. Duh, I shoot full-frame have all my film scanned direct to digital.
Digital Resolution: 25MP when shot on film.
Equivalent on the LEICA M8 (half-frame): 47mm.
Equivalent on the Epson R-D1x (half-frame): 53mm.
Angle of View (full-frame 35mm) specifications top
64º Diagonal.
54º Horizontal.
38º Vertical.
(less on lesser formats.)
Optics specifications top
6 elements in 4 groups.
Classic near-symmetrical double-Gauss design.
Single-coated in blue and magenta.
Most 35mm f/2.8 designs use only 4 elements, and it's enough. Better 35mm f/2.8 lenses, like in the Nikon L35AF, use 5 elements.
By using 6 elements, LEICA is building a very, very good lens.
Diaphragm specifications top
10 blades.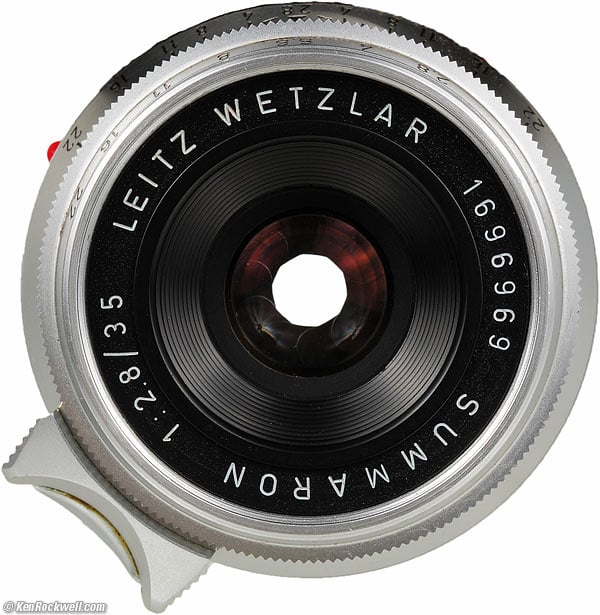 LEICA 35mm f/2.8 Summaron at f/5.6. enlarge.
Stops down to f/22 with full-stop clicks.
Reasonably straight blades except at f/4, where they scallop-in strongly.
Filter Thread specifications top
39mm, the LEICA standard.
Does not rotate.
Germans call this E39 and 39E, but it's the same standard 39mm (0.50mm pitch) filter that's available everywhere.
Avoid crappy accessories which may be cut at the wrong pitch. Stick with B+W and Hoya and you'll be fine.
Close Focus specifications top
M3 version: 0.65 meters (2' 2" or 26").
M2 version: 0.7 meters (2' 4" or 28").
Screw Mount version: 1 meter (3' 4" or 40").
Case specifications top
Unlike newer LEICA lenses, no case is included.
You ordered them separately depending on what you wanted to hold:
Leather case for M3 lens (with goggles): 14 552 R.
Leather case for M2 or screw mount lens (no goggles): 14 550 T.
Leather case for shoe-mount 35mm finder (alone): 14 620 Z.
Caps specifications top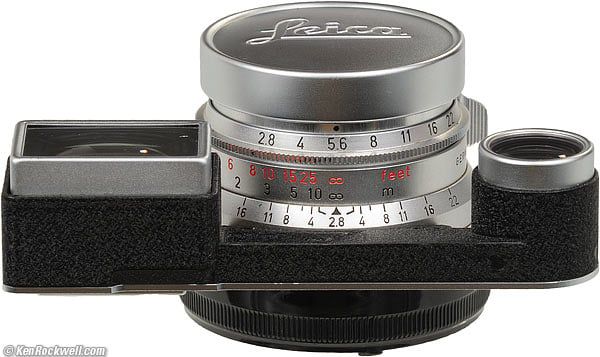 14 321 front cap, LEICA SUMMARON 35mm f/2.8 and 14 051 rear cap. enlarge.

As shipped, it included a chromed-brass slip-over 14 321 front cap and shallow 14 051 rear cap.

The brass front cap is lined with velvet for a smooth, snug fit. It is deep enough to fit well over a 39mm filter, which I have attached under the cap shown above.

Any snap-in 39mm front cap works swell, including LEICA's current snap-in 14 039 39mm front cap ($30).

The 14 051 rear cap of its era is two-piece plastic. This cap, black on the outside and gray on the inside, is shallower than today's caps, and isn't deep enough to work with today's wide lenses like today's 35mm f/2 ASPH, 28mm f/2.8 ASPH and 21mm f/2.8 ASPH.

Today, I use the standard 14 269 rear cap ($27) so it's compatible with my entire system.

Hoods specifications top

There is no hood included.

The hoods were extra-cost options, part numbers 12 571 J in 1961, and by 1964 it was the 12 585.

Today, the current 12 526 hood from the modern 35mm f/2 ASPH works even better than the originals because it's rectangular to block more stray sky light. It locks perfectly onto this 1959 lens, which has the same front diameter and retainer groove.

The only gotcha with the improved 12 526 hood is that you need to be careful not to knock it too much. This lens doesn't have the raised sections that keep the current rectangular hood from rotating.

Size specifications top

1.142" (29.0mm) extension from flange, 1.408" (35.77mm) overall.

2.008" (51.00mm) maximum diameter, ignoring focus tab and additional optics.

Additional optics make the ensemble 3.858" (98.00mm) wide and 2.815" (71.5mm) tall overall.

Weight specifications top

M3 lens and auxiliary optics: 8.420 oz. (238.7g).

Lens, optics and period caps: 9.190 oz. (260.5g).

Boxed Lens, optics and period caps: 13.145 oz. (372.6g).

LEICA specified the M2 lens as 6 oz.

Product Numbers specifications top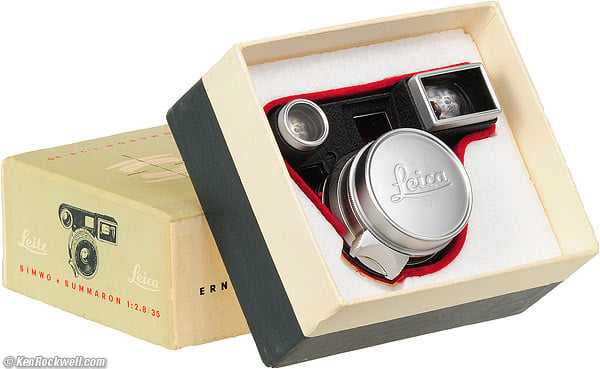 Boxed LEICA Leitz SIMWO 35mm f/2.8 Summaron. enlarge.
M3 lens and caps in foam and velvet-lined cardboard box as shown: SIMWO, later 11 106 Q.
M2 lens in polystyrene container: SIMOM, later 11 306 Y.
Screw mount lens in polystyrene container: SIMOO and later 11 006 P.
Lens Hood: IROOA, later 12 571 J (1961), 12 585 (1964), 12 526 (2009).
Shoe-mount 35mm finder for screw-mount cameras: SBLOO, later 12 010 P.
Leather case for M3 lens (with goggles): 14 552 R.
Leather case for M2 or screw mount lens (no goggles): 14 550 T.
Leather case for shoe-mount 35mm finder (alone): 14 620 Z.
Price specifications top
| | | | |
| --- | --- | --- | --- |
| | MSRP (M3) | MSRP (M2) | With inflation, 2009 |
| 1962 | $156 | $117 (screw, too.) | $1,100 (M3), $825 (M2 and screw) |
| 1964 | $156 | $117 | $1,070 (M3), $802 (M2) |
| 1965 | $154.50 | $120 | $1,050 (M3), $790 (M2) |
| 1969 | $186 | $144 | $1,080 (M3), $835 (M2) |
| 1971 | $189 | $144 | $990 (M2), $760 (M2) |
| | | | |
| 2009 | - | - | about $400 used |
(up through about 1965 the prices included Federal Excise Tax, an unjustified tax left over from WWII that the US government conveniently avoided lifting for as long as it could.)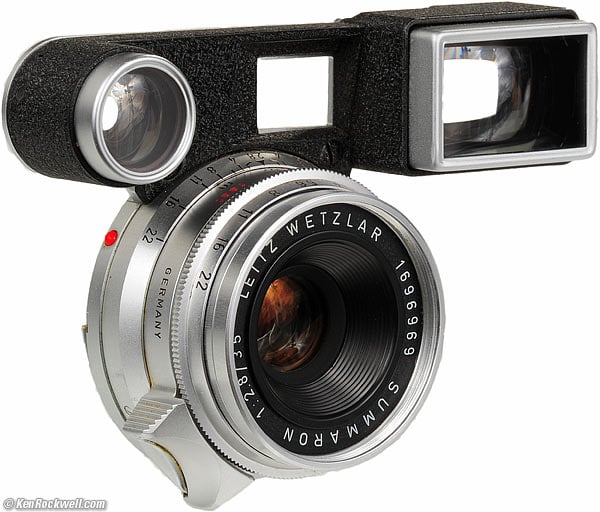 LEICA Leitz Wetzlar 35 2.8 Summaron. enlarge.
Performance top
Intro Specs Performance Compared Recommendations
Overall Aperture Ring Depth-of-Field Scale Diaphragm Linearity
Distortion Ergonomics Falloff Filters Finder Flare and Ghosts
Focus Lateral Color Mechanics Metering Sharpness Sunstars
Overall performance top
This LEICA Leitz 35mm f/2.8 feels and works great. There is no substitute for LEICA quality.
Aperture Ring performance top
The aperture ring is perfect.
One fingertip is all you need to adjust it by feel.
Depth-of-Field performance top
Depth-of-field is deep, as you'd expect for a slow, wide lens.
Sharpness falls off a little in the corners at f/2.8, and in most shooting conditions the defocus from depth-of-field works in concert with this softening to yield an harmonious whole.
Depth-of-Field Scale performance top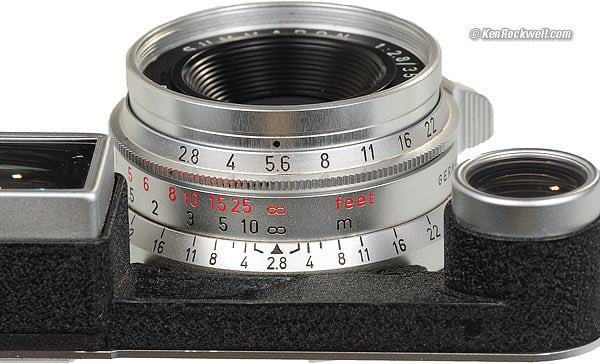 Depth of Field Scale, LEICA 35mm f/2.8 Summaron. enlarge.

The depth of field scale is lovely.

It's calibrated to the same 1/30mm circle-of-confusion as LEICA's current lenses.

Diaphragm Linearity performance top

The diaphragm is perfectly linear.

Each stop corresponds exactly stop-to-stop as metered in my M7.

This bodes well for getting precise and accurate exposures with an external meter, which was your only choice back in its day.

Distortion performance top

Distortion is invisible. I can't measure it at 8 feet (2.5 meters or 1:70), meaning it's below ±0.25 as corrected in Photoshop's Lens Distortion Filter.

Ergonomics performance top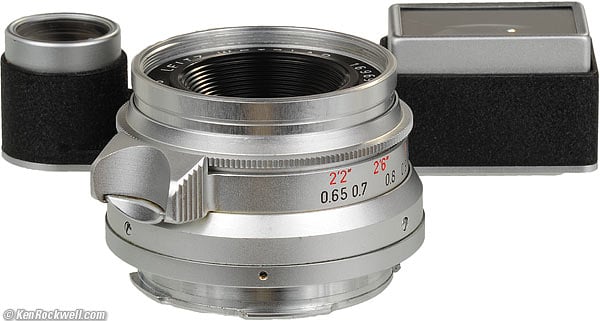 Bottom, showing focus tab and lock, LEICA 35mm f/2.8 Summaron. enlarge.
Ergonomics are perfect. See the double-tab on the focus tab? Pressing that is how you release the infinity-focus lock.
This 35mm f/2.8 has the same feel and ergonomics as every other modern LEICA lens.
The aperture flicks with a fingertip, and one finger does the focus.
LEICA. There is no substitute.
Falloff (darkened corners) performance top
Falloff is minor to moderate at f/2.8.
It's minor at f/4.
It's gone by f/5.6.
Filters, use with performance top
Any 39mm filter works great.
There is no vignetting, even with a deep 39mm LEICA rotating polarizer engraved for the 50mm Summicron.
Finder performance top
The M2 and screw mount version work the same as every other LEICA 35mm lens.
This lens is short enough not to block any viewfinders.
The finder attachment (goggles) of the M3 version are uncoated glass. Because of the added reflections, the contrast of your finder image is lower. The uncoated finder attachment can also lead to ghost images in the finder.
The finder attachment adds some extra distortion to the finder image.
The finder attachment makes the corners of the finder image a little fuzzy, but if you move your eye around, you can sharpen any corner you desire.
Of course the on-film image is wonderful.
All said and done, I prefer using the 50mm frame lines on my M7 with this lens than the 35mm finder on my M7 because I can see my composition better. The 35mm and 28mm frames of the M7 are swell for looking at details, but too large to see overall compositional balances as well as I can with the smaller 50mm frame.
Use on the Zeiss Ikon
Use the M2 version and everything is fine.
The viewfinder and rangefinder are close enough to their positions on LEICA that you can shoot the M3 version. The results are great, even if the finder image is weird because you're not looking through the center of the finder attachments!
The rangefinder hole is fine, and the focus surprisingly is perfect, too.
Use on the Minolta CLE
The M2 version calls up the 28mm frame lines and focuses just fine.
Forget the M3 version. You'll be scale-focusing and using a shoe-mounted finder, even though of course the metering and the results are perfect with the goggled version.
The M3 (goggled) version calls up the 40mm frame lines on the CLE, and the camera's finder view is crooked since the finder is looking through a corner of one of the goggles.
There is no rangefinder focusing with the M3 version since the RF spot is blocked.
Flare and Ghosts performance top
I couldn't get it to flare when shot into the sun without a hood.
The 35 2.8 design is simple enough that it should be very resistant to flare and ghosts.
Focus performance top
Focus is a dream. It has the same-shaped focus tab as new LEICA wide and normal lenses, except that the tab is solid metal, not plastic like today's lenses.
The focus ring feels as soft and smooth as any other new LEICA lens, and far better than the Summarit-M series. This is why you buy LEICA: it is the best. The focus tab and feel of this 50-year-old lens feels exactly like a brand-new LEICA lens. Astounding, but expected from LEICA.
There is an infinity lock. As you turn the ring to infinity, it locks. To release, press in the tab as you focus. It works automatically.
Focus is dead-on, as expected for a slow, wide lens. Depth-of-field is so great that the LEICA offers far more focus precision than is needed for a 35mm lens.
Lateral Color Fringes performance top
There's just the slightest hint of red-blue at 40x magnification.
You won't see this without a microscope.
Mechanics and Construction performance top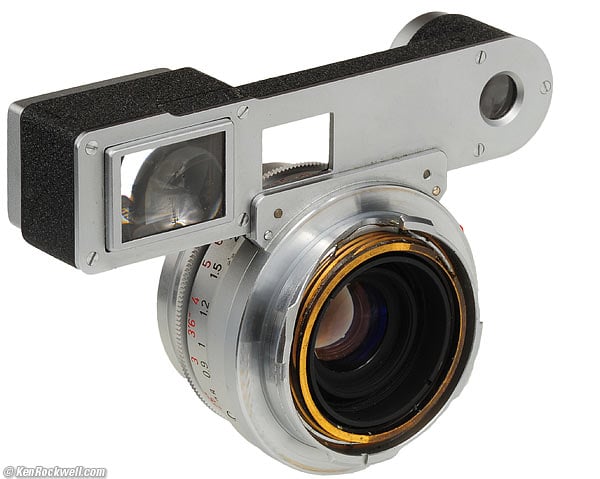 Rear, LEICA 35/2.8 Summaron. enlarge.
Visit the museum of fine machining, and this is what you'll see on display as an example of the best. LEICA has never exceeded itself.
Filter and Hood Mounting Ring
Chromed brass.
Barrel
Chromed brass.
Focus Ring
Chromed brass.
Focus Tab
Metal.
Aperture Ring
Chromed brass.
Focus Helicoids
Brass and aluminum.
Other Internals
Metal.
Mount
Chromed brass.
Mounting Index Dot
Red plastic ball.
Markings
Solidly engraved and filled with paint.
Quality
MADE IN GERMANY.
Metering performance top
In the 1950s, a man knew who he was and how to photograph. Men didn't need exposure meters; a man looked at his scene and knew his exposure from experience, exactly as Salgado shoots today.
If you came across new sorts of lighting you made a second shot at a stop or two more exposure, and you were done. Negative film, especially B&W, doesn't need precise exposure, and a man knows what he knows.
Meters were for the weak and effeminate.
The only reason to use a meter was if you shot color, which meant Kodachrome or its competition. There is no room for exposure error with slides (like Velvia 50 today), so electric exposure meters were a good idea for color, especially since color film was horrendously expensive and not to be wasted making a second exposure. (I'm not kidding; read Kisselbach's 1955 Pocket LEICA Guide.)
If you meter, the TTL meter of the LEICA M7, Zeiss Ikon and Minolta CLE all read perfectly with the LEICA SUMMARON.
With non-TTL cameras, use a clip-on coupled LEICAMETER, preferably the newest LEICAMETER MR-4.
Everything works as it should.
if you lack a LEICAMETER, an external meter, like the Gossen Digisix is swell, but not as convenient as the LEICA photographer deserves because it is not coupled to the shutter speed.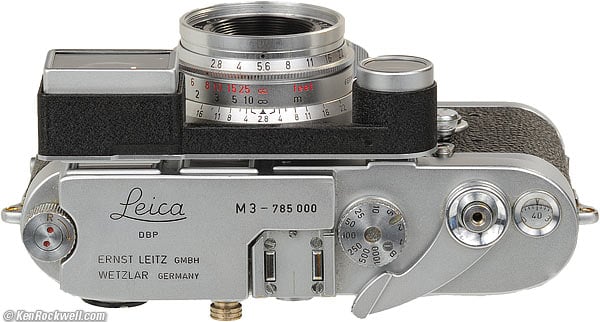 35mm f/2.8 Summaron on LEICA M3 without LEICAMETER. enlarge.
Sharpness performance top
This LEICA 35mm f/2.8 Summaron is so sharp it stunned me. I was expecting something only so-so, but it turns out to be as sharp, if not sharper at middle apertures, than LEICA's newest 35mm f/2 ASPH and 35mm f/1.4 ASPH lenses.
Because of this I haven't yet run a shoot-out, which could have interesting results.
This old lens can work this well because it's designed to be a stop or two slower, which lets it be designed for much lower distortion and sharper images than faster lenses.
This f/2.8 lens isn't as sharp at f/2.8 compared to the other lenses, but at f/5.6, might have higher resolving power.
We'll see; that's another day's test. For now, here's what I saw at infinity at 40x on Velvia 50:
At f/2.8
Sharp center; sharp but lower-contrast corners.
Corners have high-definition cores surrounded by contrast-reducing veiling, unlike poorer lenses that simply get soft and smeary in the corners.
This LEICA lens has lower contrast in the corners, but almost as much resolving power as it does in the center.
If you want to shoot at f/2.8 all the time, the current 35mm f/2 ASPH and 35mm f/1.4 ASPH lenses are better.
At f/4
It's really sharp all over, although the corners are slightly softer.
In the corners, the 35mm f/2 ASPH and 35mm f/1.4 ASPH lenses are better.
At f/5.6
Sharp all over, only a tiny bit less in corners.
It's really, really sharp, which is why you buy LEICA.
It seems to be the same or better throughout most of the image than the 35mm f/2 ASPH and 35mm f/1.4 ASPH.
At f/8
It's sharp all over, but less sharp in the center from diffraction.
It seems to be the same or better as the 35mm f/2 ASPH and 35mm f/1.4 ASPH.
At f/11 and smaller
Diffraction limits everything.
Not considering depth-of-field, f/5.6 is optimum in the center, f/5.6-f/8 is optimum overall, and f/11 is optimum in the farthest corners.
Like most lenses, the center becomes diffraction-limited early, and the corners sharpen up a bit as stopped down another stop or so while diffraction starts softening the center.
Sunstars performance top
The 10-bladed diaphragm should beget 10-pointed sunstars from f/5.6 and smaller.
Compared top
Intro Specs Performance Compared Recommendations
| | | | |
| --- | --- | --- | --- |
| | 35/2.8 | | |
| Filter Thread | 39mm | 39mm | 46mm |
| Focus Tab? | Yes | Yes | Yes |
| Focus Tab | Metal | Plastic | Plastic |
| Close Focus | 2.1 ft (0.65m) | 2.5ft (0.7m) | 2.1 ft (0.64m) |
| Optics | 6/4 | 7/5 ASPH | 9/5 ASPH |
| Diaphragm Blades | 10 | 8 | 9 |
| Minimum f/stop | f/22 | f/16 | f/16 |
| Distortion | None | Slight pincushion in corners | Slight barrel in center |
| Sharpness, wide open | Very good center, slightly softer corners | Very good | Very good |
| Sharpness, f/8 | Excellent | Excellent | Excellent |
| Weight, oz. | 8.420 oz.* | 8.950 oz. | 10.815 oz. |
| Weight, g. | 238.7g* | 253.8g | 306.7g |
| Extension from flange | 1.142" (29.0mm) | 1.36" (34.5mm) | 1.82" (46.2mm) |
| Price | $400 used | | |
* Including googly-eyes; even less without.
| | | | | | |
| --- | --- | --- | --- | --- | --- |
| | | | | | |
| Dates | 1958-1974 | 2008- | 2004- | 1996- | 1979-1996 |
| Filter | 39mm | 43mm | 43mm | 39mm | 39mm |
| Length | 29.0mm | 29.8mm | 43mm | 34.5mm | 26.4mm |
| Finder Blockage | none | minor | minor-moderate | minor | none |
| Optics | 6/4 | 7/5 | 9/6 | 7/5 ASPH | 7/5 |
| Diaphragm | 10 blades | 10 blades | 10 blades | 8 blades | 10 blades |
| Aperture ring clicks | half stops | third stops | third stops | half stops | half stops |
| f/min | f/22 | f/22 | f/22 | f/16 | f/16 |
| Close focus | 0.65m** | 0.7m | 0.7m | 0.7m | 0.7m |
| Sharpness | good | excellent | excellent | excellent | very good |
| Bokeh | | OK-good | OK-good | poor-good | poor-good |
| Distortion, 3m | <±0.25 | -0.8 | 0.0 | -1.5 | -0.5 |
| Weight* | 239g** | 178g | 224g | 254g | 156g |
| Price, 2/2011 | | | | | $2,000 (used) |
* Actual measured.
** With auxiliary finder optimization optics.
Other Brands top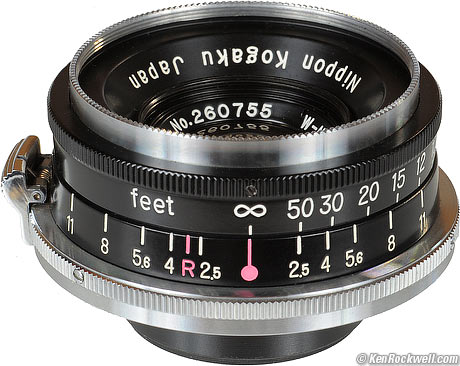 Nikon W-NIKKOR·C 3.5cm f/2.5 (about $400). enlarge.
If you shoot the 1950s Nikon rangefinders, the Nikon W-NIKKOR·C 3.5cm f/2.5 has been the direct competition to the LEICA 35mm f/2.8 ever since the 1950s.
This Nikkor works on the Nikon SP rangefinder cameras, which was also Nikon's attempt to compete with LEICA's superior M3. The SP had more features, while the M3 was better made.
This Nikkor lens' optics are of the same design and similar optical quality to the LEICA 35/2.8, but the Nikkor is a full level below LEICA in mechanical quality and utility.
This Nikkor's diaphragm is fidgety and difficult to set precisely. It was never that accurately calibrated, so getting precise exposures was and still is a gamble.
Worse, this Nikkor's filter thread is an obsolete 43mm x 0.5mm pitch, for which filters and adapter rings are no longer available, largely relegating this fine lens to the collector's pile. Today's 43mm filters and accessories use a coarser 0.75mm thread pitch, which will dame the Nikkor's threads if you dare force them on.
This lens sells used for about the same as the LEICA, so why bother unless you're still slumming it in the Nikon rangefinder system? Face it, the rangefinder wars of the 1950s were over 50 years ago, and LEICA won. LEICA is best.
LEICA Men may stop reading now. Please to skip to Recommendations.
For people who do care about price; let's get real: $400 is supposed to be a bargain for a 35mm f/2.8 lens? Who are we trying to kid? Here are some real alternatives: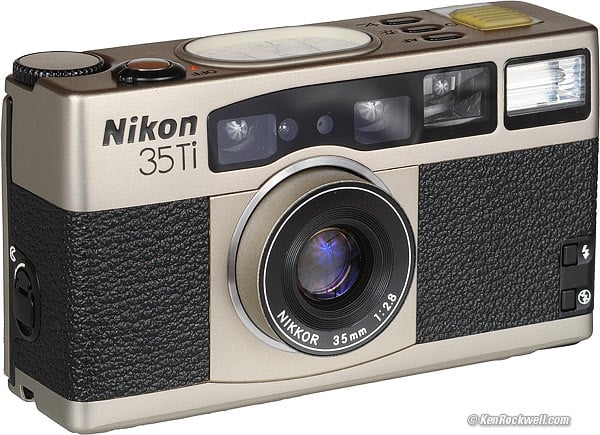 Nikon 35Ti (about $300). enlarge.
The Nikon 35Ti has a 35mm f/2.8 lens of identical quality and design to the LEICA 35mm f/2.8.
You can buy the complete Nikon 35Ti camera, with lens, for less than the LEICA 35mm f/2.8 lens alone.
By saving money and getting the 35Ti instead, you also get a dedicated film body, matrix-metering far more advanced than anything in LEICA, a dedicated flash with distance and matrix-coupled fill-flash metering, a superior 7-bladed diaphragm over the LEICA's 10 (it makes 14-pointed vs. 10-pointed sunstars), automatic film loading, advance and rewind, data imprinting, program auto as well as manual and aperture priority exposure, and I forget what other features — oh yeah, like Auto Focus.
With the LEICA you're always fiddling with your camera, while with the 35Ti you're busy bagging great shots.
The negatives to the 35Ti are that it doesn't take filters, which sadly relegates you to boring colors (or print film), it has no provisions for a neck strap, relegating it to a subjugate leather case in your pocket, and that it needs to motor-out the lens every time you want to shoot it.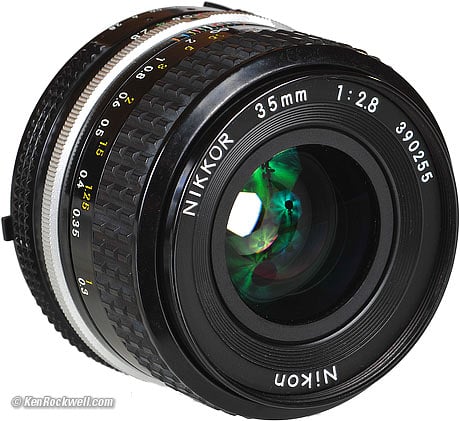 You could shoot an SLR camera for superior framing accuracy and close-up ability. If you upgrade to an SLR, 35mm f/2.8 lenses like this very good Nikkor can be bought for about $25, as I paid for this one.
Its not quite as good as the LEICA or Nikon 35Ti, but very close. Not bad for $25.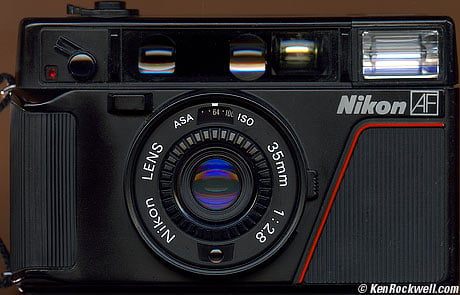 The Nikon L35AF was Nikon's first AF camera. It has an excellent 5-element, 35mm f/2.8 lens, and it takes standard 46mm filters.
Not only does it include a great lens, it also includes a flash, auto loading, auto advance and auto rewind, auto focus, auto exposure, and a host of other features not in the LEICA M. You can shoot more faster with the L35AF than you can on LEICA.
I paid $10 for this one at Goodwill. The only downside to this lens is that it has a bit more falloff than the LEICA 35mm f/2.8. The L35AF is very sharp and very versatile.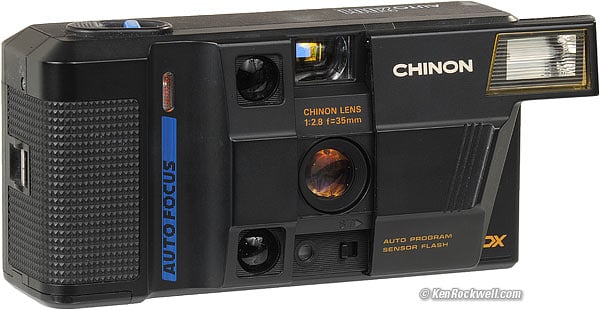 If you don't have $10, 35mm f/2.8 lenses are found in most non-zoom point-and-shoots, which are available for even less than the very good L35AF.

For instance, this Chinon Auto2001 only cost me $3.50, and it works swell. With LEICA, "350" means $350.00, and with a real camera like this 1980s Chinon, "350" means three dollars and fifty cents.

A huge advantage of this Chinon, in addition to auto loading, auto advance, auto flash, auto rewind and auto exposure, is that it needs no on-off switch.

Key to all LEICA photography is the freedom to shoot quickly when the need arises. With this Chinon, pull it out of your pocket, slide open the lens cover, and you're ready to fire. There is no need to do anything other than feel and shoot.

What more could be better? This $3.50 Chinon always gets the shot.

Its lens isn't as good as the LEICA if you're hanging a large exhibition. It's not quite as sharp in the corners, has some light falloff even at shooting apertures and has a little distortion, but so what: get off your LEICA horse and make some great photos with this before you start thinking blowing that dough on a fancy camera will help you make better photos.

LEICA guys, it's OK to start reading from here on.

Recommendations top

Intro Specs Performance Compared Recommendations

The LEICA 35mm f/2.8 Summaron is an immortal tool for immortal men. It's also the cheapest way to get a superb 35mm lens for your LEICA.

I have not tried the earlier f/3.5 version, which doesn't sell for much less.

Better still, when I get to doing a direct shoot-out against the current 35/2 ASPH and 35/1.4 ASPH lenses, this older, slower lens just might be sharper at moderate apertures for daylight and tripod shooting!

Deployment

I use a 39mm 81A B+W brand filter for slide film.

I'd use any 39mm B+W brand yellow filter for B&W film outdoors, or a 39mm LEICA brand 13 131 UV filter indoors.

I'd use a 39mm LEICA brand 13 131 UV filter for color print film, but why would anyone shoot color print film in a LEICA?

I wouldn't bother with a digital LEICA until they come out with a full-frame body, and even then film is more fun, but that's just me. I'm told digital shooters today need to use a LEICA brand 39mm UV/IR filter 13 410 (or a B+W brand 39mm UV/IR filter) to correct for a design flaw in the M8.2's sensor system design.

PLUG top

I support my growing family through this website.

If you find this as helpful as a book you might have had to buy or a workshop you may have had to take, feel free to help me continue helping everyone.

If you've gotten your gear through one of my links or helped otherwise, you're family. It's great people like you who allow me to keep adding to this site full-time. Thanks!

If you haven't helped yet, please do, and consider helping me with a gift of $5.00.

The biggest help is to use these links to Adorama, Amazon, B&H, Calumet, Ritz, J&R and when you get your goodies. It costs you nothing and is a huge help to me. eBay is always a gamble, but all the other places have the best prices and service, which is why I've used them since before this website existed. I recommend them all personally.

Thanks for reading!

Ken

Home Donate New Search Gallery How-To Books Links Workshops About Contact