Home Donate New Search Gallery How-To Books Links Workshops About Contact
Voigtländer 15mm M
© 2009 KenRockwell.com. All rights reserved.
Intro Specs Performance Compared Recommendations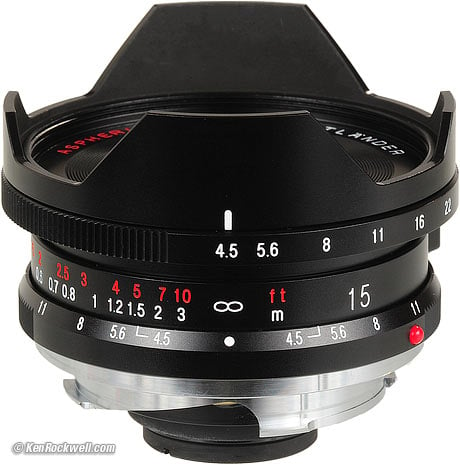 Voigtländer 15mm f/4.5 M (52mm filters, 5.460 oz/154.75g), twice life size. enlarge more. I'd order it from Adorama. It helps me keep reviewing this oddball stuff when you get yours from these links, thanks! Ken.
May 2009 more Voigtländer Reviews Nikon Canon LEICA Pentax
Previous model Voigtlander 15mm f/4.5 review
WARNING: Although wonderful on film, this lens is awful on the LEICA M9 because its rear nodal point is too close to the sensor.
The left and right sides take on weird color shifts.
For the M9, get the LEICA 16-18-21mm zoom instead. If you can afford an M9, you can afford the lenses it deserves.
This Voigtländer lens is optimized for film, not for digital.
| | |
| --- | --- |
| Optics: | |
| Mechanics: | |
| Ergonomics: | |
| Usefulness: | |
| Availability: | |
| Overall: | |
Ideal Uses
Could be the only ultrawide lens you ever need for your Leica.
Weaknesses
The 52mm filter size matches no other Leica lenses, but Leica's own 18mm lens is even worse.
Introduction top
Intro Specs Performance Compared Recommendations
This tiny new Voigtländer 15mm f/4.5 M is the same lens as 1999's fantastic Voigtländer 15mm f/4.5, with the addition of a 52mm filter thread, coupled rangefinder focusing and a focus tab for Leica M cameras.
This makes this new Voigtländer 15mm II the world's most practical 15mm lens for Leica. The closest competition is the Zeiss 15mm f/2.8, but the Zeiss is too big, has more distortion and costs almost ten times as much.
You can shoot this tiny 15mm Voigtländer lens all day and never have filter problems or large finder blockages. It's so perfect we have to ask ourselves why has Leica lost its way and not made lenses this practical?
Did you know that this is the world's widest lens for 35mm cameras that can accept threaded filters? Every other 15mm and wider lens has no ability to use front-mounting filters.
This lens is 100% Japanese, designed and manufactured by Cosina. Cosina merely rents the Voigtländer trademark from Zeiss. I have a tendency to vomit when I see Germany's good name used on the instructions and "seit 1756" used on the box; this is deliberately misleading.
If you know what you're doing and get close enough, a 15mm lens adds far more power, glory and depth to an image compared to standing back with a 21mm lens.
Unlike the 1999 lens, this new 15mm is dedicated to the Leica bayonet M mount. The 1999 lens is a screw-mount and needed a screw-to-M adapter. The old lens included a Voigtländer 15mm finder, while this new lens does not.
Finders
You need to buy a viewfinder to make good use of this new 15mm lens.
You have your choice of the dinky, distorted, easy-to-damage $130 Voigtländer 15mm finder, or the superior $410 Zeiss 15mm finder. The Voigtländer finder's glass pokes out without protection, while the Zeiss finder's glass is flat and protected behind metal.
Considering how much money I just saved you over buying the klunky Leica 18mm f/3.8 lens, please do yourself a favor and treat yourself to the Zeiss finder.
(M8 users: since you're only shooting half-frame, you people need to use your choice of 21mm finder instead.)
Format introduction top
I write these reviews for the true Leica photographer. He shoots full-frame.
I'm shooting and testing these on full-frame digital and film.
Full frame digital? Easy! I have my lab scan everything as they run my film, so I already have every shot backed up at high-resolution (50MB) on DVD when I pick up my film. They do this cheaply enough that I have everything scanned as I have it processed. They're more than happy to do your film, too, by mail.
I load these DVDs into my system faster than fiddling with memory cards, and I'm done, at far higher resolution than if I wasted my time with an M8.
I'm largely ignoring the half-frame M8, which should blow over as did Nikon's half-frame DX cameras like the D1X and D2Xs.
The M8 came out back in 2006 when people still settled for half-frame digital. I'm not going to bother reviewing lenses on the M8.2, since I don't feel like re-writing my reviews when Leica replaces the M8.2 with a full-frame Masaerati and we can all pretend the M8.2 never happened.
Compatibility introduction top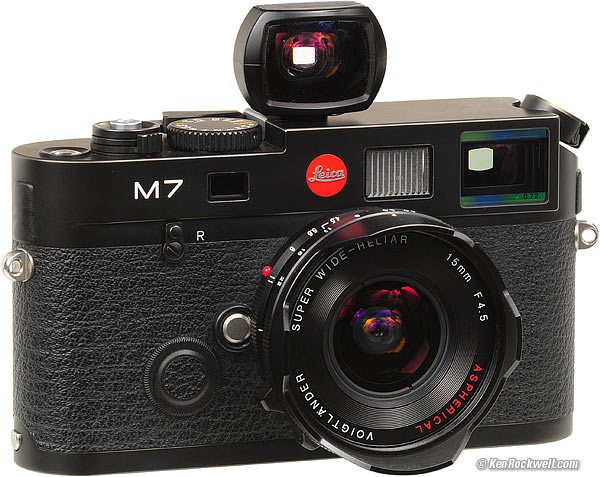 Voightlander 15mm on a Leica M7. enlarge.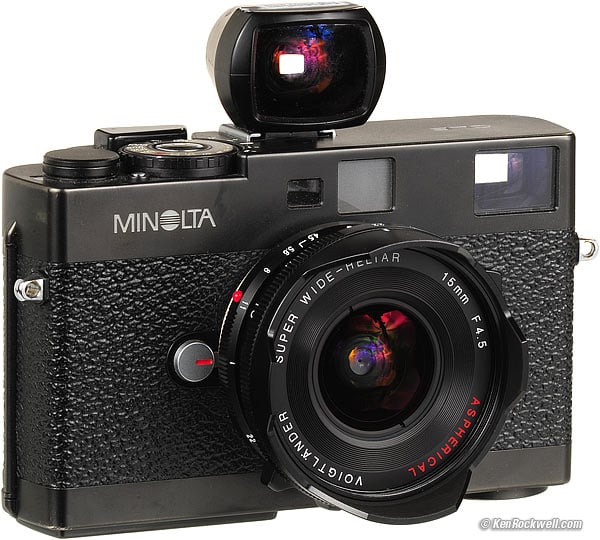 Voigtlander 15mm f/4.5 M II on a tiny Minolta CLE. enlarge.
Like all Leica M lenses, the Voigtländer 15mm f/4.5 M works on every Leica M camera, as well as the Minolta CLE, Voigtländers, Konica Hexar Ms and Zeiss Ikons.
TTL metering works great, if your camera has it.
Slip a finder in your accessory shoe and go.
If you like to do things the hard way, the 1954 LEICA M3 works splendidly along with an external meter. Leica Men will insist on the 16mm setting of the Leica Universal Wide Finder. The M3 and Universal Wide Finder offer the ultimate finder experience: it gives optimum sighting and focusing for 16mm, 18mm, 21mm, 24mm, 28mm, 35mm, 50mm, 90mm and 135mm lenses. (use the 35mm lenses dedicated to the M3, of course.)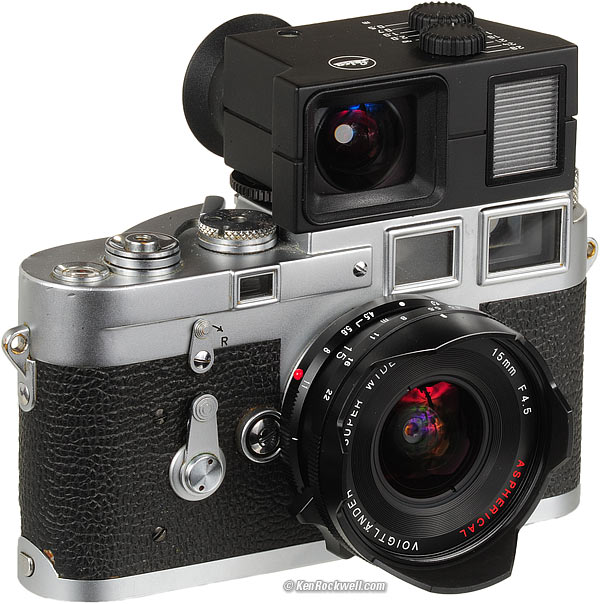 Voigtländer 15/4.5 M II on LEICA M3 with LEICA Universal Wide Finder. enlarge.
Actual Size introduction top
This 15mm lens is tiny!
Presuming you have a standard 106 DPI monitor, this is its actual size, which is 2.03" (51.6mm) long overall by 2.327 " (59.10mm) diameter: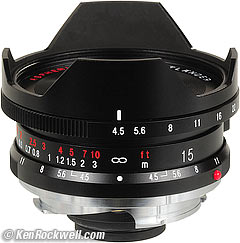 Voigtländer 15mm f/4.5 M II, actual size at 106 DPI. enlarge.
My other illustrations have been enlarged so you can see this little jewel.
Specifications with commentary top
Intro Specs Performance Compared Recommendations
Name Colors Focal Length Angle-of-View Optics
Diaphragm Filter Thread Close Focus Case
Caps Hood Size Weight Part Numbers Price
Name specifications top
Cosina calls this the Voigtländer SUPER WIDE-HELIAR 15mm f4.5 ASPHERICAL II. The "II" is what differentiates it from the previous screw-mount 15mm.
If Leica sold this, which they don't, they would call this the LEICA SUPER-HEKTOR-M 1:4.5/15 ASPH.
Colors specifications top
Black only.
Focal Length specifications top
35mm equivalent: 15mm. Duh, this is a full-frame 35mm lens.
Digital Equivalent: 15mm. Duh, I shoot full-frame have all my film scanned direct to digital.
Digital Resolution: 25MP when shot on film.
Equivalent on the Leica M8 (half-frame): 20mm.
Equivalent on the Epson R-D1x (half-frame): 23mm.
Angle of View (full-frame 35mm) specifications top
110º Diagonal.
100º Horizontal.
77º Vertical.
(less on lesser formats.)
Optics specifications top
8 elements in 6 groups. One aspherical surface.
Multicoated.
Diaphragm specifications top
10 blades.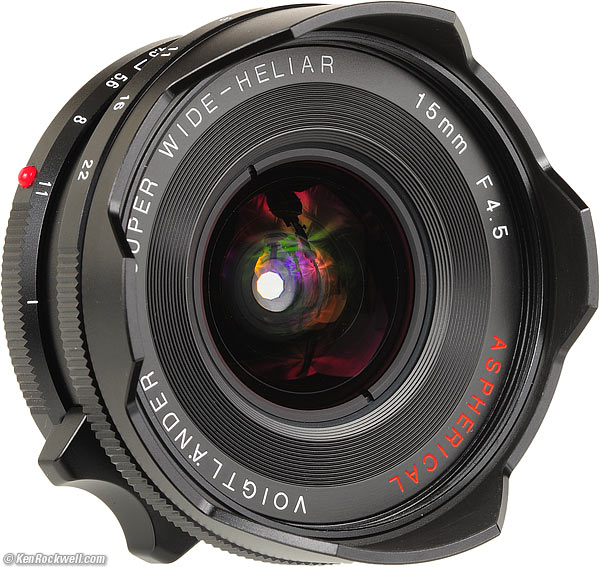 Voigtländer 15/4.5 M II at f/5.6. enlarge.
Stops down to f/22 with half-stop clicks.
Filter Thread specifications top
52mm.
Germans call this E52 and 52E, and it's the same standard 52mm (0.75mm pitch) filter that's available everywhere.
52mm is a very popular size in Nikon SLRs, but not on Leica. It may help your sanity to use B+W stepping rings to step-up your other lenses to the same 52mm filter size.
Sorry, you can't step-up this lens because the hood gets in the way, and you can't step it down because you'll get vignetting on full-frame.
Close Focus specifications top
1.65 feet (0.5 meters).
Case specifications top
Unlike real Leica lenses, no case is included, but who cares?
No one uses the leather Leica cases; we put our lenses in camera bags or in our pockets.
Caps specifications top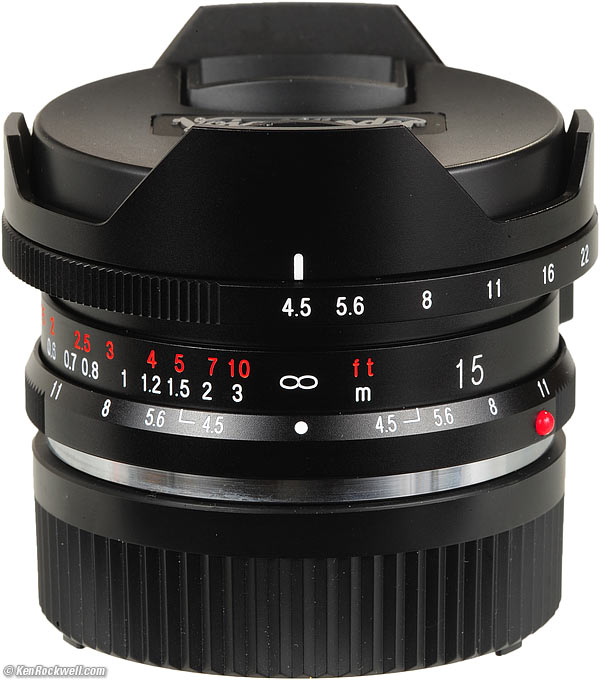 Voigtländer 4.5/15 M II with original caps. enlarge.
Voigtländer's front cap is OK, but not as easy to grab as Nikon's current 52mm cap.
I'd suggest keeping the Voigtländer cap in the box for resale, and buy a Nikon cap for actual use.
The included Voigtländer M rear cap is fine, but I'd also stash it in the box and use any current Leica 14 269 rear cap as part of my system.
Older Leica rear caps for normal and long lenses aren't deep enough for the slightly extended rear elements. Use the current Leica 14 269 rear cap, or any of the older Leica caps intended for use with Leica's older, wider lenses.
Hood specifications top
The pointy hood is a permanent part of the lens barrel.
It cannot be removed, so it always intrudes a little into your viewfinder and makes it a little tougher to use some filters.
Size specifications top
1.52" (38.6mm) extension from flange.
2.03" (51.6mm) long overall.
2.327" (59.10mm) diameter. The widest thing is the aperture ring.
Weight specifications top
5.460 oz. (154.75g) measured, naked.
5.5 oz. (156g), specified.
Part Numbers specifications top
Boxed lens with caps: BA212M.
SKU: 0 002451 194068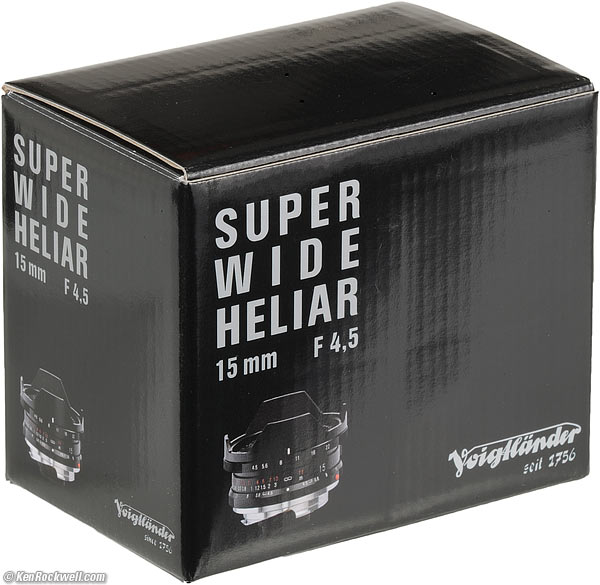 Box, Voigtländer 15mm f/4.5 M II.
Price specifications top
2009, May, USA: $540.
Don't forget an excellent $410 Zeiss 15mm finder or the dinky $130 Voigtländer 15mm finder.
M8 users: you're only shooting half-frame, so use a 21mm finder instead.
Performance top
Intro Specs Performance Compared Recommendations
Overall Aperture Ring Bokeh Coma Depth-of-Field
Depth-of-Field Scale Diaphragm Linearity Distortion
Ergonomics Falloff Filters Finder Accuracy Finder Blockage
Focus Lateral Color Mechanics Metering
Sharpness Sunstars Survivability
Overall performance top
This Voigtländer 15mm M is just wonderful. Optically it's superb, and its ergonomics are perfect.
I wish Leica made lenses this good. Today Leica seems more interested in making men's jewelry than making tools like this for photographers.
Aperture Ring performance top
The aperture ring is perfect, like most current Leica lenses.
One fingertip is all you need to adjust it by feel.
It's easy to find in the dark.
The spacing between the stops matches Leica, as do the half-stop clicks. This is Voigtländer's best copy yet of Leica's look and feel.
Bokeh performance top
There is never anything out of focus, so bokeh has no meaning here.
Coma performance top
There is no coma.
Bright points of light on the sides simply look like bright points of light.
This is wonderful, because most ultrawide lenses turn these points of light into blobs or batwings in the corners.
This 15mm lens has no coma, even at f/4.5. Yay!
Depth-of-Field performance top
Depth-of-field is nearly unlimited, even wide open.
This is normal for ultra-wide lenses.
Your biggest concern is to be careful not to knock the focus to 2 feet (0.5m) and shoot there all day by accident.
Depth-of-Field Scale performance top

Depth of Field Scale, Voigtländer 15/4.5 M II. enlarge.
The depth of field scale is swell.
It it so long that f/16 is indicated only by tits at ±90º, and f/22 is 3/4 of the way around the barrel near the bottom.
It's calculated using the same 1/30mm circle-of-confusion as other Leica, Zeiss, Canon and Nikon lenses.
There is no IR index.
Diaphragm Linearity performance top
My M7 agreed exactly as I tried every half stop.
This shows a well-made lens.
It's not important when using TTL exposure meters, as with most modern cameras, but is important if you're using an external meter.
Distortion performance top
Distortion is invisible. I haven't been able to measure it yet.
Ergonomics performance top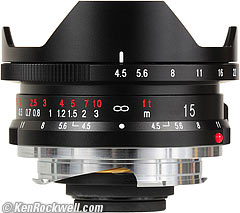 Voigtländer 15mm f/4.5 M II (actual size at 106 DPI). enlarge.
Ergonomics are perfect.
The aperture flicks with a fingertip and it's obvious by feel.
One fingertip is all that's needed for fast, precise focus using the Leica-like focus tab.
Falloff (darkened corners) performance top
Falloff is healthy, as expected.
It's visible, which is what you want to emphasize the huge angle seen by this lens.
Falloff doesn't change much at smaller apertures.
Falloff is a little more abrupt than other lenses as you approach the corners, but otherwise, this lens performs exactly as I'd expect for a 15mm rangefinder lens.
It has much less falloff than the Zeiss 16mm f/8 Hologon for the Contax G, but it still has plenty of falloff. Use it to your advantage.
It's less than the 12mm Voigtländer. Heck, anything has less falloff than the 12mm Voigtländer!
Filters, use with performance top
FIlters are common 52mm filters. Any Nikon shooter has a drawer full of them if you don't.
Normal filters are easy. They screw on and off with your finger tips through the permanently attached and immovable hood. The easy part ends here.
You cannot use more than one filter. You'll get serious vignetting.
You cannot use step-up rings because the permanently attached hood will not accommodate them.
Otherwise, any 52mm filter, even a thick rotating-mount grad, works fine on full-frame.
A second filter will vignette on full-frame.
There are no problems on half-frame (M8.2) since half-frame only uses the middle half of the image.
Screw-in grad NDs take a little dexterity to attach and rotate, and here's a catch: after you screw them in, you may or may not ever be able to remove them because you may or may not ever be able to reach the thin ring at the bottom of the filter hidden inside the hood!
Avoid polarizers on wide-angle lenses. The sky changes its polarization with angle and you'll get a dark band running across the sky!
Finder Accuracy specifications top
The dinky $130 Voigtländer 15mm finder is pretty good.
Be sure to tilt up a little at close distances. Don't wiggle your eye around, keep it planted and keep your eyes looking forward.
Like most of my Leicas, I seem to lose a little from the top and bottom, and get a little more on the sides than I expect.
Finder Blockage performance top
There is a small to moderate amount of blockage at the bottom of the $130 Voigtländer 15mm finder. You can see your aperture ring and the top of the hood.
I'm tempted to hold the lens out my car door and rub it on the asphalt as I'm driving to grind off the top of the hood.
It's not a big deal, but the original Voigtländer 15mm is even smaller, and has almost no finder blockage by comparison.
Focus performance top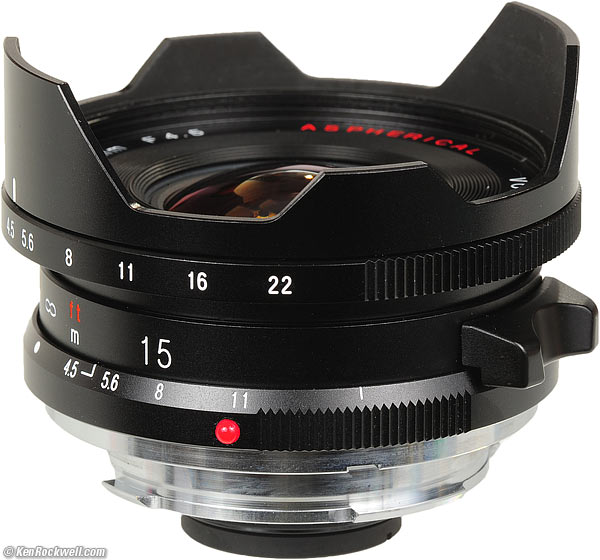 Focus tab, right side of 15mm lens (also f/16 DoF tit). enlarge.
Focus is fast and sure.
The focus ring is somewhat faster than Leica's standard. With the tab at the bottom of the lens, you're focused at 3 feet (0.9m).
A small twist of the ring leads to a large movement in the rangefinder.
The focus ring goes from infinity to 0.5m in just 90,º which is almost twice as fast as most Leica lenses.
Lateral Color Fringes performance top
None, period.
Mechanics and Construction performance top
Rear, Voigtländer 15 4.5 M II. enlarge.
The Voigtländer 15 4.5 is made very well, a little better than Leica's own Summarit M lenses. The Summarit-M 90mm I bought had uneven, gritty focus, while the focus of this 15mm is as smooth as a real Leica lens.
Everything is tight, smooth and solid. Focus and aperture rings move and feel just like Leica-brand lenses do. Only the slightly smaller focus tab and different knurling on the diaphragm ring gives it away in the dark, even if they move as well.
Hood: Anodized aluminum, a permanent part of the lens barrel.
Filter Threads: Black anodized aluminum.
Barrel: Black anodized aluminum.
Focus Ring: Anodized aluminum with focus tab.
Focus Tab: Yes, metal. (Current Leica-brand lenses have downgraded to plastic.)
Aperture Ring: Anodized aluminum.
Focus Helicoids: Brass.
Other Internals: Metal.
Mount: Chromed brass.
Mounting Index Dot: Small red plastic ball.
Markings: Engraved and filled with paint.
Serial Number: Engraved into bottom rear of barrel; black on black.
Made in: Japan.
Metering performance top
The TTL meter of the Leica M7, Zeiss Ikon and Minolta CLE all read perfectly.
Since the lens sees such a wide angle, the semi-spot meter of TTL Leicas reads most of the 28mm frame, as shown through the camera's finder.
The Leicas only meter the same central 12mm spot, but that 12mm spot corresponds to the center of the external 15mm finder, not the 28mm frame lines of the camera's finder.
The Zeiss Ikon and Minolta CLE will read most of what you see in the 15mm finder.
Sharpness performance top
It's always sharp, even wide open, even in the corners, at any distance. It has the same optics as the original screw-mount Voigtländer 15mm.
These Voigtländers are the best 15mm lenses I've ever tested. They are far better than Nikon's 15mm f/3.5 AI-s. The Voigtländer 15mm is about as sharp as the Nikon 14-24mm f/2.8 AF-S, except that the Voigtländer 15mm has far less distortion and is easy to use with filters.
If you're silly enough to look at your film with 40x lab microscope, you'll see just the slightest softening in the far corners compared to the center, but it's still very sharp.
I see little to no difference as the 15mm Voigtländer is stopped down. f/5.6 or f/8 is optimum. Shoot it at f/4.5 if you want all day long; it looks great. You don't have to stop it down as you do with other ultrawide lenses.
This is a really, really sharp lens. If you're not getting sharp results, you're doing something really wrong.
Sunstars performance top
The 10-bladed diaphragm begets 10-pointed sunstars.
Survivability performance top
The Voigtlander 15mm is a simple lens. There's nothing to break.
Its weakest point is that the front cap offers no protection to the front hood leaves.
Over time, the finish will wear first from the front hood edges, and the hood edges will always be scraping against whatever else is in your bag.
If you drop it, rest assured it will ding the hood leaves, which hopefully will give you incentive to take some vice grips to them and twist them off.
Compared top
Intro Specs Performance Compared Recommendations
Voigtländer 15mm f/4.5 and new 15mm f/4.5 M II. enlarge.
This new lens is the same lens, in a much improved mount.
This new version only looks bigger because of the tough-guy hood permanently attached to the mount. I'd prefer it had no hood, or someone machined it off, to give me better access to the filter ring and less finder blockage.
| | | |
| --- | --- | --- |
| | | New 15mm M II |
| Filter Thread | None | 52mm |
| Focus | Scale only | Coupled RF |
| Focus Tab? | No | Yes |
| Close Focus | 1 ft. (0.3m) | 1.65 ft. (0.5m) |
| Optics | Identical | Identical |
| Compatibility | M and Screw | Leica M only |
| Need Adapter for M mount? | Yes | No |
| Weight | 4.090 oz. (116.0g) | 5.460 oz. (154.75g) |
| Diameter | 2.007" (50.97mm) | 2.327" (59.10mm) |
| Extension from flange | 1.248" (31.70mm) | 1.52" (38.6mm) |
| Finder included? | Yes | No |
| Price | | $540, no finder |
Recommendations top
Intro Specs Performance Compared Recommendations
When you shoot Leica, you grab a wide lens like this, a long lens, and head out.
Maybe you grab a fast midrange lens for low light, but you never bring more than one ultrawide since you'd go insane swapping finders every time you changed lenses.
The old Voigtländer 15mm is a favorite of many Leica photographers, including myself. It's smaller, sharper, less distorted and lighter than Leica's current offerings. The only catch was that we could never use filters with the old 15mm, which is extremely limiting for any serious photography.
Now that this new 15mm lens addresses that, it is destined to become the standard ultrawide for Leica. The only competition might be Voigtländer's own 21mm f/4, whose advantage is even tinier size and taking smaller, Leica-standard 39mm filters.
Deployment
I'd leave the sissy Voigtländer caps in the box for resale and buy a real 52mm Nikon front cap and Leica 14 269 rear cap for actual use. These caps work much better in the field; they are easier to grab, remove and attach than the dinky Voigtländer caps.
If I lose a Voigtländer cap, I have no way to replace it for resale.
I'd use a 52mm 81A filter for slide film.
I'd use a 52mm yellow filter for B&W film outdoors, or a 52mm UV filter for protection indoors.
I'd use a 52mm UV filter for color print film, but why would anyone shoot color print film in a Leica?
I wouldn't bother with a digital Leica until they come out with a full-frame body, and even then film is more fun, but that's just me. I'm told digital shooters today need to use a 52mm UV/IR filter to correct for a design flaw in the M8.2's sensor system design.
More Information: Voigtländer's web site.
PLUG top
I support my growing family through this website.
If you find this as helpful as a book you might have had to buy or a workshop you may have had to take, feel free to help me continue helping everyone.
If you've gotten your gear through one of my links or helped otherwise, you're family. It's great people like you who allow me to keep adding to this site full-time. Thanks!
If you haven't helped yet, please do, and consider helping me with a gift of $5.00.
The biggest help is to use these links to Adorama, Amazon, B&H, Calumet, Ritz, J&R and when you get your goodies. It costs you nothing and is a huge help to me. eBay is always a gamble, but all the other places have the best prices and service, which is why I've used them since before this website existed. I recommend them all personally.
Thanks for reading!
Ken
Home Donate New Search Gallery How-To Books Links Workshops About Contact