Nikon 28-80mm f/3.3-5.6G
© 2007 KenRockwell.com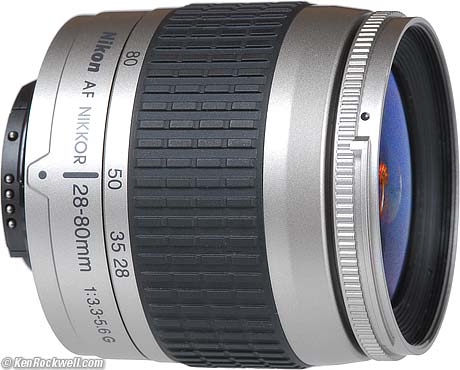 Nikon AF Nikkor 28-80mm f/3.3-5.6G.
These are discontinued, but since Nikon made over a million of these they ought not be hard to find. You probably can find them at Adorama and maybe at Amazon in silver and in black. When they were new, you could have gotten them here. It helps me keep adding to this site when you get yours from those links, too.
January 2008
Top Specs Performance Recommendations
The Nikon 28-80mm G is a dinky 7-ounce (190g) plastic zoom with incredibly good performance. It works ridiculously well, especially on my Nikon D3.
Incredible means unbelievable. The performance of this lens is so good that no one will believe it possibly can come from a lens this cheap.
The Nikon 28-80mm G was sold as a kit lens with Nikon's cheapest film cameras. It was introduced in February 2001 and I suspect it was discontinued in January 2006 along with most of Nikon's film cameras.
The Nikkor 28-80mm G is one of Nikon's most popular lenses of all time. Nikon made over a million and a half of these, so you will find them everywhere. Mine came attached to an N55.
Identification: Nikon has made many lenses with similar focal length ranges. You can uniquely identify this one by the unusual maximum aperture of f/3.3 instead of the more common f/3.5, and also by its lack of an aperture ring. (The earlier Nikon 28-80mm AF-D with the aperture ring is also an unusually good performer.)
Compatibility: The Nikon 28-80mm G works great on just about every AF and digital Nikon camera, including the D3. The only likely gotcha is that it won't autofocus on the D40 and D40x. See Nikon Lens Compatibility. for details for your camera. This is an AF (screw) and a G lens.
Top Introduction Performance Recommendations
Focal Length: 28-80mm. Used on a DX camera it gives angles of view similar to what a 43-122mm lens would give on an FX or 35mm film camera. See also Crop Factor.
Maximum Aperture: f/3.3 - f/5.6. See also Maximum Aperture vs. Focal Length.
Optics: 6 elements in 6 groups. The front element is a compound aspherical. This means Nikon glues a thin plastic corrector over another spherical glass element, giving the performance of an aspherical lens at a low price. It has Nikon's super integrated multicoating like most Nikkor lenses.
Diaphragm: Rounded 7-blade, which really works well. The aperture is very round at most larger apertures. It stops down to f/22-38.
Close Focus: 1.15' (14" or 0.35m), which is very close.
Maximum Reproduction Ratio: 1:3.5, which is very close.
Filter Thread: 58mm, plastic, rotates with focus.
Hood: HB-20 bayonet (optional).
Size: 2.606" diameter by 2.520" extension from flange (66.21 x 64.00 mm), measured set to 50mm and focused at infinity. The front group extends when zoomed or focused more closely to a maximum extension of 3.230" (82.03mm) at 80mm and the closest focus distance. It is almost as long set to 28mm; it's shortest at 50mm.
Weight: 6.850oz. (194.1g), measured. This is almost nothing!
Made in: Thailand.
Nikon Stock Number: 1926 (silver), 1927 (black).
Production: Introduced 2001, discontinued 2006. Production run: about 1.7 million, one of Nikon's most popular lenses ever. Since they are a silly zoom range for DX digital cameras, you ought to be able to find these everywhere, cheap.
Top Introduction Specs Recommendations
This dinky little lens performs so well that it's simply amazing.
Use one of these Nikon Nikkor 28-80mm lenses and you'll see why I never bother with other brands of lenses. When you use a cheap lens like this and see how well it works, it really goes to show me that Nikon has learned many secrets in making lenses since 1937 that they're not sharing with anyone else.
The key is the compound aspherical element, which is a manufacturing trick that lets Nikon exceed the performance of earlier and more expensive lenses while keeping the price almost free.
Focusing
AF Speed
Fast! One full turn of the AF screw pulls focus from infinity down to 3 feet.
AF Ease
The Nikon 28-80mm G just works. It focuses fast and super close, so it never gets in the way of a great photo. I wish all my lenses worked this well.
Macro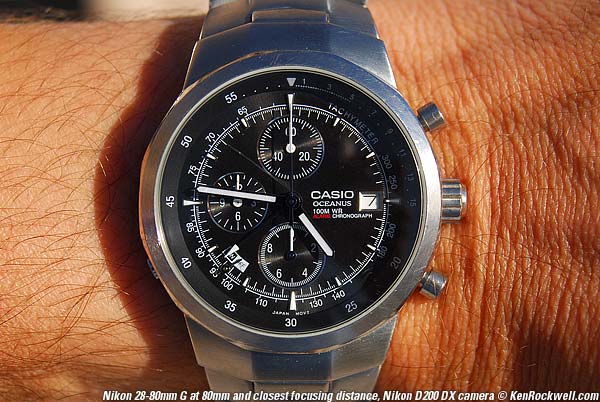 Complete image from Nikon D200 (DX) at 80mm and closest focus distance.
Unsharpened crop from above 10MP D200 image at 100%.
This is excellent. Not only is it very close, but it's also very sharp. This is from a DX camera, it won't be quite as close on a film or FX camera (see Crop Factor).
Sharpness
It's sharp! On my D200 DX digital camera, it's very sharp, even in the far corners of the small sensor. It's embarrassingly much more sharp than many of my far more expensive and exotic fixed ultra-wide lenses on a D200.
It's very sharp at every setting from edge to edge on a 10 MP D200 viewed at 100%.
The contrast falls just a little bit in the corners wide open, but clears right up stopped down one stop. This is also exceptional performance.
It's also very sharp on print film. I have not yet tried it on Fuji Velvia 50.
It works very, very well on the Nikon D3 FX digital camera, with instantaneous focusing and super sharp images.
Lateral Color Fringing
None visible on my 10 MP D200 at 100%. This is exceptional performance.
None on my D3, which tends to correct if it had any.
Distortion
FX and Film Cameras
There is a boatload of barrel distortion at 28mm. It goes away by 50mm.
DX Cameras
There is some barrel distortion at the wide end, and none at the tele end.
Plug these figures into Photoshop CS2's lens distortion filter to correct the distortion. These aren't facts or specifications, they are the results of my research that requires hours of photography and calculations on the resulting data.
| | | | |
| --- | --- | --- | --- |
| | | | |
| 28mm | +4.5* | +2.5 | +2.5 |
| 35mm | +2.2 | +1.0 | +1.0 |
| 50mm | 0.0 | 0.0 | 0.0 |
| 80mm | -0.5 | -0.2 | 0.0 |
© 2007 KenRockwell.com
*Several pixels of waviness remain.
Flare and Ghosts
I can't get the Nikon 28-80mm G to ghost, except with the full midday sun in the image and set to 44mm. Other focal lengths diffuse the one small red dot that can appear at 44mm.
This is the advantage to such a simple optical design: there are fewer pieces of glass from which light can bounce.
Filters
The Nikon 28-80mm G uses 58mm filters, sort of an odd size for Nikon but a common size for Mamiya and Canon.
The front of the lens rotates when focused, but not when zoomed.
Zooming
Zooming is pretty good.
The Nikon 28-80mm G suffers a little from the common problem of having the wide angles cramped closer together than the tele range. This makes it a little harder to set a precise composition at the wide end, but the big fat zoom ring and moderate range of the Nikon 28-80mm G still makes it easy. The Nikon AF 28-70mm f/3.5-4.5 is better, but many other lenses are much worse.
The zoom spacing runs from 2 cm/octave at the wide end to about 4 cm/octave at the long end. Sadly it seems like it's cammed incorrectly for equal rotation per millimeter of focal length instead of the correct equal rotation per percentage.
Mechanics
Mount: Plastic.
Zoom Ring: Rubber-covered plastic.
Focus Scale: NONE.
Infrared Focus Index: NONE.
Depth-of-Field Scale: NONE.
Barrel: Plastic.
Markings: Paint.
Filter Threads: Plastic. They rotate with focusing but not with zooming.
Focus Geartrain: Metal.
Aperture Couplings: Metal.
Innards: Metal and plastic.
Serial Number: Laser engraved on bottom rear of barrel. USA models are prefixed with "US" with no space between the US and the serial number.
28mm: f/3.3
35mm: f/3.8
40mm: f/4
50mm: f/4.5
56mm: f/4.8
62mm: f/5
70mm: f/5.3
80mm: f/5.6
Instruction Manual
The manual for the Nikon 28-80mm G is bigger than the lens. It's a huge multi-folded sheet in eight languages.
I found one and a half mistakes.
It erroneously claims the 28-80G has a nine-bladed diaphragm, while it really only has seven, as expected.
The manual also warns the 28-80G won't autofocus on an N6006 (F-601) or N2020 (F-501). It works great on my N6006 and N2020. I suspect the caution is because those cameras have primitive AF systems which prefer lenses of at least f/4.5, so you're pushing it at the long end of the zoom with only f/5.6, but my old AF cameras still loved it. The biggest issue with the early AF cameras are weirdnesses from a G lens (more at Nikon Lens Compatibility.).
Top Introduction Specs Performance
Get one for any film camera.
I can't wait to see how well it works on the Nikon D3. If it works as well as I hope, it may be one of the best midrange zooms available.
It works extremely well on DX digital cameras, but the focal length range isn't as handy as the range of the similar Nikon 18-55mm DX. I use my 18-55mm on my digital cameras before I would use this 28-80mm G.
PLUG
If you find this as helpful as a book you might have had to buy or a workshop you may have had to take, feel free to help me continue helping everyone.
Thanks for reading!
Ken
Caveat: The all the ads below come from third parties. I don't see them before they appear on your screen. See more at my Buying Advice page. Personally I get my goodies at Ritz (the store, not the hotel gift shop), Amazon and Adorama.