Home Donate New Search Gallery Reviews How-To Books Links Workshops About Contact
Nikon D800 and D800E User's Guide:
My Menu Menu
© 2012 KenRockwell.com. All rights reserved.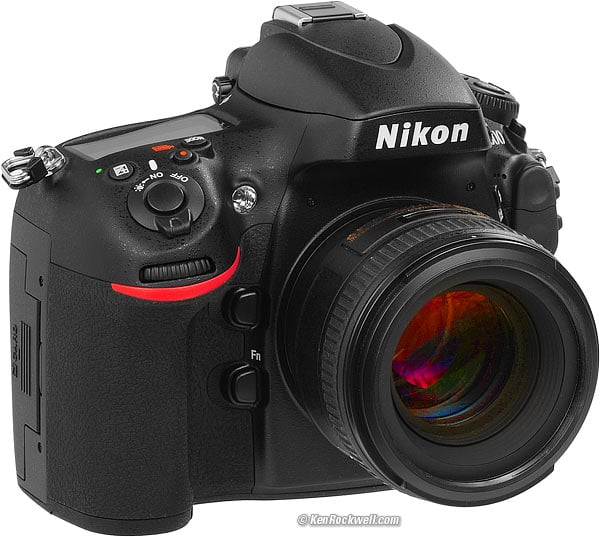 Nikon D800 and 50mm f/1.4 G. enlarge.
July 2012 D800 and D800E Review Nikon Reviews Nikon Lenses All Reviews
Top of D800 and D800E User's Guide
Help me help you top
I support my growing family through this free website. The biggest help is when you use any of these links when you get anything, regardless of the country in which you live.
If you find this page as helpful as a book you might have had to buy or a workshop you may have had to take, feel free to help me continue helping everyone.
While free to read online, this page is formally registered and copyrighted, so it is unlawful to make copies, especially in the form of printouts for personal use or saving these pages or files. If you wish to make a printout for personal use, you are granted one-time permission to print from your browser (there is no PDF) only if you PayPal me $5.00 per printout, file save, or part thereof, unless of course you bought your D800 through one of my links. This is how I justify spending weeks away from my family writing and sharing all this for free online.
Thank you and thanks for your support!
My Menu menu
Want free live phone support? In the USA, call (800) NIKON-UX, 24 hours a day, 365 days a year.
How to Get Here
Press MENU, scrolling to the left and selecting the bottom option which has an icon resembling another menu with a check.
You'll see MY MENU on the color LCD.
What it Does
My Menu lets you put all the menu items you actually use in one place. This is called "My Menu."
If you prefer a menu that populates itself automatically with whatever you've used recently, you can change it to a Recent Settings menu.
To change it to Recent Settings, MENU, get to the bottom left MY MENU tab, go down to CHOOSE TAB, and select RECENT SETTINGS.
If you choose RECENT SETTINGS, the D800 and D800E populate this menu for you automatically, but you cannot chose and remove your own items.
What I Do with It
This feature helps immensely, since Nikon hides so many important menu items in weird locations.
With the My Menu menu, what I need is right where I need it.
I have my My Menu menu programmed to: top
Battery info
If you're the sort of person like me who watches your digital clocks to be sure they count up properly, this menu lets you read your battery power to the nearest single percent. It also tells you how many shots you've already made on this charge, which can help you predict how many shots are left. You'll need Algebra to calculate remaining shots; the D800 and D800E doesn't do it for you.
To calculate, remaining shots = (no. of shots) / (1-[charge/100])
Charging life is the health of your battery. I've made many tens of thousands of shots on my many Nikons, and have never seen it read anything other than 0 (new). See How to Keep Your Batteries Healthy.
Auto Distortion Control
I use Auto Distortion Control for my family and general photos, but turn it off when testing lenses.
If you count every pixel, these tiny subpixel shifts can dull the image very slightly in the corners.
Storage folder
I use this to create a new folder for each subject I shoot, or go back and reselect an old folder if I go back to shooting an earlier subject.
This helps when I have to download it all and make sense of it later.
Non-CPU lens data
Here is where I set and select among my various manual focus lenses. You can skip this if you only shoot AF lenses, or just one manual lens.
The D800 and D800E recall the last-used non-CPU lens setting whenever you pop on a manual lens, so if you only have one, set it and the D800 and D800E recognizes it by magic.
If you use two or more (or use a manual-focus zoom), this lets you select which lens or focal length more quickly.
I'd set an Fn button to do this (Choose non-CPU lens data), but I have my buttons set to other things.
AUTO ISO: Maximum sensitivity and Minimum shutter speed
I would add Auto ISO settings like Max ISO and Slowest Speed, but they paradoxically can't be added here.
You can add the regular ISO control or turn AUTO ISO on and off, but you can't add the more detailed settings I need. Criminy, I can set AUTO ON/OFF and base ISO simply by holding the ISO button and turning the two dials; I don't need a menu for those.
Top of D800 and D800E User's Guide
AUTOFOCUS
Setting the D800 and D800E's Autofocus System
KNOBS and BUTTONS
MENUS
MY MENU MENU You're done! Return to Top of D800 and D800E Guide.
Home Donate New Search Gallery Reviews How-To Books Links Workshops About Contact