Nikon SB-R200 Remote Macro Flash
© 2005 KenRockwell.com
get the SB-R200 here, the R1C1 package here and R1 package here
INTRODUCTION
The SB-R200 are the cute little $150 macro flashes you see on each side of the lens above. They work without wires. You control them from the built in flash of a D200, D70 or D70s, or use the SU-800 remote commander with the D50, D2X, D2H and F6. This saves you from having cables running all over your rig.
The SB-R200 was announced November 1st, 2005 along with the SU-800 controller and R1C1 macro flash kit.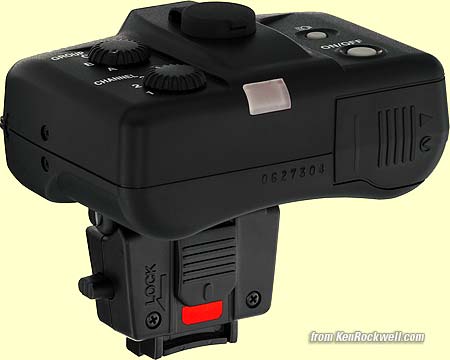 Weird rear view of SB-R200
The flashes tilt towards and away from the optical axis and offer a white LED beam for positioning. You use the SX-1 Master Attachment Ring to attach up to four SB-R200 to your lens. The SX-1 holds up to eight SB-R200 when not mounted on a lens.
The SB-R200 only attaches to the SX-1 ring or AS-20 stand. It does not attach to a hot shoe. It also only works remotely: it cannot be attached to a camera to fire.
Nikon offers also two packages: the $680 R1C1 and the $430 R1, which include the flashes, mounting hardware, accessories and possibly the SU-800 controller. See my pages here for more on these packages.
SB-R200 SPECIFICATIONS
Guide Number: ISO 100: 33 feet or 10 meters. (46 feet or 14 meters ISO 200)
Recycling Time: 6 seconds or less
Flashes per battery: 290
Battery: One 3V CR123A lithium battery
Beam Width: 78° horizontal, 60° vertical
Tilt: Each flash tilts up to 60º towards the optical axis with 15º clicks. They each tilt up to 45º away from the optical axis with 15º clicks.
Compatible Cameras: Film (TTL), Digital (D-TTL and i-TTL) and manual.
Size: 3.1 x 3.0 x 2.2" ( 80 x 75 x 55 mm)
Included Accesories:
AS-20 Speedlight stand
SS-R200 Soft Case
SJ-R200 Color Filter Set
SZ-1 Color Filter Holder
RECOMMENDATIONS
These are for people photographing insects, frogs and chasing around small animals with a macro rig. It's a huge mechanical improvement over using a Lepp bracket and other small wired flashes. I have not tried it: the i-TTL system's many preflashes may scare and otherwise alter your subject making live photography difficult for some subjects. For instance, my dog and some people are assured to have their eyes closed in every photo due to the i-TTL system's preflashes.