Nikon D200, D40, Canon 5D, 40D and Rebel XTI High ISO Comparison
© 2007 KenRockwell.com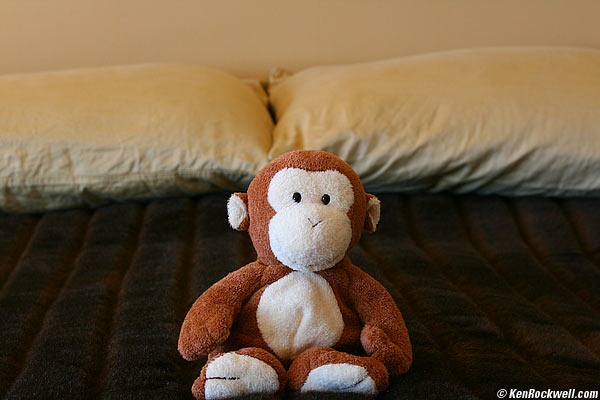 Self Portrait.
I get my goodies at Ritz, Amazon, Adorama. It helps me
keep adding to this site when you get yours from those links, too.
October 2007
NEW: See also my newer Nikon D300, D200, D40 and Canon 5D High ISO Comparison from November 2007.
Each year I round up the relevant DSLRs I have sitting around and have a shoot out. (see 2006's comparison, for example.)
This is really boring, since all the similar DSLRs look so similar it's maddening. Look at the range of color and contrast adjustments on a typical DSLR, the Canon 40D, and you'll see that there is far more variation in the way you can set any DSLR than there is between competing cameras at the same settings.
Since you people keep asking, here goes.
This compares all cameras on the same grounds: same shot, same tripod, same exposure, same angle of view, same final print size (tech details below). All of these would print at 43" (1.1m) wide if you printed the entire portrait at the same magnification as shown below. I rarely print this big; do you?
Sorry, no Nikon D300 or D3 yet. Contrary to popular belief, I'm just a guy like everyone else who likes to take pictures. I don't get anything from Nikon; I have my own cameras on order and have to wait like everyone else does. When the D3 and D300 arrive I'll have to do this again from scratch so that conditions match for a meaningful comparison.
Use the "skip to ISO" links to switch instantly among the various ISOs and you'll see how they vary.
Many thanks go to photographer Moose Peterson, who suggested in one of his excellent books to practice your big-game photography with stuffed animals. He's right: they make very willing subjects and do a very good job of representing wildlife for playing with settings.
ISO 100 back to top
skip to ISO 100 ISO 200 ISO 400 ISO 800 ISO 1,600 ISO 3,200
(the Nikon D40 doesn't bother with ISO 100)
ISO 200 back to top
skip to ISO 100 ISO 200 ISO 400 ISO 800 ISO 1,600 ISO 3,200
| | |
| --- | --- |
| | |
| | |
| | intentionally left blank. |
ISO 400 back to top
skip to ISO 100 ISO 200 ISO 400 ISO 800 ISO 1,600 ISO 3,200
| | |
| --- | --- |
| | |
| | |
| | intentionally left blank. |
ISO 800 back to top
skip to ISO 100 ISO 200 ISO 400 ISO 800 ISO 1,600 ISO 3,200
| | |
| --- | --- |
| | |
| | |
| | intentionally left blank. |
ISO 1,600 back to top
skip to ISO 100 ISO 200 ISO 400 ISO 800 ISO 1,600 ISO 3,200
| | |
| --- | --- |
| | |
| | |
| | intentionally left blank. |
skip to ISO 100 ISO 200 ISO 400 ISO 800 ISO 1,600 ISO 3,200
| | |
| --- | --- |
| | |
| | |
| | intentionally left blank. |
(note: the Canon Rebel XTi (EOS 400D) has no ISO 3,200 setting, so I pushed it with Photoshop)
Analysis back to top
Just like last year, all of the cameras of the same format look the same to me. The 5D has The Full-Frame Advantage and does a little better. I was too lazy to include a compact camera, which as I showed last year, is abysmal compared to any DSLR. A typical compact camera, like the Canon SD700 I use all the time, is ten times worse than any DSLR. My SD700 at its lowest ISO 80 looks about the same as any of these DSLRs at ISO 800!
Sure, We all can see a little difference between these DSLRs, but I see far more difference between one ISO and the next than differences between similar cameras.
Don't just look for noise: look at how much detail is left. Look at the stray hair in the lower right of my eyeball. Better cameras stay sharper at high ISOs, while crummier ones blur the image in an attempt to reduce noise. That's why there are no meaningful objective measurements of noise today, since noise measurements alone tell us nothing about image quality.
The Canons look a little sharper. This is an almost meaningless difference; next time, I'll figure out a way to show how bad or good bad or good really is by trying to throw in a different format camera. I couldn't tell one from the other here if I didn't have the others for direct comparison. I'm sure any of you can play in photoshop and sharpen them further.
Far more obvious and important are the color and contrast variations available in each of these cameras. Look at the range of Canon 40D adjustments, and then you'll see real differences.
Real photographers pay attention to artistic adjustment of their cameras and don't worry about buying a new camera each week because some website says some invisible noise difference will change their life.
Technical back to top
I made the same self-portrait a zillion times from a tripod with the self timer.
I used a Canon 70-200mm f/4 L IS on the Canons and a Nikkor AF 70-210mm f/4 on the Nikons. I zoomed each lens to give the same field of view, which was 70mm on the 1.6x Canons, 78mm on the DX Nikons and 116mm on the Canon 5D.
The full image is shown above. I shot each in the same manual exposure at f/11 with Auto WB. I upsized the smaller images to match the largest, which were the images from the Canon 5D. I then cropped from each identically-sized image and arranged them below. I grabbed my old Nikkor 70-210mm because it's so easy to set an exact focal length at around 78mm. All lenses look alike in the center at f/11, so no big deal.
Exposure times for all cameras were:
| | |
| --- | --- |
| ISO | Manual Shutter Speed |
| 100 | 1/5 |
| 200 | 1/10 |
| 400 | 1/20 |
| 800 | 1/40 |
| 1,600 | 1/80 |
| 3,200 | 1/160 |
PLUG
If this just saved you a few thousand dollars, or you find this as helpful as a book you might have had to buy or a workshop you may have had to take, feel free to help me continue helping everyone.
Thanks for reading!
Ken
Caveat: The ads below come from a third party and I don't see or approve them. They are sent to your screen directly from a third party. They don't come from me or my site. See more at my Buying Advice page. Personally I get my goodies at Ritz, Amazon and Adorama.