Home Donate New Search Gallery Reviews How-To Books Links Workshops About Contact
Death Valley
01 02 03 February 2013
These are snaps from my trip to Death Valley with Ryan, my enthusiastic six-year-old. It was our first photo trip together.
For serious shots, I brought my 1955 LEICA M3 loaded with Kodak T-MAX 100. Atop my M3 is my LEICAMETER MR-4, and on the front could be found my 1959 LEITZ SUPER-ANGULON 21mm f/4, 1965 LEICA SUMMICRON 35mm f/2, 1957 LEICA SUMMICRON 50mm f/2 mit near-focusing range or the magnificent 1960 LEITZ SUMMICRON 90mm f/2. I also threw in a 2009 LEICA M9 in case I wanted "color" from these lenses, and popped in a 2012 LEICA SUMMILUX-M 35mm f/1.4 ASPH (floating element) since there was room in the second bag. Compared to today's disposable plastic DSLRs that sell for thousands of dollars, my LEICA M3 and its classic — but optically superior — lenses cost me only a fraction of what most people pay for a hot-rod DSLR today. As of 2013, the best costs less!
The 1957 LEICA SUMMICRON 50mm f/2 mit near-focusing range has such a precisely calibrated focus scale that I can read it to three significant figures.
My LEICAMETER MR-4 needed to be set to EI 50 for ASA 100 film; it was reading a stop high. Therefore, a perfect meter would have been set to an ASA or EI twice as high as what I did. Of course since the meter doesn't look through the filter, I added one stop for yellow, two stops for orange and three stops for red filters — or set EI 25 for yellow, EI 12 for orange and EI 6 for red. later I set 1/3 of a stop slower, EI 20 for yellow, EI 10 for orange and EI 5 for red.
It's interesting to note that I only shot a fraction of a roll of film on the M3, since I was mostly playing with Ryan on this trip. Even though I only made 26 shots on the LEICA, I published 12 of them, or over 46% of my 35mm film shots. I can't say that for digital; since film demands more concentration and costs us every time we snap the shutter, we pay attention and shoot better.
Actually, three of those shots were by Ryan. Of the 23 exposures I made, I published 11, or almost half, and of Ryan's three exposures, I published one, or over 33%.Not bad: a kid, who like most people, has no idea how to focus a rangefinder camera or set manual exposure (he can load an M3 no problem), still has better than a 33% published shot rate shooting in 35mm. Who can say that for their digital shots?
For "color" or "digital" work, I had my iPhone 5 in my pocket. I always shoot it in HDR mode and let it record two versions, from which I pick the best later while editing. Ryan brought his VTech 1227 KIdizoom camera. Since there was room in the trunk, I also brought along my Canon 5D Mark III, 24-70mm f/2.8 L II and 70-200mm f/4 L IS. For photos of things I used my C1 setting: LARGE NORMAL JPG, AUTO A4 white balance, +4 Saturation and 6 Sharpening. For photos of Ryan I used my C2 setting: SMALL NORMAL JPG, AUTO A4 white balance, and 6 Sharpening. As it turns out, Ryan didn't have much interest in photographing and mostly wanted to hike and play, so little serious work happened. Therefore, most of these photos are made on the iPhone 5. Honestly, I don't see any huge difference between the iPhone 5 and the shots made on the Canon 5D Mark III or LEICA M9; the biggest difference is that the iPhone photos have truer colors than either of the other two cameras!ALL IMAGES WERE SHOT HAND-HELD. Tripods are for the weak — but I brought a Dolica ZX600B300 with Novoflex Mini Magic ball head just in case. The LEICA M9's colors are so bad that I have to shoot it in DNG with white balance set to 7,000K (or auto at night), and then process the files in Apple Aperture 3, which looks pretty good and isn't much extra work. I export the edited Versions, usually with saturation set to +1.2, as JPGs and then treated them as I treated the other images.
I used iView Media Pro 3.1.3 to identify and losslessly rotate all my JPGs. I then sorted the images in Phase One Media Pro. I would have rotated the images in Phase One Media Pro, but it's pretty flaky doing rotations, so I've given up and now do it in iView Media Pro 3.1.3 first.Once selected, I formatted the images them for publication in Photoshop CS6. I then created these pages and uploaded it all in Macromedia Dreamweaver 8 from 2006 on Mac OS 10.6.8.For fun if you care, see if you can guess with what camera each shot was taken before reading the caption. The iPhone 5 is as good as the others, and as I used it, usually the cleanest of all the digitals I shot!
The film is still in my LEICA M3, so we'll have to wait for me to finish the roll and get it back from the lab for anyone to see it!
01 February 2013, Friday top
Today we drove to Death Valley by way of scenic Trona.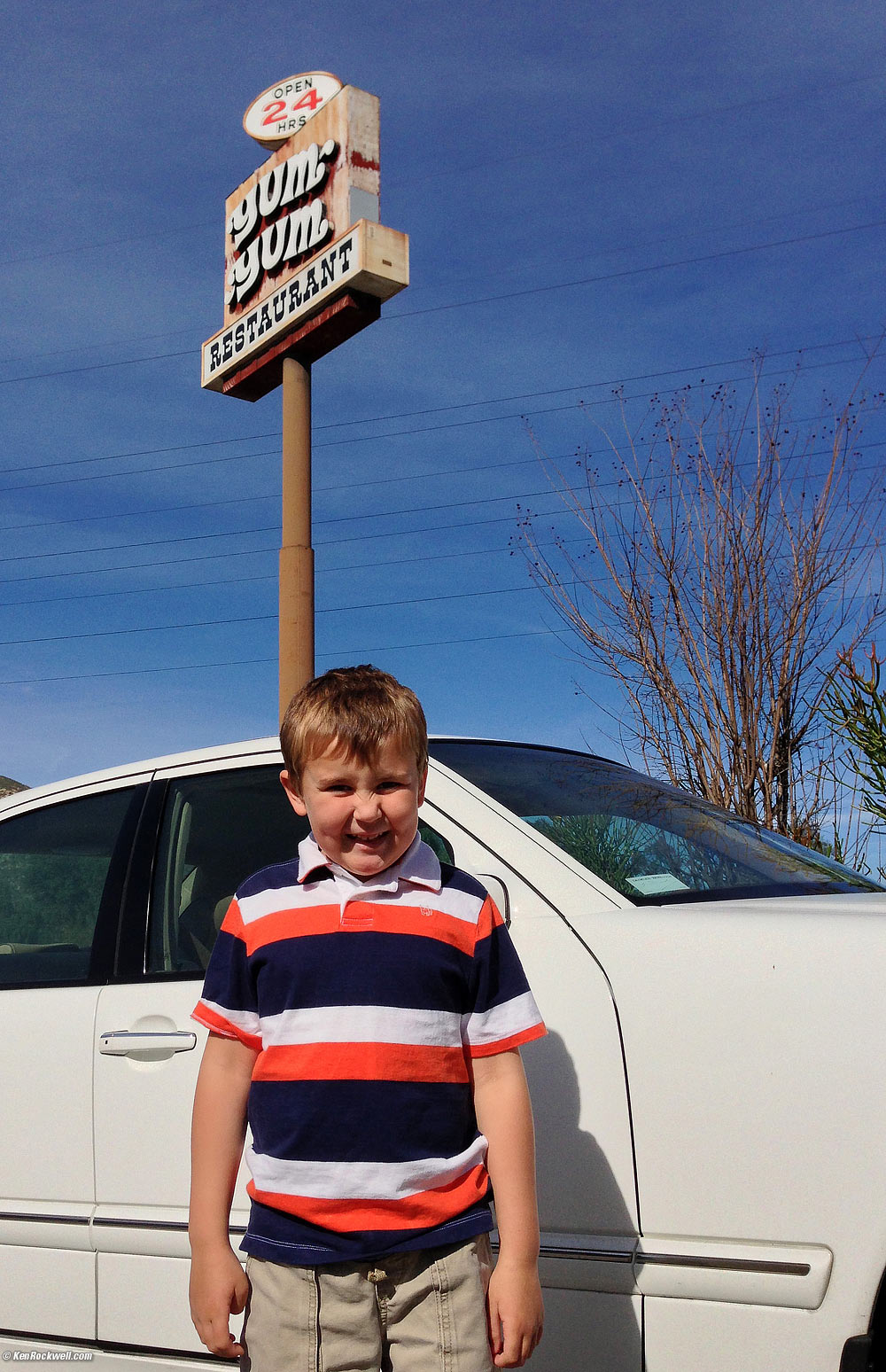 Yum Yum Restaurant, Colton, California 12:47 PM. (iPhone 5, ISO 50, 1/4,184 at f/2.4, Perfectly Clear.)
Eating at Yum Yum is my idea; I like the name. Yum yum (a.k.a. num num) is the baby word our family uses to mean food.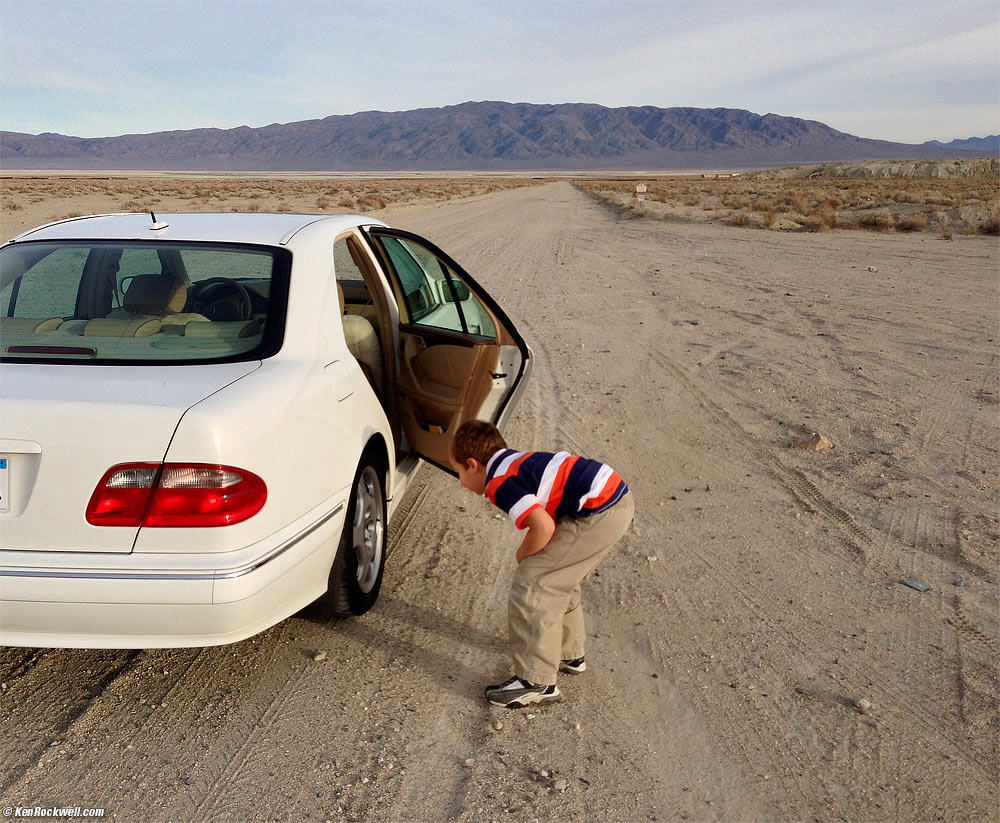 Ryan looking at the tires, Trona, California 4:08 PM. (iPhone 5, ISO 50, 1/1,043 at f/2.4, Perfectly Clear.)
We had no problems, but Ryan wanted to look at the tires. He also likes looking at the motor.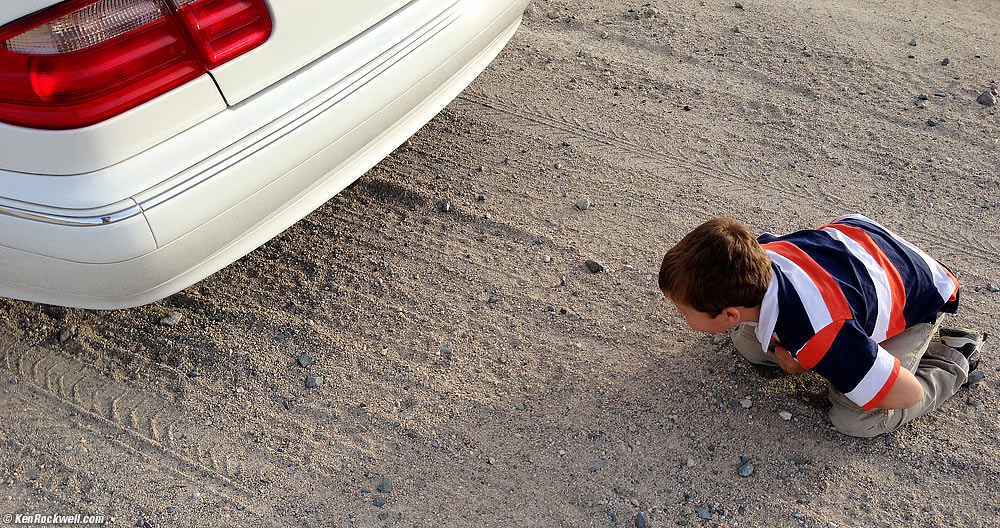 Ryan looking under the Mee, Trona, California 4:08 PM. (iPhone 5, ISO 50, 1/616 at f/2.4, Perfectly Clear.)
"Mee" is the name Ryan gave to my Mercedes before he could talk. "Dada go Mee" meant I was going away on a photo trip, and today, he came with me!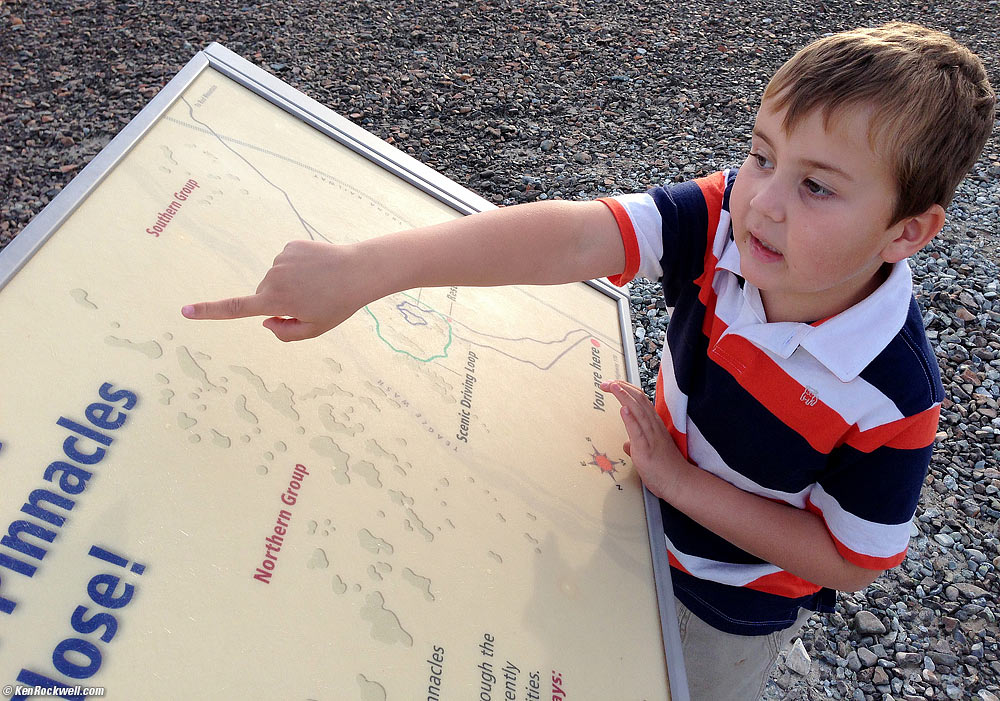 "This way to the Pinnacles, Dad!" Trona, California 4:25 PM. (iPhone 5, ISO 50, 1/369 at f/2.4, Perfectly Clear.)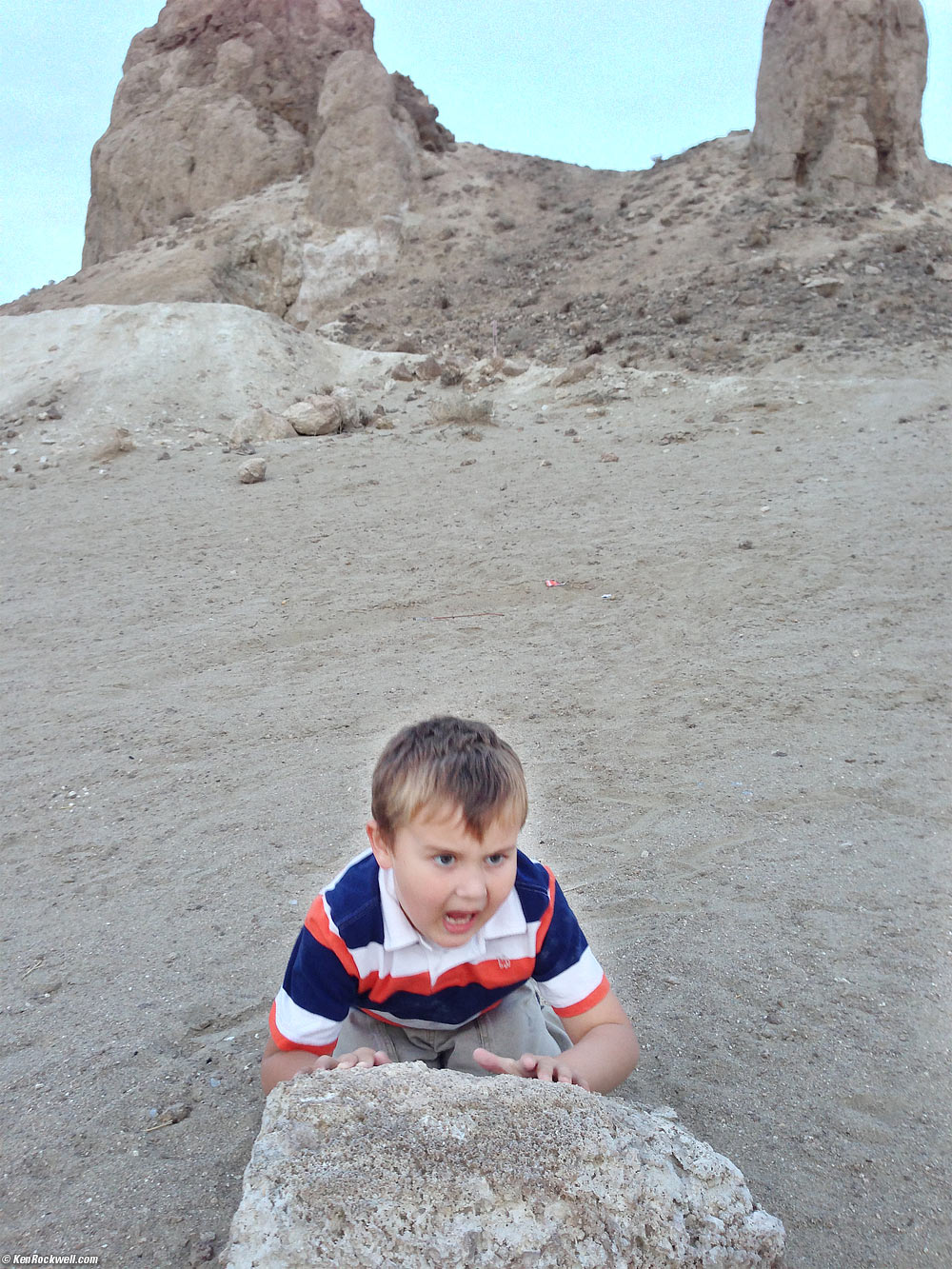 Cave Man Ryan! Trona, California 5:12 PM. Ryan was inspired by the real, live cave-man cave behind him. (iPhone 5, ISO 50, 1/24 at f/2.4.)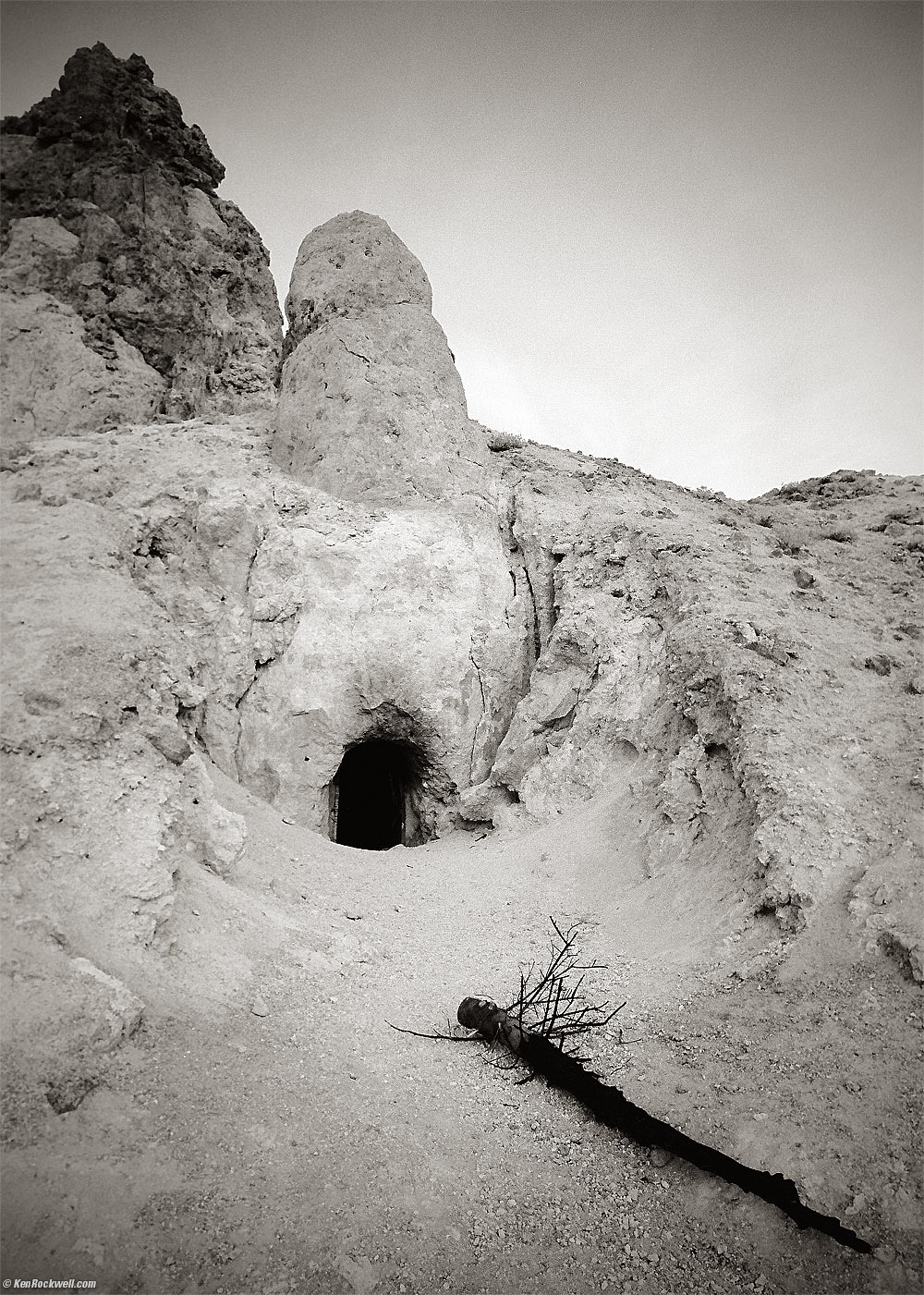 Spider Cave, Trona, California 5:00 PM. (1955 LEICA M3 loaded with Kodak T-MAX 100, LEICAMETER MR-4 at EI 6, 1959 LEITZ SUPER-ANGULON 21mm f/4 mit 39mm LEITZ Red filter, f/11 at one second, casual use of tripod, 30 feet, NCPS process and scan, Perfectly Clear, edge-burned and split-toned print.)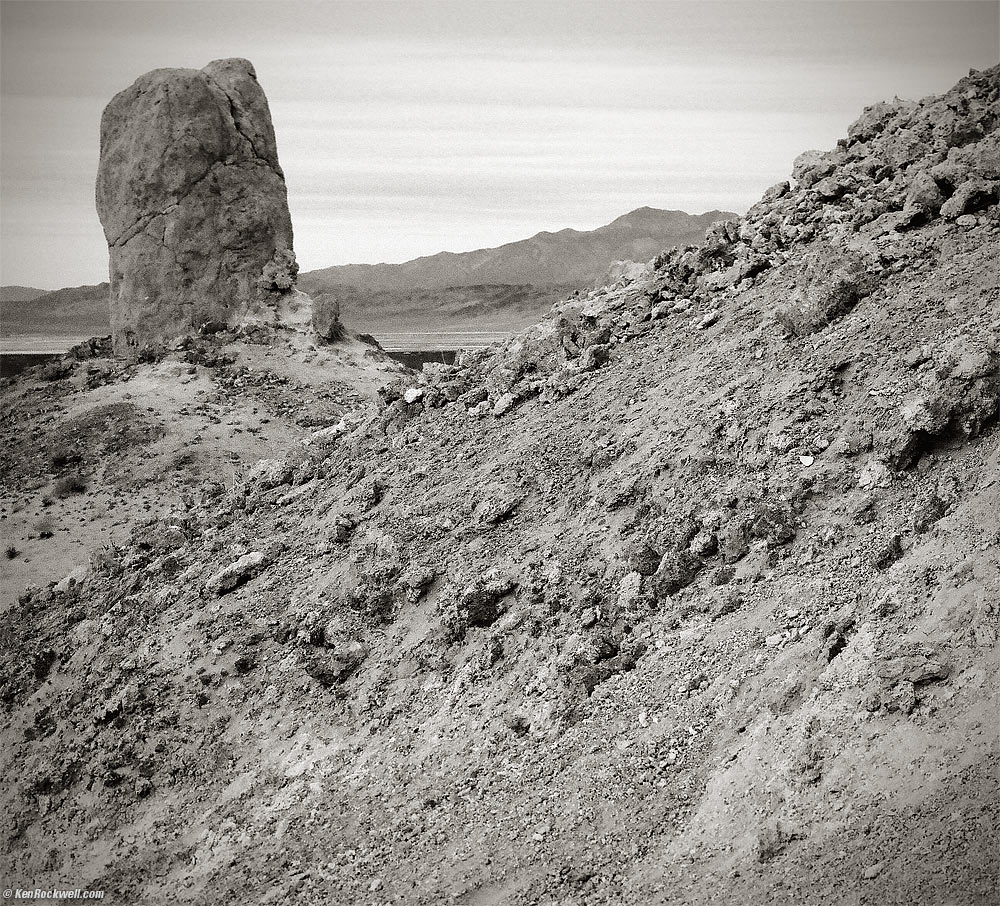 Pinnacle, Trona, California 5:04 PM. (1955 LEICA M3 loaded with Kodak T-MAX 100, LEICAMETER MR-4 at EI 6, 1957 LEICA SUMMICRON 50mm f/2 mit near-focusing range with 39mm LEITZ Red filter, f/16 at one second, casual use of tripod, 8 meters, NCPS process and scan, Perfectly Clear, edge-burned and split-toned print.)
That's all for today. NEXT ->> Saturday
Home Donate New Search Gallery Reviews How-To Books Links Workshops About Contact