Nikon 28-80mm f/3.5-5.6 AF-D
(made 1999-2001)
© 2004 KenRockwell.com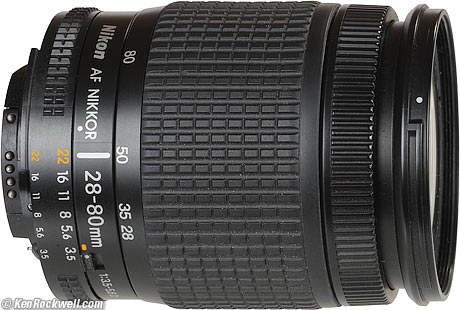 Nikon 28-80mm f/3.5-5.6 AF-D. enlarge. look for it used here.
Introduction
This crappy little plastic-mount $100 lens is a surprisingly excellent performer.
In fact, this is the best example I've seen of a lens that stupider people will dismiss without even trying it, whereas in fact it is among the best midrange zooms I've used!
Beware; There are many, many completely different versions of this lens with seemingly similar model names. The 2001-2006 28 -80 AFG lens is different and also excellent.
The version I like here is the one in the photo above with a focusing collar of molded hard plastic with a grip ring about 1/4" wide and an aperture ring. It was not the one with a grip about 1/10" wide.
It has no focusing scale.
History
The first dinky 7-element 28-80mm f/3.5-5.6 AF-D lens was made from 1995 through 1999. Nikon made over a quarter-million of these. They took the HB-10 hood and had a very thin manual focus ring.
This second dinky 28-80mm f/3.5-5.6 AF-D lens, with 8 elements and a broad manual focus ring, replaced the first version in 1999. This version was only made until 2001, although Nikon cranked out about 700,000 of them. Nikon sold these as kits with their least expensive cameras, and obviously Nikon sold a lot more cheap AF cameras these two years.
In 2001 this 28-80mm AF-D was replaced by the 28-80mm G, of which Nikon made close to two million copies!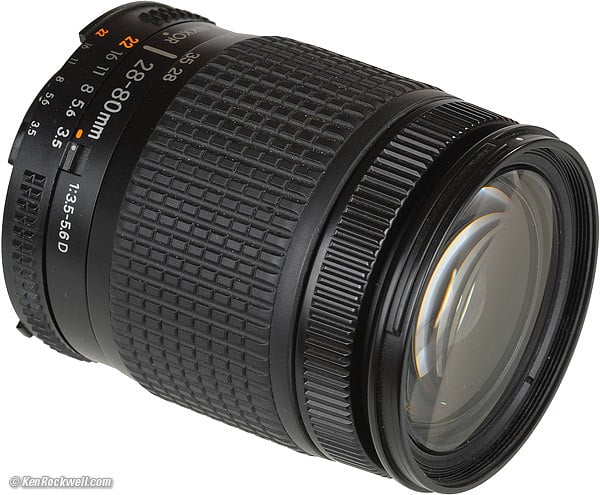 Nikon 28-80mm AF-D.
Specifications
Name: Nikon calls this the Nikon AF Nikkor 28-80mm f/3.5-5.6D.
Optics: 8 elements in 8 groups. Spherical, multi-coated.
Close Focus: 1.3 feet (0.4m) at all focal lengths; excellent and much more convenient than more expensive lenses.
Diaphragm: Unusually nice 7 blade rounded. Stopping down to f/22 (28mm) to f/36 (80mm).
Filter Thread: 58mm. You can step this up to 77mm for filter compatibility with pro lenses.
Size: Nikon specifies 2.9" (57mm) long by 2.5" (63mm) diameter.
Weight: 9.320 oz. (264.3g). Nikon specifies 9 oz. (250g).
Hood: HB-20.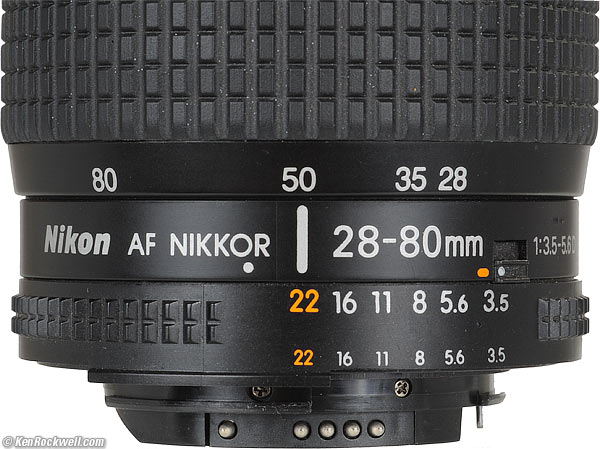 Nikon 28-80mm AF-D.
Performance
AF Speed
Instantaneous: the screw only makes three full revolutions from infinity to close-focus.
Typical: barrel distortion at the wide end, but none at the long end.
Plug these figures into Photoshop CS2's lens distortion filter to correct the distortion. These aren't facts or specifications, they are the results of my research that requires hours of photography and calculations on the resulting data.
| | |
| --- | --- |
| | |
| 28mm | +4.0 |
| 35mm | +1.0 |
| 50mm | +0.1 |
| 80mm | 0.0 |
© 2008 KenRockwell.com
Exposure
Exposure was about a half stop to 2/3 stops low on one sample. Keep an eye out for this if you get one. No big deal for digital, but try it first on film.
Falloff (dark corners)
I can see only the very slightest falloff wide-open at 28mm shooting only gray test targets, and this is on full-frame digtal!
I'd never see this in photos. This is among the best performing lenses I've use in regards to freedom from light falloff.
28mm: Sharp at every aperture.* Lower contrast in corners at f/3.5; perfect by f/8.
35mm: Sharp at every aperture.* Lower contrast in corners at f/3.8; perfect by f/5.6.
50mm: Sharp at every aperture.* Lower contrast at f/4.5; perfect by f/5.6 - 8.
80mm: Sharp at every aperture.* Lower contrast at f/5.6, perfect by f/8.
* of course diffraction makes things softer at f/16 and smaller; that's just the physics of every lens and nothing in particular with this lens.
Sharpness (Fuji Velvia 50 film)
Holy Moley! It is sharp at all apertures and focal lengths, BETTER than the three-times as expensive 28-105mm AF zoom, since I saw no focus errors with this lens as I did with my first sample of 28-105.
To be fair to the 28-105, I saw the focus errors on a different sample of F100. The new (June 2001) F100 I have seems to be free from the AF errors I saw on the earlier ones (Sept. 1999) I first owned.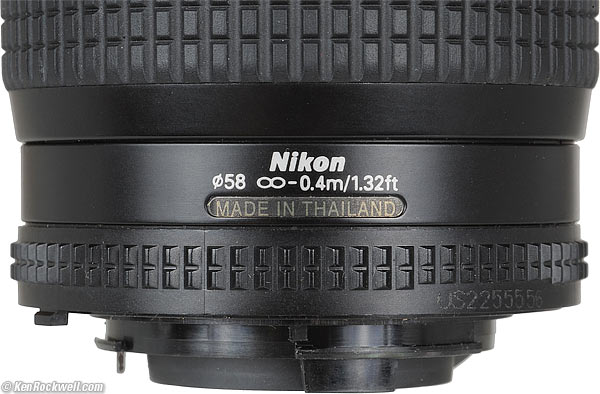 Nikon 28-80mm AF-D (bottom).
Zooming
Easy! The zoom ring is smooth, glides easily and is well spaced. It is more congested at the wide end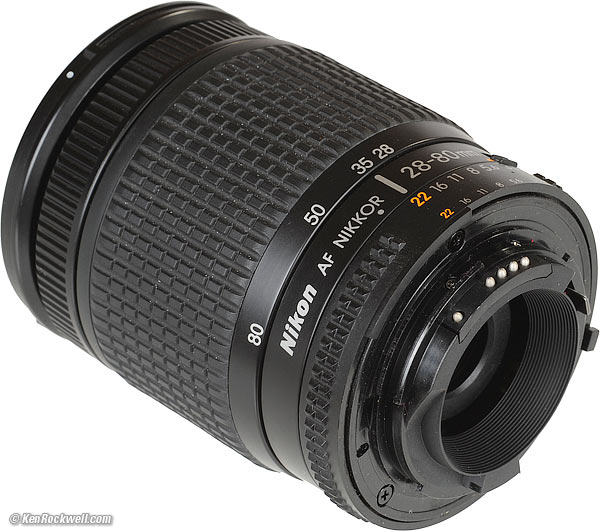 Nikon 28-80mm AF-D.
Recommendations
If you want an inexpensive high-performance mid-range zoom for film or FX, go for it if you can!
Yes, it is slow (f/5.6) and cheesy feeling and the focus does not hold while zooming, so just make sure to focus after you select your focal length and you'll get great results
The newer 28-80mm f/3.3-5.6 G cheapskate zoom lens is a smaller, simpler six element design. I'd get the G version for most more recent cameras, or get this older AF-D version, with aperture ring, if you plan to use it on older film cameras.
The smaller28-80mm f/3.3-5.6 G may cause less shadowing with the built-in flash at 28mm on some cameras. I saw no flash shadows with the larger D version on an N65.
Nikon, like most of technology, always amazes me by making cheaper, crappier looking products that dish out better and better results.
PLUG
If you find this as helpful as a book you might have had to buy or a workshop you may have had to take, feel free to help me continue helping everyone.
Thanks for reading!
Ken
Home Search Gallery How-To Books Links Workshops About Contact