Home Donate New Search Gallery Reviews How-To Books Links Workshops About Contact
Nikon 300mm f/4.5
NIKKOR-H through AI-s (1969-1998)
© 2015 KenRockwell.com. All rights reserved.
Intro Specs Performance Compared Usage Recommendations More


Nikon 300mm f/4.5 AI-s (FX, DX and 35mm coverage, metal 72mm filter thread, 40.9 oz./1,158g, 12'/3.5 m close focus, about $250 used). enlarge. I got this beauty at this link directly to them at eBay (see How to Win at eBay).
This ad-free website's biggest source of support is when you use any of these links to approved sources when you get anything, regardless of the country in which you live. Buy only from the approved sources I use myself for the best prices, service, return policies and selection. Thanks for your support! Ken.
January 2015 Nikon Reviews Nikon Lenses All Reviews
Nikon 300mm f/4 Lenses Compared
Why Fixed Lenses Take Better Pictures
Introduction top
Intro Specs Performance Compared Usage Recommendations
This is a popular lens. It works extremely well on the newest full-frame DSLRs.
Compatibility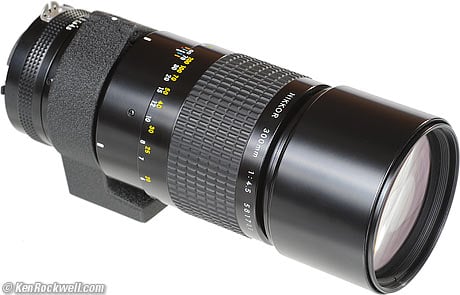 Nikon 300mm f/4.5 AI-s. enlarge
It won't couple well to the cheaper digital (D80 and below) and cheaper film cameras (N80 and below). It works perfectly every professional film camera (F, F2, F3, F4, F5, F6), with Matrix metering on the FA, F4 and F6.
See Nikon Lens Compatibility for details on your camera. Read down the "AI, AI-s"column for this lens.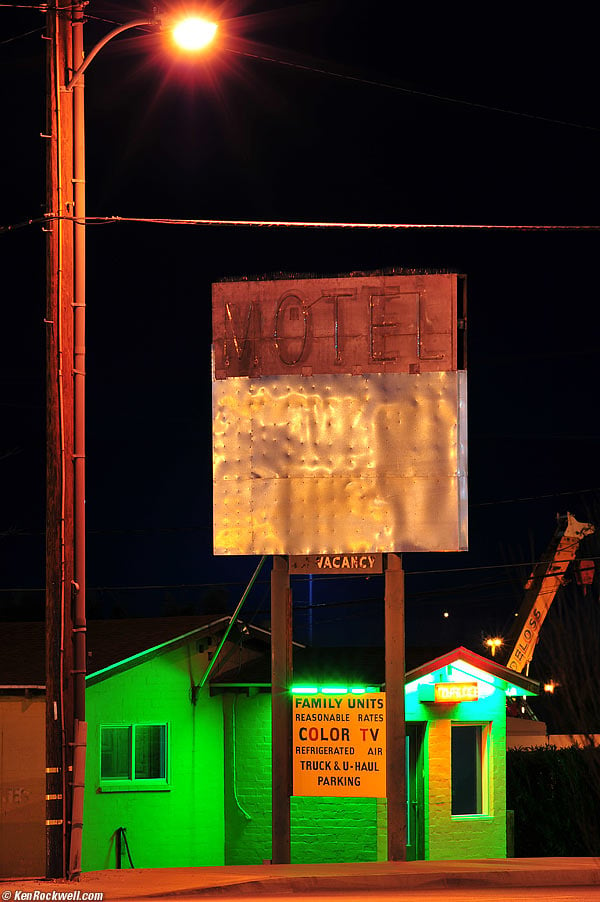 Green Motel, Barstow, California. Nikon D3, 300mm f/4.5 AI-s at f/11, 8 sec. at ISO 200, tripod, WB set on a preset I use indoors in my home (recalled from memory). Exactly as shot.
Let's see: great color, great contrast, no flare, no ghosts, no distortion, no color fringes and super-sharp. Any questions?
Production History
The 6-element optics have been unchanged, except for coatings, since 1969. This AI-s version is the most recent.
Here are the mechanical variations of this 6-element optical design:
1969-1974: NIKKOR-H.
Scalloped metal focus ring, two fixed tripod holes, chrome mid-barrel.
1975-1977
Modern all-black barrel, rubber focus ring, rotating tripod collar, non-AI.
1977-1981
AI version.
1981-1998
This AI-s version.
Specification Variation
All versions stop down to f/22, except this AI-s version, which stops down to f/32.
All versions have a nasty six-bladed diaphragm, except for this newest AI-s version which has 7 blades. (The ED-IF and AF versions have 9 blades.)
All versions focus to 13 feet (4 meters), except this AI-s version, which focuses to 12 feet (3.5 meters).
Production Quantities
Nikon made about 15,000 of the nasty P versions from 1964 - 1969.
Nikon made about 80,000 of the pre-AI six element versions from 1969 - 1977.
Nikon made about 35,000 of the AI versions from 1977 - 1981.
Nikon made about 125,000 of this nicest and newest AI-s version since 1981.
Specifications top
Intro Specs Performance Compared Usage Recommendations
Name
Nikon calls this the Nikon AI Nikkor 300mm f/4.5s.
Focal Length
300mm.
Used on a DX camera it gives angles of view similar to what a 450mm lens would give on an FX or 35mm film camera. See also Crop Factor.
Optics
6 elements in 5 groups.
Nikon Integrated Multicoated (NIC).
Traditional design: entire optical assembly moves in and out to focus.
Diaphragm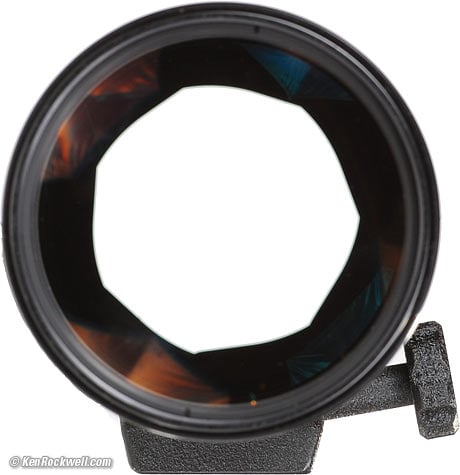 Nikon 300mm f/4.5 AI-s at f/5.6, front view.
7 blades.
Stops down to f/32.
Close Focus
13.3 feet (3.5 meters).
Maximum Reproduction Ratio
1:9.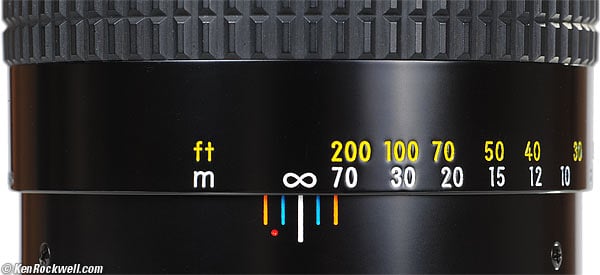 Nikon 300mm f/4.5 AI-s focus scale.
Depth-of Field Scale?
Yes.
Infra-Red Focus Index?
Yes.
Filter Thread
72mm.
Solid alloy.
Tripod Collar
Rotating, locking, and removable (and therefore losable).
Size
7.66" extension from flange (focused at infinity) x 3.094" diameter (194.5 x 78.59 mm), measured.
The widest thing is the the hood.
Nikon specifies 194mm extension from flange, 202mm overall and 78.5mm diameter.
Weight
40.865 oz. (2.554 pounds or 1,158.5g), measured.
Nikon specifies 1,200g.
Case
CL-20A.
Hood
Built-in; also try the HN-20.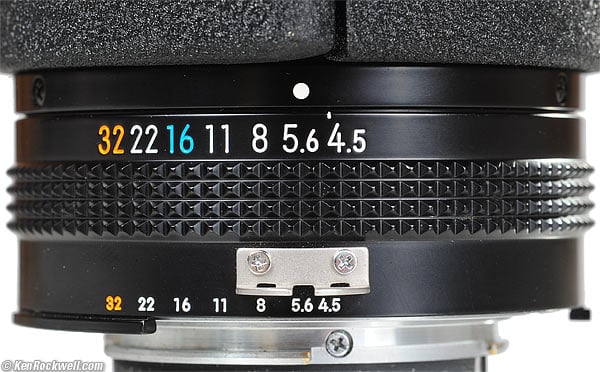 Nikon 300mm f/4.5 AI-s aperture ring.
Performance top
Intro Specs Performance Compared Usage Recommendations
Overall
I'm surprised at how well this ancient design 300mm f/4.5 works on my D3. It's sharp, devoid of color fringes, and just works great.
A benefit of this lens over newer ED and AF lenses are its more precise manual focus.
It has no ghosts, making it ideal for pointing into sources of light.
It has a hard infinity stop, making it ideal for astronomical use. (Newer ED lenses have no infinity stop.)
It has no significant distortion of straight lines.
Distortion
Distortion is invisible unless you deliberately put a ruler on a greatly magnified image on a 30" monitor.
Plug this figure (more coming) into Photoshop CS2's lens distortion filter to correct the distortion. These aren't facts or specifications, they are the results of my research that requires hours of photography and calculations on the resulting data.
© 2008 KenRockwell.com
Falloff (dark corners)
The 300mm f/4.5 has very mild falloff at full aperture. It is rarely visible unless you're looking for it. If you are, stop it down a stop or two and it vanishes.
This is better than the 300mm f/4.5 ED-IF, which has a weird falloff characteristic with a brighter dot in the middle which doesn't go away until stopped down much further.