Born 8:16:30 PM, 15 December 2006, La Jolla, California.
8 pounds, 12.2 ounces (3,975g). 20" (51 cm).
The technical gobbledygook after each shot is the equipment I used for each photo. Many photographer friends ask.
---
(< < back to Newest Photos and Index)
March 2007
31 March 2007, Saturday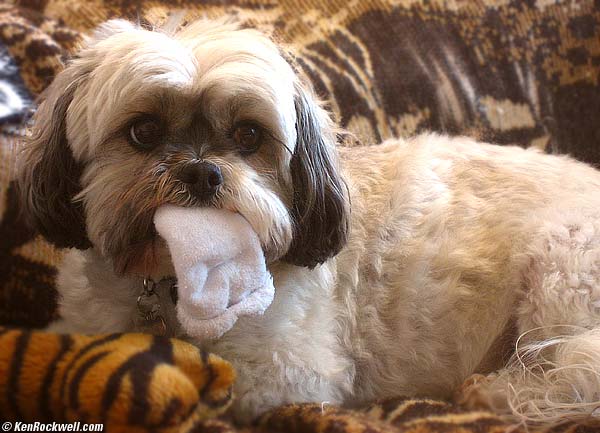 Molly with Ryan's Sock. (Canon SD700, no flash)
28 March 2007, Wednesday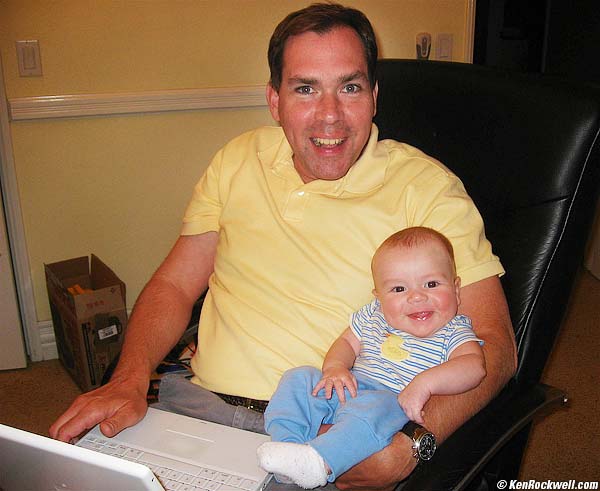 Ryan helping Dad with his website. (Canon SD700 and built-in flash, by mom.)
27 March 2007, Tuesday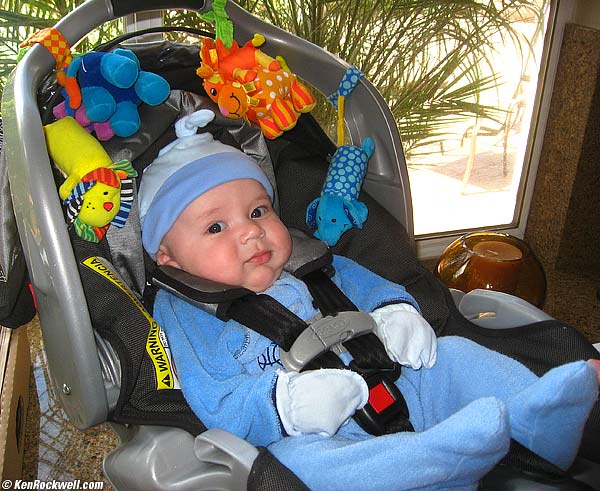 Ryan is always raring to go for a ride. (Canon SD700 and built-in flash)
26 March 2007, Monday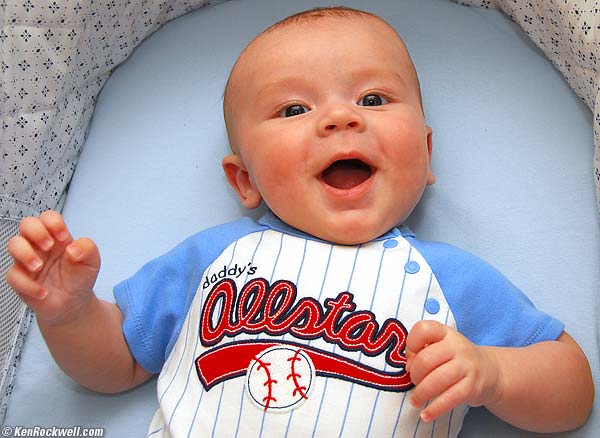 17 pounds, 26" long. (Nikon D200, 18-200mm, SB-600 bounced.)
24 March 2007, Saturday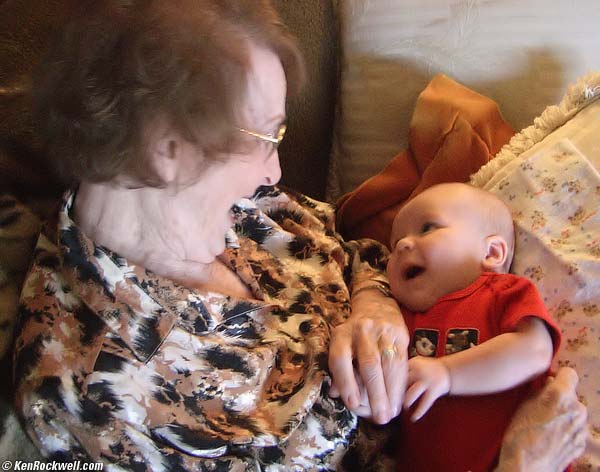 Ryan and Great-Grandma Mimi. (Casio EX-V7 at ISO 800, after Grain Surgery)
23 March 2007, Friday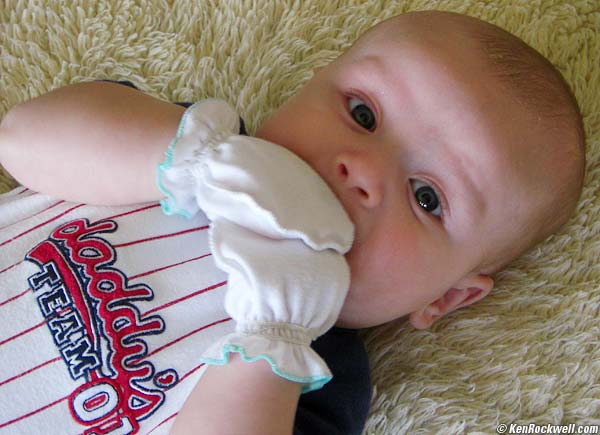 Waiting for lunch. (Casio EX-V7)
21 March 2007, Wednesday
16 pounds.
14 March 2007, Wednesday
Ryan Talking (.MOV)
Ryan Talking (.SWF)
Here's a video of Ryan talking. It's a 5MB file; forget it if you dial-in for internet. (Video from Canon SD700 converted to SWF in Visual Hub.)
Hello Video Experts: Now that I found Visual Hub to convert video to the more universal FLV or SWF, now I'm trying to figure out how to make the easy-play boxes you see on YouTube and Google so everyone can just see these. Let me know if you know how, and if you know how most efficiently to pull the file into Visual Hub after editing in iMovie. Here are links to the file in FLV, SWF , and .MOV.
Good God, this litte flash video is a CPU hog! It plays fine on my Quad 2.5GHz G5 at its native 640x480, but slows the frame rate if I enlarge the window to fill my 2560x1600 screen. It just about stops on my 800MHz iBook G4. Hmm, maybe I need to reduce these to less than 640x480. Too bad, since they play great in .MOV but fewer people have the plugin.
12 March 2007, Monday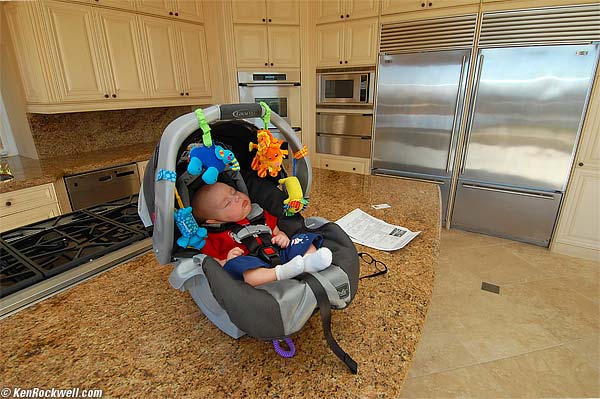 Snooze in a friend's kitchen. (Nikon D40, 12-24mm at 12mm and bounced SB-400.)
11 March 2007, Sunday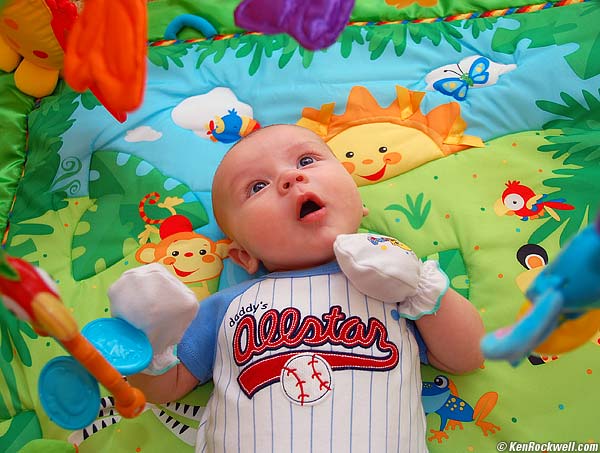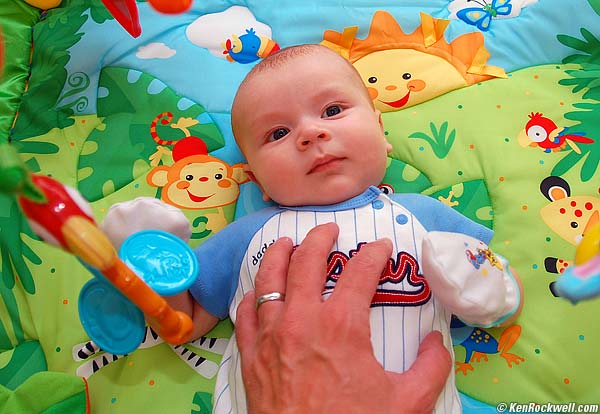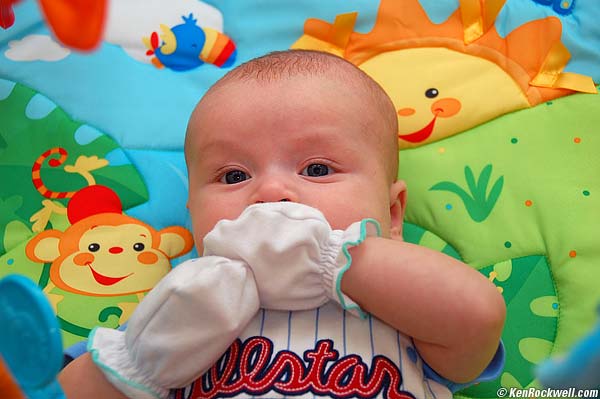 Ryan visits the jungle, which was a gift from our friend Norma Jean.
(Nikon D40, 18-200mm and bounced SB-400.)
More Baby Ryan Rockwell Photos
(< < back to Newest Photos)