Home Donate New Search Gallery Reviews How-To Books Links Workshops About Contact
Sony A99
Full-Frame Mirrorless (2012-)
© 2013 KenRockwell.com. All rights reserved.
Intro Specs Performance Usage Recommendations More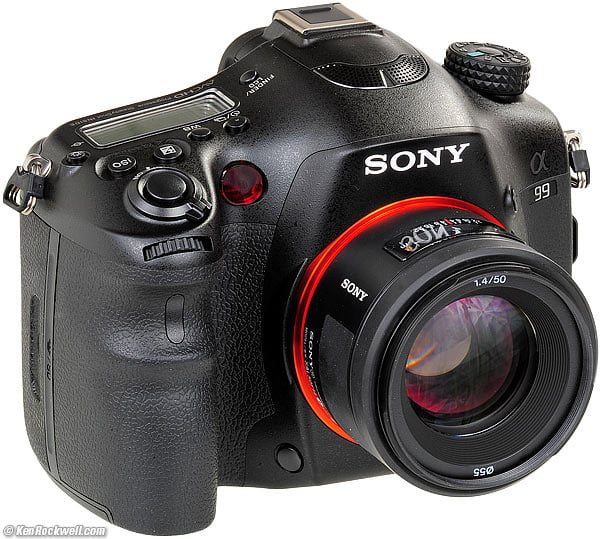 Sony SLT-A99V (Works with all Sony, Zeiss and Minolta MAXXUM Alpha-mount lenses, 28.7 oz./814 g with battery and card, about $2,800) and Sony 50mm f/1.4. enlarge.
I got mine from Adorama. My biggest source of support for this free website is when you use that or any of these links when you get anything, regardless of the country in which you live. It helps me keep adding to this free website when you get your things through these links — but I receive nothing for my efforts if you buy elsewhere. Thanks for your support! Ken.
DEALS: Sony A99 with different kinds of free stuff thrown in.
Get the A99 with a free pro flash and grip, or other deals with different free stuff — all for the same price as the body-only.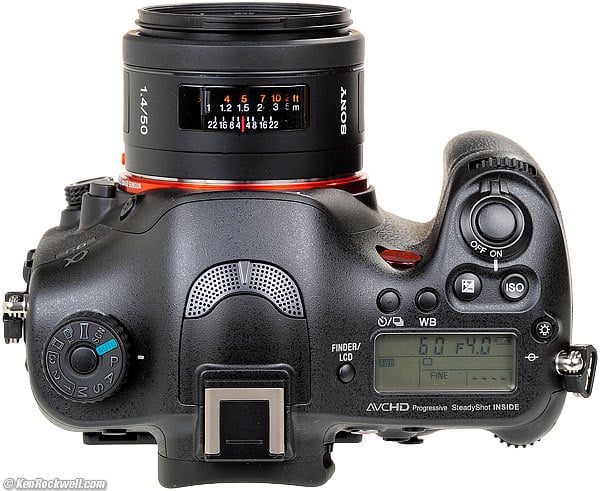 Sony A99. bigger.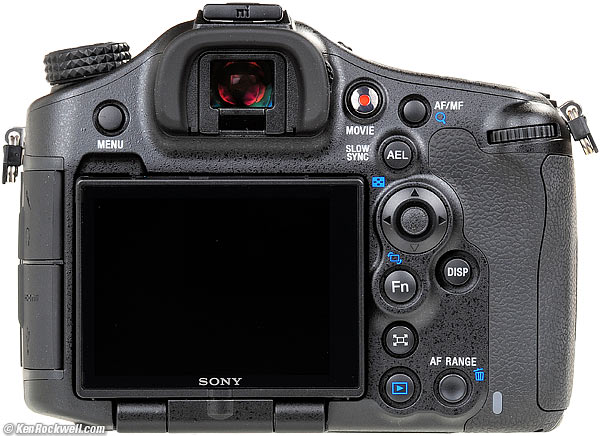 Sony A99. bigger.
June 2013 Sony Minolta Zeiss Fuji LEICA Nikon Canon All Reviews
Sony Lenses Minolta MAXXUM Lenses
Sample Image Files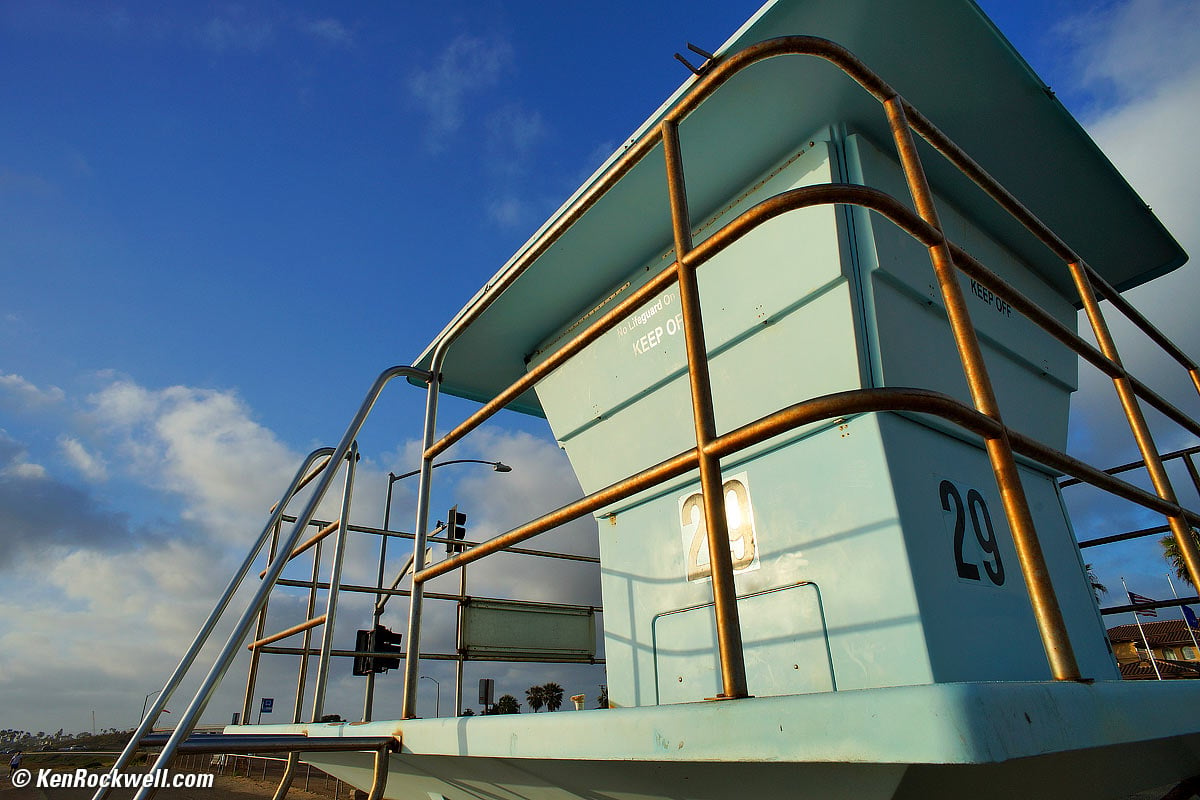 Tower 29. (Sony A99, Minolta MAXXUM AF 20mm f/2.8, f/11 at 1/200 at Auto ISO 100.) Full-Resolution.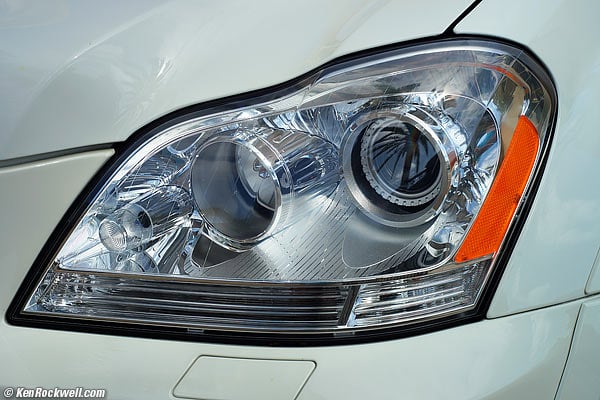 GL550. (Sony A99, Minolta MAXXUM AF 50mm f/2.8, f/9 at 1/320 at Auto ISO 100.) Full-Resolution.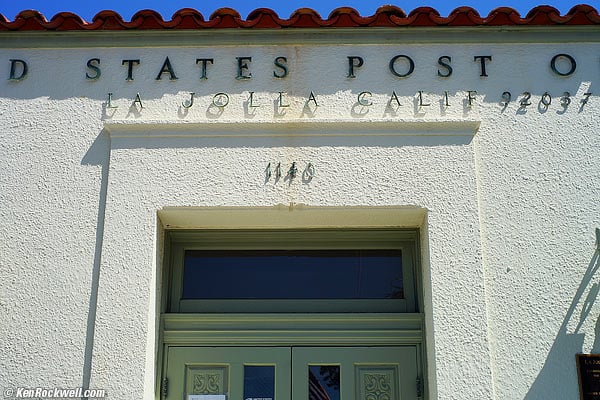 La Jolla Post Office, 29 May 2013. (Sony A99, Minolta MAXXUM AF 50mm f/2.8, f/8 at 1/320 at Auto ISO 100.) Full-Resolution.
Introduction top
Intro Specs Performance Usage Recommendations More
Good Bad Missing Extra Discussion DSLRs versus the A99
I'll cover this later in the discussion, but the A99 is not a DSLR: it has no reflex mirror, it has no optical viewfinder and it has no reflex viewing screen. It is not a DSLR; it is a big mirrorless camera with only an electronic viewfinder. (It has a fixed beamsplitter to help the AF system; that's not a reflex viewing mirror.)
Most of what makes the A99 good or bad stems from the basic design of the A99 as a mirrorless camera. It just happens to be styled — and marketed — as if it were a DSLR, but it's not.
Because it's not a DSLR it took me a couple of weeks to learn it well, and once I did, I love it!
Superb autofocus system and color rendition for family and people pictures. Face Recognition automatically takes command when it sees a face, tracks it all over the frame, and nails focus on the eyeballs perfectly, even if the face is behind something! No longer do I have to twiddle a joystick to assign the AF system to a target; the A99 just does it so I can shoot!
Not only does it handle well, I'm very impressed at how all my A99 photos look great: great color, exposure and always in focus, be it with new Sony lenses or my 1980s MAXXUM lenses. Bravo!
If you engage face tracking or object recognition, the A99's autofocus and exposure systems will track it over the entire frame. Finally, full-frame autofocus on a full-frame camera! The A99 does an exceptional job of automatically identifying faces and tracking them all over the frame for consistently excellent focus in real-world shooting.
Built-in infrared AF illuminator.
The A99's electronic viewfinder (EVF) shows the real depth-of-field, even with f/1.4 lenses. Real DSLRs by comparison only can show the depth-of-field up to about f/2.5 due to the design of the matte surfaces of their finder screens.
In cropped, digital zoom and electronic crop modes, the finder magnifies to fill its own full screen!
The finder is always bright, regardless of how slow or stopped-down your lenses may be. At night, the finder is always bright, working like a light amplifier in very dim light. Unlike a real DSLR, you can always see everything — unless you are in near total darkness, in which case the electronic finder image fades to black.
It's easy to shoot directly into the sun since you're never blinded by the electronic finder.
Works with Sony, Zeiss and Minolta MAXXUM Alpha-mount lenses. Minolta MAXXUM lenses are inexpensive used, and Zeiss makes some extraordinary autofocus lenses only available in the Alpha mount, like the Zeiss 24mm f/2 and 135mm f/1.8.
Unlike LEICA or Canon, the Sony and Maxxum lens system is based on 7- and 9-bladed diaphragms for superior sunstars.
In-camera image stabilization works with all lenses, from the new Zeiss to the oldest MAXXUM lenses from 1985!
Magical instant manual-focus override (Direct Manual Focus, DMF) mode works even with ancient MAXXUM lenses! Yes, the A99 turns your ancient lenses into lenses with stabilization and instant focus override — features they never had originally!
Previsualizing electronic viewfinder lets us see exposure, contrast, color, white balance and more before we take the picture.
In-finder focus magnifier.
Electronic viewfinder lets us playback and set all menus right in the viewfinder. Playback zoom zooms way-in if you want, also through the finder.
Movies can be shot using the A99's viewfinder. (The viewfinders of real DSLRs black out when shooting movies.)
Loads of data in the finder (more than a real DSLR), and all this data doesn't get in the way of the image.
Easy to set custom manual white balances without taking your eye from the finder - and the A99 even reads-back the measured Kelvin temperature and green/magenta bias!
Three custom white balance presets, and they all read-back their Kelvin temperature and green/magenta bias.
Numerous buttons programmable as you wish.
Brilliant 1.4x and 2x crop modes with a dedicated button, very handy for reaching farther. Crop resizes images intelligently based on your set resolution and crop level, unlike the "dumb" image sizes when cropping with Nikon.
Three total camera-state-recall settings on the locking top mode dial.
Dual SD card slots.
All the exposure (P, A, S, M) and shooting modes (still, movie, swept panorama and beginner "scene" modes) are right on the top dial — and visible in the finder as you set them.
Light coming in through the eyepiece can't affect meter accuracy; no need for an eyepiece cover.
Light weight; a little more than the Canon 6D and a little less than the Nikon D600.
The A99 works with old MAXXUM flashes back to about 1993. Unlike with Nikon and Canon, your old flash ought to work great!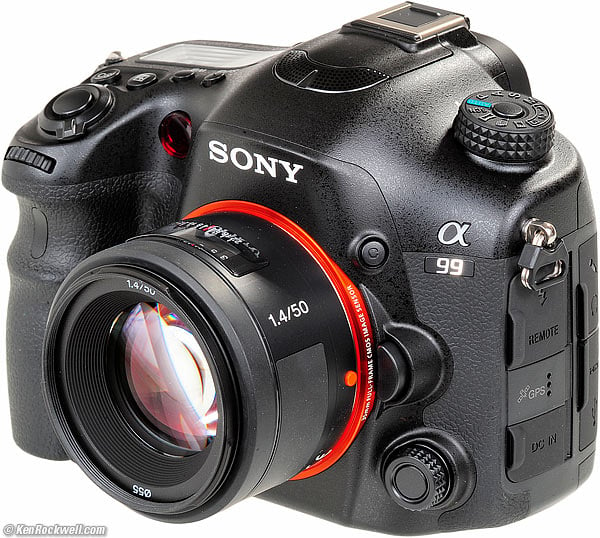 Sony A99. bigger.
It takes a second or two to turn-on or wake from sleep; it isn't always ready like as is a DSLR and you may miss priceless photos while waiting for the A99 to get around to waking up.
The A99 is a mirrorless camera, and thus everything like wake-up and menu response and mode switching only runs about as fast as any other good mirrorless camera — it's not instantaneous like a DSLR.
No way to set preferred slowest shutter speed in Auto ISO.
Auto ISO and Program don't work well together; the A99 tries to hold f/4 as it gets darker instead of taking advantage of your faster lens.
In dim light it does stupid things, like shooting at f/2.8 at 1/60 at ISO 25,600 with an f/1.4 lens, instead of using f/1.4 at a more reasonable ISO.
In shifted program or aperture-priority Auto ISO still does stupid things, like shooting at f/1.4 at 1/250 at ISO 25,600 in the same light as above!
The A99 has awful battery life. I get only about 300 shots per charge in actual use. This is typical for mirrorless cameras, but awful compared to a real DSLR. I average four times that — about 1,200 shots per charge — on my Nikon D600, Canon 6D and Canon 5D Mark III. If you actually take advantage of the A99's advanced AF system, it sucks a lot more power than shooting static test charts and sucks-down the battery.
No optical finder; it's not a DSLR. It's something completely different.
In 6 FPS mode, the electronic viewfinder (EVF) only shows images after they're shot; there's no live view in the 6 FPS mode.
The electronic finder has no perceptible delay (great!), but fast moving images will appear strobed. No worries, your still photos won't move smoothly either!
Has many AF points, but they are only in the very center of the image.
Face recognition and tracking work amazing well, but you usually have to put the face in the middle of the finder to lock-on first. The A99 will recognize faces anywhere, but usually needs them brought to the center to start tracking well.
Fixed autofocus mirror prevents using adapted ultrawide lenses that require mirror lockup.
Shutter delay is fine, except with flash. With flash, shutter delay is too long to catch people's smiles.
Image review takes too long to react and let us get back to shooting, but it isn't needed — except with flash.
You can't play movies and photos at the same time; instead you have to diddle a menu to swap between what kind of file you'd like to play.
No built-in flash, and no built-in flash means no built-in remote flash control.
No battery shot-counter.
No zoomed (localized) histograms.
GPS, but no Wi-Fi.
Flipping articulated rear LCD with eye-control to select rear LCD or EVF.
Automatic distortion, light-falloff and lateral color correction with most recent lenses.
"Hand-Held Twilight" mode takes a few frames and lashes together a cleaner version.
Automatic hand-held swept panoramas (no tripod needed).
Automatic smile snapper.
Video with built-in stereo mic.
GPS.
Two kinds of silly digital zoom in addition to the clever new cropping button.
Hot-shoe adapter to use older slot-style "autolock" Minolta MAXXUM flashes.
The Sony A99 is a mirrorless or EVIL (Electronic Viewfinder, Interchangeable-Lens) camera. It has a permanently attached half-silvered mirror to help the AF system, but it has no flipping reflex mirror and no reflex viewing screen for direct optical reflex image viewing as offered in real SLRs and DSLRs.
This is great, because the A99 is actually a very high performance full-frame mirrorless camera that uses all the Minolta MAXXUM and Sony Alpha Lenses, adding in-camera Image Stabilization to all of them - even if they were made back in 1985!
What I like best about my A99 is how its autofocus system makes it so easy to photograph kids and family. Unlike a real DSLR where I'm always having to revert to helping the AF system find my subject with a thumb selector, this Sony is able to identify and lock-on to faces and keep tracking them all around the frame all by itself. Heck, I don't even know if I can select AF sensors manually in the A99; I haven't had to!
While other cameras talk about face detection and even wiggle AF sensors around, this A99 actually delivers: my shots are always well focused right on my kids, not somewhere else.
My Sony A99 also excels in getting perfect exposure and white balance on the first shot better than any of my Nikons or Canons. I rarely if ever have to tweak my A99, while my Canons and Nikons will require the occasional tweak. The A99 has no white balance color trim adjustments — because it doesn't need any.
Color rendition is very good. It's the best Sony I've ever used. It tends towards emphasizing tans and browns, again making it perfect for family photos.
Because the Sony A99 is not a DSLR, it has many advantages and disadvantages compared to a real DSLR like the Nikon D600 or Canon 6D. This complete difference in design (mirrorless versus SLR) is what defines the A99's strong and weak points.
The Sony A99 has no reflex mirror, no reflex viewing screen and no optical viewfinder. It is in no way an SLR or DSLR, even if marketed and styled as one to confuse the innocent. The A99 is just a BM (Big Mirrorless) camera, not an SLR — and thus lies its charms.
The Sony A99 is a full-frame digital camera that uses all of the Sony Alpha SLR lenses, as well as the Zeiss lenses made only in this mount. The A99 also works perfectly with Minolta MAXXUM lenses as far back as 1985.
The A99 has in-camera image stabilization, so the A99 adds IS (aka OIS or VR) to all of these lenses, even 1980s MAXXUM lenses! None of Nikon, Canon or even LEICA has stabilized lenses any faster than f/2.8, but pop on any old Minolta or new Sony f/1.4 lens, and bingo!, you've got a faster stabilized lens than anything from the major brands. Ha!
A DSLR is a Digital SLR, or a Digital Single-Lens Reflex camera.
A reflex camera is defined as a camera that uses a reflex mirror to reflect a lens' image away from a sensor so that it can be viewed optically for composition and focus.
A reflex mirror flips out of the way so the image can be recorded. (Twin-lens reflex cameras use a second dedicated viewing lens, reflex mirror and screen so it doesn't have to flip.)
Autofocus SLRs and DSLRs may use partially-transparent main mirrors and more sub-mirrors to divert light to their autofocus sensors, and these also all flip out of the way to take the picture.
The benefit to real SLRs and DSLRs like the Nikon D600 or Canon 6D is that they allow us to focus and compose with the actual live optical image coming through the lens, and that all these mirrors flip out of the way as we take the picture. They have autofocus systems that take advantage of the fact that real optical images are three-dimensional, and for sports, people and action shooters the live reflex image allows us to see what's happening as it happens.
SLR mirrors flip out of the way during exposure to give us a brighter, clearer image at our sensor, but also can lead to more noise and vibration. Good SLRs have "Mirror Lock-Up" controls to flip the mirror in advance of the picture to eliminate the effect of mirror vibration.
The Sony A99 is an electronic-viewfinder (EVF), interchangeable-lens (EVIL) or "mirrorless" camera.
The A99 has none of the viewing aids of an SLR, but it has something quite different. Instead of an optical reflex viewfinder system, the A99 instead uses only an electronic finder, fed from the video signal coming from the sensor. (Video means any electronic representation of a moving image; I'm not necessarily referring to movie shooting.)
This lets us see much more closely how our final images will look before we shoot them. We can see color, contrast, saturation, white balance, image tweaks and everything except flash before we take the picture, and we can see the effects of any of our image menu adjustments as we make them — we don't have to take a picture and play it back as we do with real DSLRs.
In fact, DSLRs aren't even all-digital. Their reflex viewing systems are entirely analog, and susceptible to any mechanical misadjustment in the flipping mirror or viewing screen. Yes, we're seeing through the lens, but we're not seeing the image as recorded. An SLR might have a prettier view through the finder, but an EVF is showing you a much more accurate preview of what you're going to get while you can still work to improve your image.
The EVF of the Sony is all-digital; there's nothing that can drift mechanically to change what's recorded versus what we see in the electronic finder.
While the A99 needs no mirror lock because nothing moves as it takes the picture, the AF assist mirror is fixed and does not flip out of the way as do the mirrors of SLRs. Therefore the A99's image is subject to degradation from any dirt on this additional surface, and there is less light making its way to the sensor which will also slightly degrade noise performance, since the sensor's actual ISO needs to be jacked-up about a half stop to compensate for the light lost sent to the AF sensors.
The A99's fixed AF Assist mirror is simply a partially-silvered beamsplitter mirror. There is no such thing as a translucent mirror in the A99; that's just marketing baloney.
Specifications top
Intro Specs Performance Usage Recommendations More
Sensor
24 MP CMOS.
Full-frame (23.9 x 35.8 mm).
Image sizes
6,000 x 4,000.
6,000 x 4,000 = 24.0 megapixels, so I have no idea how Sony gets people to claim this camera has 24.3 megapixels.
Also smaller sizes of 3,936 x 2,624 (10MP) and 2,640 x 1,760 (4.6MP).
Also 16:9 crops of those sizes.
Auto-stitched panoramas are 8,192 x 1,856 pixels.
ISO
Auto and 50 ~ 25,600.
(Auto and 100 ~ 6,400 for movies).
To ISO 51,200 with multi-frame noise reduction.
Image Stabilization ("Steady Shot") top
Mechanical moving-sensor compensation for still images. Works with all lenses.
Electronic compensation for movies.
Lens Compatibility top
Front, Sony A99. bigger.
Works with all Minolta MAXXUM AF and Sony and Zeiss Alpha-mount lenses.
Auto-swaps to cropped mode when used with smaller-format (DT) lenses.
Autofocus top
19 points, but all in about the same place in the center of the image.
Works in LV -1 to LV 18.
Dual AF is unique in having optical and sensor AF sensors. 19 optical and 111 on-sensor, but needs newer firmware and only works with a very few lenses. I never saw the 111 sensors appear, and I never missed them.
8 face memories with priority
AF fine-tuning.
AF Illuminator
Infrared, works from 3 to 23 feet (1 to 7 meters).
Finder top
No optical finder or ground-glass screen; this is not an SLR.
1/2" OLED screen.
1,024 x 768 resolution. (1,024 x 768 x 3 (RGB) = 2,359,296 dots, rated.)
0.71x magnification with 50mm lens.
(0.99x magnification in 1.4x electronic teleconverter mode, and 1.42x magnification in 2x electronic teleconverter mode.)
The finder magnifies automatically in crop and teleconverter modes.
22mm eyepoint.
-4 to +3 diopters, adjustable.
Live View top
Live view is the only thing the Sony A99 does. Everything in this review refers to Live View; there is no optical finder.
Light Meter top
1,200 zone evaluative meter.
Rated LV -2 to +17.
Flash top
There is no built-in flash.
There is a PC (Prontor-Compur) connector under a flap.
There is what looks like a plain, non-dedicated hot shoe, while in fact it is quite specialized, with all of Sony's connectors hidden instead under the front of the shoe!
Sony also includes an ADP-MAA adapter to let one use the 1988-2012 "slot" style flashes. The adapter weighs 0.5 oz. (12g) and is about 0.6" (20mm) tall.
Minolta flashes made since 1992 or 1993 should all work great, with the included adapter. The Minolta 5600 HS (Sony HVL-F56AM) and 3600 HS (Sony HVL-F36AM) are the oldest that ought to work fine. (See Sony's website under e-support for a list.)
Flash Sync Speed (maximum shutter speed with flash) top
1/250 rated.
1/160 observed.
Shutter top
Vertical metal focal plane.
30 seconds to 1/8,000 and Bulb.
(1/4 to 1/8,000 for movies).
2- or 10-second self timer.
Remote control
Three-pin Minolta jack, same as on 1985's MAXXUM 7000.
Wireless; sensor is on front of grip.
Burst Depth
Unspecified.
Frame Rate top
2.5 FPS and 6 FPS.
At 6 FPS viewfinder no longer shows the live image — just the replays of the last-shot image.
Photo File Formats top
JPG.
Sony ARW 2.3 raw.
Video top
Data Formats
AVCHD
video: MPEG-4 AVC/H.264
audio: Dolby Digital 2ch, with stereo synthesizer.
MP4
video: MPEG-4 AVC/H.264
audio: MPEG-4 AAC-LC 2ch.

Video Formats
1,920 x 1,080 @ 59.94 or 23.976 FPS.
1,440 x 1,080 @ 29.97 FPS.
640 x 424 @ 29.97 FPS.
Audio top
Only with video.
Stereo mic built-in.
Top LCD top
Backlit in amber via a button.
Rear LCD top
Flips and articulated.
3" TFT LCD.
1,228,800 dots.
Data Storage top
Two SD card slots.
The top slot also takes Sony's old "Memory Stick PRO Duo" and "Memory Stick PRO-HG Duo" cards.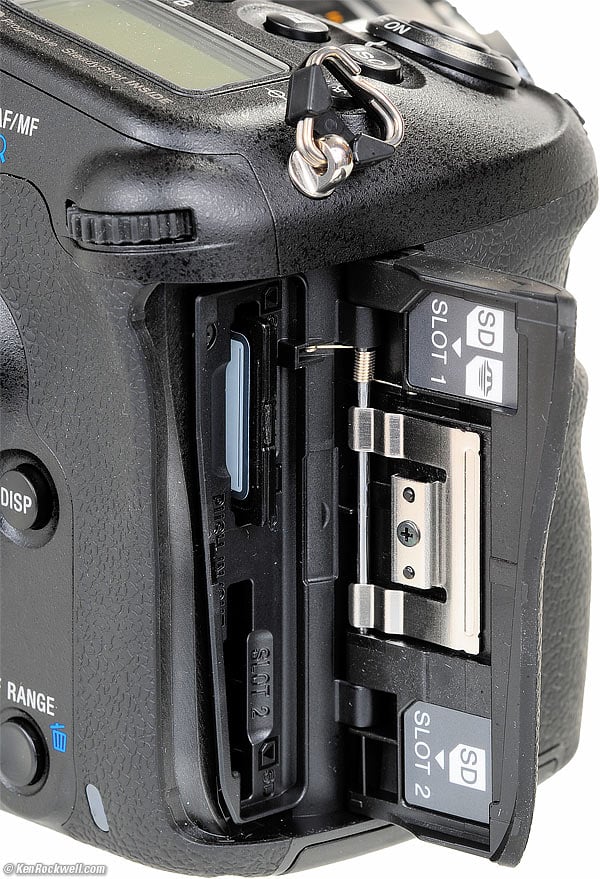 Sony A99 Memory Card Slots.
Connectors top
On the left side in the photo below, the connections are:
PC (Prontor-Compur) flash sync (invented 1953).
3-Pin Minolta MAXXUM remote release connector (invented 1985).
Holes for GPS to breathe.
DC Power input connector for use with AC-PW10AM adapter.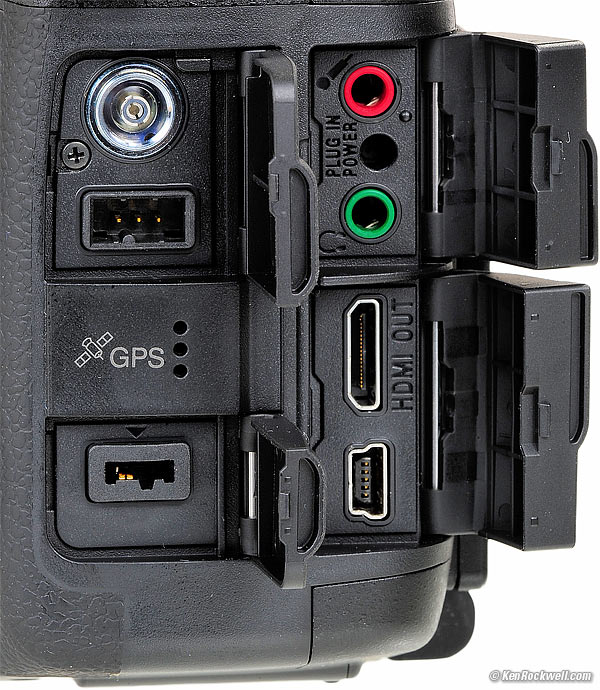 Sony A99 Connections.
On the right side from the top, we have:
3.5mm stereo mic Input. with "Plug-in power."
(the empty hole is a screw hole.)
3.5mm stereo headphone output.
Mini HDMI type C.
USB 2.0 mini-B.
Power top
Rated Shots
410 with viewfinder.
500 with rear LCD.
(A real DSLR gets about twice this or more; the A99 sucks batteries because it's always ON trying to light its electronic viewfinder.)
Rated Power Consumption
4.2W with viewfinder.
3.6W with rear LCD.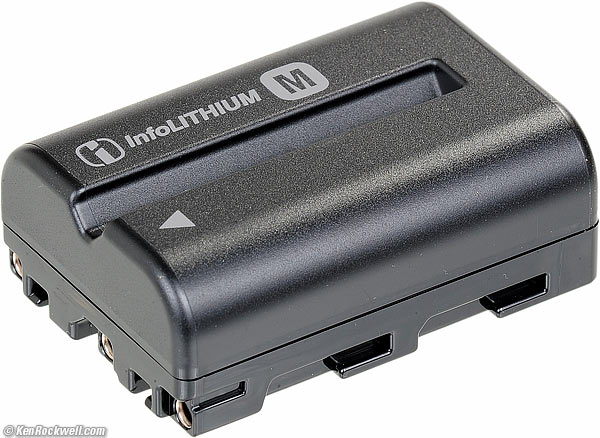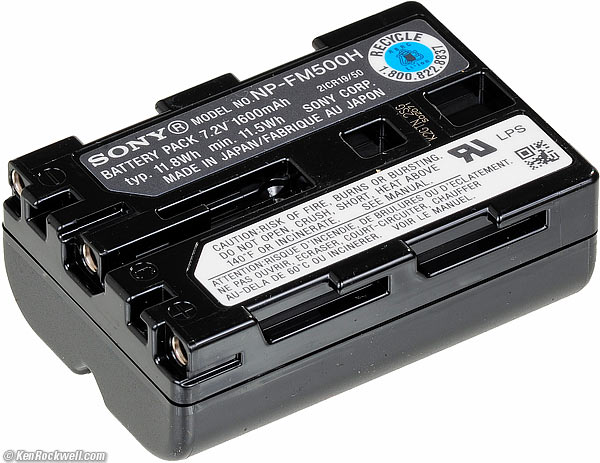 Bottom, Sony NP-FM500H Battery.
The battery is rated 7.2 V, 1,600 mAh (11.5 Wh).
Its size and weight are listed below under Sizes and Weights.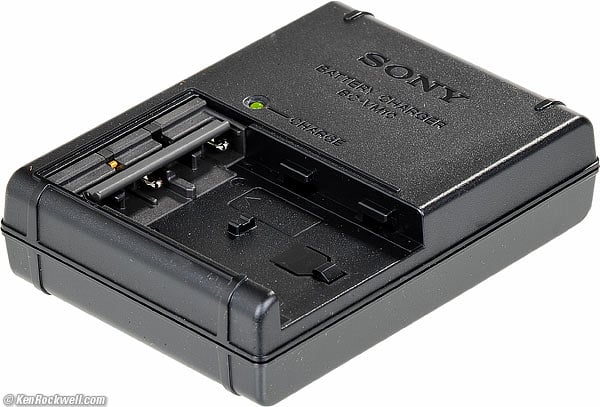 In the USA and in Canada, the charger has a folding plug on the back. Elsewhere you're stuck with having to carry a cord, too.
Charge time is rated as three hours, maximum, and usually shorter if the battery isn't completely dead.
The charger is universal 100 ~ 240 VAC, 50/60 Hz, 9 W.
Output is 8.4 VDC at 750 mA.
It's rated for 0º ~ 40ºC operation and -20º ~ 60ºC storage (the batteries are less adaptable).
Its size and weight are listed below under Sizes and Weights.
Quality top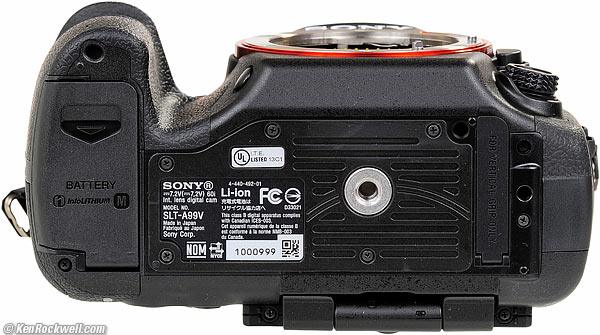 Bottom, Sony A99. bigger.
Camera and battery made in Japan.
Flash-shoe adapter made in Thailand.
Charger made in China.
Environmental top
0º ~ 40ºC (32º ~ 104ºF.)
Sizes top
5 7/8 × 4 1/2 × 3 1/8 inches WHD, excluding protrusions.
147 × 111.2 × 78.4 mm WHD, excluding protrusions.
The charger is rated 70 mm × 25 mm × 95 mm (2 7/8 inches × 1 inch × 3 3/4 inches), WHD.
The battery is rated 38.2 mm × 20.5 mm × 55.6 mm (1 9/16 inches
× 13/16 inches × 2 1/4 inches), WHD.
Weights top
28.695 oz. (813.5 g), measured with battery and card.
Rated 28.7 oz. (812g) with card and battery.
The version without the GPS (not tested here) is rated at 28.5 oz. (807g) with card and battery.
The charger is rated 3.2 oz. (90g).
The battery alone is rated 2.8 oz. (78g).
Included top
SLT-A99V (or non-GPS SLT-A99) camera, with eyecup, hot shoe cap and body cap attached.
Strap.
BC-VM10A charger (no cord in USA and Canada, with cord or cords elsewhere).
NP-FM500H battery.
Hot Shoe adapter (and cap) to use the older (1988-2012) Minolta and Sony dedicated flashes.
USB cable.
Software CD.
Printed manual and warranty paperwork.
Optional Accessories top
Holds up to two more batteries and allows hot-swaps.
Announced top
Photokina, September 2012.
Sony Model Numbers top
SLT-A99V, includes internal GPS.
(The SLT-A99 (no V) version has no GPS and tends to be sold in dicier regions; GPS is a huge aid in military reconnaissance.)
Price, USA top
$2,800, September 2012 - May 2013.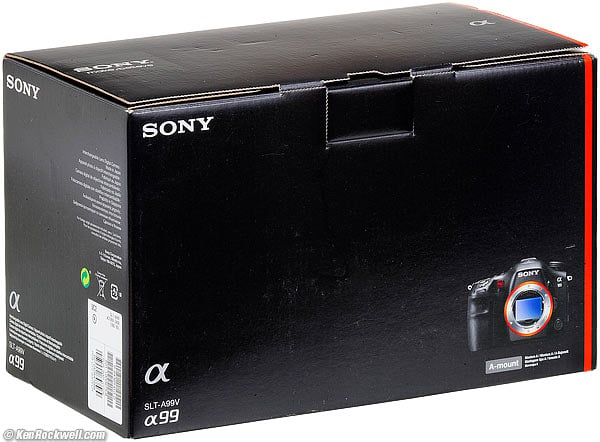 Box, Sony A99.
Performance top
Intro Specs Performance Compared Usage Recommendations More
Overall
I covered most of this at the top. As soon as you realize that this is a high-performance full-frame mirrorless camera that just happens to look like a DSLR and takes MAXXUM and Sony SLR lenses, it all makes sense.
I really like the images I can make with the A99. White balance and color are very good for people shots under any light, and exposure and focus are always magically dead-on. Regular DSLRs like the Nikon D600 and Canon 6D aren't as consistent; I get to the right shot faster with the A99 than I can with a real DSLR that requires more fiddling to get the first good shot. (I still prefer my Fuji X100S for general use, however).
Autofocus performance top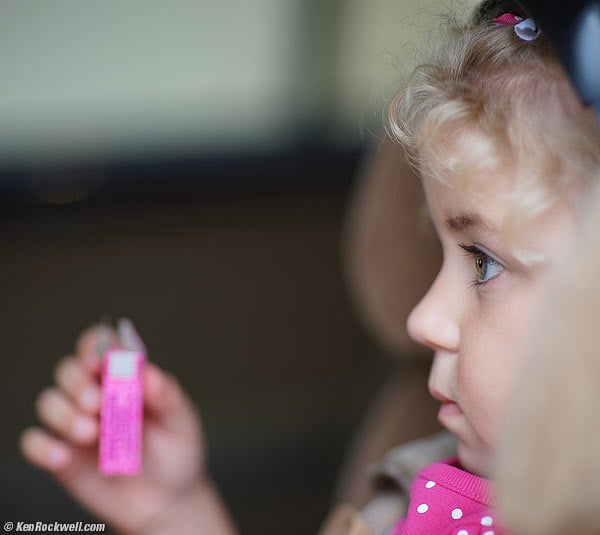 Katie at f/1.4. (Sony A99, Minolta MAXXUM AF 85mm f/1.4, f/1.4 at 1/500 at Auto ISO 100.) Bigger or Camera-Original file.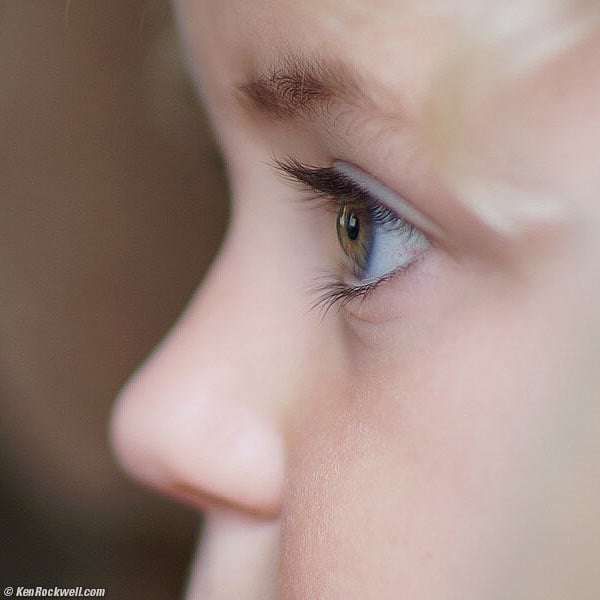 Crop from above image at f/1.4 at 100%. Camera-Original file.
With face recognition ON, my A99 usually just nails focus right on the eyeball as it should, all by itself. It takes care of the focus, so I can spend my time worrying about my picture instead of my camera.
AF is quite different from a DSLR. With people, it throws up big, living boxes around faces as it sees them. They are first gray, and when it can focus turns white, and when it's in focus a moment later, stays green as it tracks the face around the entire finder. To use it, make sure to have a face in the center, press and hold the shutter halfway, and the A99 won't let go of that face regardless of where it goes. If you want to track random objects instead, you can set Object Recognition in a menu, and tap a button to assign targets to the AF system to track.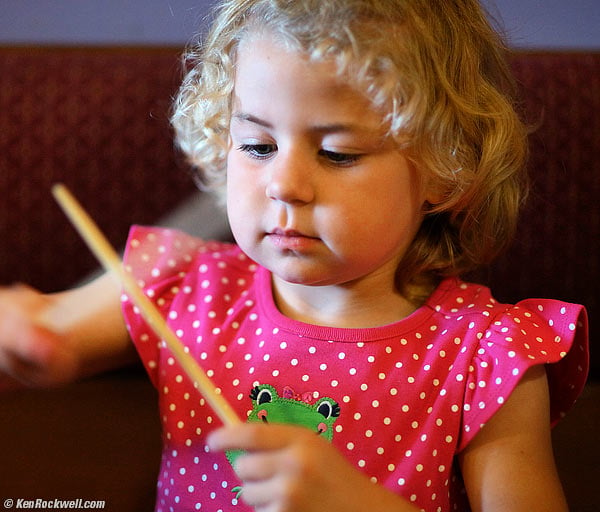 Katie plays with her chopsticks. (Sony A99, Minolta 85mm f/1.4, f/1.4 at 1/100 at Auto ISO 1,250, Athentech Perfectly Clear plug-in.) bigger.
Face recognition is so smart that it sees right past many obstacles, like the chopsticks. The A99, just like our brains, knows where the face is and focuses on that, not on the closer distractions.
If set to object tracking, it will track those boxes when green. Your face or object detection choices are engaged in the menus. Then turn on by pressing and moving the 4-way controller, then press again and it goes white to track.
Even better than all these viewfinder theatrics is that the final results magically nail focus on the eyes every time. It's quite impressive; even the Canon 5D Mark III has no face recognition in its AF system.
For one-shot use, it's less impressive, since all the AF sensors are all in the same place: the center of the image. You may as well have just one sensor instead of 19 all in the center.
The infrared assist light is better than SLRs because not only can it focus on a blank wall in total darkness — it's far less annoying than Nikon's white lights or Canon's obscene flashing strobe lights.
If you use any of the cropped or digital zoom modes, the AF areas all grow as you zoom. It makes sense, but DSLRs can't do this because their finders can't zoom as the A99 can.
I never saw the 111 sensors appear, and I never missed them. I never used any of the lenses with with they appear.
Dual AF Mode performance top
This is supposed to be one of the crowning features of the A99, but I never figured out how to turn it on, or with what lenses it works. It's the mode that uses both the beam-splitter AF sensors as well as the image-sensor-based AF sensors all at the same time.
I suspect that it doesn't work with any of the lenses I used on my A99, including a brand-new Sony 50mm f/1.4, and in any case, AF works great without it.
Depth-Map Focus (AF-D) performance top
This mode only works with some lenses, none of which I own, so I never used it.
It is supposedly a focus limiter. I don't know that I'd ever use it.
AF-D and DMF below are entirely different things.
Manual Focus Override (DMF) performance top
In the DMF (Direct Manual Focus) autofocus mode, even my 1980's Minolta MAXXUM lenses have instant manual-focus override.
More precisely, this magic mode declutches the AF motor from the lens the instant AF is locked, so you can grab the ring and go if you like. If you wake-up the AF system again, it engages again and focuses the lens again.
DMF and AF-D above are entirely different things.
Manual Focus performance top
Manual focus is clever; the focus box blips green instantly as you get focus.
Only one sensor works with manual focus, but if you want multiple full-frame manual, engage focus peaking.
The focus magnifier works well, but as soon as I half-tap the shutter, it turns off — so it really only half works.
Focus Magnifier performance top
Like everything, the focus magnifier takes a moment to respond, and once it does, works great for manual focus.
You can drive to anywhere in the image. The little location map shows where in the rectangle you are, but doesn't show a little guide image which would help.
I never figured out how to get the magnifier to work when I tried to focus manually in Manual-Focus Override (DMF) mode.
Worse, once I press the shutter halfway, the finder reverts to normal. I don't know how useful the magnifier is if it only works well in manual focus for setups that are not moving.
Finder performance top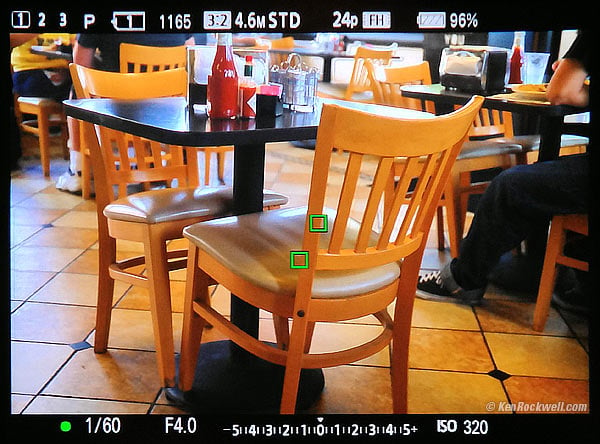 Actual image seen through finder optics, Sony A99. bigger.
Like most cameras, the A99 is all about its finder. In this case, it's a high-resolution OLED electronic finder that shows everything, and leaves the actual image area quite clear. Oh man, do I love the A99's finder!
The worst thing is that the finder screen is sharper than its own viewfinder optics. The optical mungdungus that allows adjusting the diopter often has regions of unsharpness. In other words, if you are looking too hard, some regions of the screen will be less sharp than others, just like in many cheap cameras with adjustable finders.
The finder has eye control. If you use the rear LCD (I don't), the finder and rear LCD switch automatically as you bring the camera to and from your eye.
The A99 even has a color temperature control in a menu, just for the finder display.
It's always bright enough, even outdoors. My only complaint is that it's too darn bright in very dark conditions.
The finder has a normal shape (4:3) inside of which the image sits. Therefore there are black bands along the top and bottom for all the data. There's a lot of data, and it never blocks the image when used properly.
You can see and set everything through the finder. Playback, shooting, zooming, focus zoom, menu setting — everything.
It's also great for shooting into bright or brilliant sources of light because the display can't blind you shooting into the sun — and you're seeing the flare and overload results even before you shoot them!
In daylight, the finder distorts its transfer functions ("tone curves") to let it get super-bright. This means that the finder is always bright, but beware: playback images will look washed-out, even if they aren't, in daylight! Be sure to cover the lens a bit to let the finder revert to its normal (darker) rendition if you think you overexposed an image.
Shows faces detected as you shoot.
Blanks out if really, really time-exposure dark, but the pictures are fine once they expose.
The finder magnifies automatically in crop and teleconverter modes!
If your image is different than seen in the finder, it's always better once the A99 fine-tunes the highlights, shadows and white balance even further before saving.
Meter and Exposure performance top
Wonderful! Exposure is more accurate under more conditions than any Matrix or evaluative meter I've used. I can't recall anytime I needed to use exposure compensation, although white objects in shadow will tend to be gray, as they are on almost all cameras.
This means I shoot it, and I've got it without have to review the image and try again for the first few shots as conditions change.
When I do use Image Review, the actual exposures are usually better than previewed. In other words, if the shadows were a little too dark in the finder, the playback is usually better!
Since the light meter works by looking at the sensor image and not the light directly, it naturally ignores specular highlights or the disc of the sun.
Flash Exposure performance top
Flash exposure is excellent for fill-flash, so long as your flash has enough power with the poor (slow) maximum flash sync speed of 1/250 rated and 1/160 observed. In other words, you'll be shooting at small apertures in bright light.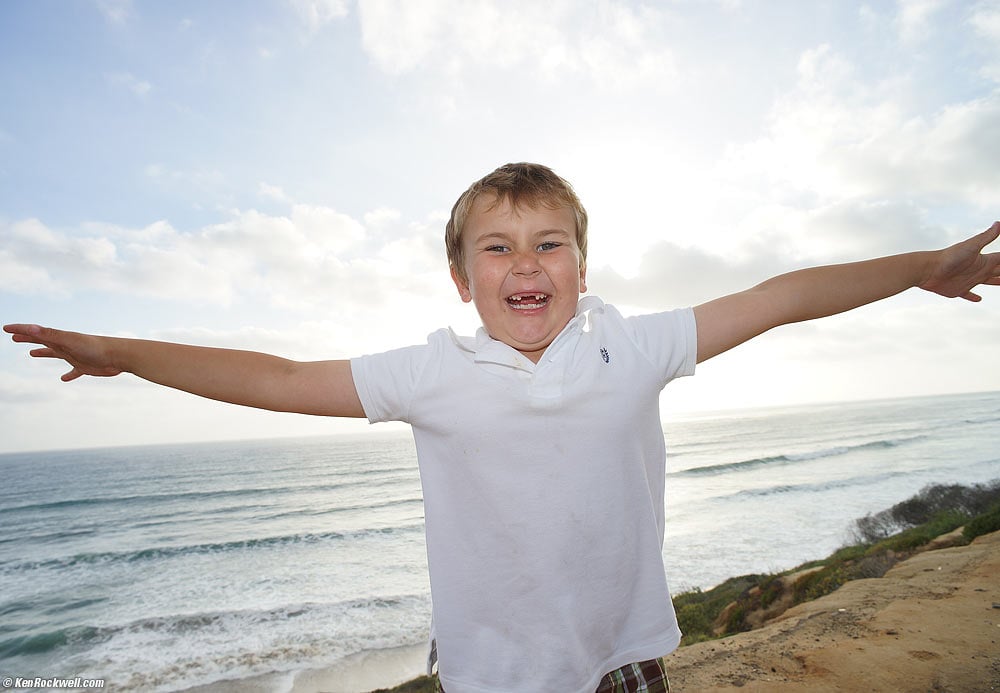 Yay Ryan! (23 May 2013, Sony A99, Minolta MAXXUM AF 20mm f/2.8, f/8 at 1/125 at Auto ISO 100, Sony HVL-F20AM flash.) bigger.
Rancher Ryan, 26 May 2013. (Crop from lowest-resolution horizontal Sony A99 image, Minolta AF MAXXUM 28-85mm at 85mm, f/10 at 1/160 at Auto ISO 100, Sony HVL-F20AM flash, Athentech Perfectly Clear plug-in.) bigger.
Not only is fill flash exposure right where I want it, it does this with my old MAXXUM lenses that were originally purchased new in 1986, long before distance encoding!
Indoors or in dim light in Program, flash usually overpowers ambient light, as typical with SLR cameras. Auto ISO and Program and flash don't work well together: the A99 will do crazy things like shoot at ISO 6,400 at f/4 at 1/60, instead of opening up the lens and throttling back the flash to let the ambient light fill-in better.
Therefore, in dim light, you're going to have to fiddle with all the elements of exposure to get what you want, or just shoot the Fuji X100S which does this much better.
Flash exposure is so good that I never bothered to find the flash exposure compensation control, if the A99 even has one.
Shutter performance top
No news with the shutter release. The button feels like loose, cheap plastic, and it works well — far better than the LEICA M9 — in that it's quite smooth without any notches.
When the A99 fires, even though it has no flipping reflex mirror, it still has a noisy metal focal plane shutter, so it's not particularly quiet. A Nikon D3200 DSLR is probably quieter.
Ergonomics performance top
Ergonomics are surprisingly good. As I've covered, everything is done through the finder without interruption - even focus and playback zoom.
The A99 is easy to shoot and playback with one hand, bravo!
It fits my big American hands well, but it's plasticy, like a Nikon D600. The A99 is not a solid-feeling camera, it is a lightweight camera.
My biggest complaint is that this isn't an SLR, and that everything works a little more slowly than you'd really want. The A99 takes a moment to respond after every button push, instead of responding instantly as do real DSLRs. There's also a delay after recalling any of the 1, 2 and 3 memories on the mode dial, and when changing exposure mode. This is OK for a mirrorless camera, but not acceptable if you need instant response in a DSLR. For instance, focus modes only change via a menu system controlled by a pushbutton knob on the front; you can't just flick a mechanical switch as you can on most Nikons and Canons.
If you're shooting in a crop or digital zoom mode, the finder zooms as well!
My 1985 Minolta MAXXUM 7000 feels smoother when mounting and unmounting lenses. They both use the same mount and lenses.
Help messages are not helpful. If you press the unmarked HELP button (the AF RANGE button) for more information about something, the explanation is meaningless. For instance, if you want to know what the AF Tracking Duration menu item does, the help button tells you it sets "AF Tracking Duration," and that it "Maintains focus in the set response rate." Useless.

All these whines go away when you get used to seeing color, contrast, exposure and the effects of all the specialty image modes as you select them. Want to see what altering the contrast of the Portrait preset does? You'll see it change as you adjust it, far better than guessing as you do with Nikon and Canon.
Memory Recall Modes performance top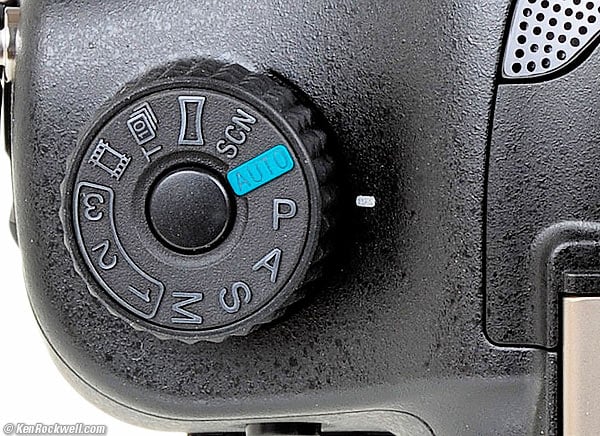 Sony A99 Mode Dial.
The 1, 2 and 3 are total-recall settings.
Set the camera anyway you like, and in the CAMERA 4 menu under MEMORY, save it to your chose of 1, 2 or 3.
The A99 recalls everything: image, focus, color, advance and everything.
To change one, after you've recalled it, change what you want, and resave it.
Silent Modes performance top
None.
Flash Connections performance top
There is a PC (Prontor-Compur) connector under a flap on the left.
The hot shoe is a standard, run-of-the-mill non-dedicated one. There are no special contacts in the usual spots, so to most flashes, it looks like a common hot shoe from the 1970s.
There are dedicated connection pins hidden under the front of the shoe! Sony calls all this a "Multi-Interface Shoe."
The A99 comes with an adapter to use older "slot" style flashes made from 1988-2012. I tried it with my Minolta MAXXUM 3200i and 5200i flashes from 1988's MAXXUM 7000i days, but each fired always at full power and never showed a ready light in the finder. Oh well.
Auto White Balance performance top
Auto White Balance is superb. I couldn't find any light, good or bad, natural or artificial, in which the A99 didn't give me superb results.
This is one of the very most important real-world issues that affect picture quality, far more important than high ISOs or resolution, and it is here that the A99 excels.
Color Rendition performance top
Color rendition is very good; It's the best Sony I've ever used.
It tends towards emphasizing tans and browns, again making it perfect for family photos.
I never found any White Balance color tweaks or trims, and it's just as well, because they are perfect as-is. The A99 tends towards nice, warm images as I like it.
Highlights, Tones and Values performance top
I always shoot in DRO, Dynamic Range Optimization mode, and everything always looks great.
Highlights and shadows are right where I want them.
If I shoot into the light with a lot of flare, the A99 leaves the flare in; it doesn't shift the black level to remove it.
Sharpness performance top
Pictures as shot are much sharper than they seem through the finder. The finder is fine, but still not as sharp as an SLR finder. When you play back and zoom an image, you'll see far more detail than you saw while shooting it in the EVF. That makes sense, since the EVF has less than one megapixel resolution (the finder is 1,024 x 768 resolution).
10MP and 4.6MP JPG images are marvelously sharp, with the Bayer interpolation removed and each pixel fully modulated.
Digital Zooming and Cropping performance top
There are three different ways to use a smaller part of the sensor to get a closer-looking image:
Smart Teleconverter Rear Button
Use the 1.4x and 2x crop button on the back. It's the one with a picture of an expanding rectangle. This is the best way; it works brilliantly.
When you select 1.4x or 2x, it saves images in the resolution to which you're set, unless that would require interpolation. If you've set LARGE images, then each crop saves a smaller image, but if you shoot in 4.6MP mode as I do, each crop is saved as a 4.6MP image!
I use this Crop Mode button when shooting; it's brilliant and better than anything from any other maker.
Conventional Digital Zoom
Conventional Digital Zoom uses a fraction of the sensor and then that fractional image is blown-up (interpolated) to the same resolution as your regular setting.
I don't use this; it makes files bigger than they deserve to be.
To use the Digital Zoom mode, activate it in the Gear menu and assign it to your choice of a control button.
Clear Image Zoom
"Clear Image Zoom" is a smarter kind of digital zoom. It's the same thing as digital zoom, just that it uses a more clever way to interpolate the image.
I don't use this either; it also makes files bigger than they deserve to be.
To use the Clear Image zoom mode, activate it in the Gear menu and assign it to your choice of control button.
High ISO Performance performance top
The A99 seems poor compared to other full-frame digital cameras or even my Fuji X100S. This is probably because of the light lost in the A99's unique AF assist beamsplitter. DxO already certified that it's about a stop worse than the Nikon D600.
ISO 6,400 is relatively noisy and chopped-up by noise reduction. By ISO 25,600, the image is almost completely gone, covered either in noise or smudged-over by noise reduction.
I haven't wasted my own time with a head-to-head comparison to my D600 or even my Fuji X100S. I think my X100S looks better at ISO 6,400, and maybe the reason the Fuji X100S seems better in low light is because the X100S uses f/2 in dim light at high ISOs at the slow shutter speed I program in Auto ISO; while the A99 is like the dumb kid sitting in a corner trying to shoot at f/2.8 at ISO 25,600 — with an f/1.4 lens! The Sony's weird programming in Auto ISO wastes much of its potential for real-world shooting.
Ghosts
performance
top
Because the AF assist mirror stays in the optical path during exposure, it could lead to ghost reflections in ways we never thought possible, as well as veiling flare.
I do see more veiling flare when testing lenses; I don't know if this is just that these MAXXUM and Sony lenses have more flare than the Canon, Nikon and LEICA lenses I test, or if indeed the compromized optical shooting path of the A99 is generating this veiling flare.
Mechanics performance top
The A99 is built for shooting today and throwing away in a few years when the next one comes along. It is not a hunk destined for man-fondling in some collector's vault 20 years from now. Shoot it and toss it; it's not supposed to last more than 5 years as far as I'm concerned, and I'm glad, because I don't want to carry anything heavier.
The A99 is plasticy, feeling cheap to me just like my Nikon D600.
When opened brand-new for my product photo session, I found more white specks on it than I would have preferred.
Movies performance top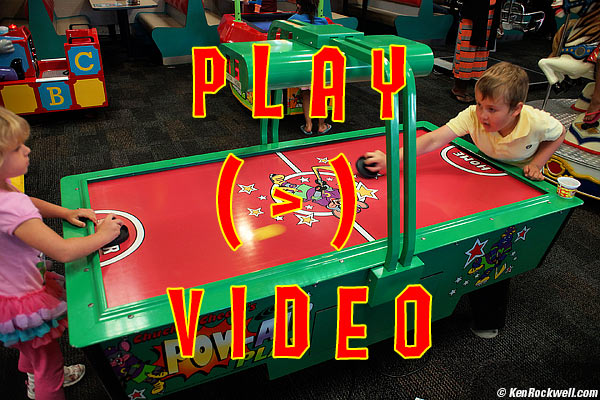 Click to play VGA video with S-t-e-r-e-O sound. (Minolta AF MAXXUM 28-85mm, pardon wife's enthusiasm.)
Video is not full-frame; it crops from the center of the sensor so that it has enough wiggle room for excellent DSP-based stabilization. Hand-held shots look rock-steady, as you can see above!
I like that I can shoot in 640 x 480 (VGA) resolution for sane file sizes.
AF tracking while rolling is slow, as expected for a large sensor camera like this. Unlike a camcorder, the A99 uses much larger lenses that have to be moved much further to focus.
Audio performance top
Audio comes only with video.
As you can hear above, it's quite spacious. Sony is using some Dolby patents for some stereo synthesis voodoo.
Data performance top
Speed
The A99 is slow to write to the card in Large JPG Normal (I haven't tried raw), worse, it gives an error message if you hit PLAY and it's not done. It's as if it has no write buffer!
Rotation
Like most cameras, vertical JPGs are merely flagged, not actually rotated pixel-by-pixel.
Video file locations
Video is hidden at NO NAME > MP ROOT > ###ANV01 > .
EXIF
Auto ISO reads properly in Phase One Media Pro to at least ISO 25,600, which is better than my Canons.
I see no mention in the EXIF if the 1.5x or 2x crop was used; you'll have to look at the pixel dimensions and guess. The real focal length is what's recorded by the EXIF, not the effective focal length.
DPI
Raising havoc for web developers, the default JPG DPI is 350 DPI.
Card Formatting
A 4GB class-6 SD card takes 7 seconds to format.
Sony does not title cards properly as SONY_A99, but instead leaves them as "NO NAME." This is sloppy!
Sony also puts all sorts of crap, databases, directories and subdirectories on the card. Good luck finding your images, and you'll never find your video files! There is 55 megabytes of extra crap in four root directories added to your card!
Good is the option to let the A99 create new folders by date automatically, but bad is that today's folder is labeled 10030515. 100 is an arbitrary series number, "3" is for 2013, and 0515 is for May 15.
I'll make this a toss-up, since I love the daily automatic folder creation, lacking in Nikon, Canon and LEICA, but hate the mistitled cards.
Wi-Fi performance top
I found no Wi-Fi ability.
Too bad, you'd figure the digit-heads at Sony could have outdone Canon's marvelous 6D here, but no.
GPS performance top
I never used it.
There is built-in GPS in the SLT-A99V sold in most of the world.
GPS is not in the SLT-A99.
Top LCD performance top
The top LCD is crappy looking. Not only is it wavy, but the numbers are thin and not very legible. There is no need for a top LCD; the finder is wonderful all by itself.
Rear LCD performance top
Other than for shooting from crazy angles, the only other purpose of the rear LCD is to show photos to friends on a screen much smaller and dimmer than an iPhone.
For shooting, it comes out on an arm, and I could see it from every crazy angle I tried.
Personally, I'd forget about the rear LCD for anything else because the finder is so much bigger and brighter — something missing with DSLRs.
The rear LCD is anti-reflection coated, but compared to the finder, it's small and dim.
Playback performance top
Playback is nothing special. I always get confused; the rear dial is zoom ratio and the front dial swaps images.
Diagonal scroll works.
It's easy to hit PLAY during one-handed shooting.
Image review is clunky; it takes too long of a moment to review and get back to shooting.
You can zoom directly from a just-shot image.
There's a dedicated Rotation button.
You can't play movies and photos at the same time; instead you have to diddle in a menu to swap between what kind of file you'd to play — and there are two kinds of movie files possible!
There are many zoom steps for precise playback framing.
Swap is slow once zoomed, and you can swap while zoomed.
Scrolling around zoomed images is reasonably fast.
There are no graticules or scales on the histograms.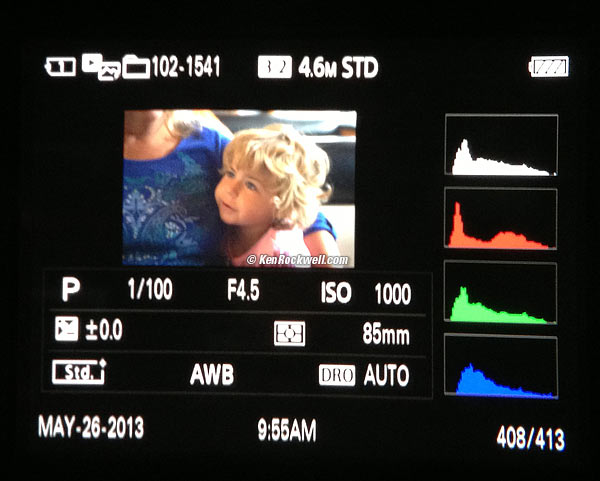 Sony A99 Finder Playback Data and Color Histogram (actual view through finder).
Battery and Power performance top
I get only an average of 300 shots per dead battery. The active AF system sucks a lot of juice if you're using face tracking and continuous autofocus. There's a lot of computer power and lens mechanics in play compared to still snaps.
The flat, compact USA charger has a folding plug, making it perfect for travel.
The charging light is incomplete: it lights amber while charging, and then like Fuji chargers, simply turns off when done! When the light is off, you can't tell if it's charged, or if the power connection failed. The best chargers are from Canon, which blink differently in amber to let you know the percentage of charge, and turn stead green when complete.
Usage top
Intro Specs Performance Usage Recommendations More
For quick navi (basic) settings, press the FN button while in viewfinder mode.
For ISOs above 25,600, set multi-frame NR. I never bothered.
To zoom playback, press the AF/MF button between the rear Movie button and rear dials. (It has a magnifying glass marked in nearly invisible blue until you know where it is).
Forget the rear LCD; flip it around and stick a a film box end on it and claim you're shooting film so people leave you alone in public. Unlike those of us who pull this trick on our LEICA M9s, on this Sony, you always can flip it around and use the LCD if you need it.
In MENUs, or after pressing the Fn button, press the AF RANGE button for more information about that setting. Sony should have put a "?" next to the button for clarification, since it's trying to be the help button. The Help button is rarely helpful, so just as well it's unmarked.
"Hand-Held Twilight" mode takes a few frames and lashes together a cleaner version. To use it, set the mode dial to SCN, then press the Fn button and then select Scene Selection > Hand-held Twilight. I've never tried it.
To set the Continuous Lo shooting mode, press Fn, select and enter the DRIVE mode, click over to HI, and then click right to LO.
Focus magnifier has to be pre-assigned to a button via the menus for it to work.
Digital Zoom has to be pre-assigned to a button via the menus for it to work. I never use it. I do use the Teleconverter (crop) button all the time.
Recommendations top
Intro Specs Performance Usage Recommendations More
I really like the Sony A99, especially for people and family shots. The AF system is marvelous, and the colors and focus are always great.
Likewise for nature, landscape and fine-art work, the A99 excels for its fantastic viewfinder that lets us see much better what we're doing while we're doing it than the simpler optical finders of SLRs.
For sports and action, I'd pass on this mirrorless A99 and go with a real DSLR. In fact, for sports and action I wouldn't bother with a consumer DSLR like the Nikon D600, Canon 6D or Canon 5D Mark III; I'd step all the way up to a fully professional body like the Nikon D4 or Canon 1D X. If money matters, for the same price as the A99 I'd get a used 9 FPS Nikon D3 or 8 FPS D2HS or a used Canon pro body; an old pro body is still far faster than any new consumer body for shooting sports.
The A99's rear and top LCDs are redundant; I never use them. The electronic finder is wonderful, so I flip my rear LCD over to protect it. You might prefer to tape a film-box end over the closed rear LCD and pretend you're shooting 35mm. Tape a MINOLTA, Kodak or KIEV logo over SONY, and label the camera MAXXUM 7000 so people presume you're just a confused bumpkin and leave you alone in public.
Don't waste money on fast lenses if you shoot in program and Auto ISO as I do, since the A99 almost always shoots at f/4 and your maximum ISO long before it opens the lens wider. With f/2.8 or faster lenses, you'll still usually wind up having shot them at f/4 in the dimmest light.
Use some of that money to buy a couple of spare batteries. You will need them; expect only 300 shots per charge. Get an extra charger. Leave one plugged in by your bed and remember to recharge every night, and take the spare in your bag for travel so you never forget it. Unlike a DSLR, the A99 is a power hog, and is useless if taken out for more than a day without more batteries or its charger.
I got mine from Adorama. My biggest source of support for this free website is when you use that or any of these links when you get anything, regardless of the country in which you live. It helps me keep adding to this free website when you get your things through these links — but I receive nothing for my efforts if you buy elsewhere. Thanks for your support! Ken.
Thanks for your support!
Ken.
More Information top
Intro Specs Performance Usage Recommendations More
Sony's A99 full 245-page manual.
Sony's A99 short 99-page guide.
Help me help you top
I support my growing family through this website, as crazy as it might seem.
The biggest help is when you use any of these links when you get anything, regardless of the country in which you live. It costs you nothing, and is this site's, and thus my family's, biggest source of support. These places have the best prices and service, which is why I've used them since before this website existed. I recommend them all personally.
If you find this page as helpful as a book you might have had to buy or a workshop you may have had to take, feel free to help me continue helping everyone.
If you've gotten your gear through one of my links or helped otherwise, you're family. It's great people like you who allow me to keep adding to this site full-time. Thanks!
If you haven't helped yet, please do, and consider helping me with a gift of $5.00.
As this page is copyrighted and formally registered, it is unlawful to make copies, especially in the form of printouts for personal use. If you wish to make a printout for personal use, you are granted one-time permission only if you PayPal me $5.00 per printout or part thereof. Thank you!
Thanks for reading!
Mr. & Mrs. Ken Rockwell, Ryan and Katie.
Home Donate New Search Gallery Reviews How-To Books Links Workshops About Contact