Casio EX-V8
© 2008 KenRockwell.com. All rights reserved.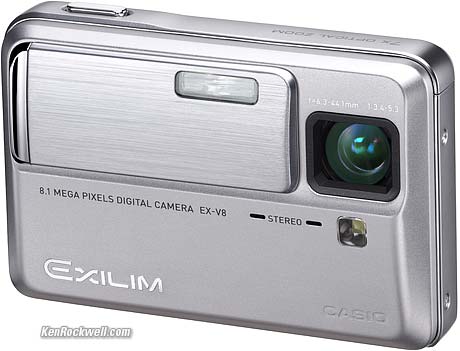 Casio EX-V8
You may still be able to get it at Amazon. It helps me publish this site when you get yours from those links, too.
Also see my other Casio tests.
April 2008
Intro Specs Performance Recommendations
This tiny gem was only in Casio's catalog for six months. This EX-V8 is the same as the previous Casio EX-V7 with the addition of an 8MP sensor. See my Casio EX-V7 review for more details which apply to both cameras.
I won't go anywhere without my Casio EX-V8 in my pocket. I consider it the best compact digital camera regardless of price, although my interests are strongly biased by its excellent stereo HDTV movie capacity, not just still photos.
It has a very sharp 7x optical zoom lens that never needs to extend or retract; it works simply by sliding open the cover. You can zoom continuously, not just in steps, and even zoom while shooting movies.
I'm serious about going nowhere, even inside my own house, unless I'm carrying a camera. Just like TV cops that always have a spare gun someplace, I never know when I'm going to need a camera, especially with a kid. I just reach into my pocket, and just like always taking my wallet with me, I always have a camera.
Casio discontinued the EX-V8 in spring 2008 with no replacement. I'd hurry up and get one, at the close-out price, if you think you want one. The EX-V8 is special because of the extra long zoom, stereo movies, and no need for a motor to yank the lens in and out.
The Casio EX-V8 is about the size of a business card and under an inch thick. I always have one concealed in my pocket. (Bargain hint: 2006's almost identical EX-V7 sells for a little less at Amazon if you can find it.)
Unlike most compacts, the lens of the EX-V8 doesn't extend. Simply slide the cover and you're ready to shoot. I suspect this will let this Casio last much longer than other compacts, since the first thing to break on all of my other compacts is the lens retracting system or the lens cover blades.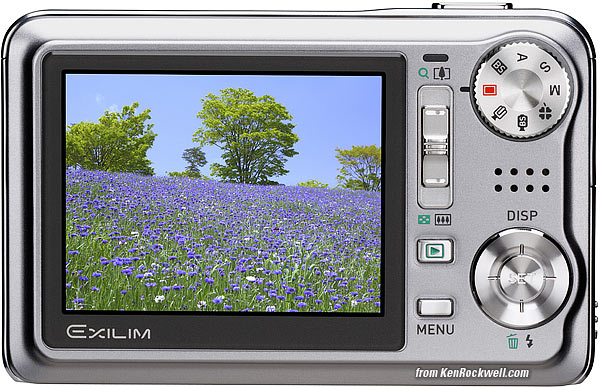 Casio EX-V8.
The EX-V8 has a 7-power zoom lens, about double the magnification of most other compact cameras. It has a stabilizer to ensure sharp hand-held shots, even at the maximum telephoto setting. The maximum telephoto setting is equivalent to about a 260mm lens on a 35mm film camera.
Also, unlike other compacts, you can select any exact zoom setting. Most compacts only zoom in a few fixed steps, making precise composition difficult. The Casio EX-V8 zooms with two speeds as you move the zoom lever!
Want more? The EX-V8 makes high-quality movies with stereo sound, and you can zoom optically while you shot unlike other pocket cameras!
Hint: Just like my Canons, which I set to their Vivid modes, I prefer wilder colors and get them by using different menu settings in the EX-V8. I set +2 for saturation and +2 for contrast. I also set the sharpening lower, to -1, for better results. The EX-V8 by default tends to oversharpen. The EX-V8 is also the sharpest compact camera I've ever used, its lens is sharp even at tele and even in the corners for making great 12x18" prints at Costco. I leave the contrast and sharpness at 0 for people pictures.
It comes with a rechargeable battery and a very handy stand in which the camera recharges and from which you can download your photos. Like everything from Casio, it does more than I can fit here. My other Casios run for 24 hours or more for recording audio-only; I've never wanted to wait that long to time this one.
The things the Casio EX-V8 won't do are:
1.) Wont' shoot raw.
2.) Won't automatically mark vertical photos (no autorotate).
3.) No insanely close macro; only focuses as close as about 4 inches (10cm), not 1/2" (1cm) like many cameras with shorter zoom ranges.
4.) Slow data transfer from its cradle; if you're shooting hundreds of photos at a time, a card reader might help.
The lens is a true zoom with seemingly infinite adjustment ability. Every other compact camera I've used only zooms in fixed steps. The EX-V8 zooms silently, so you can zoom while making videos, which is unique for compact still cameras.
If you can hold it steady and if you shoot at lower resolutions, it's smart enough to give you a real 35.1x zoom at 640x480 without having to cheat with digital zoom!
Like most cameras, at default settings the images were dull. I bump the contrast to +2 and the and saturation to +2 and it looks great! I reduce sharpening to -1.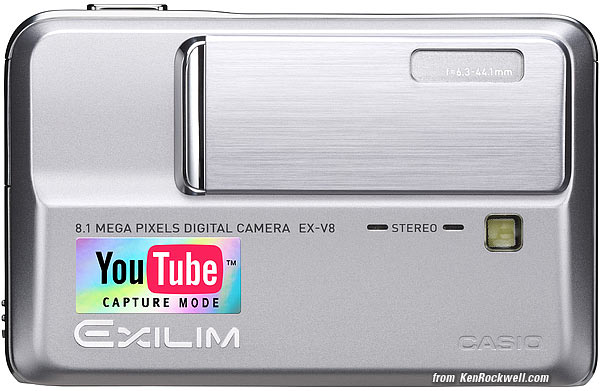 Casio EX-V8.
SPECIFICATIONS with comments back to top
Intro Specs Performance Recommendations
Lens: 6.3-44.1mm f/3.4-5.3. It gives a field of view similar to what a 38-266mm lens does on a 35mm film camera.
Optics: 12 elements in 9 groups, some are aspherical. This is a lot of glass for any camera, much less one this small!
Diaphragm: One click-in diamond-shaped aperture and an ND filter, for three effective apertures, total (f/3.4, f/4.6 and T9.2 at wide, f/5.3, f/6.5 and T13.0 at tele).
Image Stabilization: Yes, mechanical CCD shift.
AF: 9 zone TTL.
Optical Viewfinder: NO.
Shutter: 1/2 - 1/800 in Program. Goes to 1 second in aperture-priority and to 60 seconds in manual and shutter-priority modes.
Exposure modes: Program, Aperture priority, Shutter priority and Manual, as well as a slew of preset scene modes.
Image Sensor: 8MP; Smaller sized 1/2.5."
Image Sizes: 3,264 x 2,448 native. Also 3,264 x 2,176 (3:2 cropped), 2,816 x 2,112 (6MP), 2,304 x 1,728 (4MP), 1,600 x 1,200 (2MP) and 640 x 480 VGA.
JPG Default DPI: 72 DPI, only significant because I don't have to set it back to 72 DPI in Photoshop to get my © notice the correct size.
Formats: JPG, three compression levels. File sizes vary wildly with image complexity. I always use the smallest size, "Economy." The middle, default size is called "Normal" and the largest is called "Fine." File sizes are optimized to each image, so very detailed images may have file sizes triple the file size of a blank, flat sky image. This is good and normal.
Mono Audio Format: .WAV.
Video: 848 x 480 (roughly 16:9 with square pixels) and 640 x 480 at 30 FPS in a very efficient (small file size) H.264/AVC .MOV format with glorious stereo sound. Also 320 x 240 pixels at 15 FPS in a less efficient sequential motion JPEG AVI format with crappy mono sound - skip this setting.
ISO: AUTO, 50, 100, 200, 400 and 800. ISO 1,600 comes up in a trick scene mode.
WB: Auto, Direct Sun, Cloudy, Shade. Tungsten, Fluorescent Warm and Cool, custom manual white card.
Real-Time Shooting HISTOGRAM: Yes, full RGB histogram.
Frame Rate: 0.7 FPS rated and measured, continuous (no change in focus, exposure or anything between shots).
Meter: Matrix (called Multi by Casio), center and spot. I always use Matrix and set the L-R key to exposure compensation. It's trivial to set perfect exposure while looking at the live RGB histogram and tweaking the L-R key, something I can't do on other brands of cameras.
LCD Screen: 2.5," 230,400 pixels, 960 x 240.
Playback Histogram: Yes, full RGB histogram.
Storage: SD card up to at least 2 GB and 11.6MB of internal memory.
Data Transfer: USB 2.0 high-speed, 480 Mb/s peak, rated. Much slower in practice.
Video Out: Your choice of NTSC or PAL in your choice of 4:3 or 16:9.
Made in: China.
Color: Silver; Black was a special version at Best Buy.
Power: 3.7V, 950 mAh NP-50 Li-ion battery. It's a long thing; longer and skinnier than than a pack of gum. rated 240 shots, CIPA w/50% flash.
Size: 2.420 x 3.780 x 1.025" H x W x D (61.47 x 96.01 x 25.92 mm), mic'ed (measured) myself, including protrusions.
Weight: Rated 5.26 oz (149g) buck naked: no battery or anything.
Introduced: 28 August 2007 at $329.99 MSRP.
Available: September 2007.
Discontinued: Spring 2008.
Performance back to top
Intro Specs Performance Recommendations
See my Casio EX-V7 review for more details. They are the same camera with the exception of the sensor.
Ergonomics
It handles like most Casios, which is excellent. See my very long Casio EX-Z750 review and EX-S100 Reviews for the most complete explanations of some the zillions of features.
There can be occasional burps (delays) as you throw commands at it. I'm a tough user; few people throw as much at a camera as I do.
Watch out for your fingers: it's weird having the lens flush on the far side of the camera. I usually have my finger in the corner of my images, which shows you I'm an idiot because it's obvious on the LCD.
The sliding barrier and push-to-play buttons work fine living in a pocket, although dust will sneak onto the lens.
I love the sliding lens barrier, which is the on-off switch.
Optical Viewfinder: NONE
I never use these. I prefer the excellent live LCD.
LCD Monitor
The LCD monitor is bright enough to see in sunlight.
The LCD backlight automatically adjusts for ambient light, presuming you leave it that way You can fix it at other brightnesses if you prefer.
It's reasonably color accurate, far better than the Canon 30D and my Canon 5D. The LCD of the Casio EX-V7 is a tiny bit bluer than my calibrated monitor.
The screen has high resolution. The text is sharp and well defined. It has higher resolution than the new Canon 1D Mk III with a 3" LCD.
Frame Rate
It takes the Casio EX-V8 a second or so between shots to recombobulate itself for each new shot.
Image Quality
The lens is great! In spite of it's tiny size, it's sharp and works great if you don't mind some easily correctable distortion.
Images in the default settings are much duller than I prefer for photos of things. I pump up the contrast and saturation to +2 for the things I shoot. For people, leave it alone.
The contrast and other settings apply to both still and video images.
Image quality is fairly typical for a compact camera. Images are reasonably smooth with sharp details and edges, but the noise reduction that gives smoothness to flat areas also smudges over textures and delicate details.
Very perceptive shooters will notice a slight cartoon look (sharp, but lacking textures that ought to be there), which is typical for all compact cameras.
I've never used a compact that doesn't do this. The only way around this is to get a true DSLR like the excellent Nikon D40.
Lens
This 7x zoom is unique: it doesn't extend from the camera and it has real, continuous zooming! I can zoom to any focal length. Almost every other compact only sets focal length in a few discreet steps.
Movies
It shoots a varirity of video sizes, aspect ratios and compression rates.
Video
THe stabilizer works, but often is jittery when shot free-hand. If you shoot carefully it helps, but if not, the effect of the harsh jumps when the stabilizer can't keep up may be more annooying than regular hand-held wiggle.
THe LP mode looks awful, but runs 8 hours on a 2 GB card.
THe Normal mode runs 3 hours on a 2 GB card and has a lot of artifcats if you're going to broadcast this on TV, but is much better than what you see on YouTube.
I shoot the HQ mode, which gives 1.5 hours on a 2GB card.
THe UHQ mode is if you intend to use this for broadcast, DVD or theatrical release. It runs about 40 minutes on a 2 GB card.
You also can shoot in 16:9 in both the HQ and UHQ modes. You'll get abotu 1:15 in HQ 19:9 and 30 minutes in UHQ 16:9. THe 16:9 modes crop off the top and bottom of the sensor, record the same number of vertical pixels (480) while recording more horizimtally (848 instead of 640) than the standard 4:3 video modes. The video formats all reduce the camera's resolution greatly from the much higher still image resolutions, so there are plenty of pixels available to increase the horizontal resolution.
Audio
Sound is crappy mono in LP mode, and glorious full-bandwidth stereo in all the other modes.
It's real stereo sound, courtesy a built-in X-Y array.
Low frequency response is fine. The tiny built-in mono speaker is just to let you know you got production sound, not for quality monitoring.
There is no wind or pop filter. If it's windy outside, you'll want to make one yourself and use double-sided tape to attach it to the camera.
Recommendations back to top
Intro Specs Performance Recommendations
This tiny camera does what it claims. If you can find one, get one, especially if you like to shoot movies!
It has the biggest zoom range of any camera I want to put in my pocket and carry everywhere. The movies with stereo sound are a great bonus.
I use these for landscape shots. No compact camera works well for sports, even with the long zoom. For sports, buy a Nikon D40 and 55-200mm lens which will work much, much better for action.
PLUG
If you find this as helpful as a book you might have had to buy or a workshop you may have had to take, feel free to help me continue helping everyone.
It also helps me keep adding to this site when you get your goodies through these links to Ritz, Amazon and Adorama here, here and here. I use them and recommend them personally .
Thanks!
Ken