Nikon 28mm PC
(1980-2006)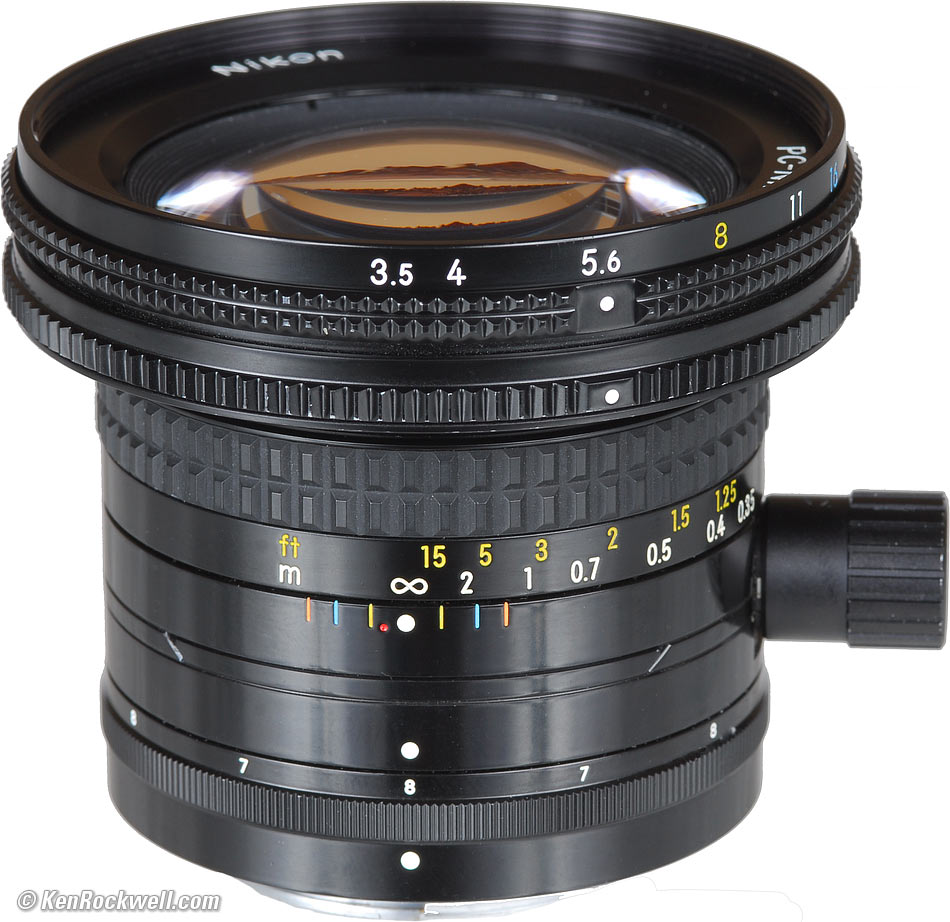 Nikon 28mm f/3.5 PC.(FX, DX and 35mm coverage, 72mm filters, 13.1 oz./372 g, 1'/0.3 m close focus, about $300 used). enlarge. I'd get it at this link directly to them at eBay (see How to Win at eBay).
This ad-free website's biggest source of support is when you use those or any of these links to approved sources when you get anything, regardless of the country in which you live. Buy only from the approved sources I use myself for the best prices, service, return policies and selection. Thanks for helping me help you! Ken.
April 2017 Nikon Reviews Nikon Lenses   PC-E Lenses  Nikon Flash All Reviews
Intro Specs Performance Recommendations
The Nikon 28mm f/3.5 PC is a purely mechanical manual-focus perspective correction (PC) lens for film and FX digital cameras. It works on DX cameras, too.
It is intended for use on a tripod to allow the correction of converging lines in architectural and interior photography.
It also has creative uses for exaggerating perspective. In landscape photography one may drop the lens to increase the apparent size of close objects. In crazy photography, one may deliberately move the lens in the opposite direction to exaggerate converging lines. Galen Rowell made great use of this in his fly-over shot of a skyscraper, where he exaggerated the tall building to put it in-your-face.
For use on the D3, the newest 24mm f/3.5 PC-E is far more useful, and allows tilts as well as the shifts of this PC lens.
See also How and Why to Use Shifts.
Compatibility
The 28mm PC works on every Nikon SLR, digital and film, auto and manual focus.
Of course "works" doesn't mean much, since this lens doesn't do much other than sit on front of the camera and allow you to manipulate it. Its movements, diaphragm opening and closing and focus are all in your fingers, not under the control of the camera.
History
1962-1980
Nikon introduced its first 35mm PC lens in 1962. Nikon made about 60,000 of the 35mm PC lenses through 1980.
1975 -1980
Nikon's first 28mm PC lens was the 28mm f/4 PC of 1975. Nikon made about 8,000 28mm f/4 PC lenses until they were replaced by this 28mm f/3.5 in 1980.
1980-2006
This 28mm f/3.5 PC lens was made until it was discontinued in January 2006. Nikon made about 35,000 of these 28mm f/3.5 PC lenses.
2008
Nikon introduced the 24mm f/3.5 PC-E.
Specifications back to top
Intro Specs Performance Recommendations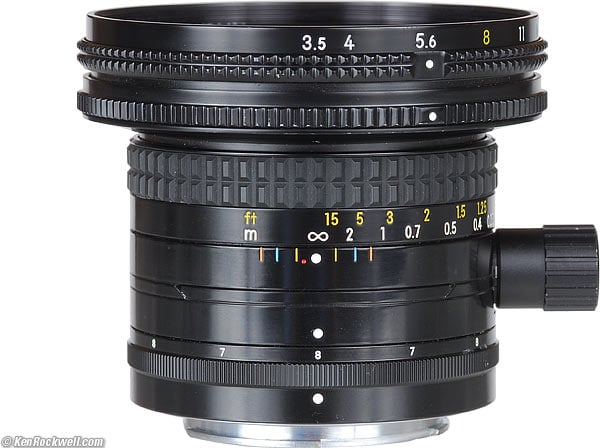 Nikon 28mm f/3.5 PC. Roll mouse over to see it shift left.
Name
Nikon calls this the Nikon PC-NIKKOR 28mm f/3.5.
Optics
9 elements in 8 groups.
Conventional spherical design.
Unit focus.
Multicoated.
Maximum Shift (mechanical limit)
11mm in any direction.
Maximum Shift (sharpness limited)
11mm up or down, 8mm left or right.
These are the little numbers near the mount, and there are other limits at other settings. If you stop down reasonably far, it actually works fine with full 11mm shift in any direction on film and FX cameras. There are no limits on DX cameras.
Filter Thread
72mm, metal.
Doesn't rotate unless you rotate the whole lens.
Diaphragm
9 blades, manual pre-set.
Preset ring has locked detents at f/3.5 and every full stop.
Stops down to f/22.
Close Focus
1 foot (0.3m).
Focus Distance Scale
Yes.
Depth-of Field Scale
Yes.
Infra-Red Focus Index
Yes.
Hard Infinity-Focus Stop
Yes.
Maximum Reproduction Ratio
1:6.7.
Size
2.54" long by 3.07" diameter (64.5 x 78mm), specified.
Weight
13.130 oz. (372.1g) actual measured.
380g specified.
Case
CL-34A. Also number 62 pouch and CL-S2.
Hood
HN-9 metal screw-in, same as older 28mm f/4 PC and 20mm f/3.5 UD.
Price
They go for about $700 used in 2008. The 28mm f/4 sold for about $490 new in 1977. This 28mm f/3.5 PC sold at full NYC discount for $510 in 1986, $590 in 1987, $790 in 1991-1992, $660 in 1996 and $1,250 in 2000.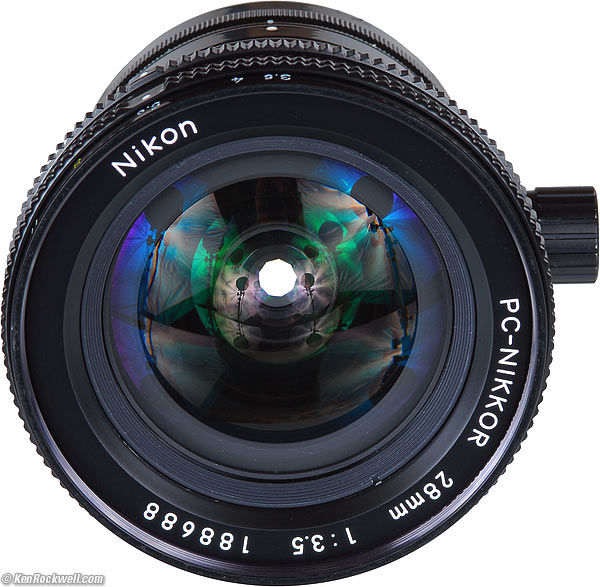 Nikon 28mm f/3.5 PC at f/5.6.
Performance back to top
Intro Specs Performance Recommendations
Overall Aperture Color Fringes Distortion
Focus Grid Screens Mechanics Metering
Movements Sharpness Stitching 24 FPS
Overall back to Performance back to Top
The 28mm PC is a solid chunk of mechanical precision. Everything is built the way it ought to be. All the movements are smooth and tight. It just works.
Aperture Ring and Diaphragm back to Performance top
The diaphragm is a magnificent 9-bladed affair with straight blades for fantastic 18-pointed stars on points of light at night, or on the sun.
The aperture is preset. That means it's totally manual. It only opens and closes from shot to shot when you move it by hand!

Nikon 28mm PC aperture ring.
There are two rings next to each other. The front aperture ring, with two rows of nubbins, is used to set the aperture at which you wish to shoot. You pull it towards you to unlock and set it. It moves forward and locks at each marked aperture.
Once you've chosen your aperture with the front ring, you can open and close the diaphragm by rotating the ring just behind it (the one with with serrations). The serrated ring only moves between f/3.5 and the position of the front ring.
Old timers remember the 1960s when telephoto lenses only came with preset diaphragms.
Is this a pain? Yes, but no more than having to haul a tripod and meter and shoot as slowly as a view camera. View camera lenses don't even have preset rings to help!
Lateral Color Fringes back to Performance back to Top
On a D3, these are corrected if the lens isn't shifted.
If the 28 PS is fully shifted on the D3, there is a little primary (red/cyan fringing) halfway out on the shifted side.
Distortion back to Performance back to Top
This 28mm PC has much more distortion than the latest 24mm PC-E. I'm not quite sure how this lens passed muster for architecture back in its day. You can see distortion if you waste your time shooting brick walls dead-on.
Unshifted, you need to dial-in +3.0 in Photoshop CS2's Lens Correction Filter when shot on FX.
There are still +/- 2 pixels of second-order waviness to a line along the top of a horizontal D3 image after this correction. The 24 PC-E only needs +0.5 in the same conditions, and has no residual waviness.
Shifted up, you need to fool around to put the optical center in the middle of the shifted image for CS2's lens correction filter to work properly.
I'll leave the grade-school Algebra to you, but in the case of an 11mm vertical shift on a D3, that's a 1,303 pixel shift. Increase the canvas size by 1,303 pixels downward, use -1.0 in Photoshop CS2's Lens Correction Filter, and crop to taste afterwards. This still leaves a few pixels of waviness.
If distortion bothers you more than the added size, weight and triple the price, get the 24mm PC-E. The 24 PC-E also adds tilt, which the 28mm PC lacks.
Focus back to Performance back to Top
Manual focus only, fast and simple with Nikon's classic smooth zero-play feel.
Viewfinder Grid Screens back to Performance back to Top
Nikon's "E" screens have grids that can help setting up movements. Nikon makes these screens for just about every serious SLR from the F of 1959 through today's F6 and D3.
Recent mid-line cameras like the D300 and D200 have built-in selectable grids.
Mechanics and Materials back to Performance back to Top
The 28mm PC is built like they used to. It's a benchmark of the machinists' art. It has no plastic as does the $1,900 24mm PC-E.
Filter Threads: Metal.
Depth-of-Field Scale: Engraved and filled with varying colors of paint.
Exterior Finish: Semi-gloss black enamel over anodization.
Focus Ring: Metal covered with Nikon's classic AI-s waffle-pattern rubber. Engraved markings filled with two colors of paint.
Aperture Rings: Metal. Engraved dots filled with paint.
Shift-Rotate Engine: Metal, engraved scales and markings. No Vernier scales.
Shift Knob: Black anodized aluminum.
Identity Ring: Front of lens, engraved and filled with paint.
Rotation Index and Markings: Engraved and filled with paint.
Serial Number: Engraved on identity ring.
Ass-Gasket (rear-mount dust seal): no.
Mount: Dull chromed brass.
Metering and EXIF Data back to Performance back to Top
Nikon SLRs only meter correctly with this PC lens unshifted.
Metering only works stopped-down.
Meter at the zero position, lock the exposure, and then shift the lens to your shooting position.
I meter by successive guessing and looking at a digital camera's LCD.
Matrix metering doesn't work on any film camera.
Matrix metering can work on the D3, D300, D2 and D200, but it only works properly if you meter at the same aperture you have set in the Non-CPU Lens Data menu.
Weirder, the EXIF data has no clue at what aperture you've shot unless you set it each time in Non-CPU Lens Data.
Movements back to Performance back to Top
You have two: a worm-gear driven shift, and click-stopped 360 degrees of continuous rotation just like that kid's head in The Exorcist.
You rotate the whole lens to put the shift direction where you want it. You can't adjust the shift through zero because it stops at zero. The 24mm PC-E by comparison only rotates 180 degrees, but allows continuous shift above and below zero. The 24mm PC-E is more like a view camera, but neither is much easier to set up.
The movements feel perfect, and the worm gear drive allows perfect, precise framing.
Tilts and Swings (what are tilts and swings?)
The 28mm PC has no tilts and no swings.
Unlike the 24mm PC-E, this classic 28 PC can't do anything to help focus.
Sharpness back to Performance back to Top
On a D3, it's as sharp as the 24mm PC-E, within the smaller image circle of the 28mm PC.
Lateral color robs more sharpness than anything else.
If you go outside the rated shift, like to 11mm fully raised with a vertical shot, the edge is blurry wide open. Stop down to f/16 and it's fine.
This works very well because you're only shifting the lens, not pointing it in different directions. You're effectively stitching different parts of the same image, not disparate images.
The diaphragm is dead-cat manual, so so long as you don't knock it (a very real possibility), you'll have manual exposures that match perfectly.
You simply can shift left and right (or up and down), or get creative and shoot shifted in more than two directions to cover even more.
Tip: Shifting simply 180 degrees between shots (9 and 3 o'clock left and right on the rotating mount) gives a dull shot with the horizon in the middle, the precise problem for which most people buy these lenses in the first place.
Try shooting with the mount rotated in the other click-stopped positions, like 8 and 4 o'clock or 7 and 5 o"clock, and you effectively are creating a pair of alternate-shifted shots with overall shift, too.
I cover a stitching technique in my 24mm PC-E review.
Shooting at 24/23.98 FPS back to Performance back to Top
The diaphragm doesn't move, so since it's fixed, you can shoot at any frame rate you like. It just sits there, unlike the electronic diaphragm of the newer PC-E lenses which are automatically flapping around on the D300 and D3.
Recommendations back to top
Intro Specs Performance Recommendations
The 28mm PC is ideal for people shooting slide film with manual focus cameras. If you give slide shows of architecture, I'm sure you already have at least one of these.
Since Photoshop can correct the same converging lines that the 28mm PC is designed to correct, the 28 PC has been obsolete since the mid-1990s for most other uses.
I use a wider lens and Photoshop's Filter > Distort > Lens Correction filter to do this. The disadvantages to doing this electronically are slightly lower resolution due to resampling, and of course losing part of your image in the process requiring a wider lens with which to start.
Photoshop works not only on digital camera images, but also on scanned film.
If you're serious about this, get the 24mm PC-E instead because it offers tilts, as well as the shifts of this 28mm PC. The 24mm has a larger image circle, too, for full shifts at any rotation. If you're really serious, you really want a view camera with a film or digital back.
If you own a 28 PC, hang on to it and enjoy it. It's a work of art.
If you're considering buying a used one, I'd suggest spending that money instead on a wider-angle lens which will be much easier to use for everything, and using Photoshop to correcting what few shots might need correction. If you're crazy for quality and don't want to lose anything in the transforms, then step up directly to large format.
The 28mm PC is a great piece of optics and mechanics, but you're paying a premium price for abilities which you probably can do more effectively electronically.
PLUG
If you find this as helpful as a book you might have had to buy or a workshop you may have had to take, feel free to help me continue helping everyone.
Thanks for reading!
Ken