Home Donate New Search Gallery How-To Books Links Workshops About Contact
Nikon D7000 Specifications
© 2010 KenRockwell.com. All rights reserved.
< < return to where you were in the Nikon D7000 Review Top, D7000 Review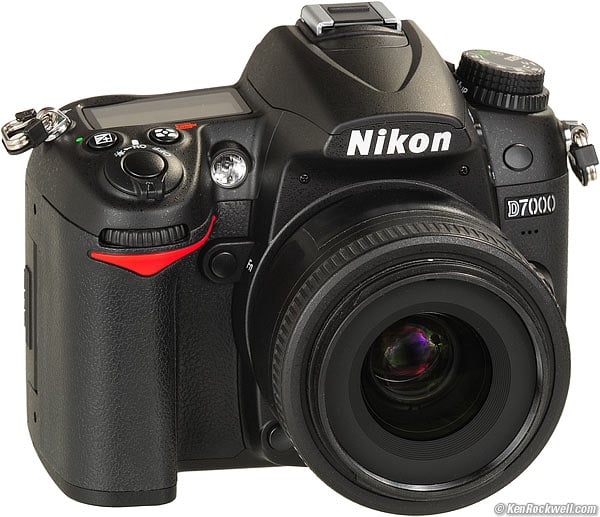 Nikon D7000 (27.3 oz./774g with battery and card) and 35mm f/1.8 DX. enlarge. The biggest source of support for this free website is when you use these links, especially these directly to the D7000 at Adorama (either body-only or with 18-105mm lens), the D7000 at Amazon (body-only or with 18-105mm lens), or Ritz (body-only or with 18-105mm lens) when you get yours. Thank you! Ken.
May 2014 More Nikon Reviews
< < return to where you were in the Nikon D7000 Review
Exoskeleton top
Most of the D7000's body is magnesium alloy.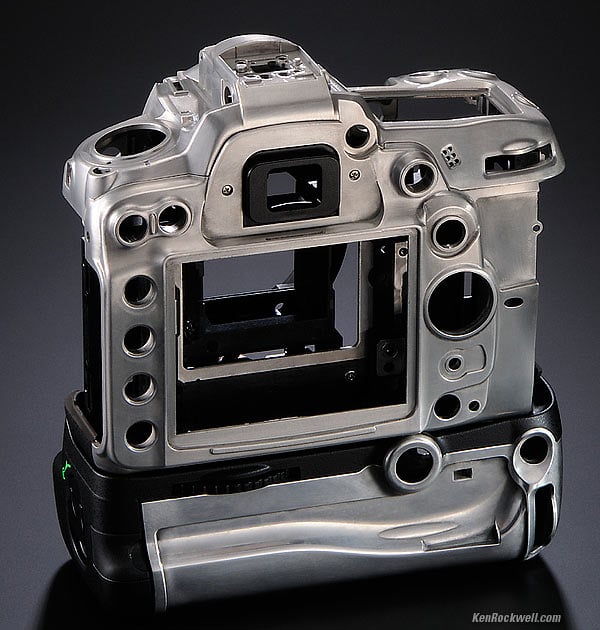 Nikon D7000 and MB-11 Grip Magnesium Cores.
AF: 39 Point Field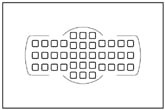 39 points.
Only the 9 central sensors can see horizontal lines; the rest only see vertical lines, just like the single focus sensor of the Nikon SP.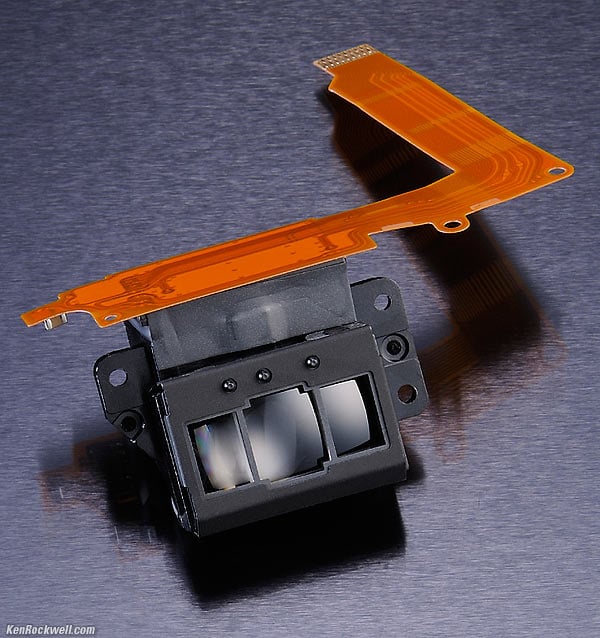 Multi-CAM 4800DX AF Module.
New Multi-CAM 4800DX AF module.
Dynamic or single point AF.
Configurable in combinations of 9, 21 or 39 or a 21-point ring.
3D tracking, which continuously follows moving subjects within the 39 AF points, highlighting the activated AF point in the viewfinder.
Fine-tuning, for the occasional oddball lens.
AF Illuminator.
AF motor in body for use with all AF lenses, as well as AF-I and AF-S.
Finder top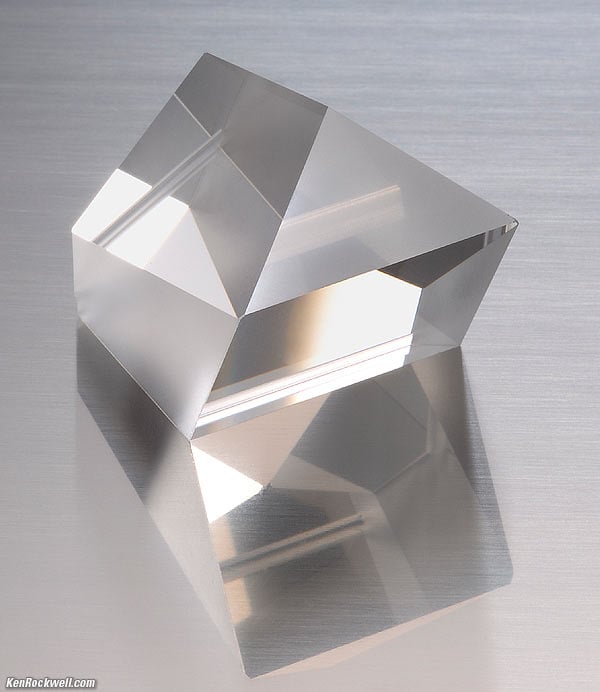 D7000's glass pentaprism.
Glass pentaprism.
100% coverage
0.53x magnification with standard 28mm (for DX) lens. (0.94x with 50mm lens, which is a telephoto on a DX camera.)
19.5mm eyepoint.
-3 to +1 diopters.
Trade name of screen: "Type B BriteView Clear Matte Mark II with AF Area Brackets." Wow!
Meter top
2,016 pixel RGB 3D Matrix Metering System, center-weighted or spot.
Variable-size center-weighted circle.
Canon's best cameras still only see in black-and-white, and Canon's newest 7D only sees in two colors, not full-color as have most Nikons since the F5.
Flash top
Maximum speed with flash (sync speed)
1/250.
Trick FP high-speed sync mode.
Built-in Flash
The built-in flash can be used as a remote commander to control Nikon's better external flashes.
Covers a 16mm DX lens.
GN 12 meters (39 feet).
Hot Shoe
i-TTL system for use with SB-900, SB-800, SB-700, SB-600, or SB-400.
PC (Prontor-Compur) Sync Terminal (for studio strobes)
No, but Nikon will sell you a Sync Terminal Adapter AS-15 to add it.
Heck, I use an old Nikon SB-30 flash on my cameras as a remote trigger for my studio strobes instead of a PC cord.
Shutter top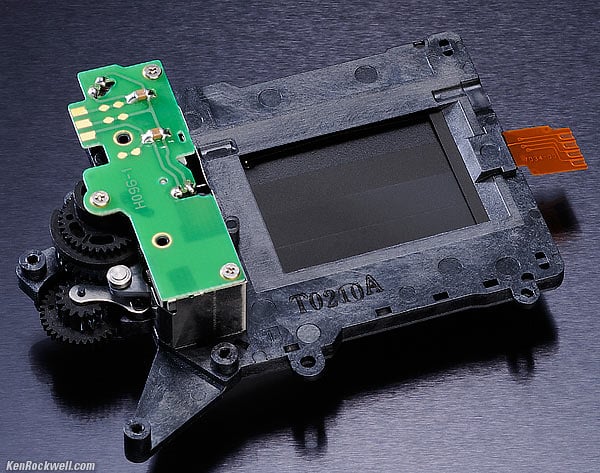 Nikon D7000 Shutter Assembly. enlarge.
Maximum speed with flash (sync speed): 1/250.
1/8,000 to 30 seconds, and Bulb. (30 minutes maximum in Time)
Time, if you buy the excellent $20 ML-L3 infra-red remote.
Single, Continuous High and Low and Quiet advance modes.
"150,000 cycle-rated"
Self-timer
2, 5, 10 or 20 seconds.
1 to 9 exposures each time, delayed by 1/2, 1, 2 or 3 seconds each.
Remote Control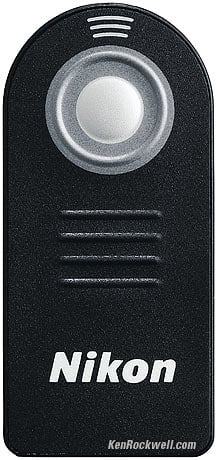 Nikon ML-L3 Remote (larger than actual size).
The Nikon D7000 uses this tiny $16 infrared remote. It's the best $16 you'll spend with Nikon, because it also works with most of Nikon's other less expensive DSLRs. (Nikon's expensive SLRs only work with the dorky cords, sorry; only the inexpensive ones work with this better wireless remote.)
For instance, the D300s requires you buy a $150 receiver system in order to work with a wireless remote. Otherwise, you have to use an expensive cord!
Sensor and Image top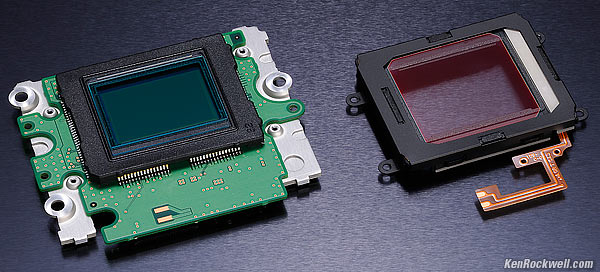 Nikon D7000 Sensor and Filter Assembly. enlarge.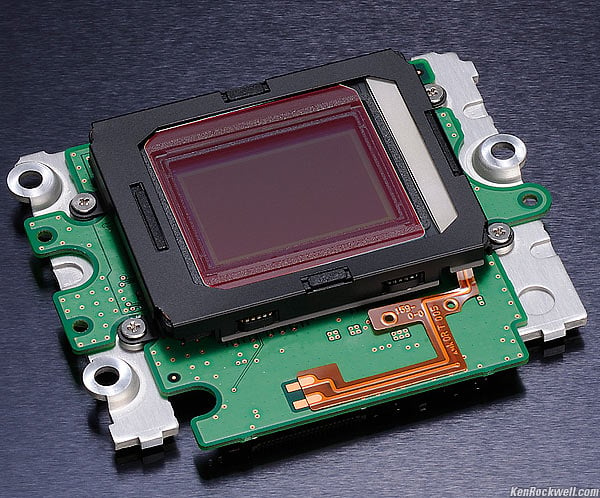 Nikon D7000 Sensor, assembled. enlarge.
16 MP CMOS DX (23.6 x 15.6 mm)
4,928 x3,264 pixels native, also 3,696 x 2,448 [M] and 2,464 x 1,632 [S] settings.
Sensor cleaner.
14-bit ADC.
ISO
Auto, 100-6,400 in half or third stops.
Also ISO 8,000, ISO 9,000, ISO 10,000, ISO 12,800 and ISO 25,600 as "Hi+" trick modes.
White Balance
Two types of Auto White Balance!
Also Incandescent, Fluorescent (7 types), Direct Sunlight, Flash, Cloudy, Shade,
preset manual (up to 5 values can be stored, yay!), Kelvin (2,500 K to 10,000
K).
All offer fine tuning.
White balance bracketing: 2 to 3 frames in steps of 1, 2 or 3.
Picture Controls
Gen 2: Standard, Neutral, Vivid, Monochrome, Portrait, Landscape; selected Picture Control can be modified.
Adaptive Dynamic-Range Control
Yes, ADR is as expected in Gen 2.
Sets as Auto, Extra High, High, Normal, Low or OFF.
Video top
1,920 x 1,080/23.976p (no 25p, 29.97 or 59.94 ability.)
1,280 x 720/29.97p, 25p and 23.976p. (no 59.94 ability.)
640 x 424/29.97p and 25p (640 x 424 is a useless 3:2 aspect ratio!)
It's interesting to note that Nikon just can't keep up with the video resolution of Canon's DSLRs like the 7D and 5D Mark II. At 1,920, the Nikon can't run at 25p or 29.97p, which is OK since Hollywood shoots at 23.976 anyway. At the faster 25p or 29.97p rates, this Nikon can only shoot at 1,280! Canons also shoot at 59.94p in 640 and 1,280 for fluid motion, something completely absent in Nikon.
Maximum Recording Time: 20 minutes.
.MOV files holding H.264/MPEG-4 data.
Audio
Mono microphone.
Stereo input jack for external microphones (3.5mm).
Linear PCM.
In-Camera Editing
Can clip from the beginning or end of a movie.
LCD top
3."
921,000 dots, same as D90, D300s and D3s.
(D3100 is only 230,000 dots.)
Storage top
Two slots!
SD, SDHC or SDXC cards, up to at least 64GB, as of late 2010.
Connections top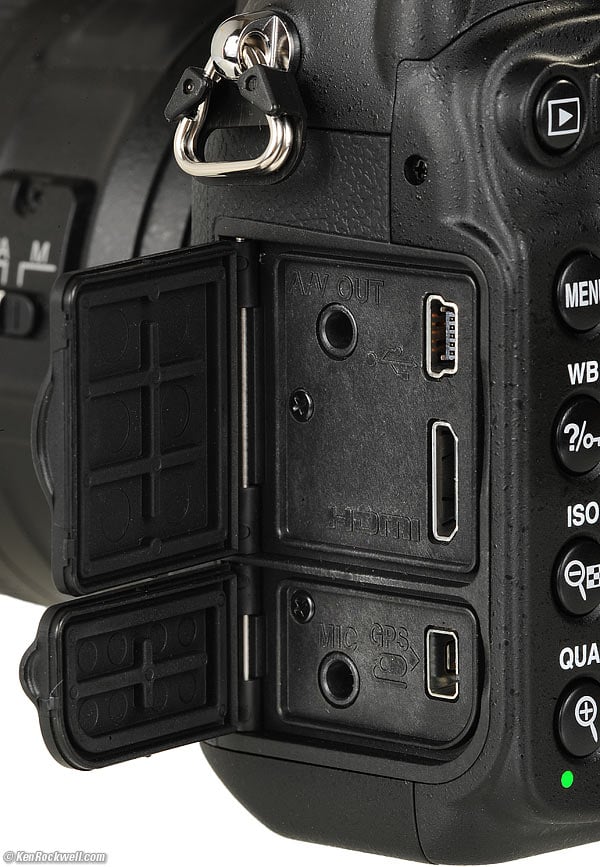 NTSC/PAL, USB, Type C mini-pin HDMI connector, 3.5mm Mic, and GPS.
Power top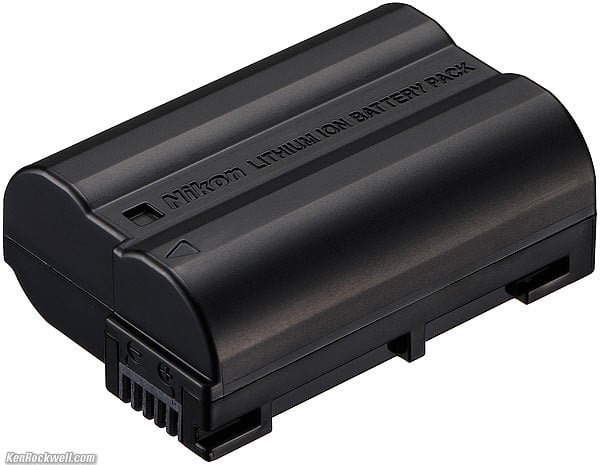 New Nikon EN-EL-15 Li-Ion Battery.
EN-EL15 Li-Ion battery, first seen with the D7000, and now also used in the D800, D800E and D600.
Complain that the EN-EL15 is incompatible with the popular EN-EL3e of last generation's cameras, but the new battery lasts forever, so who cares? The EN-EL15 is slightly smaller then the EN-EL3e, and packs 13.3 Watt-hours, compared to the EN-EL3e's 11.1 Watt-hours.
Rated for 1,050 shots.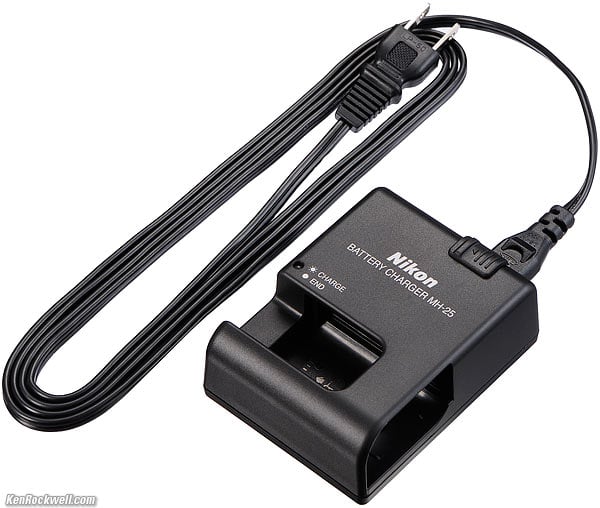 Nikon MH-25 corded charger. enlarge.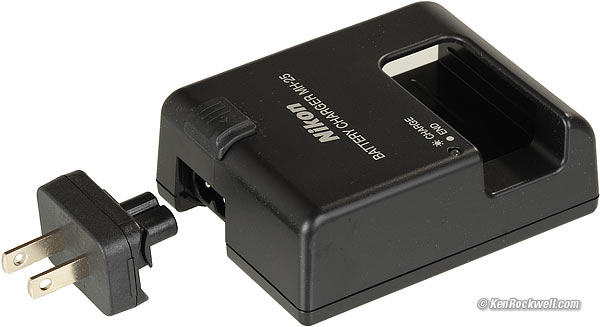 Nikon MH-25 Charger and Stub (USA).
MH-25 battery charger.
In the USA, the charger comes with both a cord and a more portable semi-folding stub.
Optional MB-D11 grip takes the EN-EL15 battery, or 6 AA cells.
Optional AC adapter EH-5a and EP-5 power connector.
Size top
5.2 × 4.1 × 3.0 inches.
132 × 105 × 77 millimeters.
(D3100 is 4.9 x 3.8 x 2.9 inches or 124 X 96 X 74.5 millimeters.)
Weight top
27.295 oz. (773.8g), measured with battery, strap rings and one card.
Nikon specifies 27.5 oz. (780 g) with battery and card, but no caps or straps.
Nikon specifies 24.3 oz. (690 g), stripped naked.
Environment top
0 ~ 40ºC (32 ~ 104ºF).
Less than 85% RH, non-condensing.
What's Included
Rechargeable Li-ion Battery EN-EL15.
Battery Charger MH-25
Eyepiece Cap DK-5.
Rubber Eyecup DK-21.
USB Cable UC-E4.
Audio Video Cable EG-D2.
Strap AN-DC1.
LCD Cover BM-11.
Body Cap BF-1B (the new style).
Classic BS-1 Hot Shoe cover. (Why bother to cover a hot shoe? That went out in the 1960s, which is why Nikon calls it BS today.)
The Box top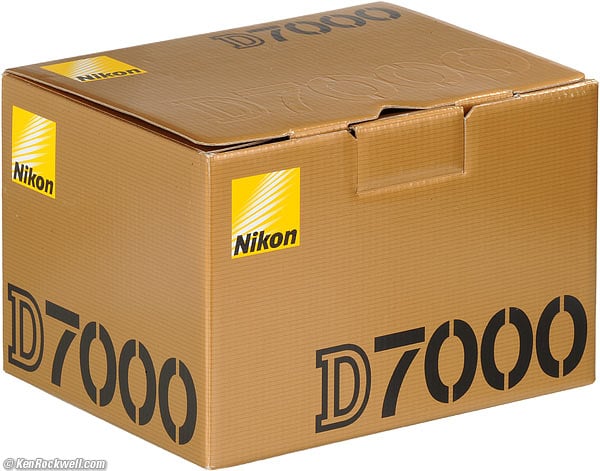 Nikon D7000 Box.
Box End, Nikon D7000 (USA). enlarge.
The rest of this diuscusiuon about USA models only applies in the USA. Legitimate USA versions say D7000 (U) above the UPC code on the lower right.
Non-USA gray-market imports say (UK), (E) or (EP). If you're in the USA, return anything marked this way immediately; you have NO WARRANTY from Nikon USA if you need help or service, and with digital cameras, you will need service, or at least firmware updates, in the future. (UK) is for the UK.
When you open your D7000, the plastic bag holding your two fat, printed users manuals (one in English and one in Spanish) should have a "U-S" (or "U-K" for the kit with lens) sticker on it. This tells the packers in Thailand that this is the manual set for the US version: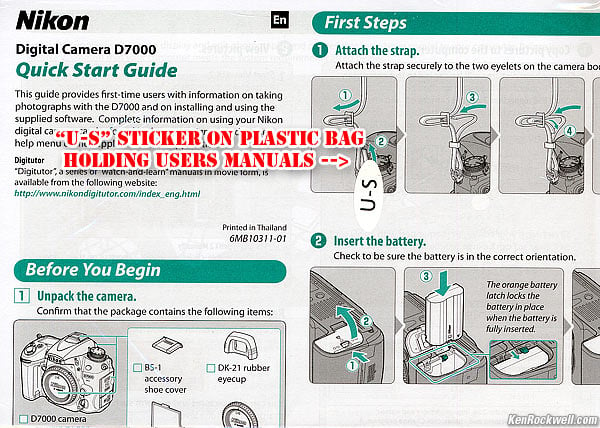 "U-S" sticker on D7000's user's manual package. "U-K" is also OK.
Just for laughs, in the UK, the manual set has a sticker saying "B-S!"
When you open the manuals, hidden in between the Spanish and English manuals is a small, folded, offset-printed USA warranty sheet: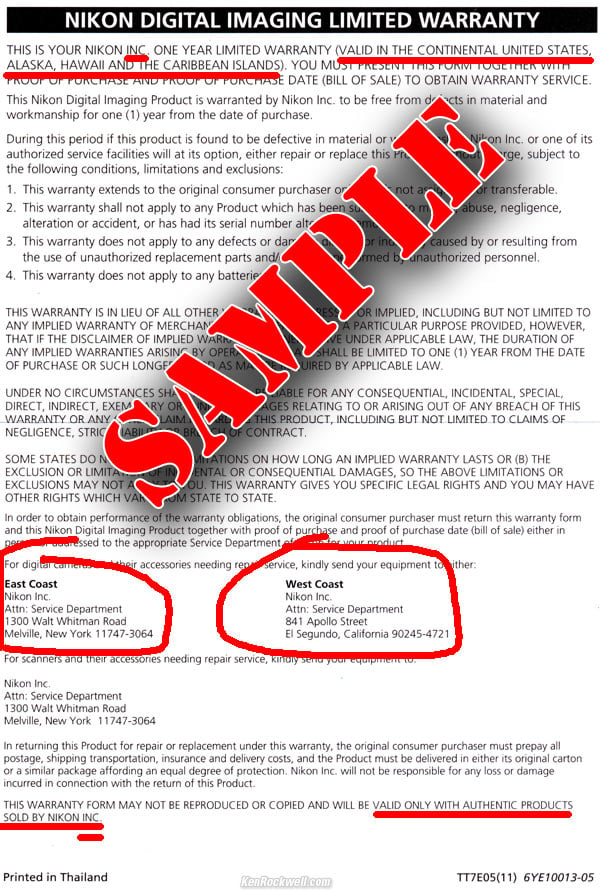 Nikon D7000 USA Warranty Sheet.
The key points are that:
1.) It lists Nikon Inc. as the warrantor. Nikon Inc. is Nikon in the USA, unrelated to Nikon Corporation, who are in Japan.
2.) It says it is valid in the USA.
3.) It provides addresses in New York and California for warranty service. Gray-market products list a zillion worldwide locations on their international warranties, but not these USA addresses.
4.) Of course the warranty only applies to legitimate products. All because you have a copy of this easy-to-reproduce one-sided black-and-white sheet, you won't get any help from Nikon with this warranty form unless you really have a USA-version D7000, identified to you and I by the (U) on the box and the box' serial number matching the serial number of your D7000.
If your camera lacks this and you're in the USA, you got screwed. Different cameras may use different forms, but USA cameras will list Nikon Inc. and at least Nikon Inc.'s New York address.
More at The Gray Market.
Optional Accessories top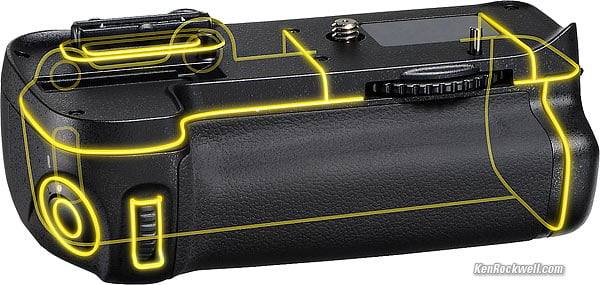 Nikon MB-D11, front, showing weather-sealing points. enlarge.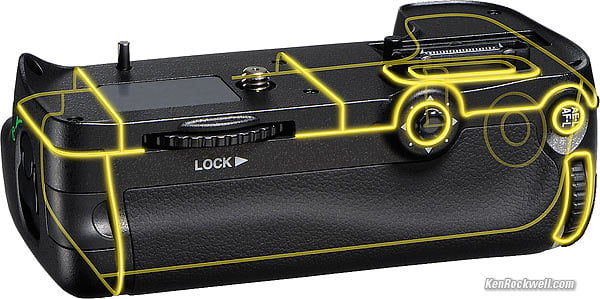 Nikon MB-D11, back, showing weather-sealing points. enlarge.
Takes one Rechargeable Li-ion Battery EN- EL15 or six R6/AA size alkaline, Ni-MH or lithium batteries
ML-L3 Wireless Remote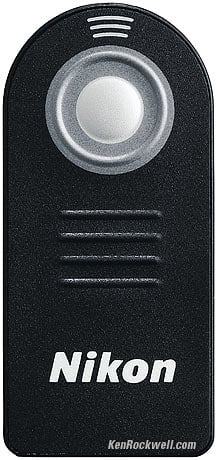 Nikon ML-L3 Remote.
Remote Cord MC-DC2
Also works with the D7000, and the D3 series, D300/s and D700.
GPS Unit GP-1
I hear that the D7000 can update its clock automatically via the GP-1, too.
Made in top
Thailand.
Announced top
15 September 2010.
Shipping Since top
A very few arrived in October 2010, while most people started getting theirs in November 2010.
Price top
May 2014: $550 used, $750 new ($1,000 new with 18-105mm) or $1,000 refurbished.
March 2014: $600 used, $750 new ($1,000 new with 18-105mm)
October 2013: $649, refurbished, body-only.
September, 2013: $729, refurbished, body-only.
August 2012: $997, body-only.
January 2012: $1,099, body-only.
November 2010: D7000 body-only, $1,199.95, and with the 18-105mm lens for $1,499.95.
< < Return to where you were in the Nikon D7000 Review
Help me help you top
I support my growing family through this website, as crazy as it might seem.
The biggest help is when you use any of these links to Adorama, Amazon, eBay, Ritz, Calumet and J&R and when you get your goodies. It costs you nothing, and is this site's, and thus my family's, biggest source of support. eBay is always a gamble, but all the other places always have the best prices and service, which is why I've used them since before this website existed. I recommend them all personally.
If you find this page as helpful as a book you might have had to buy or a workshop you may have had to take, feel free to help me continue helping everyone.
If you've gotten your gear through one of my links or helped otherwise, you're family. It's great people like you who allow me to keep adding to this site full-time. Thanks!
If you haven't helped yet, please do, and consider helping me with a gift of $5.00.
As this page is copyrighted and formally registered, it is unlawful to make copies, especially in the form of printouts for personal use. If you wish to make a printout for personal use, you are granted one-time permission only if you PayPal me $5.00 per printout or part thereof. Thank you!
Thanks for reading!
Mr. & Mrs. Ken Rockwell, Ryan and Katie.
Home Donate New Search Gallery How-To Books Links Workshops About Contact