Home Donate New Search Gallery Reviews How-To Books Links Workshops About Contact
Sigma 18-35mm f/1.8
(only for APS-C, 2013-)
© 2013 KenRockwell.com. All rights reserved.
Intro Specifications Performance Recommendations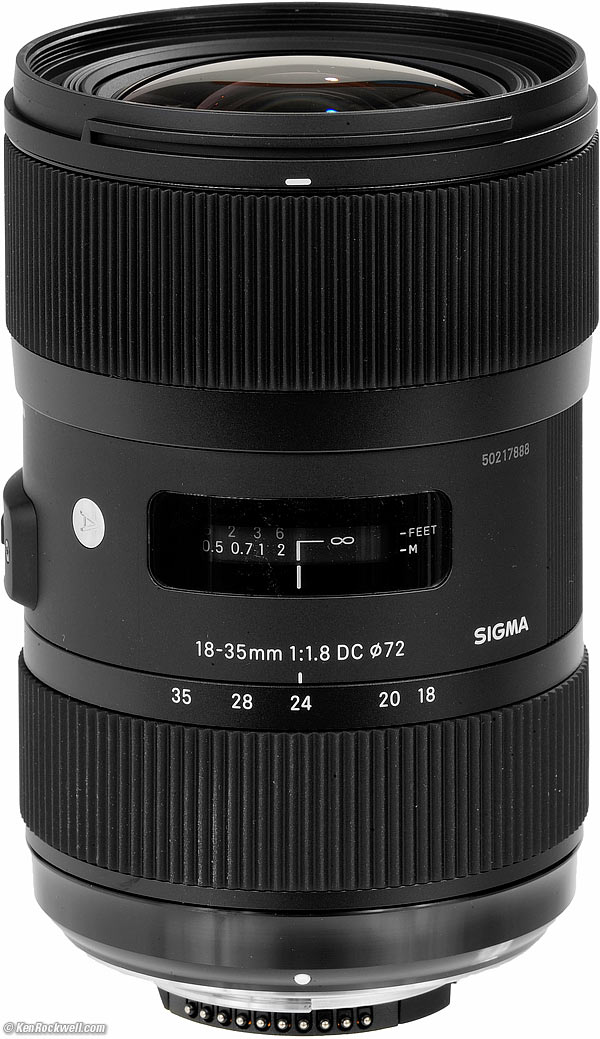 Sigma 18-35mm f/1.8 DC, Nikon version (will not cover full frame; DX and APS-C coverage only, 72mm filters, 28.5 oz./809g, 0.92'/0.28m close focus, about $800. Also comes in Canon EOS, Sony Alpha, Pentax and Sigma mounts.) The biggest source of support for this free website is when you use these links, especially this link directly to this lens at Adorama and this link to it at Amazon, when you get anything, regardless of the country in which you live. It helps me keep adding to this free website when you get yours through these links — but I receive nothing for my efforts if you buy elsewhere. Thanks for your support! Ken.
December 2013 Sigma reviews Nikon Canon LEICA Pentax Sony
Sample Image Files (more are in the review)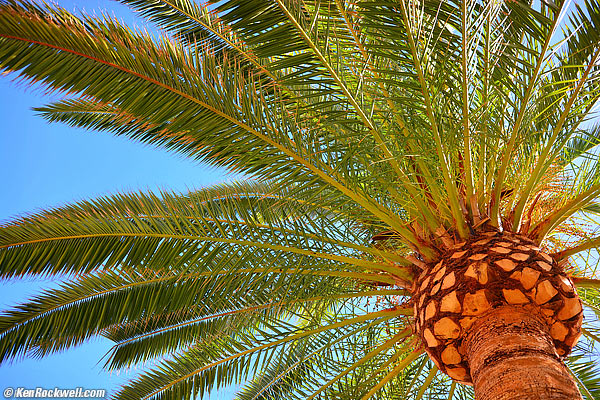 Canary Palm at f/1.8 at 18mm. 24MP DX Nikon D7100, f/1.8 at 1/800 at ISO 100. Full-resolution (5 MB; the palm isn't flat so much isn't in focus).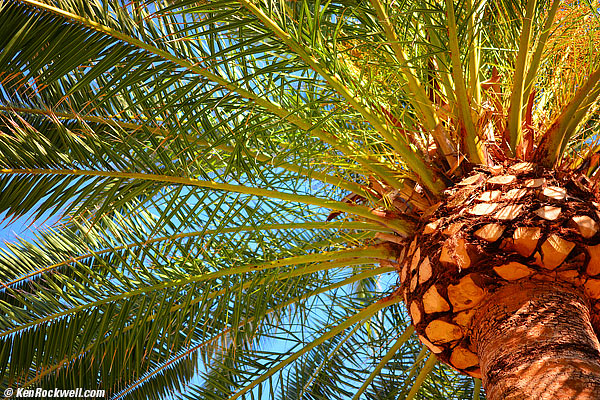 Canary Palm at f/1.8 at 35mm. 24MP DX Nikon D7100, f/1.8 at 1/640 at ISO 100. Camera-original LARGE BASIC JPG (5 MB; the palm isn't flat so much isn't in focus).
Introduction top
Intro Specifications Performance Recommendations
This Sigma 18-35mm f/1.8 is an optically superb lens, but it's also much bigger and heavier than similar fixed lenses like the superb Nikon 35mm f/1.8 DX. The 18-35mm zoom range only works out to be equivalent to about 28-55mm on full-frame; not exactly more useful than a fixed lens.
Optically this lens is extraordinary — but it's too big and heavy, has a silly zoom range, and I have little confidence that this lens will work with whatever camera I'm using ten years from now. When I invest in pro lenses from Canon, LEICA and Nikon, I know they'll still be performing decades from now. All my Canon, LEICA and Nikon lenses from 25 years ago still work perfectly today, while I have older Sigma lenses that work on cameras of their vintage, but not on today's cameras. Likewise, my repairman has had too much experience with 7-year old Sigma lenses for which parts aren't available, making those expensive Sigma lenses into paperweights, while the pro brands are easy to service.
If you don't mind the weight and don't worry about the future, the Sigma 18-35mm works fantastically well today. This 18-35mm f/1.8 is ultrasharp at every setting, even wide-open.
Focus is silent, and you may grab the ring at any time for instant manual focus override. At least on the Nikon version I tried, Sigma finally has this figured out.
Specifications top
Intro Specifications Performance Recommendations
Name top
Sigma calls this the Sigma 18-35mm F1.8 DC A.
DC: Won't work on full-frame; only works on APS-C format cameras.
A: "Art" series, just marketing BS.
Optics top
17 elements in 12 groups.
Aspherical. Look at the reflections from the front element and you'll see just how wildly aspherical it is.
Multicoated mostly in yellow-green.
Internal focusing. Nothing moves externally as focused.
Diaphragm top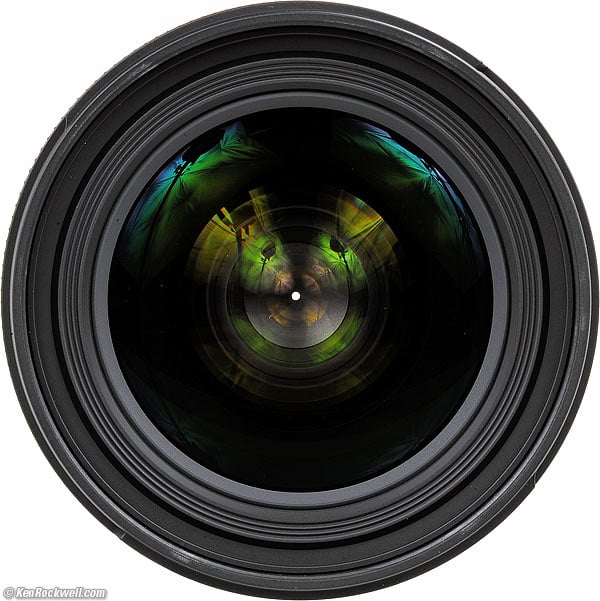 Sigma 18-35mm f/1.8.
9 rounded blades.
Stops down to f/16.
Very round at large apertures, while still giving great sunstars stopped down. Bravo!
Coverage top
Won't work well on 35mm film, Full-Frame or FX; the corners will be black at any setting wider than 28mm.
Focal Length top
18-35mm.
When used on a DX or APS-C camera, it sees an angle of view similar to what a 28-55mm lens sees when used on an FX or 35mm camera.
Angle of View top
76.5 ~ 44.2° diagonally.
Close Focus top
0.92 foot (0.28 meters) from the image plane.
Maximum Reproduction Ratio top
1:4.3 (0.23x).
Hard Infinity Focus Stop? top
No.
You have to let the AF system focus at infinity.
Focus Scale top
Yes, but pretty much illegible.
Depth-of-Field Scale top
None.
Infra-Red Focus Index top
None.
Aperture Ring top
No.
Filter Thread top
72 mm, plastic.
Does not move.
Size top
Sigma specifies 3.07" (77.9 mm) diameter by 4.76" (120.9 mm) extension from flange.
Weight top
28.520 oz. (808.55g), actual measured.
Sigma specifies 28.2 oz. (800 g).
Hood top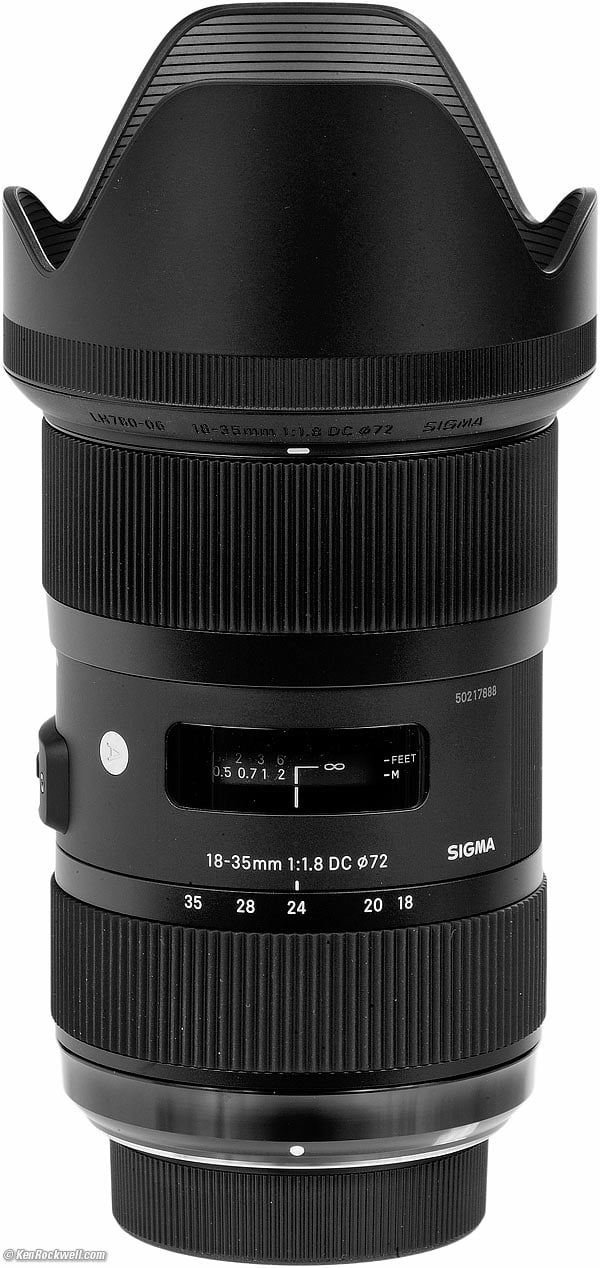 LH-780-06 Hood on Sigma 18-35mm f/1.8 DC.
Plastic LH-780-06 bayonet hood, included.
Case top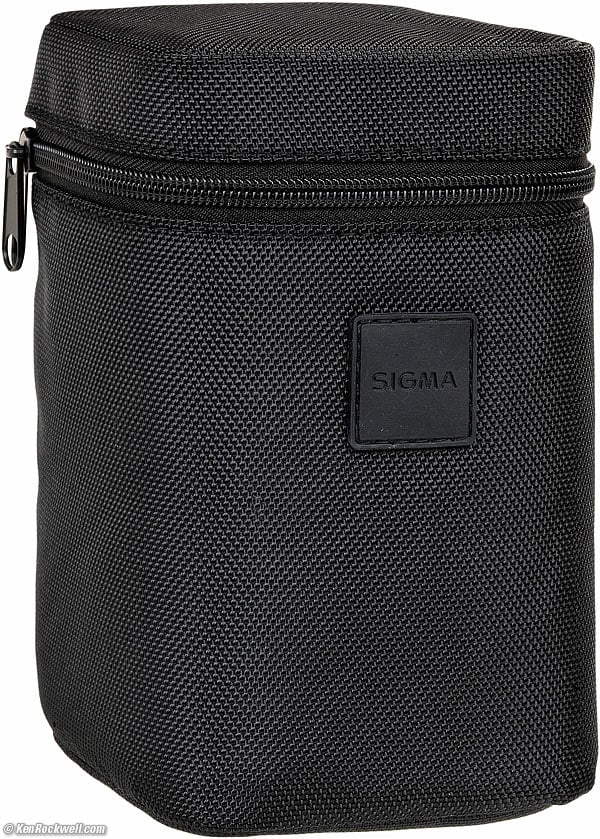 Case, Sigma 18-35mm f/1.8 DC.
Nice padded nylon case included.
Included top
Lens, caps and hood.
Case.
Paperwork.
Made in top
Lens made in Japan.
Warranty top
1 year.
Sigma USA's website implies 3 years for the USA.
Packaging top
White cardboard box.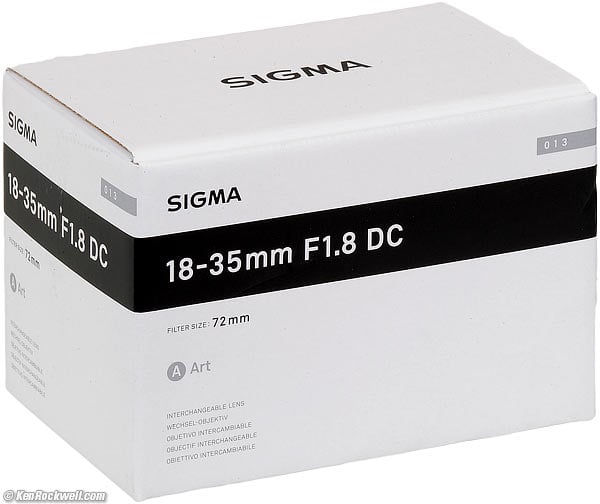 Box, Sigma 18-35mm f/1.8 DC.
In this box sits the lens inside a plastic bag which sits with the hood inside the case. The case is the padding - there is no foam.
Announced top
Summer 2013.
Available top
November 2013.
Price, USA top
August-December 2013: $800.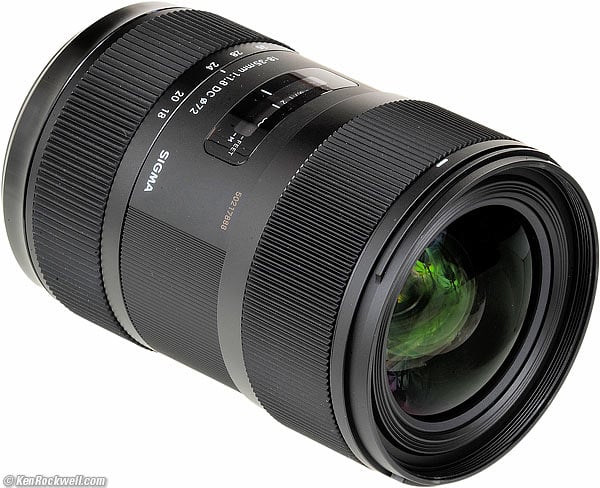 Sigma 18-35mm f/1.8 DC. enlarge.
Performance top
Intro Specifications Performance Recommendations
Overall Autofocus Bokeh Color Coma
Distortion Ergonomics Falloff Filters
Focus Breathing Ghosts Hood Lateral Color Fringes
Macro Mechanics Sharpness Sunstars
Overall performance top
The Sigma 18-35mm f/1.8 DC has fantastic optics — but its mechanics and potential camera incompatibility are why you pay less for Sigma than for professional Nikon or Canon lenses.
Autofocus performance top
Overall
AF works great on my Nikon D7100.
It's fast enough and super-accurate so that I can take advantage of this lens' great sharpness at f/1.8.
AF Speed
AF speed is plenty fast.
AF Accuracy
On my Nikon D7100, AF was dead-on for every frame, especially shot at f/1.8 where this is critical.
Manual Focus
Manual focus is swell, just grab the ring at any time.
Manual Focus Override
Manual focus override works great, at least on the Nikon version I tried.
Bokeh performance top
Bokeh, the character of out of focus backgrounds, is pretty good. Backgrounds go soft and never distract.
Color Rendition performance top
The color rendition seems about the same as my Nikkor AF lenses.
Coma performance top
Coma (saggital coma flare) often causes weird smeared blobs to appear around bright points of light in the corners of fast or wide lenses at large apertures. In lenses that have it, coma goes away as stopped down.
I saw no coma with this aspherical lens! Whoo hoo; coma has always been the weak point of fast wide zoom lenses, and Sigma made it go away. As you can see in this photo, points of light stay as points. Bravo!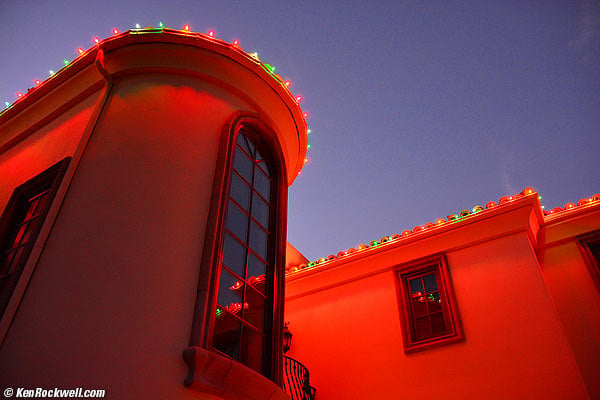 Christmas Lights at f/1.8. Nikon D7100, 18-35mm at 18mm, f/1.8 at 1/30 at ISO 1,400. Full-resolution file.
Distortion performance top
The Sigma 18-35mm f/1.8 DC has moderately strong barrel distortion at the wider end and moderately strong pincushion distortion at the longer end.
No Nikon or Canon camera will be able to correct this automatically, as many of these cameras can do for their own-brand lenses today. What you get is what you get unless you want to much with it in Photoshop.
Most of the distortion can be corrected by plugging these figures into Photoshop's lens distortion filter. These aren't facts or specifications, they are the results of my research that requires hours of photography and calculations on the resulting data.
| | | |
| --- | --- | --- |
| | 3m (10') | infinity |
| 18mm | +2.0* | +2.5* |
| 20mm | +0.5* | +1.0 |
| 24mm | -1.6 | 0.0 |
| 28mm | -2.2 | -1.0 |
| 35mm | -2.5 | -2.0 |
© 2013 KenRockwell.com. All rights reserved.
* slight waviness remains after correction.
Ergonomics (handling and ease-of-use) performance top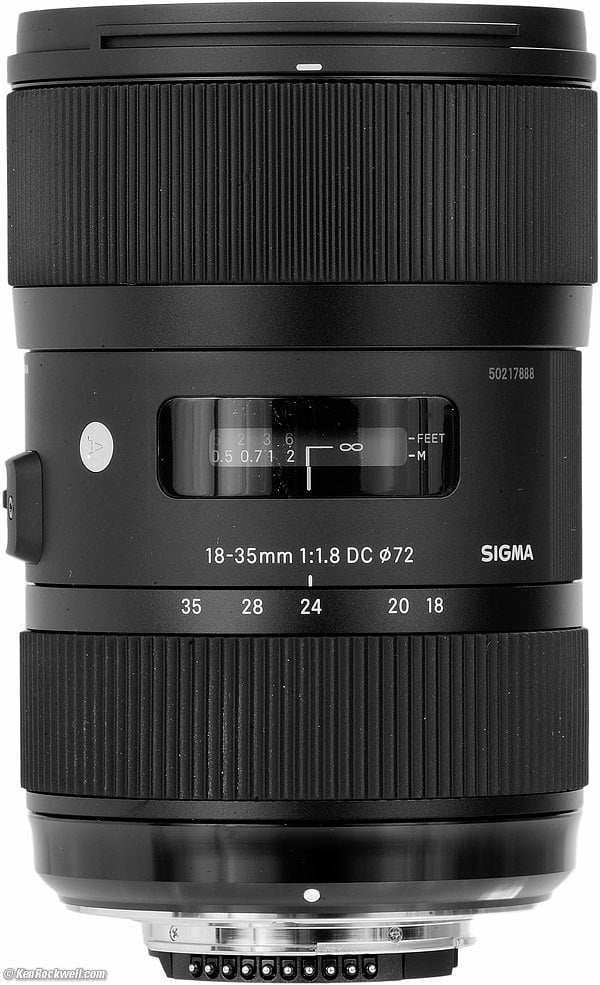 Sigma 18-35mm f/1.8 DC.
Ergonomics are obvious: grab and go.
The ribbed rubber rings grip well, but have sharp ridges and are much less comfortable than pro lenses.
The zoom ring is too stiff. It is very heavily damped, demanding two strong fingers to wrench it back and forth well. One finger will do, but it will only move slowly.
The footage scale is illegible; it's tiny and in dark gray. It's also usually covered by the plastic window, so I hope you prefer the meters scale, which is a little better.
In the real world, this lens is too darn heavy for what it is — and it looks long enough to be a telephoto, marking you as a pervert in public. While you're making wide shots, others are going to presume you're using a telephoto lens for inappropriate purposes.
Falloff (darkened corners) performance top
I saw no falloff, even at f/1.8 at any zoom setting. Look at the f/1.8 sample images throughout the review.
Filters, use with performance top
There is no problem with vignetting, even with thick filters.
The filter ring never moves.
Focus Breathing performance top
Of interest mostly to cinematographers focusing back and forth between two subjects, the image from the Sigma 18-35mm f/1.8 DC gets slightly smaller as focused more closely.
Ghosts, Flare and Sunstars performance top
Ghost resistance isn't very good by modern standards due to the less efficient coatings used by Sigma compared to professional-grade brands, but most of the time these ghosts are artistically quite helpful to communicate an enveloping sense of light: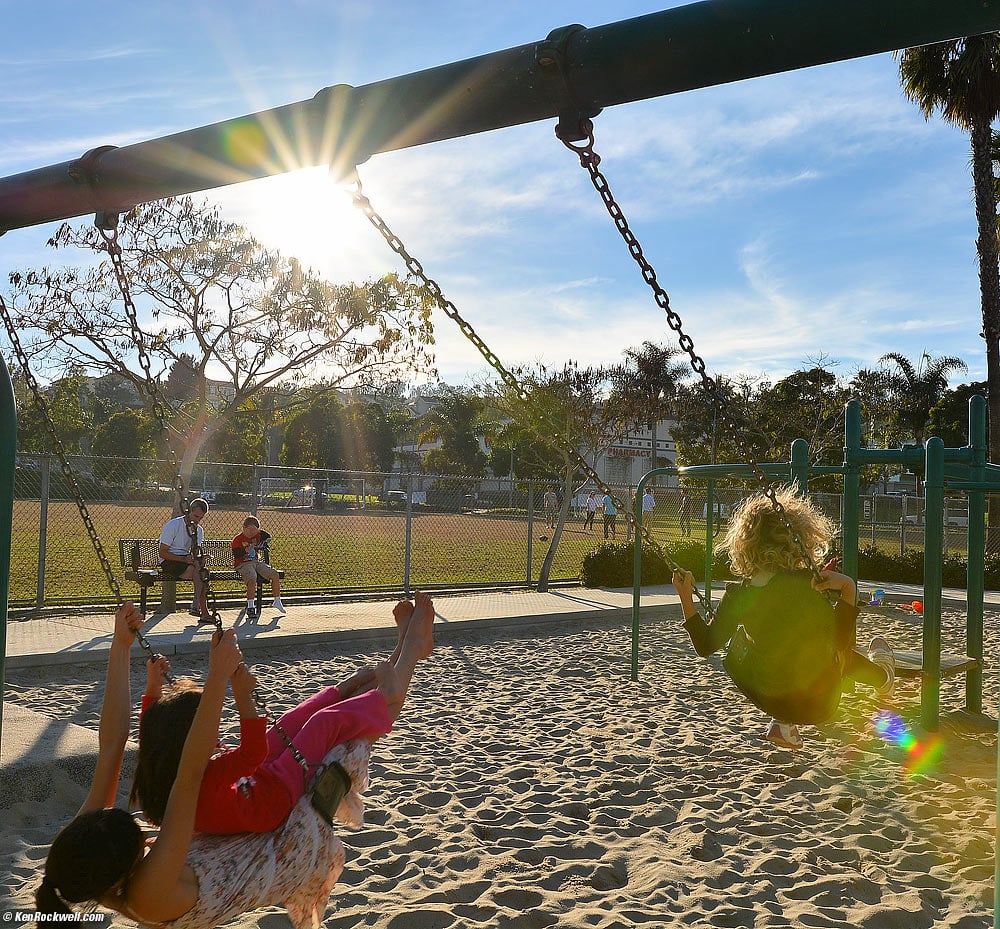 Katie swinging, 01 December 2013. (Nikon D7100, Sigma 18-35mm f/1.8 at 18mm, f/9 at 1/320 at ISO 100, Athentech Perfectly Clear.) bigger.
Even though the diaphragm is round at large apertures, sunstars are quite good at moderate to small apertures. Bravo!
Hood performance top
The hood is included.
Hoods are for sissies. Hoods haven't been needed since lenses became coated — in the 1950s!
Lateral Color Fringes performance top
There are no lateral color fringes as shot on my Nikon D7100, which corrects them automatically.
Nikons need no lens data to correct this; they can correct any random lens.
I have not tested this on Canon, which would not be able to correct it without a lens profile, which does not exist.
There is significant axial chromatic aberration at close distances as I cover next:
Macro performance top
Macro gets very close: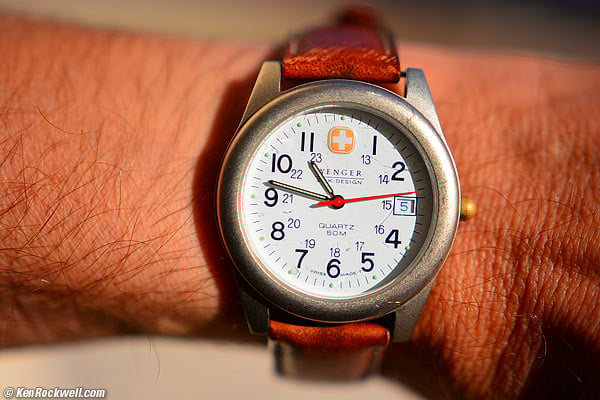 DX image at close-focus distance at 35mm at f/1.8.
At f/1.8 it isn't that sharp at macro distances: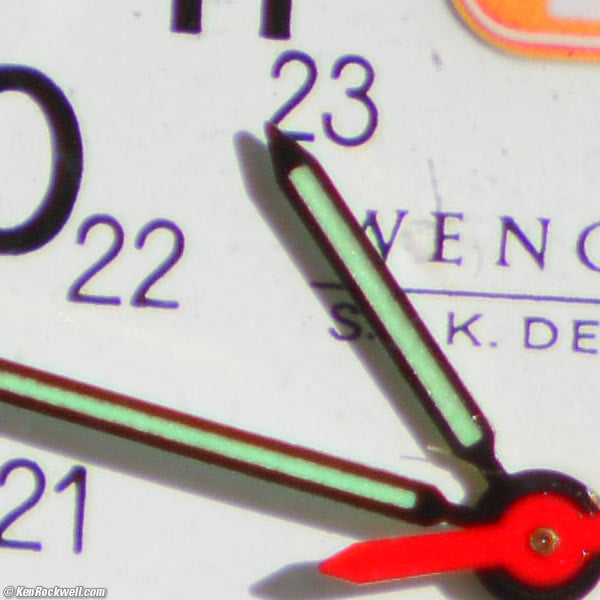 Crop from above 24 MP DX image at 100% at f/1.8.
Due to axial chromatic aberration, focus is critical at macro distances at f/1.8, otherwise you'll get all sorts of colored fringes: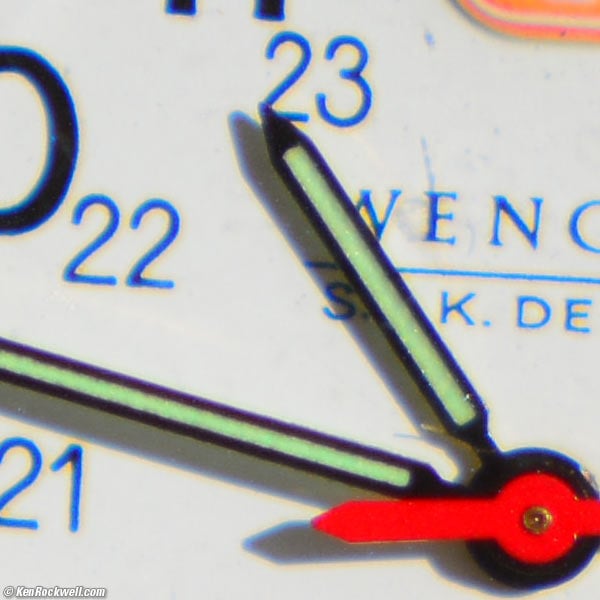 Same thing, slightly out of focus. Note yellow-blue fringes.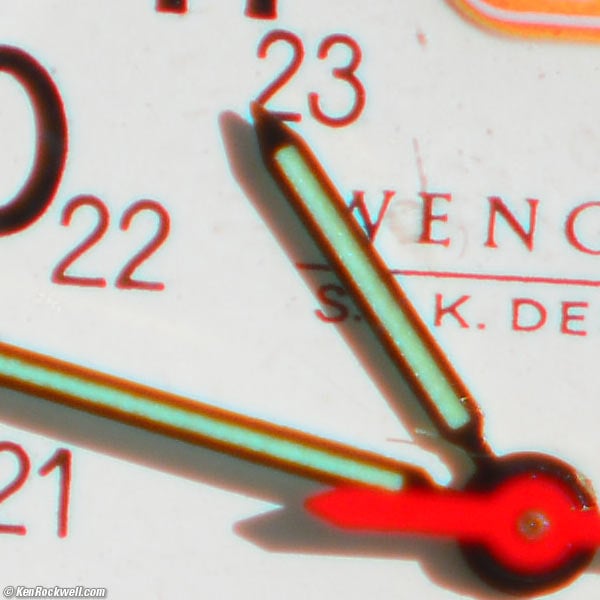 Same thing, slightly out of focus in the other direction. Note red-cyan fringes.
Stop down as you should do at macro distances, and it's super sharp: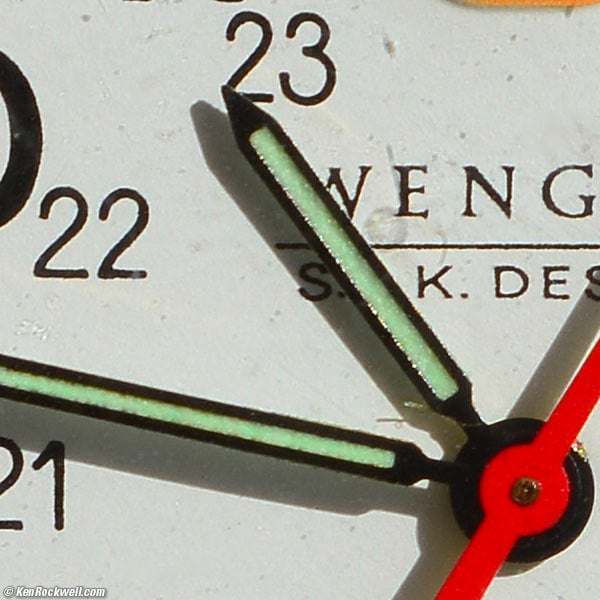 Same thing, but in focus at f/10. If this is 6" (15cm) wide on your monitor, the entire image printed at this same high magnification would be 60 x 40" (1.5 x 1 meters).
Mechanics and Construction performance top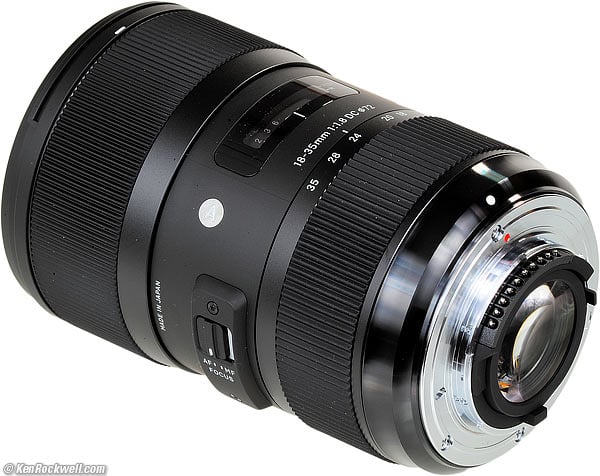 Sigma 18-35mm f/1.8 DC. enlarge.
The Sigma 18-35mm f/1.8 DC is an amateur lens with some metal on it.
Filter Threads
Plastic.
Hood
Plastic bayonet.
Hood Mount
Plastic.
Focus Ring
Metal; rubber covered.
Depth-of-Field Scale
None.
Mid-Barrel Exterior
Plastic.
Zoom Ring
Metal; rubber covered.
Very back of barrel
Metal.
Aperture Ring
None.
Mount
Shiny chromed brass.
Markings
Paint.
Mounting Index Dot
Small white plastic ball on the outside, and a red dot painted into an engraving in the lens mounting flange.
Identity Plate
None, simply painted on the lens barrel.
Serial Number
Laser engraved onto the lens barrel above and the right of the focus scale window.
Moisture seal at mount
None.
Noises When Shaken
Clicking from the diaphragm and focus systems.
Made in
Japan.
Weaknesses
As an off-brand lens it has unproven (with me) service facilities, and unknown future parts availability. When the HSM motor dies, you're dead unless you can get a replacement part.
New cameras may or may not work with this lens, and off-brand lens makers only sometimes will update lenses to work on new model cameras.
Sharpness performance top
Warning 1: Image sharpness depends more on you than your lens.
Warning 2: Lens sharpness doesn't mean much to good photographers.
Amateurs waste too much time worrying about lens sharpness, and since this lens is designed for amateurs, it's super sharp.
I tested this randomly purchased sample on a 24MP DX Nikon D7100 on the test range at infinity.
It's super sharp at every setting clear out to the corners, although just a little less sharp in the corners at f/1.8 at 18mm. It's still sharp in the corners at f/1.8 at 18mm, just that everything else is so sharp that this is the only minor imperfection I can find.
The Sigma 18-35mm f/1.8 is astounding sharp at every setting. You just need to be sure it's in focus and nothing moves.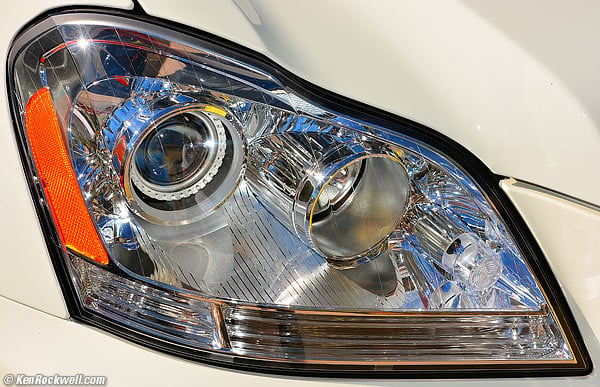 GL550 Xenon Headlight. 24MP DX Nikon D7100 with built-in flash ON, 18-35mm at 35mm, f/10 at 1/250 at ISO 100. Camera-original © LARGE BASIC JPG (5 MB).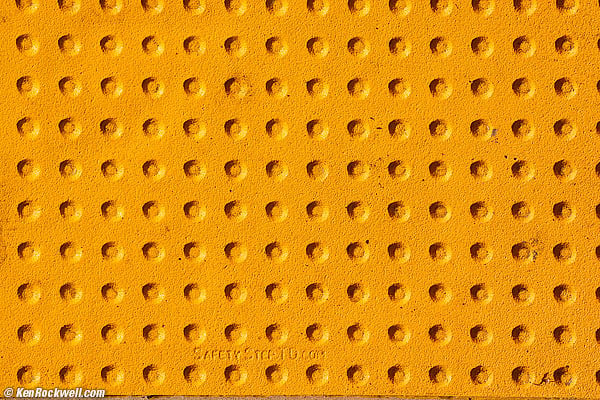 Yellow. 24MP DX Nikon D7100, 18-35mm at 35mm, f/9 at 1/320 at ISO 100. Camera-original © LARGE BASIC JPG (5 MB).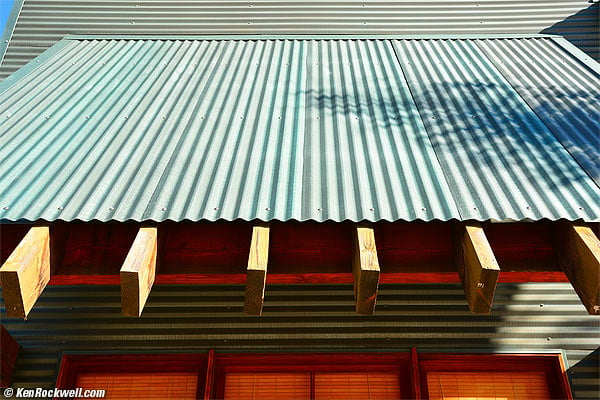 Islands. 24MP DX Nikon D7100, 18-35mm at 35mm, f/9 at 1/320 at ISO 100. Camera-original © LARGE BASIC JPG (5 MB).
Recommendations top
Intro Specifications Performance Recommendations
This is an optically great lens, but there is far more to a great photo than a sharp lens. I wouldn't buy this lens because it's not pro-grade (it has a plastic filter thread) and I don't see it as a long-term investment. Buy this lens to use today, but after the warranty expires, good luck.
This lens is too big and heavy for what it does, and its zoom range is foolish. 18-35mm is very useful for full-frame — but this lens can't handle full-frame; it only works from 28mm to 35mm on full-frame.
I'd much rather use an image stabilized 18-55mm lens which is smaller and lighter and has a broader zoom range and adds IS or VR for even better results in the dark, and if I'm snapping family photos in the dark, I much prefer my smaller and lighter Nikon 35mm f/1.8 DX for a fraction of the price. On Canon, the classic professional Canon 35mm f/1.4 L is a steal today, and a much better long-term investment than this consumer zoom.
Specifically for APS-C, I'd also buy the thoroughly professional Nikon 17-55mm f/2.8 or Canon 17-55mm f/2.8 IS long before I bought this Sigma lens - but that's just me. I'm the kind of guy who still takes my 12-year old used car to the original new-car dealer for service, because I like to keep everything original and authentic, not mixing off-brand parts on my nice car.
f/1.8 in a zoom would be a big deal for shooting 35mm film, but this is only a DX lens. DX and APS-C digital cameras today have such excellent high ISO performance that f/1.8 isn't needed for low-light, and this is a short focal-length lens so it's not going to throw backgrounds as far out of focus as a longer lens will. Heck, any 50mm f/1.8 lens from Nikon or Canon for $125 will do a far better job for throwing backgrounds out of focus. Depth of field has much more to do with focal length than f/stop.
Watch for shadows from your built-in flash at wider settings.
This said, the optics are fantastic. If you thing you want one of these, you'll love it.
Deployment
Sigma uses crappy caps. Leave them in the box for resale, and buy the real Nikon or Canon caps to use with this lens instead.
I would also leave the hood in the box for resale time. I don't use them.
I'd leave either a 72mm Nikon Clear (NC - UV) filter, a 72mm Hoya Alpha MC UV or bulletproof 72mm Hoya HD2 UV on the lens at all times.
If I was working in nasty, dirty areas, I'd forget the cap, and use an uncoated 72mm Tiffen UV filter instead. Uncoated filters are much easier to clean, but more prone to ghosting.
Help me help you top
I support my growing family through this website, as crazy as it might seem.
The biggest help is when you use any of these links when you get anything, regardless of the country in which you live. It costs you nothing, and is this site's, and thus my family's, biggest source of support. These places have the best prices and service, which is why I've used them since before this website existed. I recommend them all personally.
If you find this page as helpful as a book you might have had to buy or a workshop you may have had to take, feel free to help me continue helping everyone.
If you've gotten your gear through one of my links or helped otherwise, you're family. It's great people like you who allow me to keep adding to this site full-time. Thanks!
If you haven't helped yet, please do, and consider helping me with a gift of $5.00.
As this page is copyrighted and formally registered, it is unlawful to make copies, especially in the form of printouts for personal use. If you wish to make a printout for personal use, you are granted one-time permission only if you PayPal me $5.00 per printout or part thereof. Thank you!
Thanks for reading!
Mr. & Mrs. Ken Rockwell, Ryan and Katie.
Home Donate New Search Gallery Reviews How-To Books Links Workshops About Contact