I get my goodies at Amazon and Adorama.
It helps me publish this site when you get yours from those links, too.
Introduction
PMA is the annual trade show at which many, if not most, new cameras are introduced each year. PMA is mostly attended by camera store owners. It is not for photographers. I'm covering the show today through Monday, February 27th.
I'll be updating this page each night. It's categorized by maker. Please forgive me if I have some typos and exclude some exact product names each day as this page grows. I also covered PMA live in 2005 and 2004.
Overview
Unlike the past several years, there were no groundbreaking new digital cameras or lenses introduced.
Nikon appears to be saving the D3X introduction for Photokina in September. I was also hoping to see the Nikkor AF-S 9mm f/2.8G DX introduced, but didn't see it either. The D3X is coming, but I made up the 9mm lens. The 9mm will be a rectilinear (straight lines stay straight) ultra wide angle for Nikon digital SLRs giving a field of view similar to a 14mm lens on a 35mm film camera.
Nikon's landmark D200 was already shipping back in 2005, so it's already old news if you ordered one back on November 1st as I suggested and did myself. Canon's new replacement for the 20D is a 30D which only seems to vary by having a bigger LCD screen. A bigger LCD with the same sensor and frame rate isn't ground breaking.
What were introduced were a lot of third-tier DSLRs from third-tier makers while second-tier makers like Minolta dropped or sold out and reorganized.
Lenses from third-tier makers were introduced that copied lenses already introduced by Canon and Nikon over the past couple of years. That's not groundbreaking, it's just downmarketing.
Even Samsung and Panasonic are getting into the true interchangeable-lens DSLR game. This is as expected: Nikon invented the first practical DSLR in 1999 (the D1), Canon quickly answered, and as the years go on everyone will be making one. This year I lost track of how many others introduced low priced DSLRs.
This is good, but serious photographers will want to stick with Canon and Nikon from what I've seen so far. Non-traditional DSLR makers still haven't gotten the critical menus and functionality and ergonomics down as well as the traditional camera makers. Also there aren't many optics available for the newcomers. This is exactly as camera history has always been. 35mm rangefinders were created by Leica in the 1920s and grew to be made by everyone for everyone in the 1950s, and this repeated with the 35mm SLR first made by Contax in the 1930s and then made by everyone for everyone in the 1970s. Today digital SLRs are following the same path.
The newcomers who are showing new DSLRs behind glass cases consider these cameras as groundbreaking to them, but they aren't groundbreaking to us as photographers. Mockups and prototypes of new cameras from Pentax don't count either. These cameras, like Contax and their Digital N, sometimes never make it to production before these companies go out of business.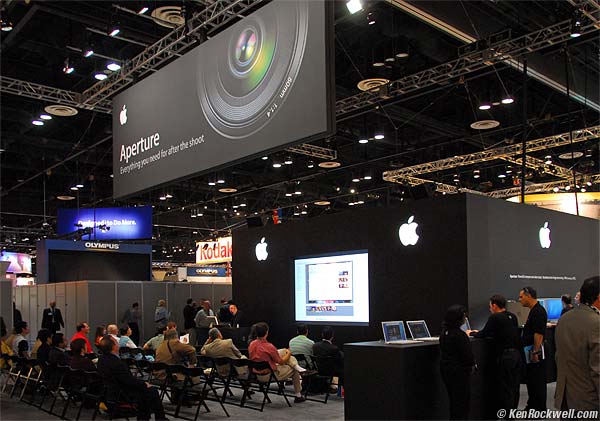 Apple's booth
Apple's booth might better be called the Aperture booth. Now that I just bought a bad enough machine to run Aperture I'm looking forward to getting my hands on a copy and sorting it out (pun not intended but appropriate). Aperture is software designed to help professional photographers sort through hundreds or thousands (or more) images and select the best shots quickly. It also is intended to allow one to do all this with RAW images as fast as I select through JPGs. If Apple has removed the speed penalty from shooting raw that will remove half my reservations again using RAW. See my Aperture review as it develops (hee hee, got you again) here.
Apple announced and was showing v1.1 of Aperture which will run on Intel processors. It's a free upgrade expected to be released mid-March 2006.
Benro (this guy sells them on eBay)
Does this look like a Gitzo 1228 to you?
Benro is a Chinese company making copies of the superb Gitzo tripods I use. Benro even ripped off much of the model names and numbers and mimicked the Gitzo logo! They even ripped off this page and my images and reposted them illegally here! Now that's a copy-cat. Maybe this is respected in Communist China, but not the free world. They also copied my reference below to Benwa balls, so all can't be that bad.
Their carbon fiber looks the same, as does the hammertone paint finish. If I only spoke Chinese I would suppose "Benro" looks and sounds the same as Gitzo.
Does your head have damp?
They also copied the Arca-Swiss ballheads. It's fun to see a copy of Gitzo's paint and logo on a copy of an Arca-Swiss ballhead! Others are black like this one. They have very nice adjustable damping and locking. Since I don't speak Chinese Benro-balls sound like ben wa balls to me, so I guess we got them back for sounding like Gitzo. I hope you're all taking this with a good dose of laughter as intended.
They all felt pretty good (the tripods and heads, that is). They were light and solid just like my real Gitzo carbon fiber. The only gotchas were a very slightly less smooth feel while extending the legs, not a big deal if you're on a budget. They also copied Gitzo's new anti leg rotation system.
They have no US distribution, but feel free to email them if you're interested. The US price list ran from $70 - $550 and they make Gitzo's sizes from #0 through the big #4 in both aluminum and carbon fiber. From more than five feet away their booth looked just like it was filled with Gitzo products. The biggest hint that something wasn't French was the laughable Oriental English on their catalogs: "The best favor brand of The Professional tripod with best sales in China."
Giggle all you want at their English (their ball head flyer says "Does your head have damp? Could it can adjust the damp?") but their products feel embarrassingly good. I haven't compared price, but if they are half of a real Gitzo and if they get US distribution I can see them becoming very popular. They are certainly better than what I've seen from Velbon, Slik and Vivitar.
I hear from China that almost all native Chinese pro photographers use these. If I was Chinese I sure would! They seem to have copied the entire Gitzo catalog, and rather well at that.
I've played with the Benro at a trade show. If I was focused only on price I'd probably use one. They seem almost as nice as the real Gitzos I own. I can vouch that my Gitzo 1228 carbon fibre has lasted me for over ten years of continuous use and still works like new. I have no idea if the Benro copies last.
Canon
New EOS 30D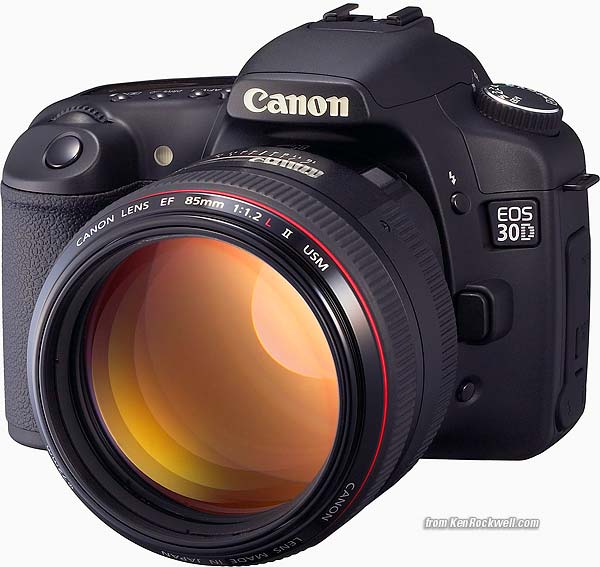 Canon 30D ($1,399 body only ) with new 85mm f/1.2 USM II ($2,099, lens only)
I was expecting something more, but the new 30D is just a 20D with a bigger screen, lower price and some new firmware. Resolution stays back at 8MP. That leaves the Nikon D200 on the top of the pile of DSLRs under $2,000.
The 30D body arrives mid-March 2006 for $1,399, which is $100 less than the 20D sold for last year. For $100 extra ($1,499) you can get it as a kit with a perfectly good EF-S 18 - 55mm f/3.5 - 5.6 II lens.
The 30D adds a shutter rated to 100,000 cycles, the same as the Nikon D200. The 20D's shutter was crummier and it's price now drops to $1,299. The 30D also adds a spot meter, just like the $500 Nikon D50.
The 30D adds ISO visibility in the viewfinder, just like Nikon's D200. It also adds ISO settings in third stops, which I never use and Nikon has always offered but the 20D didn't. The 30D's ISO is 100 - 1,600, with a push to 3,200.
Nine point AF, just like the 20D.
With the 30D Canon finally can put more than 100 shots in a folder. That's always bugged the crap out of me with Canon cameras! The 30D can put 9,999 shots in a folder, hallelujah!
New EF 85mm f/1.2L USM II (seen on camera above)
The EF 85mm f/1.2L II USM is a new version of Canon's 1989 EF 85mm f/1.2L USM. It appears to differ only in anti-reflection coating and faster AF speed, 1.8x faster per Canon. It also has manual focus, distance encoding for E-TTL II flash, and a relatively circular diaphragm. It should be available in March for about $2,099.
85mmm f/1.2 lenses are fantastic for use in dark clubs and concerts. They are also great for astrophotography.
New EF-S 17-55mm f/2.8 IS USM
The EF-S 17-55mm f/2.8 IS USM is a fast zoom with image stabilization. It's compatible only with the 30D, 20D, Digital Rebel XT and Digital Rebel. It should be available in May 2006 for about $1,149.
New A700 point-and-shoot
Canon's A700 point and shoot is the latest and greatest iteration in their wonderful Powershot series from which I own a still excellent 3-year-old A70.
Casio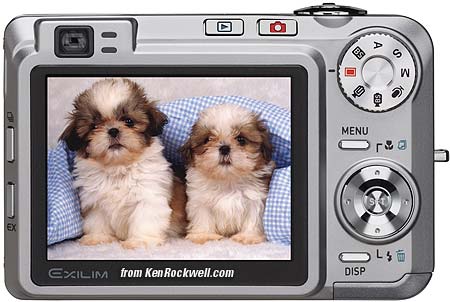 Casio EX-Z850. Cute doggies came with the press photo.
Casio introduced three new teeny, but high performance, credit-card cameras. Their entire line has now been simplified to just four great tiny cameras. The EX-S600 was announced last month at CES. The other three, the EX-Z850, EX-Z600 and EX-Z60 are brand new. This is perfect Japanese: their oldest model is only a month old! The top two models have blindingly bright LCDs which auto adjust to ambient conditions.
I love my tiny Casio EX-Z750 and others because it's the fastest and easiest to use compact camera I've ever used. It responds to my menu inputs and plays images back faster than my Nikon D200! Of course my EX-Z750, introduced at this show last year, is now out of production. I'm surprised it lasted a year!
I have an entire page detailing the new casio cameras, including their new eBay mode.
I ignore new inkjet papers since inkjet printing went the way of film and the dodo some years ago. Today we get better prints faster and cheaper on real chemical photo paper from digital files at places like Costco and most photo labs.
I'm making an exception in Crane's case. They've been a paper company for about 200 years. They make the paper on which the USA prints all its money!
Their introduction is called "Museo." It looks and feels like double-weight fibre-based black-and-white paper. It has a surface just like an air-dried glossy fibre print. I've always preferred a true glossy print over the partly dull look of air-dried B/W fiber prints, but if you're looking to mimic this look and feel from your inkjet this is worth a try. it even has the same curl!
DxO
DxO makes software to fix subtle lens problems. If you worry about geometric distortion or secondary lateral chromatic aberration (called purple fringing by hobbyists) this is for you.
I need to try this. In the old days (last year) you had to buy modules for specific cameras and lenses. Today you just buy it and it covers everything they know how to do for your cameras. Their Standard version works with images from most DSLRs including the D200. The Elite version additionally covers pro DSLRs like the Nikon D2X.
Epson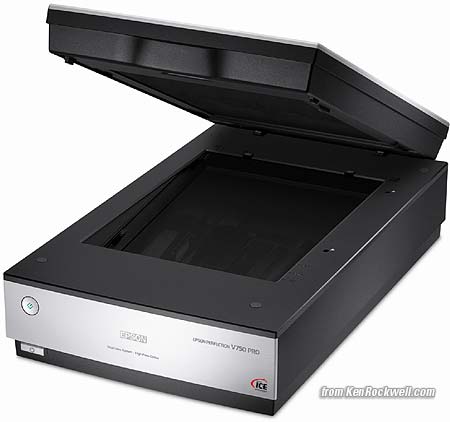 Epson V750 Pro 6,400 DPI film scanner
Epson introduced two versions of a new state-of-the-art scanner, the V700 Photo and the V750 Pro. See my developing review here.
Fuji
Digital
Fuji continues to offer the S3, with updated firmware. I intend to get one for an in-depth review.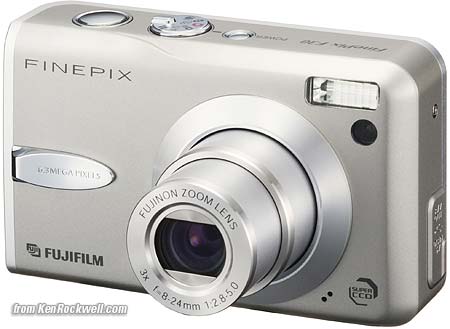 Fuji F30
Fuji also announced the F30, their hottest micro pocket camera designed as a spare camera for serious photographers who want a spare, easy-to-carry camera. I also intend to get one for review. it should be out in May, 2006, It's claim to fame is Fuji's clever Super CCD which allows it to go to very high ISOs much more cleanly than other CCDs.
Film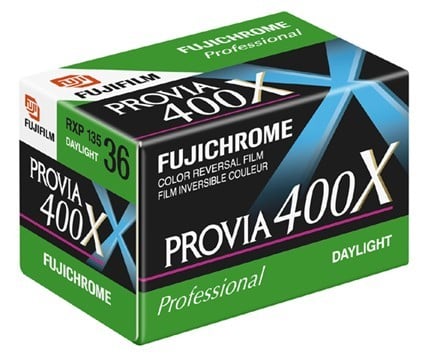 Fuji Provia 400X
Fuji introduced Provia 400X, which is an even better version of their Provia 400F. Provia 400F was merely the world's best ISO 400 slide film, and it was very expensive. 400X is better and stays at the same price.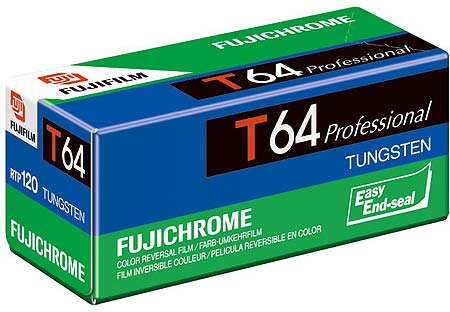 Fuji T64
T64 replaces 64T. It's for use under tungsten lighting.
Gitzo (Imported by Bogen in the USA. Gitzo is made in France.)
Gitzo has improved on my carbon fibre 1228 tripod by adding non-rotating leg sections. This is now called the 1258 and 1278 if I wrote down the numbers correctly.
I never realized what a pain it was to have to extend and collapse my tripod in a certain order. Sometimes I had to grab and hold one part of the leg to keep it from rotating while I tried to rotate the locking collars. Their new version fixes this, hallelujah!
Gitzo's basalt tripods, introduced recently, are midway in weight and price between carbon fibre and aluminum.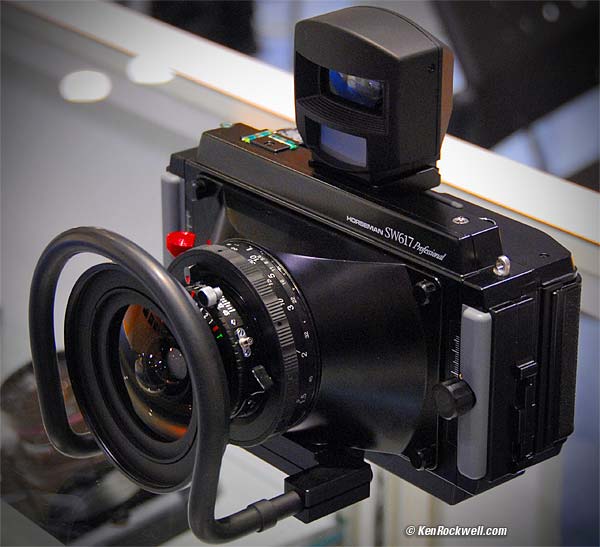 Horseman SW617 Professional prototype
Horseman showed a prototype 6x17cm panoramic film camera system, the SW617 Professional. It is remarkable in including vertical shifts of 17mm, unique in the 617 camera world unless you are using a 617 back in a view camera. Their 617 seemed to lack the horizontal shift of the SW612 which I own, but with this wide a horizontal piece of film you may as well crop to get the same effect.
This is a slick system. It's probably the smallest and lightest 617 I've ever seen. This is because their back folds the film over to make the back not much wider than the 17cm width. The supply and takeup spools are behind the film plane, just like all the other horseman backs. Compare this to other 617 cameras which have the supply and take up spools to the left and right of the film plane. The 617 Horseman back has two pressure plates next to each other.
Availability and price is unknown. I played with the prototype and it works great. It's a solid brick of smooth precision just like my SW612P.
I saw it with the Schneider 72mm f/5.6 XL and the Schneider 250 f/5.6. Also expect to see Schneider and Rodenstock 90 and 180mm lenses available for it.
(PS: I have an extra 45mm Rodenstock for the SW612 for sale here.)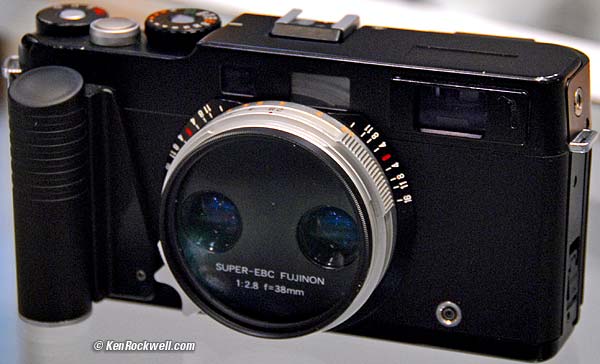 Horseman Stereo 3-D camera prototype
Horseman also showed a prototype of a new 3-D camera, the Horseman 3D. It's based on a Fuji TX-1 (Hasselblad X-Pan) body. It also has a wonderful pair of 3D glasses which make a world of difference viewing images compared to the crappy plastic ones we all used in the past. The camera has a pair of 38mm f/2.8 fixed lenses and shoots two 24 x 32mm frames for each shot.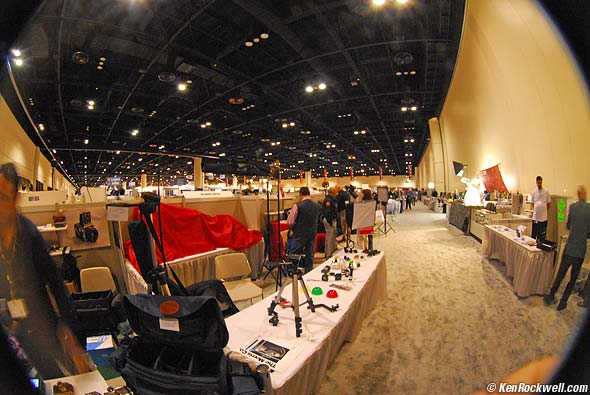 Made with Russian Peleng 8mm f/3.5 lens (note dark corners and almost 180º horizontal view )
Kiev USA imports cameras and lenses from Russia and thereabouts. One of the fun ones is the 8mm circular fisheye which runs about $300 in screw mount. I think it runs $325 in Nikon mount. It's a full circle fisheye on film, but as you see here almost fills the frame of my Nikon D200 digital. The lens is manual focus and manual aperture. it's a lot of fun, but the modern Nikon 10.5mm AF and auto aperture lens doesn't cost that much more.
You need to be very careful using the Peleng 8mm. Since it sees just over 180º is has no protection for the front glass element which sticks out of the lens. The Nikon 10.5mm has a protective hood.
Logitech Double Winner: Most Innovative New Hardware and Worst Obliteration of the English Language in a New Product Name
Logitech showed two new things and one sort of new thing. Sort of new means a few month old in digital.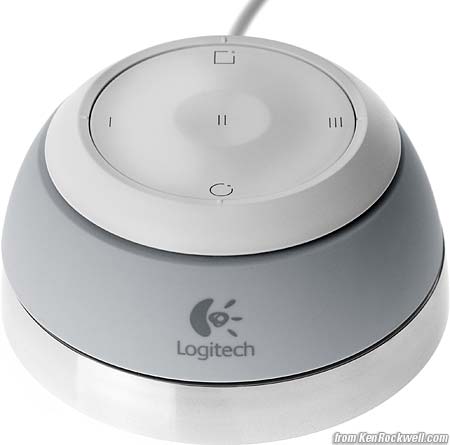 Logitech NuLOOQ
1.) Logitech is showing a new hardware gizmo, called NuLOOQ, which is an additional tool for using PhotoShop and other imaging applications. You use it in addition to a mouse, tablet and keyboard. Rotate it to zoom in and out. Move the same lower ring up down left and right to navigate around your image. The top of it has a click wheel (like an iPod) which allows you to access tools and make quick adjustments to tool size. The point of this device is you can do all this without the mouse or keyboard, which saves time.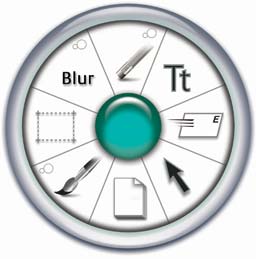 Logitech NuLOOQ tooldial
2.) A clever $50 piece of software, called NuLOOQ tooldial, which allows one access to any tools without having to mouse up to the menu bar. This is another time saver for PhotoShop, Illustrator and other users.

Logitech S530 Keyboard and Mouse
3.) Not brand new, but they showed a fantastic S530 wireless keyboard and mouse dedicated to Mac. It was announced January 2006. It's loaded with dedicated keys for getting to Safari, iTunes, PhotoShop, eMail, as well as a browser back button, speaker volume and mute and play, pause forward and back buttons for iTunes! All of these buttons are programmable to do whatever you want and there are more of them than I've mentioned here. All this for $99! It was so slick and inexpensive I just had to get one. See my review here.
These items are inexpensive and aimed at professionals. They only work on our Mac computers. Windows users ought to upgrade to Mac for reasons I outline at Why Pros Prefer Mac.
MonsterPod Winner: Most Innovative Whacky Product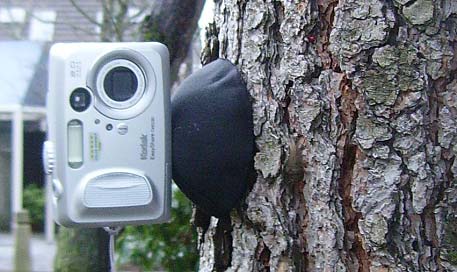 MonsterPod stuck to a tree.
This wins my innovation award. It's a tripod screw attached to a sticky elastomer base. You can stick it just about anywhere to hold your camera! It's intended only for point-and-shoots for only temporary use. Use it to stick a small camera anywhere for a short while. Don't use it to stick a camera someplace for a long time. See their website here.
Nikon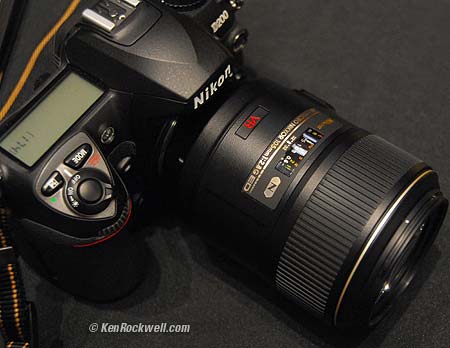 Nikon 105mm VR on a D200
A 105mm VR macro lens. See my review here. Unfortunately all three I tried didn't focus reliably.
Nikon is working on a new version of Nikon Capture software. Look for it in a month or two. it's called Nikon Capture NX and will replace Nikon Capture 4. Nikon Capture is for NEF editing and opening, and Nikon has been working with nik on it. Nikon is adding regionally selective color adjustments, for instance.
Also Nikon View Pro is coming. It won't be free. It improves on Nikon View 6. It's intended for professional importing and browsing of NEF and JPG images and their EXIF data.
The newest DSLR is the D200 introduced in November 2005.
Panasonic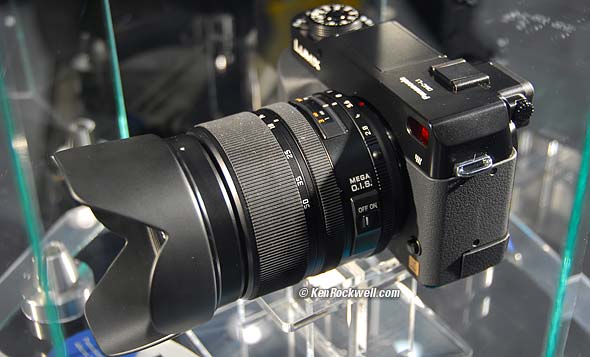 Panasonic DMC-L1 with Leica 14 - 50mm O.I.S. (Image Stabilizer), under glass.
Panasonic announced development (with Olympus) of a 4/3 system true DSLR, the DMC-L1. It will use Leica-branded lenses. It and Olympus' E-330 both boast of having an LCD which is live even during composition.
The Leica lens has an image stabilizer, which will work on other 4/3 cameras like the Olympus E-series.
Pantone
Pantone sells the new $89 "huey" (sic) monitor calibration system. The system is made by GretagMacbeth. It is similar to the Colorvision calibrator I use and ads the nifty feature of adjusting the calibration to changing ambient light. I'll have to get one of these to try and let you know what I think. I'm unsure if having my monitor adjust itself based on changing light is the coolest thing ever or if it will annoy me to death.
Pentax
Pentax introduced a $599 DSLR, including a perfectly fine 18 - 55 mm Pentax lens! Actually it's the same *ist DL SLR they introduced this summer at $799, just at a lower price.
The rest of Pentax' display were mock ups of ideas for the future.
They shows mock ups of an unnamed 10 MP DSLR expected in September 2006. Next three photos are of the mock-up locked under Plexiglas.
Pentax' dreams for the future shown under Plexiglas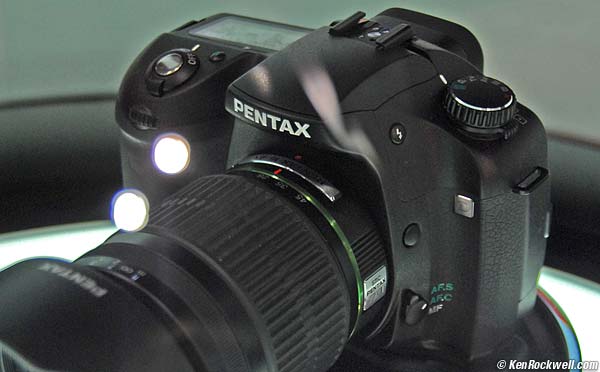 Prototype 10MP DSLR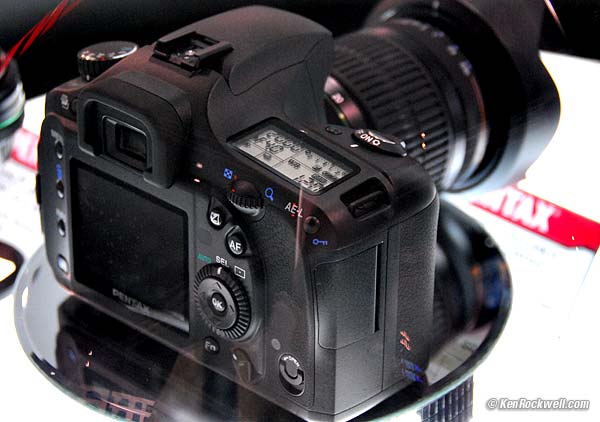 Rear view of prototype 10MP DSLR
Pentax also mentioned an upcoming 18.6MP digital camera based on their great 645 medium format camera. It's not working yet and was shown under Plexiglas. Look for much more potentially in September 2006.
Next two photos below are of it in a Plexiglas display of a mock up. If this ever sees the light of day it could be magnificent for nature work. Remember that Mamiya was showing one for a year, but Mamiya didn't even make it to PMA this year and for all I know may have died.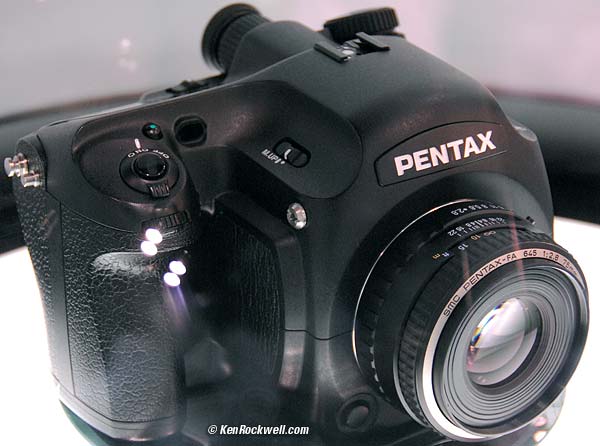 Pentax Digital 645 18MP mock up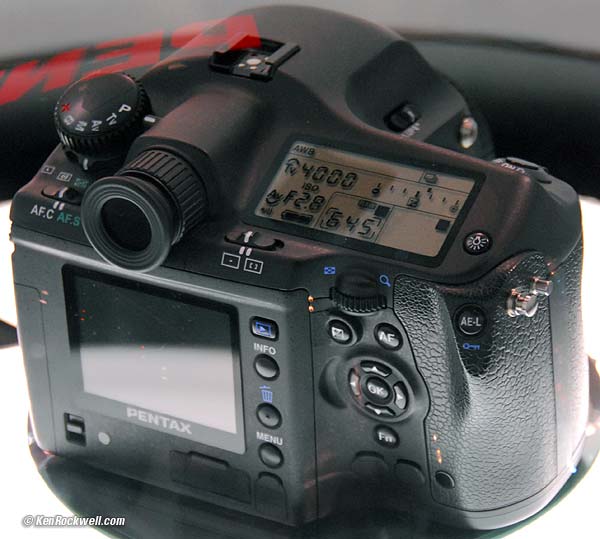 Back of mock up of Pentax 645 Digital
SanDisk
I hadn't realized it, but SanDisk has 50% of the US Market. The next biggest card maker is only 10%. SanDisk also tells me that they are the only memory card maker with their own fab! That means they make many of their own memory chips while all the other card makers have to buy their memory chips elsewhere.
SanDisk Extreme III cards, their fastest, now go to 8 GB. They will sell for $559.99 in March 2006. They also doubled the capacity of their midrange Ultra II SD cards with the built-in USB plugs to 2 GB. It will sell for $134.99 in June 2006.
Pardon my extraordinarily childish sense of humor, but look at the first photo. This is how I first saw their booth as I walked along the aisle. I nearly peed in my pants! I will use this as an example of how moving your position just a few inches can change the entire meaning of a photograph.
Since they got my attention I checked them out. I otherwise ignore all the frames and albums at this show. Half of PMA is photo album makers, machines to print photos on basketballs and this sort of thing. Remember the PMA show is for photo store owners, not photographers, and stores make a lot more money selling these things compared to the cameras themselves.

One of the very high quality albums made by Scrapworks.
Scrapworks makes good stuff! They make three sizes of sealed, folding leather albums, perfect for saving loads of prints. They have internal three-ring binders and a large selection of different kinds of pages to hold just about any size, number and orientation of images or documents. If I made a lot of prints I'd totally be into using these to assemble albums for each trip I made. Scrapbooking is a hobby unto itself, and the people who do it do it very well.
Tokina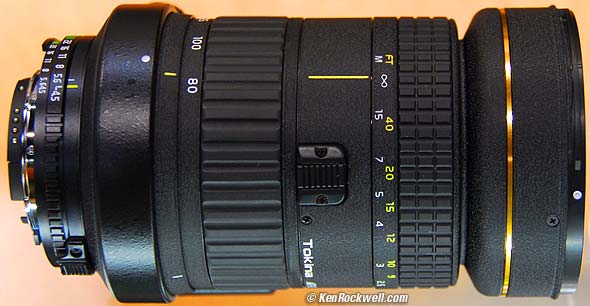 Upcoming Tokina 80 - 400 mm
Tokina showed a prototype of an upcoming 80 - 400 AF-D lens. It's very well made and works like a mechanical dream. AF speed may be slow, with one turn of the AF screw only racking it in to 80 feet from infinity, half as fast as my Nikon 80 - 400 VR, but the Tokina is also smaller and half the price. It takes 72mm filters, so use a step-up ring to get you to the standard 77mm. It focuses to about 8 feet. Unknown price and availability.
It has the same glass, but a different focusing system, from their current 80 - 400. The tripod mount is permanently attached. It's also all metal and works great. The diaphragm has 8 blades, and the lens is fully AI-s compatible for use on all manual focus Nikon cameras made in the past 30 years.
It does not have VR or IS. No Tokina lenses do.
Tribeca Labs Winner: Most Innovative Solution to a Real Problem
I first thought these guys were a hoax. I quickly realized that they are very bright people who have developed a genuine fix to a real problem that disturbs many shooters. They were even back in the Texas Instruments DaVinci hardware technology suite demonstrating hardware versions to sell to camera makers to design into cameras. (This reminds me of myself when people in chat rooms go off on what a moron I am simply because they lack the engineering degrees and patents I have required to understand me.)
People who photograph purple have noticed that it usually shows up too blue. This is just the way almost all cameras and scanners show purple.
Tribeca has a patent and some very clever people who sell a $49 PhotoShop plugin which makes your purples look purple. It worked marvelously at the trade show and I'm looking forward to trying it myself.
It's used simply as a PhotoShop automation that runs in 16 bits on any image you can open in PhotoShop.
Their patent is on the method they used to derive the coefficients that represent the errors between typical RGB capture and the way we see color. They also have a patent on the way in which they use these coefficients as part of a lookup table converter.
The software has a preset, and also sliders if you want to tweak the correction.
Wacom
I finally learned the point of using tablets for Photoshop.
Tablets are for people creating illustrations and painting in PhotoShop and Illustrator. They allow one to make much, much better use of the pen and brush tools for drawing.
They aren't that helpful for photographers like me simply optimizing, fine tuning and prepping images. Making selections with lasso tools are about the same as with a mouse.
Each time you put the pen near the tablet the screen cursor moves to exactly the same place for each point on the tablet. You can't move to a new part of the screen by doing two successive pen drags as you can with a mouse. There is no acceleration, which also means there is no deceleration for precision when you move it slowly. This is very different from a mouse.
The tablet's claim to fame is its ability to recognize pressure and have a feel similar to a real pen or brush.
That learned, I no longer feel left out. If you're doing painting, including painting layer masks, you might want to consider one, but for me working usually at 100% opacity I see no need for it.
Widepan (Phenix)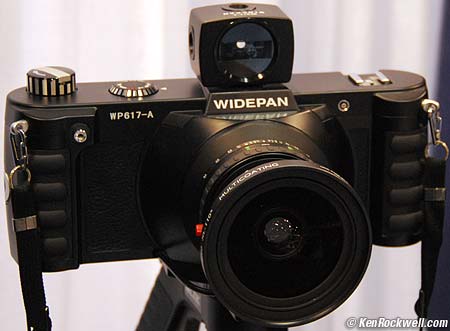 Widepan WP617-A
Phenix is a Chinese camera company. I'm giggling a little since I think they are almost copying the name of Phoenix, another brand of inexpensive 35mm SLR cameras. Widepan are models of cameras made by Phenix. Instead of being marked "Made in China" they are marked "Made in P.R.C." Even though it's in the Phenix catalog, the camera is marked "Panflex Camera, LLC."
The Widepan WP617-A is a Chinese copy of a 617 panoramic camera. From the front its grips look like a non-shifting Horseman SW612 and from the top it looks like a Linhof 617.
It has a real German Schneider 90mm f/5.6 XL lens in a Japanese Copal shutter in a Chinese focus mount. The lens does not interchange and it has no shifts. It focuses as close as 1.5 meters and weighs 2.97 kg.
The viewfinder isn't very good: there is little delineation between what's included and what's not. The only indication is a slight darkening of the area not included on film. There are two circular bubble levels visible through the finder while composing. One is for vertical shots and one for the usual horizontal.
It takes 120 and 220 film, just like the Linhof.
The Manual is in both Chinese (first) and English (second).
I was intrigued thinking this camera might be a bargain, but it's $3,999 new with only a 90 day warranty. I'd rather buy real used Linhof 617 for a lot less. Their website above is done by the man I met from Atlanta, Georgia who distributes them. The camera I played with was fairly well made and much better than I'd expected from China. It comes in a very nice, well padded and small metal case.
Widepan also makes a $1,500 rotating 120/220 pan camera, the Widepan T140 II.