Home Donate New Search Gallery Reviews How-To Books Links Workshops About Contact
Best Macro Lenses
See also How to Shoot Macro
Sony E-Mount (Mirrorless)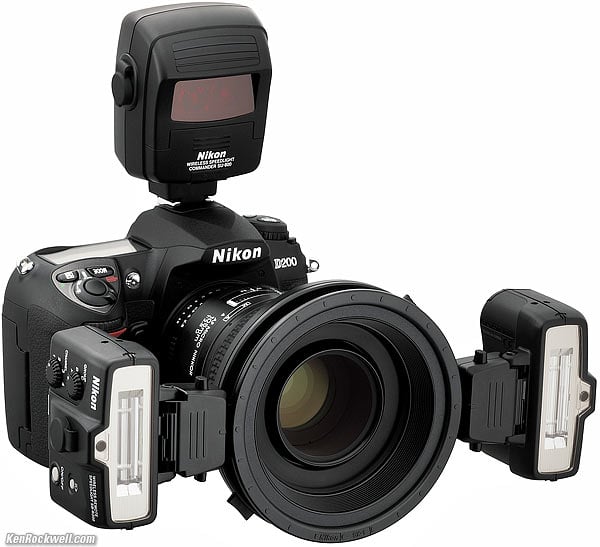 Nikon D200 with 105 mm lens and R1C1 flash system.
My biggest source of support for this free website is when you use those or any of these links when you get anything, regardless of the country in which you live — but I receive nothing for my efforts if you buy elsewhere. I'm not NPR; I get no government hand-outs and run no pledge drives to support my research, so please always use any of these links for the best prices and service whenever you get anything. Thanks for helping me help you! Ken.
December 2017 Better Pictures Nikon Canon Fuji LEICA All Reviews
See also How to Shoot Macro
Great Macro Lenses vs. Great Lenses for Macro
These are all great macro lenses, but most of them aren't great for serious macro photography. What?
All of these macro lenses are super-sharp and free from distortion. Any half-decent macro lens is extraordinary for use as a normal or telephoto lens for general photography — but here I'm discussing which lenses are best for serious macro shooting.
For serious macro shooting, you need a much longer lens, at least 100mm and preferably 200mm, so that you can make close-up photos from at least a foot or two away. With any 40mm to 60mm macro lens, by the time you get close enough for serious macro work, you're so close that you block your own light, annoy the subject, and the picture looks funny because of the unnatural perspective from being too darn close.
For instance, the Nikon 55mm f/2.8 (both auto and manual focus versions) is arguably the sharpest lens in photography, but it's a poor choice serious macro use because it's too short and you have to get uncomfortably close.
Regardless of how ultra-sharp or merely super-sharp any of these may be for general photography, because depth-of-field is nonexistent at real macro distances, lens sharpness isn't important because you'll be stopped down to f/32 anyway. Therefore, these will all be indistinguishable from each other as far as sharpness for serious macro use is concerned. At f/32, diffraction makes them all the same. Shoot wider, like at f/8, and nothing will be in focus, so again, whatever miniscule differences there may be at infinity won't matter. These are so good technically that sharpness doesn't matter — but focal length does.
Hint: for great macro on a budget, use any 2x teleconverter with a 105mm or 100mm macro lens to give you a 200mm macro lens and let you stand farther away for the same magnification— but it will be much more difficult to compose and focus because you'll only be at about f/8 after adding the converter at most macro distances. For Nikon, a used manual-focus TC-200 for about $50 and any 105mm macro could be all you need.
Here are the best macro lenses for both general and macro photography. All of these are at least as sharp, and usually sharper than regular lenses, even at infinity. See also How to Shoot Macro.
Get the lens you really want, since unlike cameras, good lenses are always a great investment.
Click each for its complete review. See also the Comparison sections of many of these reviews for far more details.
Nikon Auto Focus top
Explicit Nikon 60mm G vs. 60mm AF-D and 55mm AF comparison
All these lenses focus to directly to 1:1, meaning that the image on the sensor is the same size as the subject.
Nikon 105mm f/2.8 G VR (2006-today)

62mm filters, 26.6 oz./752g, about $800.

Good choice for macro, but twice the price of the 105mm AF-D to do the same thing. VR is nice hand-held when used as a tele, but is of no help when shooting serious macro, which we do with strobes.
Nikon 200mm f/4 AF-D (1993-today)

62mm filters, 41.6 oz./1,180g, about $1,650 new.

Best choice for macro on Nikon.

I use mine daily. It's ultra-sharp at every distance, has no distortion, it's super-tough, half the barrel is the manual focus ring I use constantly, and it has plenty of working distance between me and my subject.
Nikon Manual Focus top
All these get to half-life-sized (1:2) at the image sensor. They all can be used with extension tubes to get to 1:1 life size or more.
Nikon 105mm f/4 Micro-NIKKOR (1970-1983)

52mm filters, 17.6 oz./500g, about $175 used (see How to Win at eBay).

Good choice for macro, but still less working room than we'd like for the best perspective.

The f/4 aperture is fine for normal shooting, but since we lose light at very-close focus distances, an f/2.8 lens makes it much more pleasant to frame, focus and shoot for extended periods. Optically, this $175 classic lens is as good as any of the other 100mm and 105mm lenses so long as you don't mind a darker finder.
Nikon 200mm f/4 Micro-Nikkor AI-s (1979-2005)

52mm filters, 29.1 oz./824g with collar, about $325 used (see How to Win at eBay).

Excellent for general photography, but sadly the only lens here with lateral color fringes at macro magnifications. In its day, this was the exotic dream lens of professional bug and macro photographers, but today for product shots, it doesn't do it for me with its lateral color fringes at very close distances.

For serious macro use, use the optically superior 200mm f/4 AF-D and never look back.
Canon EOS top
2017-today

for 1.6x cameras only

27mm filters, or 49mm with included hood

6.6 oz./187g

1:1 reproduction ratio at 0.43'/0.16m close focus

Too short for serious macro use.
Canon MP-E 65mm f/2.8 EF (1999-today)

1x to 5x magnification (won't work for normal photography).

58mm filters, 25.0 oz./710g, about $950 new.

This is a crazy lens that starts at a life-sized image at the sensor, and can zoom to up to five-times life size. This means a grain of rice can fill a full-frame!

This one is more for the microscope guys, not for shooting the sort of fist-sized things I call macro. With this lens, you can't shoot anything at any less than life-sized.
Canon 100mm f/2.8 IS L (2009-today)

67mm filters, 22.0 oz./623g, 1:1 close-focus, about $900 new.

Good choice for macro, but twice as expensive as the 100mm f/2.8 USM for doing exactly the same thing.

They are both ultra-sharp, and Image Stabilization is of no help for serious macro shooting where we use strobe lighting.
Canon 100-400mm IS L II (2014-today)

Metal 77mm filter thread, 54.7 oz./1,550 g without tripod foot, 2.75'/0.84m close focus, about $2,049 new.

Not really a macro lens, but focuses so close at 400mm it generally replaces the need for separate macro lens for most users.

For tabletop and product shots, this 100-400 may be the the only macro — and tele — you need. It also replaces 70-200mm lenses!
Sony E-Mount top
Full-frame and APS-C, 55mm filters, 8.3 oz./236g, 1:1 macro close focus at 0.53'/0.16m.

Too short for serious macro use, and crummy focus performance. Skip this and get the 90mm:
Full-frame and APS-C, 62mm filters, 21.3 oz./603g, 1:1 macro close focus at 0.9'/0.28m.

Best macro available for Sony mirrorless.
Minolta (Sony A-Mount) top
Minolta 100mm f/2.8 (1986-today)

55mm filter thread, 18.1 oz./513 g, 1:1 close focus, about $400 used (see How to Win at eBay).

Best choice for macro on Minolta and Sony. There is no 200mm macro for Minolta or Sony, so this is the best there is, with flawless optics.
Tokina for Nikon and Canon top
Tokina 100mm f/2.8 (2006-today)

55mm filters, 18.1 oz./513g, 1:1 close focus, about $460.

Good choice for macro on Canon and on Nikon, but a 180mm or 200mm lens is much better for practical and perspective reasons.

If you won't spring for the Nikon 200mm f/4 AF-D or Canon 180mm f/3.5 L, this Tokina is as good optically as Nikon's or Canon's 100mm and 105mm lenses.
LEICA M top
Pentax top
Pentax 100mm f/2.8 D FA WR (2000s)

49mm filters, 1:1 close focus, 11.9 oz./336g, about $550.

Good choice for macro on any Pentax digital camera—but a 180mm or 200mm lens is much better for practical and perspective reasons.
SMC Pentax-M 100mm f/4 (1977-1984)

49mm filters, 1:2 close-focus, 12.5 oz./354g, about $100 used (see How to Win at eBay).

Good choice for macro on any Pentax camera 35mm or digital—but a 180mm or 200mm lens is much better for practical and perspective reasons.
Sigma and Tamron top
I wouldn't buy either of these brands. Even if the optics can be as good as the others, the mechanical quality of the samples I've seen has not been up to my standards, and there is far more potential for the lenses you buy today not to work on the cameras you buy tomorrow with these brands than with camera-maker-brand lenses.
The main reason people bought Sigma and Tamron was for price. Today, you're much better off with a used manual-focus Micro-NIKKOR for even less money with far superior quality, but hey, if you prefer these off-brands, don't let me stop you.
© Ken Rockwell. All rights reserved. Tous droits réservés. Alle Rechte vorbehalten.
Help me help you top
I support my growing family through this website, as crazy as it might seem.
The biggest help is when you use any of these links when you get anything, regardless of the country in which you live. It costs you nothing, and is this site's, and thus my family's, biggest source of support. These places have the best prices and service, which is why I've used them since before this website existed. I recommend them all personally.
If you find this page as helpful as a book you might have had to buy or a workshop you may have had to take, feel free to help me continue helping everyone.
If you've gotten your gear through one of my links or helped otherwise, you're family. It's great people like you who allow me to keep adding to this site full-time. Thanks!
If you haven't helped yet, please do, and consider helping me with a gift of $5.00.
As this page is copyrighted and formally registered, it is unlawful to make copies, especially in the form of printouts for personal use. If you wish to make a printout for personal use, you are granted one-time permission only if you PayPal me $5.00 per printout or part thereof. Thank you!
Thanks for reading!
Mr. & Mrs. Ken Rockwell, Ryan and Katie.
Home Donate New Search Gallery Reviews How-To Books Links Workshops About Contact