Nikon 24mm f/2
AI and AI-s (1977-2007)
© 2008 KenRockwell.com. All rights reserved.
Intro Specifications Performance Recommendations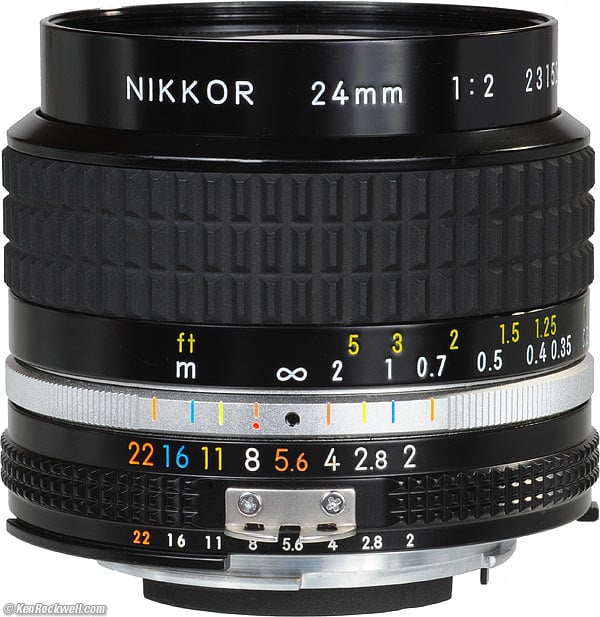 Nikon 24mm f/2 AI-s (52mm filters, 10.6 oz/300g, about $350 used). enlarge. You can get them at eBay and Adorama. Amazon might have them, too. It helps me keep adding to this site when you get yours through these links, thanks! Ken.
2008 More Nikon Reviews Nikon Lenses
Sharpness Comparison to all other 24mm lenses August 2010
Ideal Uses: Low-light, compact wide-angle manual-focus lens for film and FX Digital.
Not for: I wouldn't bother with this on a DX camera. I'd use any f/2.8 AF lens and bump the ISO a stop instead. As a manual focus lens, I wouldn't use it for anything that moves.
| | |
| --- | --- |
| Optics: | |
| Ergonomics: | (manual focus) |
| Usefulness: | |
| Availability: | |
| Overall: | |
Intro Specifications Performance Recommendations
Compatibility History Production Pricing
This was the fastest 24mm lens ever made by Nikon up until 2010, which shows you how lazy Nikon became since losing the pro market to Canon in the 1980s. This lens was introduced in 1977, back when Nikon was a the unquestioned camera of the pros, and Nikon never made a fast autofocus 24mm until 2010.
The Nikon 24mm f/2 is compact and extremely well made. As are most Nikon AI-s lenses, it's a masterpiece of mechanical construction.
As of July 2007 Nikon USA no longer carries it new, although you might be able to find one if you're good at scrounging. In 2008, you're only going to find this lens used.
Nikon 24mm f/2 AI-s. enlarge.
Compatibility back to intro back to top
This manual-focus 24mm f/2 AI-s works great with most Nikon cameras, film and digital.
It works flawlessly with every manual focus Nikon ever made, from the F of 1959 through the FM3a and today's FM-10.
On the D3, D700, D300, D200, D2 and F6, use the "Non-CPU Lens Data" menu option to set 24mm and f/2 to get full matrix metering, EXIF data and finder read-out of set aperture. It works great in aperture-preferred as well as manual modes on these cameras.
It works perfectly on every professional film camera (F, F2, F3, F4, F5 and F6), and adds Matrix metering on the FA, F4 and F6.
The meters of cheaper digital (D80 and below) and cheaper film cameras (N80 and below) will not couple (or work at all) with this lens, so you'll be on your own guessing exposure using the rear LCD or an external meter, or get a tiny Gossen Digisix meter and hot shoe adapter to meter manually.
See Nikon Lens Compatibility for details on your camera. Read down the "AI, AI-s" column for this lens.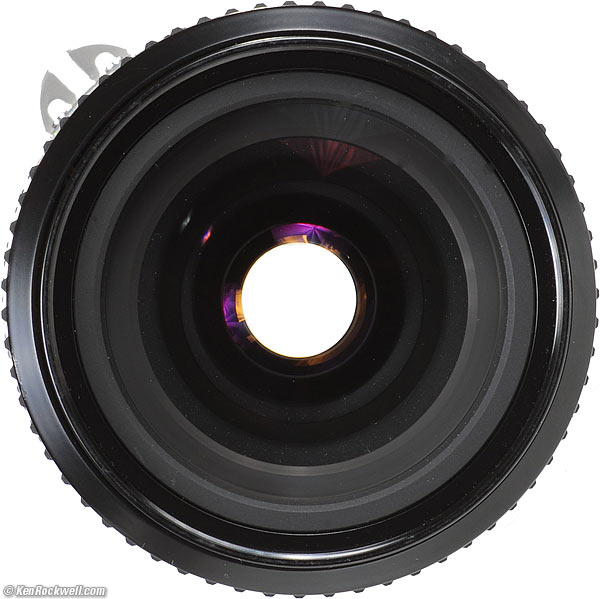 Front view, 24mm f/2 at f/2.
History back to intro back to top
1977-1981: Nikon introduces the 24mm f/2 as an AI lens.
1981-2007: The 24/2 is updated to AI-s in 1981. The only real difference, in addition to the usual AI-s changes, are that the focus requires only half the rotation. The AI-s focuses faster, while the AI is more precise.
Production back to intro back to top
Nikon made about 20,000 of the first AI version and about 50,000 of the AI-s version, for a total of about 65,000 24mm f/2 lenses.
Pricing back to intro back to top
Price, new*

Corrected for
inflation, 2008

1982

$304

$690

1983

$259

$570

1986

$310

$620

1987

$359

$690

1988

$449

$850

1991

$449

$725

1992

$449

$700

1994

$570

$840

1995

$640

$920

1996

$610

$850

1997

$600

$820

1998

$565/750**

$760/$1,010

1999

$640/$750**

$840/$985

2000

$670/$800**

$850/$1,020

2005

$590/$830**

$660/$930

2008

$1,000

$225~550 used

2010

n/a

$350 used
* At full NYC discount. Very few people bought their lenses this inexpensively back in the 1980s and 1990s. Most people paid retail.
** USA/Gray Market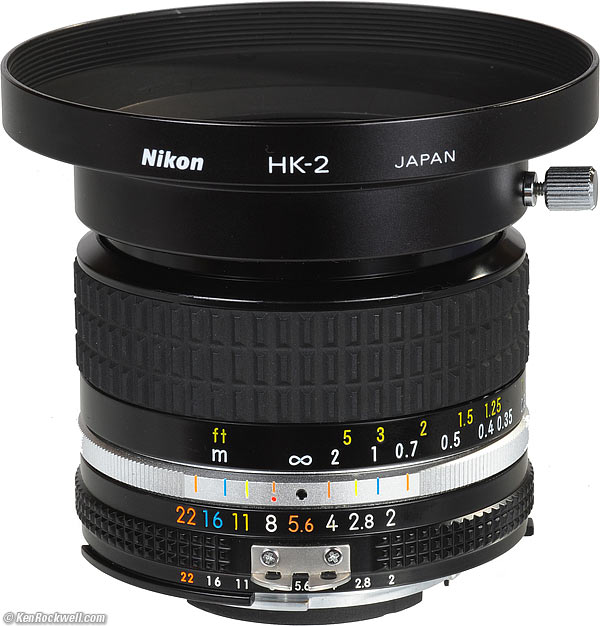 Nikon 24mm f/2 AI-s with HN-2 hood. enlarge.
Specifications top
Intro Specifications Performance Recommendations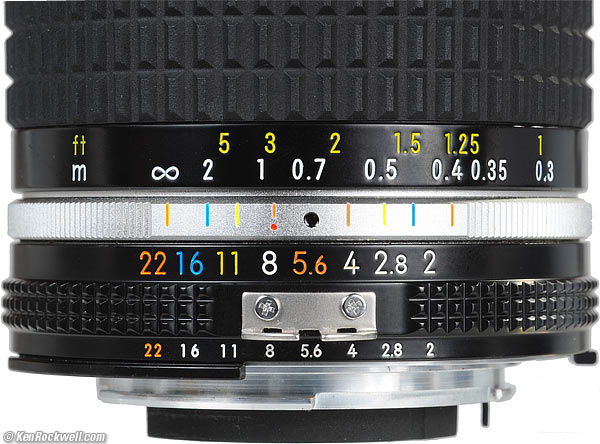 Control Surfaces, 24mm f/2. enlarge.
Name
Nikon calls this the Nikon AI NIKKOR 24mm f/2s.
Optics
11 elements in 10 groups.
Nikon calls the floating element system "CRC," for close-range correction. This lens optimizes its design for perfect performance as you focus at any distance.
It's multicoated, which Nikon calls Nikon Super Integrated Coating.
Close Focus
1 foot (0.3m).
Maximum Reproduction Ratio
1:8.6.
Hard Infinity Focus Stop?
Yes.
This is great for astronomy; just turn to the stop and you have fixed laboratory-perfect focus all night.
Focus Scale
Yes.
Depth-of-Field Scale
Yes.
Infra-Red Focus Index
Yes: red dot near depth-of-field scale.
Diaphragm
7 straight blades.
Stops down to f/22.
Aperture Ring
Yes, full-stop clicks.
Filter Thread
52mm, metal.
Does not rotate.
Size
Nikon specifies 2.4" (61mm) mm extension from flange by 2.5" (63mm) diameter.
Weight
Nikon specifies 10.6 oz. (300g).
Hood
HK-2 metal slip-on with friction coupling, not included.
Case
Optional CL-31s.
Made in
Japan.
Teleconverters
TC-200/201 and TC-14A, but why?
Do you really want to use a $200 converter to make this $800 lens into either a $1,000 35mm f/2.8 or $1,000 50mm f/4 lens, each with so-so performance? Just buy a 35mm f/2.8 or 50mm lens.
Nikon Product Number:
1417.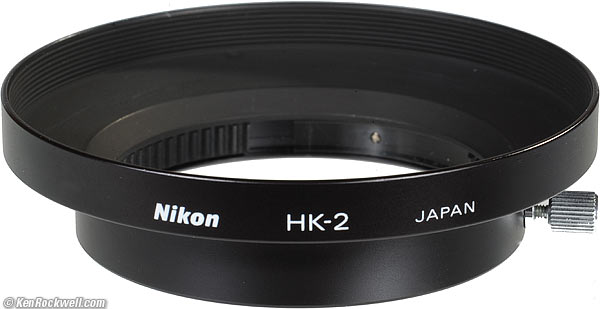 Nikon HK-2 clamp-on hood for 24mm f/2.
Performance top
Intro Specifications Performance Recommendations
Sharpness
On FX
The 24 f2 has the usual Nikon fast wide-angle performance: it's always sharp, but has lower contrast from the haziness of spherical aberration at f/2, and softer corners at the largest apertures. It's super-sharp when stopped down, but if you're shooting it in daylight at f/2, you'll have a slight dreamy effect if you look too close. Don't do that.
It has the usual barrel distortion of Nikon's fixed wide lenses.
f/2: Sharp all over, but looked at closely, has a slight dreamy effect from the halos caused by spherical aberration. Corners are a little softer.
f/2.8: Sharp and contrasty in the center (no more dreamy effect). Corners still softer from coma.
f/4: Coma is gone, except in the last couple of millimeters in the corners.
f/5.6: Even the farthest corners are contrasty (they're sharp at every aperture).
f/8-f/11: Corners are optimum. These are the best apertures before diffraction sets in at f/16 and f/22.
On DX
It's always sharp, but the contrast that varies with aperture.
f/2: The contrast is lower from spherical aberration. The corners are about the same as the center.
f/2.8: It's great in the center. The sides and corners have lower contrast.
f/4 and smaller: These are the best apertures before diffraction sets in at f/16 and f/22.
Distortion back to performance back to top
The 24mm f/2 has mild to moderate barrel distortion, typical of Nikon's fast and wide manual focus lenses. It's complex, meaning that the simple first-order correction offered by Photoshop CS2's lens distortion filter still leaves some waviness on FX and film.
If you're only using the central portion of the image by shooting in DX, it's simple first-order distortion, easy to correct.
Try these figures to correct the distortion in Photoshop CS2's lens distortion filter.
| | | |
| --- | --- | --- |
| | | |
| ∞ | +1.0-1.5* | +2.2 |
| 30' (10m) | tbd | tbd |
| 10' (3m) | tbd | tbd |
| 3' (1m) | tbd | tbd |
| 1' (0.3m) | tbd | tbd |
© 2008 KenRockwell.com. All rights reserved.
*Waviness remains.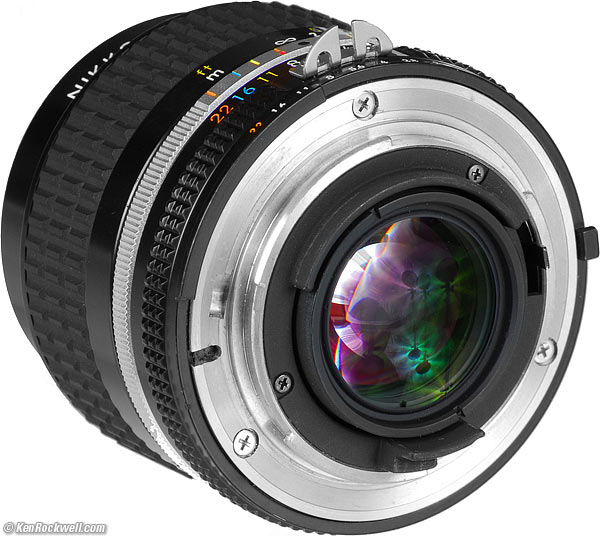 Rear. enlarge.
Recommendations top
Intro Specifications Performance Recommendations
This 24mm f/2 was a favorite of journalists for decades, along with the 35mm f/1.4, for its low-light ability.
Landscape shooters, specifically Galen Rowell, preferred the less expensive and slower f/2.8 version for its lower flare when shot into the sun. Much of Galen's most famous work was shot with the slower 24mm f/2.8.
If you want the fastest, sharpest wide angle lens, get the recently discontinued 28mm f/1.4D AF, which has far superior performance at f/2 and is much more compatible with autofocus and digital cameras.
The aspherical 28mm f/1.4 doesn't lose contrast wide-open, while the conventional spherical design of this 24mm f/2 does.
A used 28mm f/1.4D AF sells for ten times what the 24mm f/2 does, so if the 24mm f/2 fits your budget, you ought to love it. It takes standard 52mm filters, making it very handy as part of any Nikon system.
PLUG
I support my growing family through this website.
If you find this as helpful as a book you might have had to buy or a workshop you may have had to take, feel free to help me continue helping everyone.
If you've gotten your gear through one of my links or helped otherwise, you're family. It's great people like you who allow me to keep adding to this site full-time. Thanks!
If you haven't helped yet, please do, and consider helping me with a gift of $5.00.
The biggest help is to use these links to Adorama, Amazon, B&H, Ritz, J&R and when you get your goodies. It costs you nothing and is a huge help to me. eBay is always a gamble, but all the other places have the best prices and service, which is why I've used them since before this website existed. I recommend them all personally.
Thanks for reading!
Ken