INTRODUCTION
Friends are always asking me which camera to buy. Here are my suggestions. I personally have bought most of these for myself.
Detailed reviews for most of these cameras are at their links.
I'm going to go through my list starting at the least expensive. Few people realize that picture quality does not change as you buy more expensive cameras! I was interviewed on CBS TV showing the fantastic results I got from a camera that's worse than the cheapest $135 digital camera I suggest below. Buy a more expensive camera if you want, but don't come crying to me when you get the same results you're getting from your current camera. I have a whole page explaining why your camera doesn't matter. If you want better photos you need to learn to see and become a better photographer, not throw more money at hardware.
The reason you might want a more expensive camera is convenience and the ability to make photos over a broader range of conditions, especially fast action like sports or moving kids.
Personally I buy my my gear from the links to Adorama and Amazon I share below (not the text ads to the right), and it helps me keep adding to this site if you get yours through those links, too.
With all these cameras you'll need to get memory cards. All except the cheapest Canons I recommend come with rechargeable batteries and a charger.
Just Want Great Photos Inexpensively?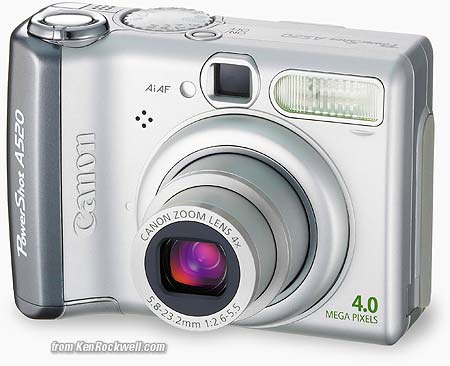 Canon A520
I'd get the Canon A520 for $175 here or here. The A520 is a much improved version of the A75 which is a much improved version of the Canon A70 with which I made all the photos here and here. CBS TV was so impressed with these photos from my crappy old A70 that they interviewed me on their consumer affairs segment about why you don't need an expensive camera to make great pictures. I brought in a stack of huge 12 x 18" enlargements from Grand Cayman Island and they were just floored. No matter what kind of camera you buy you're going to get the same quality photos! Only an extremely accomplished photographic artist is good enough to push a camera to its quality limits, so unless you have a really good reason to spend more money I'd tell my own mom to get an A520. Actually she's getting my A70 as a hand-me-down for Christmas, so don't spoil her surprise!
My old A70 is only 3 Megapixels and the A520 has 4 MP. The old A70 only had a 3x zoom and the A520 has 4x and a bigger LCD screen, too. Don't worry about megapixels, they're really all about the same as I explain at the Megapixel Myth.
The $175 A520 is a much improved version of my A70. If you want to save money and settle merely for the same quality that impressed CBS TV then you can get the Canon A510 for just $135 here or here. Even the $135 A510 has a longer zoom and bigger screen than my two-year-old A70.
I'd have no problems taking an A510 or A520 anywhere and making photos I'd be proud to show. It has full manual controls for advanced photographers, and full auto modes for normal people like my mom. Don't let anyone bully you into thinking you "need" a better camera.
I'd get either one. You don't need the A520, but it's not much more so why not. Follow your wallet; they both do the same thing and have the same controls. Keep your eyes peeled at the A510 links; these cameras come and go so often that those might be reconditioned, not new, A510s. If so I'd just get the A520.
All of these Canons I've mentioned are fully automatic. They also offer full manual control, making them popular with serious photographers. I always use mine on automatic.
These inexpensive Canons are all great cameras, but none of them fit in a pocket - you'll want to carry it in a small case. You also need to keep feeding them AA batteries which you have to buy on your own. I used to use rechargeables, most people find throw-aways easier.
Prefer a Tiny Camera to Take Everywhere in Your Pocket?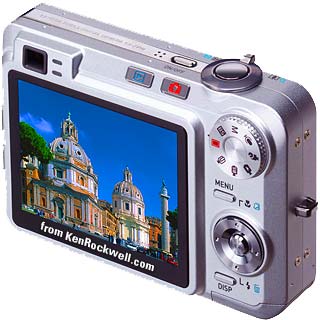 Casio EX-Z750
I carry a Casio EX-S500 or EX-Z750 in my pocket everywhere I go. They cost more, but also include rechargeable batteries and a handy drop-in stand for charging and downloading. This way I always have a full charge and never any batteries to buy or take out to charge. The batteries in these cameras seem to last forever. I'll leave the charger at home if I go away for the weekend.
The EX-S500 is even smaller than the EX-Z750. The EX-S500 is the only camera on this page that lacks full manual controls, which I've never missed. All the cameras here offer manual adjustments in the form of exposure compensations, just not direct entry of shutter and aperture values. The EX-Z750 has a slightly sharper lens. I usually take my EX-Z750, but if I want the smallest camera possible that still gives big camera quality I grab the EX-S500.
I'd get the EX-Z750 for about $360 here or here or the EX-S500 for about $315 here or here.
I even use these as light meters for my professional 4 x 5" film camera!
My only complaints about these little gems are that the colors aren't quite as refined as $1,000 cameras (they get a little gaudy at times which many people may prefer) and that the EX-S500 is so flat and tiny in my pocket I'm worried I'll forget and accidentally run it through my washing machine! It's smaller than my wallet or my cell phone or even my keys! For me the ability to have it with me everywhere overrules any other minor concerns.
I've made great 12 x 18" enlargements with both of these.
Want slightly better image quality from a bigger, slower camera?
The $500 Canon S80 has slightly better color and a slightly sharper lens that can go a little wider compared to my Casio EX-Z750. The S80 is too big to want to go in your pocket.
The Canon S80 responds too slowly to button pushes for my taste. I'm hyperactive and demand instant response when I sail through menu settings for White Balance, ISO and exposure. The S80 usually takes a moment to respond, and I can push the buttons faster than it can respond. That drives me nuts.
I'm a picky about button response speed. Forget Canon's blah-blah about "Digic Processors;" the Canon point and shoots are too slow for me. They'll be fine for most people.
I prefer my Casio EX-Z750 for its speed over the slight image quality advantage of the Canon S80. (I make great 12 x 18" prints from my Casios anyway.) If you don't mind the added expense and size, most people wouldn't notice the slower speed of the S80 and will love it. It looks better mostly in black, too. Like everything on this page except the EX-S500 the Canon S80 has full manual controls.
Need to Shoot Sports or Active Kids?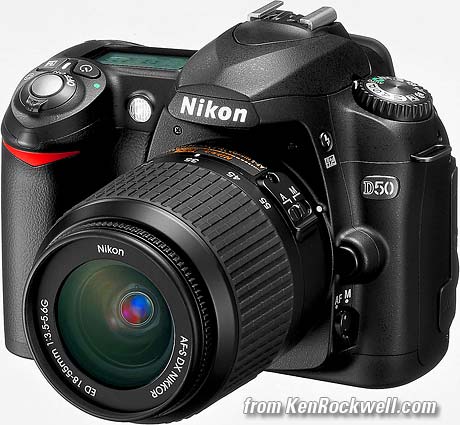 Nikon D50 with 18 - 55 mm Lens
I love the Nikon D50. It's best camera available for $700, including lens. It is especially good for kids, sports and action. I prefer it over everything else from other makers because it's so easy to use, works fast, focuses fast, responds immediately to your inputs and the image quality is fantastic. The D50 is a far cry better than any fixed-lens camera, even the much more expensive Sony DSC-R1, when you need it to work quickly. Unless you really understand abstract concepts like White Balance fine tuning you'll never find anything missing from the D50. Don't let the low price fool you: it's a great camera and I wouldn't be able to tell the difference between prints from a D50 compared to a $5,000 D2X. I've see 4 x 5 foot enlargements from the D50 that look superb. The only limit to the D50's picture quality is the photographer, not the D50. The D50 is fantastic at high ISOs, giving completely smooth and clean images at ISO 800.
Personally I use the more expensive D70 (now replaced by the D70s) which I bought before the D50 came out. Few photographers even understand the few additional features the D70s offers, like the ability to fine-tune white balance adjustments. If you have to ask, just get the D50 and you'll absolutely love it compared to any point-and-shoot.
The D50 is a real SLR with fully interchangeable lenses. It's in a completely better class than any camera whose lenses can't come off completely, even if those other cameras cost more than the D50. I have a page about the differences between interchangeable lens (SLR) cameras and fixed lens cameras. As far as I know, brands like Sony, Kodak and Samsung as well as the Nikon Coolpix and Canon PowerShot series today make nothing but fixed-lens cameras which will frustrate you for anything in motion.
No camera I've used with a permanently attached lens, or even the $1,000 cameras with powerful zooms that don't come off, can focus quickly enough to capture things in motion. This includes everything I suggested above; they only work well for posed shots. Fixed-lens cameras are great for group shots and landscapes, but their technology is frustratingly slow trying to capture anything in motion. Personally I have a cow with misleading advertisements from these makers implying you can sit in nosebleed seats and get sports shots due to their long zoom lenses. You'll probably get blurry garbage.
For motion you'll thank yourself for moving up to a true SLR camera like the D50. Real SLR cameras as I explained in detail here are a completely different design that allows focusing and even staying locked-on and tracking objects in motion, as well as a live viewing screen (not electronic) and instant response when you press the shutter button.
The D50 is a breakthrough that was introduced in 2005. Last holiday season you had to pay about $1,500 to get the same thing as the D70! Today at $700 it's a steal. If you want even more lenses for it see my lens recommendations. Most people including myself love the 18 - 55 lens for almost everything. Add the 70 - 300G lens for kids' sports and you're done. I'd get the 70 - 300 here or here for $140. To go really, really wide I use Nikon's $1,000 12 - 24 mm.
As of December 2005 the prices have already dropped. I love digital: these prices were $100 higher in November! Today the D50 body and basic 18 - 55 lens sells for about $699 here or here, or $599 just for the body here or here. You can get it as a kit with 55 - 200 and 18 - 55 mm zooms for $899 here or here. I prefer the 70 - 300 G zoom over the more expensive 55 - 200. The cheap 70 - 300 G and 18 - 55 are both great lenses. I can't see any significant difference in image quality between these $150 lenses and my $1,500 lenses on my digital cameras. The differences I see and on which I report aren't significant: you really have to strain to see them under special test conditions. The $1,500 lenses are just more durable and flexible, and if you want to buy them by all means go ahead.
Canon also makes Rebel digital SLRs that compete with the D50 and everything Nikon does. I just happen to use and prefer the Nikon DSLRs as I prefer the Canon point-and-shoots. Everything made by Canon and Nikon is wonderful today. Pentax and Minolta also make DSLRs, but I still prefer Canon and Nikon. If you prefer something else don't worry, there isn't any junk out there today from any real camera maker like these. Just avoid home shopping clubs which often feature junk brands.
HIGHER PERFORMANCE
No normal person needs anything more. If you're a serious photographer (or buying for one) read on, but know that improvements beyond the D50 are minimal and prices go way up from here.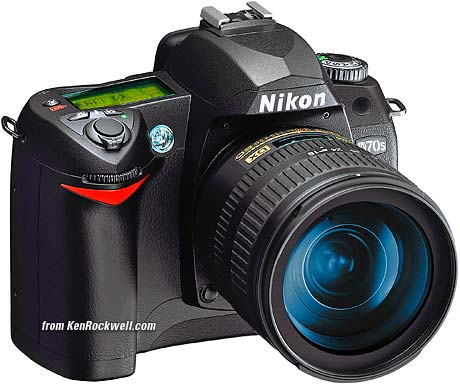 Nikon D70s with 18 - 70 mm Lens
Serious amateur photographers will prefer the more expensive D70 (now the D70s) I use. It offers a few more features understood only by serious photographers. It also was the only thing out in its price range when I got it.
See everything I know about it here. It will cost you about $1,200 with a lens.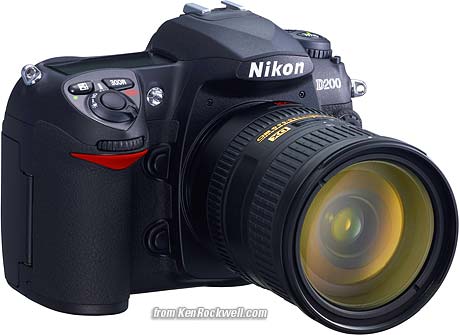 Nikon D200 with 18 - 200 mm VR Lens
I just ordered myself the more professional, heavier and twice as expensive new Nikon D200. I paid $1,699 with no lens here. I got one because with all the shooting I do I will appreciate some of the convenience features and added ruggedness of the D200. If you have an amateur photographer on your list he or she will love you up and down if you get them a D200, since it's more than any amateur really needs. Some may actually prefer the lighter weight of the D50 or D70s, which makes them a better choice for some people. The D200 is twice as fast and has a little more resolution than the D50 and D70s, so it's more suited for people shooting sports on a daily or weekly basis.
For a D200 you don't need, but will feel more comfortable with, more expensive lenses. I just ordered the $700 18 - 200 mm VR for my D200. You'll want to get the 12 - 24 mm lens (about $1,000) for really wide shots and either the 80 - 200 (about $800), 70 - 200 VR or 80 - 400 VR lenses (each about $1,500) for telephoto work. Click each of their links for individual detailed reviews, or see my guide to all Nikon lenses. Personally I use my 12 - 24 mm 85% of the time and my 80 - 400 VR 10% of the time. I only use a "normal" zoom 5% of the time and usually leave it home.
There's one big catch, in addition to the price, as a gift: it's a brand new model and if you order one today you may or may not get it before you need it. I ordered mine a month ago and am expecting it at the end of December 2005.
Serious Fine Art and Landscape Photography
Artists are very personal about their tools, so it's tricky to buy for us sight unseen. We usually like to pick our tools ourselves.
That said, personally I use a Tachihara 4 x 5" camera. If I'm traveling light (as in traveling with non-photographer friends) I bring my Mamiya 7.
You need to add lenses to either of these.
I then scan the images with an Epson 4990 scanner to print them.
For under $2,000 you can get a 4x5" film camera, lens, scanner and everything you need to make 100 megapixel images. This is far better quality than any digital camera at four times the price!
SUMMARY
All said and done, I'd get the Canon A520 if I just wanted great photos, the Casio EX-S500 for tiny size, and the Nikon D50 for action.
Have a great season!