Home Donate New Search Gallery Reviews How-To Books Links Workshops About Contact
Nikon SB-500
Speedlight Flash (2014-)
© 2015 KenRockwell.com. All rights reserved.
Intro Specs Performance Compared Usage Recommendations More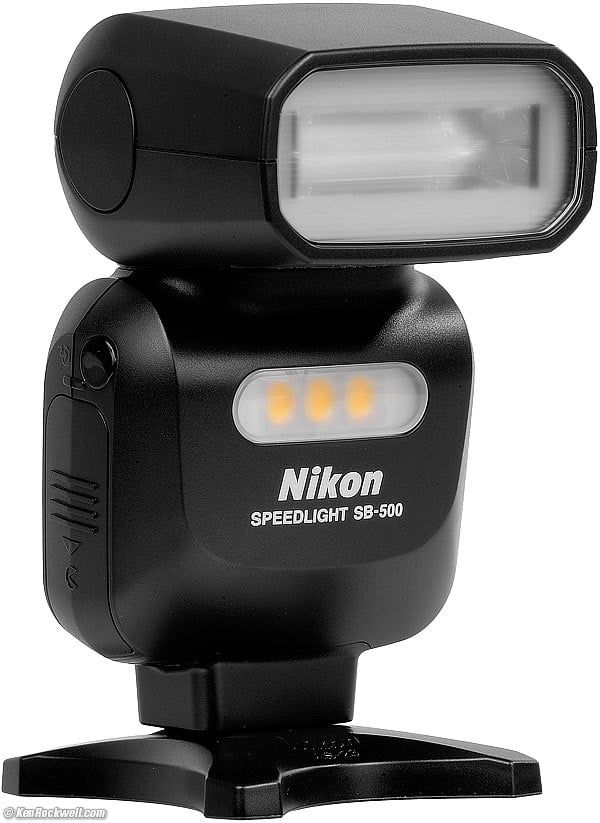 Nikon SB-500 on included AS-23 stand (rated GN 79'/24m, measured 3 second recycling at full power, 9.8 oz./279g with 2-AA alkaline or Ni-MH cells, about $247). I got mine at Adorama; I'd also get it at Amazon or at B&H.
This ad-free website's biggest source of support is when you use those or any of these links to my personally approved sources when you get anything, regardless of the country in which you live. Nikon does not seal its boxes, so never buy at retail or any source not on my personally approved list since you'll have no way of knowing if you're missing accessories, getting a defective, dropped, damaged or used flash, a customer return or if the warranty has already been registered to someone else online! The approved sources I use ship from secure, remote automated warehouses where salespeople or other customers never, ever get to touch your flash, and they have the best prices, selection, service and return policies.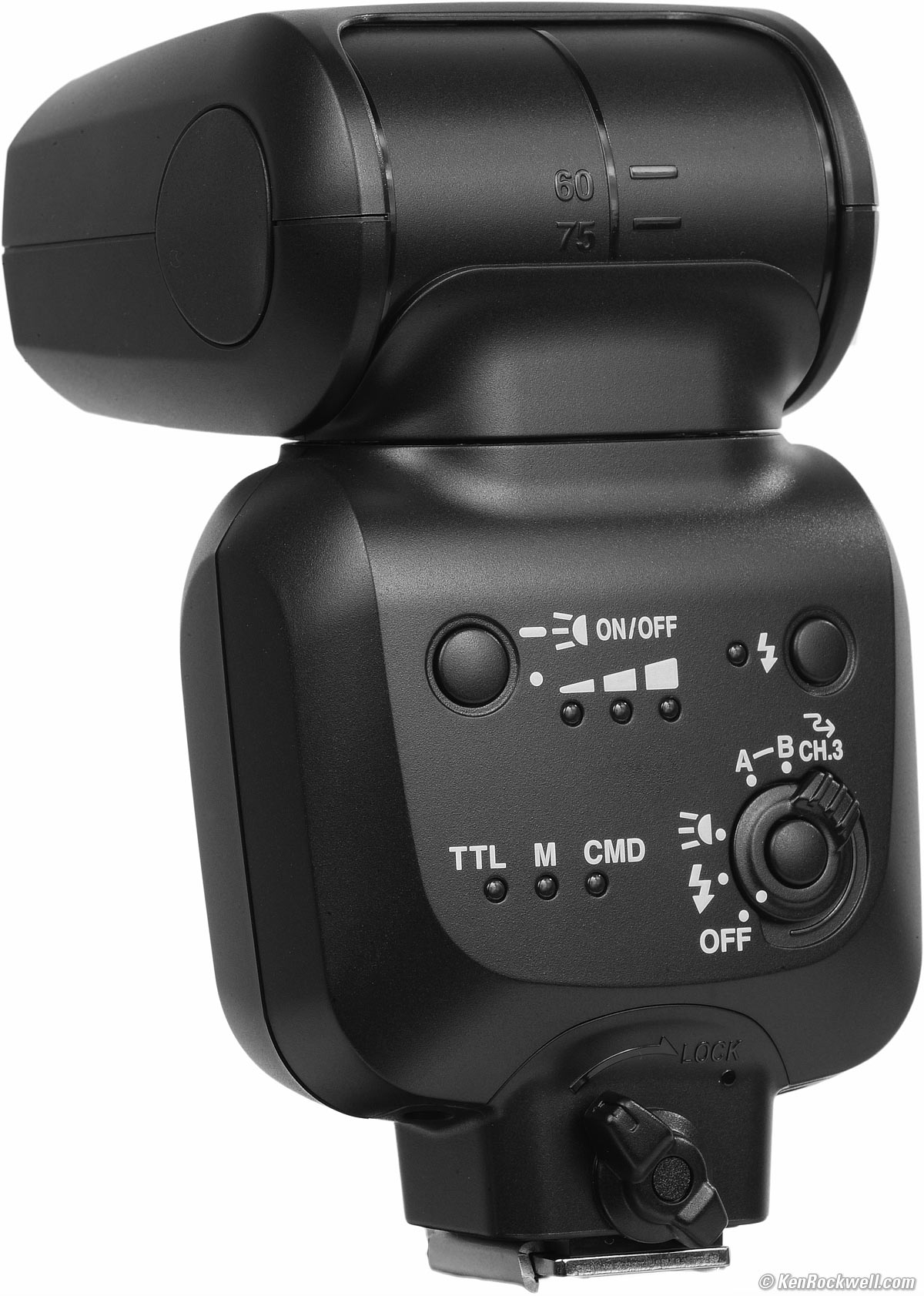 Rear, Nikon SB-500.
April 2015 Nikon Reviews Nikon Lenses All Reviews
Introduction top
Intro Specs Performance Compared Usage Recommendations More
The Nikon SB-500 is a small flash for use on all Nikon's DSLRs except the D1 series and D100, as well as many better Coolpix and the Nikon F6. It won't work with 35mm cameras other than the F6, since it needs a camera that uses Nikon's i-TTL system, introduced in 2003 with the D2H and F6.
The SB-500 works very well. Recycle time is usually instantaneous and it will cheerfully fire at 5 frames per second for a while at most distances. With freshly charged eneloop I measure only 3 seconds maximum recycle time from a full-power dump, which is superb.
It also works as an i-TTL slave. Other modes and almost everything else is controlled from the camera's menu system.
The SB-500 also works as a TTL commander, but only from the D750 and D810 as of April 2015.
There is no AF illuminator, but there is a continuous-light white LED video helper light where the AF illuminator used to be.
The SB-500 doesn't zoom, and it doesn't need to. It does bounce in all directions.
Specifications top
Intro Specs Performance Compared Usage Recommendations More
Rated Power Output
Flash
Guide Number 79 feet (24 meters) at ISO 100, rated.
1/1,100 second duration at full power.
White LED
100 Lux maximum at 1 meter.
Rated Recycle Time
3.5s with Ni-MH.
4s with alkaline.
Lens Compatibility
As wide as 24mm on full-frame.
As wide as 16mm on DX.
No longer limit.
Autofocus Illuminator
None.
Flash Modes
i-TTL (Nikon cameras from 2003 - on) and manual only, controlled through camera menus.
Bounce
Clicks at 0º, +60º, +75º and +90º up.
Clicks at 30º, 60º, 75º, 90º, 120º, 150º and 180º left or right.
Power
2 AA cells, Alkaline or Ni-MH.
Rated 100 full-power flashes at 30s maximum recycling time from alkalines.
Rated 140 full-power flashes at 30s maximum recycling time from Ni-MH.
or
Rated 30 minutes minimum LED light with alkalines.
Rated 60 minutes minimum LED light with Ni-MH.
Quality
Made in China.
All plastic, like all flashes, except for metal foot and locking pin.
Size
2.6 × 4.5 × 2.8 inches WHD.
66.0 × 114.3 × 71.1 mm WHD.
Weight
9.835 oz. (278.85 g), actual measured with 2-AA eneloop.
Rated 8 oz. (227 g) empty, 9.7 oz. (273 g) with alkalines.
Included Accessories
SS-DC2 sack ($14 replacement cost, Nikon product number 4103).
AS-23 plastic stand ($11 replacement cost, Nikon product number 4102).
English and Spanish printed manuals.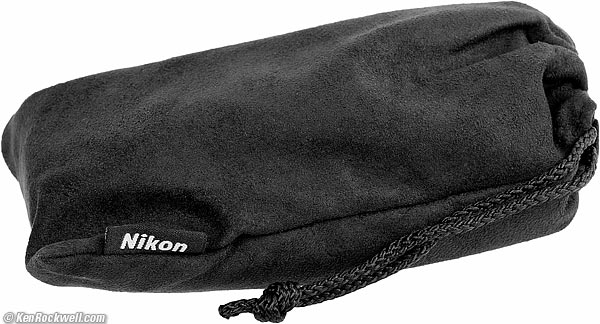 Included sack SS-DC2, Nikon SB-500.
Announced
12 September 2014 at 12:01 AM NYC time.
Nikon Product Numbers
SB-500: 4814, which includes:
SS-DC2 sack: 4103.
AS-23 plastic stand: 4102.
Price, USA
$247 actual selling price, April 2015.
$249.95 list price at introduction, September 2014.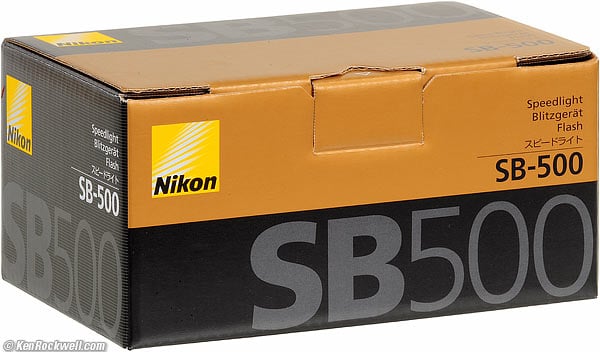 Box, Nikon SB-500.
Performance top
Intro Specs Performance Compared Usage Recommendations More
Measured Power Output
Guide Number 63 feet (19 meters) at ISO 100.
This is 2/3 of a stop less than rated, and very good since most Japanese flashes measure one stop less than rated. Therefore the SB-500 is about a third of a stop more powerful than I expected.
Measured Recycle Time
3.0 seconds with freshly charged eneloop at full power, which is very fast.
Most shots don't use anything near full power, so most of the time you'll have instant recycling and can shoot as fast as you like.
In other words, most of the time the ready light never goes off except when it goes to sleep.
Measured Wake Time from Standby
Instant!
Unlike some flashes, when you pick up your camera after it's gone to sleep, the SB-500 wakes instantly and is fully charged, ready to shoot as soon as you wake your camera.
This is as good as the SB-400, which means you never have to wait a few seconds for the flash to recharge when you pick up your camera.
This presumes you leave the SB-500 power switch ON, in which position the SB-500 goes to sleep when you camera does so it won't discharge the batteries.
Even when I pick up my camera the next day, the SB-500 is ready instantly.
Bravo!
Exposure
In the Nikon system, flash exposure is measured and controlled by the camera. The flash simply responds to camera commands.
The SB-500's exposure is the same as all my other Nikon flashes. As always, the only problem is if you're way too close or too far away, but within range, no problems here.
All my shots from at least as close as 1.5 feet are exposed just fine.
Ergonomics
I like having a big rotary switch for power and functions, but I don't like the lock which makes it more clumsy.
I'd rather have a slide switch as on the SB-400, and any of these is a zillion times better than having to hold a button for a moment to turn on or off.
LED Continuous Light
The SB-500's white LED works well as an LED, but on-camera main lights have always been poor ways to light video.
Like other flashes with built-in white LEDs, the built-in LEDs don't have much range, but are fine for making clean home videos.
The LED has reasonably consistent color and illumination across the beam, better than most.
It looks like about daylight (5,500K), and its CRI (color-rendering index) seems pretty good.
Sadly it's 5,500K only. Even my iPhone has an LED system that changes color to match tungsten or florescent (who do you think gave them that idea?). The SB-500's fixed 5,500K color is pretty useless, because it can't be used indoors unless you gel (filter) it to match the existing light, and outdoors it's probably too dim to be of any help unless you're very close.
Used under fluorescent light, most cameras will auto white balance to florescent and this light will look very purple. Used indoors under tungsten of halogen light, the camera will auto white balance to that and the light from this LED will look ghastly blue. Yuck.
As of April 2015, only the D810 and D750 will set themselves to Daylight white balance when in AUTO WB and you turn on the LED. This will make ambient light look very orange indoors, or green under fluorescent light, but will make the LED light look reasonably white.
The best use of this LED is if you have no other flashlight and need to look in your bag at night. Using any on-camera point light source like this is the best way to make videos that scream "amateur." Sorry, but the main reason a Hollywood movie looks as it does is because we spend three days designing the lighting for each location. That's why there are so many trucks on location; 3/4 of them are for all the lighting needed to make it look as if we didn't use any lighting
Anyway, to use this LED for video, Nikon really needs to have several LEDs that automatically set themselves to the camera's detected auto white balance (as I've suggested before).
To make it more useful as a flashlight, there shouldn't be any need to unlock and turn the switch to LED. The firmware should be corrected so anytime I hold the LED button that it turns on or off the LED.
It draws 225 mA, 450 mA, or 900 mA at the low, medium or high settings. With 2,000 mAh eneloop, this means about or 8, 4 or 2 hours of light at each setting.
This is a great flash with a very basic white LED on front. It's a great for stills, but very basic as a continuous video light.
Compared top
Intro Specs Performance Compared Usage Recommendations More
See also Nikon Flashes Compared.
The SB-300 is junk. It's small, but weak and takes odd-sized little AAA cells and takes too long to recycle after each flash. Forget about it.
I love and usually use my SB-400, which does everything I need, and is half the size of the SB-500. Even the SB-400 has plenty of power for daylight fill and keeps belting out many, many flashes fast without faltering. The SB-400 has been discontinued, but Amazon still has them for $290 new and you can get all you want used at eBay for about $150 each (see How to Win at eBay.)
The SB-700 is a much larger flash that has much more power, but we don't need more power unless we're shooting sports all day at high frame rates and need to belts out a ton of power quickly, all day long.
Nikon's biggest SB-910 is for wedding and news pros.
Built-in flash

Introduced

1947

9/2014

8/2013

11/2006

9/2010

Rated GN, ISO 100 @ 35mm

39'/12m

79'/24m

59'/18m

69'/21m

92'/28m

Measured 35mm GN, ISO 100 @ 35mm

varies

63'/19m

45'/14m

85'/26m

Batteries

None

2 AA

2 AAA

2 AA

4 AA

Recycle time, Ni-MH*

Alkaline*

6 sec. typ.

3.0 sec.




4 sec.

5-6 sec.

2.6 sec.

3.6 sec.

2.5 sec.

Rated full-power shots per set of alkaline

n/a

100

70

140

160

Rated full-power shots per set of 2,500 mAh Ni-MH

n/a

140

110

200

250

Widest coverage FX/DX

varies

24/16mm

28/18mm

28/18mm

14/9mm

Bounce tilt

0º

0, 60, 75, 90º

0, 60, 75, 90, 120º

0, 60, 75, 90º

-7, 0, 60, 75, 90º

Bounce swing

no

YES

no

no

YES

AF Illuminator

varies

none

none

none

YES

Wireless TTL remote control

n/a

YES

no

no

YES

Works as TTL Commander?

sometimes

Only on D750 and D810

no

no

YES

Included case

rarely

drawstring bag

drawstring bag

padded nylon

padded nylon, also includes a diffuser, colored filters and a stand

Size

varies

2.6 × 4.5 × 2.8"

66.0 × 114.3 × 71.1mm

2.3 × 2.6 × 2.5"

57.4 × 65.4 × 62.3mm

2.6 x 2.2 x 3.1"

66 x 56.5 x 80mm

71 x 126 x 104.5mm.

Weight with bttys*

varies

9.8 oz.

279 g

4.2 oz.

120g

6.3 oz.

180g

16.2 oz.

459g

Price, 9/2013

free

n/a

Price, 4/2015

free

$290 new

$150 used
* Actual measured values
Usage top
Intro Specs Performance Compared Usage Recommendations More
See Nikon's SB-500 User's Manual for more details.
On and Off
Press the center unlock button and turn the switch.
Sleep and Standby
It will go to sleep if not used, and wake right up as you tap your shutter.
This is normal; there is no way to set it to stay on permanently and run down the batteries.
White LED
To use the front continuous-light LED, press the center unlock button and turn the rear switch to the movie light position.
Now hold the LED button for a few seconds to turn it ON or OFF. Tap it to change the brightness.
Set your choice of TTL, Manual or Commander mode in your camera's menus, and the TTL, M or CMD LED will light on the back of the SB-500 to tell you what it's doing.
The white LED turns off when the camera goes to sleep, but won't turn back on when the camera wakes until you turn it on again.
Out of Range
If the ready light on the flash and in the finder blinks slowly for just three seconds right after you take a picture, the flash didn't have enough power. Get closer or open the aperture or increase the ISO and try again.
Low Battery
The ready light flashes twice per second for 40 seconds when the batteries are low.
Flash Exposure Balance with Ambient Light
Normally the standard i-TTL mode balances the flash with ambient light for a pretty picture.
If you want the flash to be bright enough to be the sole source of illumination, switch your camera to SPOT metering.
In other words, most of the time the flash only uses enough power to contribute a pleasant amount of light that balances with the rest of the light in the picture, but if you set SPOT metering, it will fire with enough power to provide 100% of the light.
i-TTL Remote Flash
See How to Use the Nikon i-TTL Flash System.
It works as a master commander only on the D750 and D810 as of April 2015. When used on these cameras, it is a full-function commander.
When used as a slave, it only works on channel 3, and only on group A or group B, but the good news is that these set directly at the power switch, no menus needed.
Slow Sync, FP Sync, Red-Eye and other modes.
These are all set in your camera's menu system. Cameras will vary; but it should be somewhere near MENU > Custom (pencil) > e Bracketing/Flash > Flash control for built in flash.
Recommendations top
Intro Specs Performance Compared Usage Recommendations More
The SB-500 is Nikon's best small flash made in 2015. It's small, fast and powerful. It does exactly what it needs to and gets out of my way so I can take pictures.
The SB-500 is the best new flash Nikon has introduced since the SB-400 of 2006. If you think you want an SB-500, you'll love it!
More Information top
Intro Specs Performance Compared Usage Recommendations More
Help me help you top
I support my growing family through this website, as crazy as it might seem.
The biggest help is when you use any of these links when you get anything, regardless of the country in which you live. It costs you nothing, and is this site's, and thus my family's, biggest source of support. These places have the best prices and service, which is why I've used them since before this website existed. I recommend them all personally.
If you find this page as helpful as a book you might have had to buy or a workshop you may have had to take, feel free to help me continue helping everyone.
If you've gotten your gear through one of my links or helped otherwise, you're family. It's great people like you who allow me to keep adding to this site full-time. Thanks!
If you haven't helped yet, please do, and consider helping me with a gift of $5.00.
As this page is copyrighted and formally registered, it is unlawful to make copies, especially in the form of printouts for personal use. If you wish to make a printout for personal use, you are granted one-time permission only if you PayPal me $5.00 per printout or part thereof. Thank you!
Thanks for reading!
Mr. & Mrs. Ken Rockwell, Ryan and Katie.
Home Donate New Search Gallery Reviews How-To Books Links Workshops About Contact