Home Donate New Search Gallery How-To Books Links Workshops About Contact
Nikon FX Dream Team

January 2016 More Nikon Reviews Nikon Lenses
Fisheye Wide Wide Zoom Normal Midrange Macro Portrait Tele
Introduction top
Nikon has been making FX lenses since 1959. I've been covering these for a long time, and almost all of them work great on Nikon FX digital cameras.
In this article, I'm going to cover the Dream Team, which are the very best lenses you can get, regardless of price or how stupid-heavy they are.
See Nikon FX Lenses for suggestions at all price and sanity levels.
See Nikon Cheapskate Lenses for very inexpensive lenses that give fantastic FX performance.
See Nikon D3 Lens Suggestions for references to some of the very old lenses that I haven't reviewed separately yet.
See The DX Dream Team for DX cameras.
Read on for the very best you can get for your Nikon, FX digital or film.
Fisheye top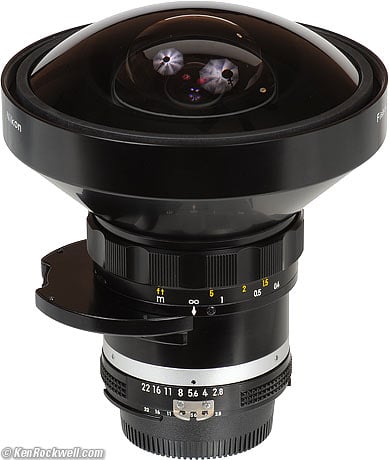 Nikon 8mm f/2.8 AI Circular Fisheye (38.1oz/1,080g, built-in filters, about $2,000).
The 8mm fisheye makes a circle in the middle of the frame. It shows 180º from edge-to-edge in every direction.
The 8mm is an exotic, rarely seen lens that was made from 1970-1997. It is manual focus, no big deal because everything is always in focus at 8mm anyway, and you will need to enter 8mm and f/2.8 in your Non-CPU Lens Data menu for full EXIF data and Matrix metering.
Circular fisheyes are silly; all you get is a circle in a sea of black.
The frame-filling 16mm AF fisheye is a lot more fun and a zillion times more practical.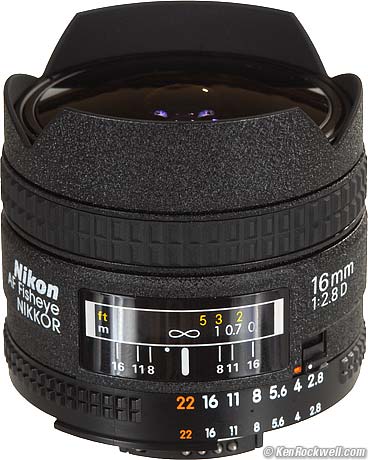 Nikon 16mm f/2.8 AF Fisheye (10.3oz /293g, rear bayonet filters, about $950).
The 16mm f/2.8 autofocus fisheye has been out since the early 1990s.
It's a full-frame fisheye that fills your entire rectangular frame.
The 16mm fisheyes use dedicated bayonet filters on the rear of the lens, and the 8mm has a built-in filter turret.
Wide top
See also Nikon Ultrawide Zooms Compared.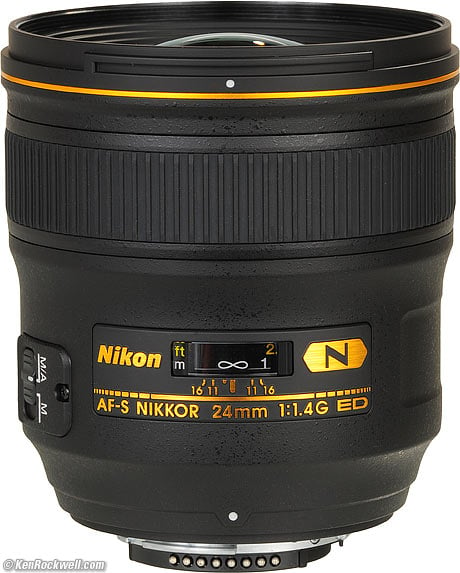 Nikon 24mm f/1.4 (77mm filters, 21.8 oz./618g, about $2,200).
Nikon's best-ever wide-angle lens is the new 24mm f/1.4 G AF-S. It has both the best overall optics ever in a Nikon wide-angle, as well as ultra-fast f/1.4 speed for shooting in any light hand-held, even on film, great autofocus accuracy and instant manual focus override.
It is the world's best 24mm f/1.4 lens, better optically than even the $6,500 LEICA SUMMILUX-M 24mm f/1.4 ASPH.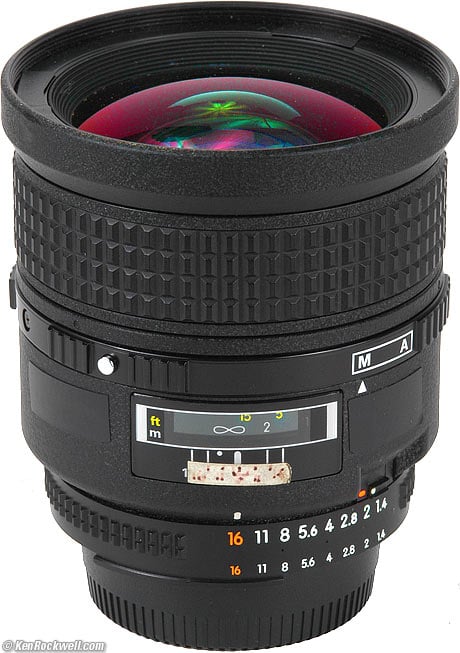 Nikon 28mm f/1.4D AF (72mm filters,18oz /520g, about $3,850 used)
The older 28mm f/1.4 is smaller, lighter and more sturdily made than today's 24mm f/1.4, but requires moving a switch to go between auto and manual focus. The 28mm f/1.4 is one of Nikon's best lenses ever, but it is only available used today, and sells for more used than the 24mm f/1.4 sells for new.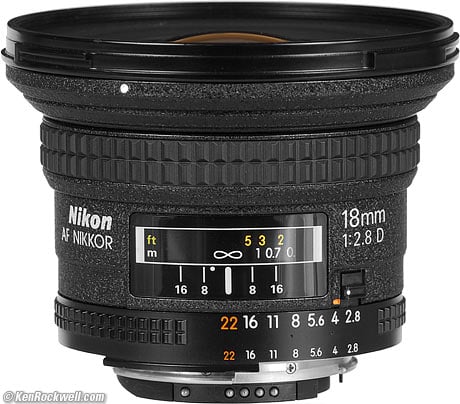 Nikon 18mm f/2.8D AF (77mm filters, 13.3 oz/376g, about $700 used).
While optically inferior to just about every other similar Nikon lens, the Nikon 18mm f/2.8D AF is unique in that it is made to a much higher mechanical standard than other Nikon ultrawide AF lenses. The 18mm f/2.8 and the 28mm f/1.4 are unique in Nikon's past stable. This 18mm is an unusual gem, and worth a look if optical performance isn't as critical to you as size and toughness. (The new 16-35mm f/4 VR has far superior optics, but in a bigger, heavier plastic package.)
Wide Zoom top
See also Nikon Ultrawide Zooms Compared.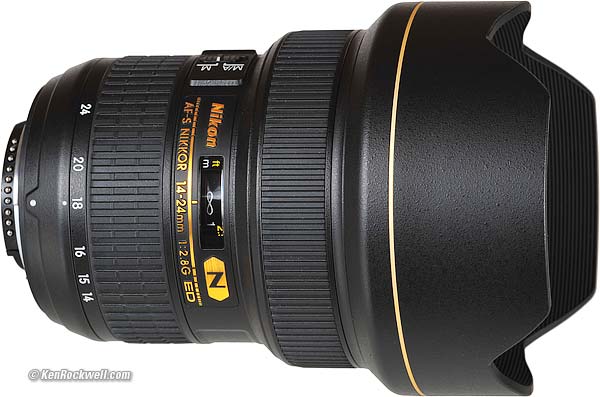 Nikon 14-24mm f/2.8 AFS (no filters, 35.3 oz/1,000g, about $1,800)
Nikon's 14-24mm is huge, expensive and can't use any filters, but it also happens to be the world's second-sharpest SLR ultrawide fixed or zoom lens. Except for the slightly sharper 16-35mm VR, these two wide zoom lenses are in a class by themselves. Nothing Nikon has ever made before comes close, and Canon has nothing to compete either.
The Nikon 14-24mm is so good that Canon shooters go through incredible trouble to make adapters to use this lens, mud-hut manually, on their Canon bodies.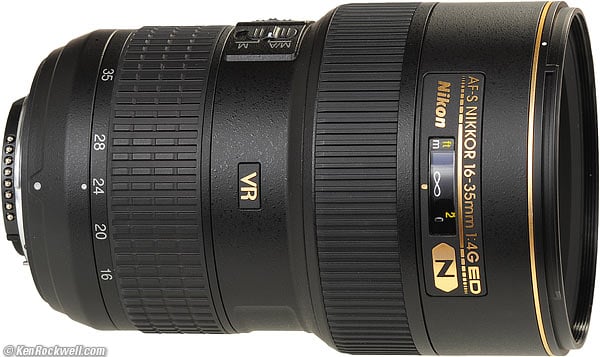 Nikon 16-35mm VR (77mm filters, 23.9 oz./678g, about $1,160).
The Nikon 16-35mm VR is smaller and lighter, and very slightly sharper than the 14-24mm, however it uses more plastic.
I prefer the 16-35mm VR for actual shooting, and haven't used the clumsy 14-24mm ever since my 16-35mm arrived, but for pure "look what I own" Dream-Team pride, the mechanically tougher 14-24mm remains king.
Normal top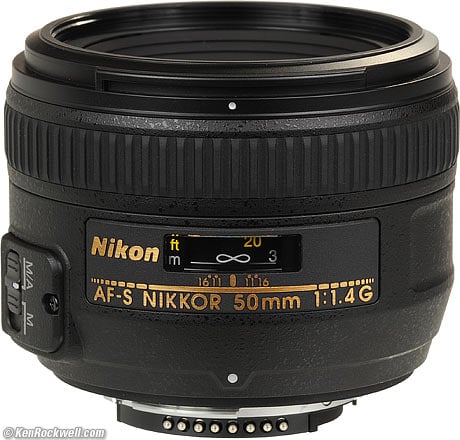 Nikon 50mm f/1.4 AF-S (58mm filters, 9.8 oz/278g, about $450).
For photos of family and friends in any light without flash, the Nikon 50mm f/1.4 AF-S is unbeaten. It's what on my D3 most of the time when I'm away from my studio.
If you want to make the most of your FX camera's low-light ability, this $445, f/1.4 lens will smoke the $1,800 24-70mm f/2.8 you thought you wanted.
Midrange Zoom top
Pros don't use midrange zooms because they don't need them. They use a wide zoom and a tele zoom, and maybe drop a fixed, fast 50mm in their pocket for low light. The only semi-pro use of a midrange zoom is for weddings.
If you buy a midrange zoom, as almost all hobby photographers do, Nikon's 24-70mm f/2.8 VR is best.
All Nikon's previous pro midrange zooms have also been superb. What makes the 24-70mm special is it's wider range, even slightly better optical performance, and superior handling.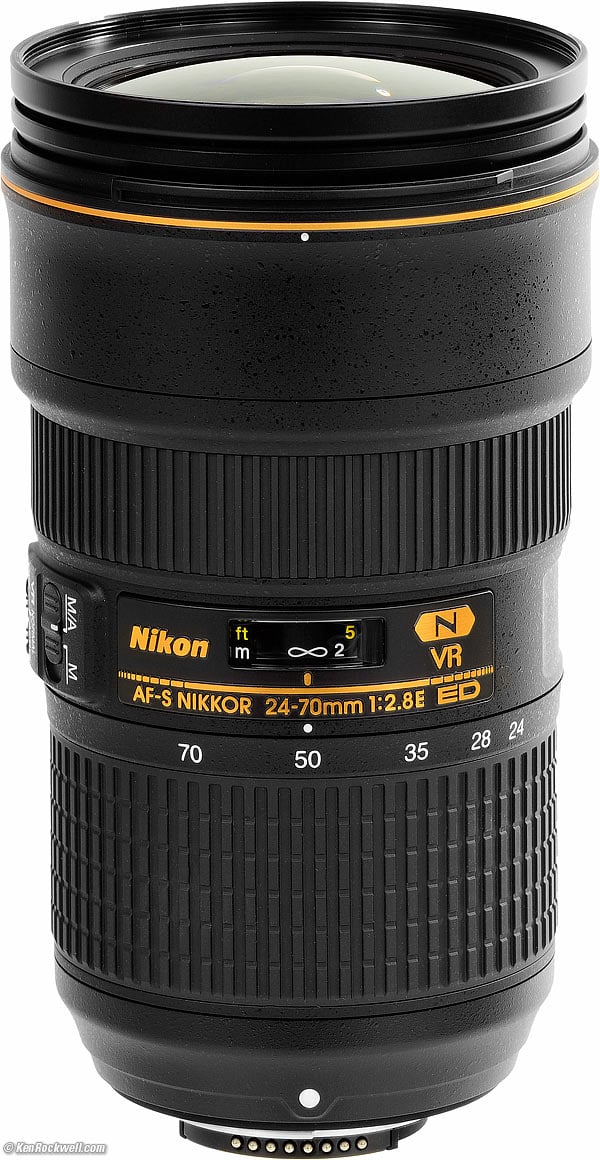 Nikon 24-70mm f/2.8 VR (82mm filters, 37.6 oz./1,067 g, about $2,400).
Macro top
Forget 55mm and 60mm macro lenses for dedicated macro work. You have to get so close that you annoy your subject and get in the way of your own light. They were for copying documents and general use back in the 1950s, but now that we have flatbed scanners, any $50 scanner does a better job.
Likewise, even 105mm macros still don't let you stand a decent distance away from your subject. Let's be honest: a macro subject is no more than a few inches across, otherwise it wouldn't be macro.
For serious macro work, there is no lens better than Nikon's current classic, the Nikon Nikkor 200mm f/4D AF Micro. It is the lens I use almost daily in my studio for my product shots.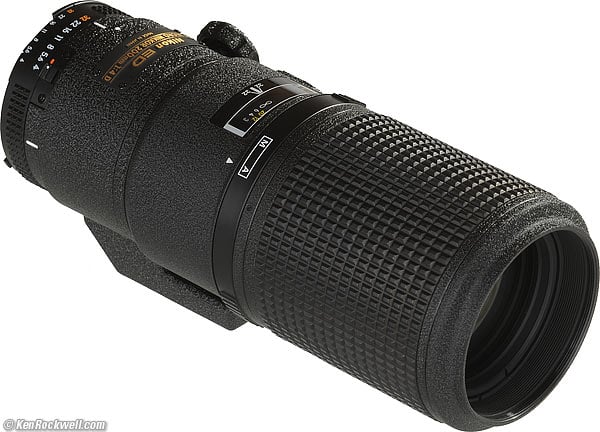 Nikon 200mm f/4D AF Micro (62mm filters, 41.6 oz/1,180g, about $1,650). enlarge.
For serious macro work, the Nikon 200mm f/4D AF is the world's best.
It's big, expensive and good. It costs twice as much as the 105mm VR, but if you want it, don't deny yourself. It costs a lot less than you're throwing away on digital cameras, in fact, lenses like this only go up in value with time. Unlike a DSLR, buying a lens like this is an investment, not an expenditure.
The 200mm micro lets you stand far enough away so that you can render your subjects in the correct perspective, not annoy living specimens and not get in the way of your own lighting.
The earlier manual-focus 200mm f/4 ED-IF Micro is nowhere near as good optically.
See also Best Macro Lenses.
Portrait top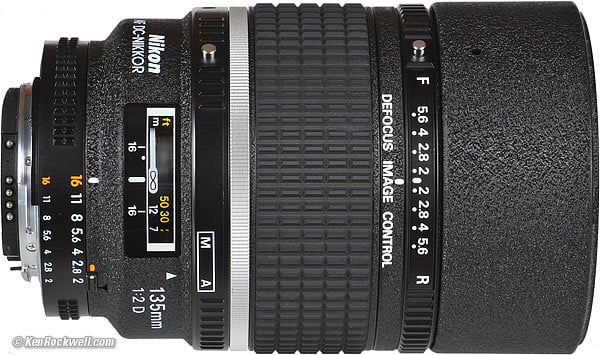 Nikon 135mm f/2 DC (72mm filters, 28.6 oz/810g, about $1,300). enlarge.
Most people use their tele zoom for portraits, but that's a compromise.
If you want to get the best possible specialized portrait lens, this special 135mm f/2 DC is it.
DC means background defocus control. It is an extremely sharp lens. The background defocus control feature lets you control exactly how the out-of-focus areas behind your subject look.
Full time portrait pros usually use a 300mm f/2.8 or longer, especially for head shots.
See also Portrait Lenses.
Tele Zoom top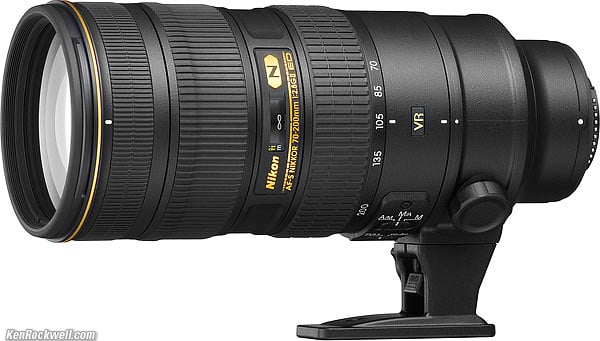 Nikon 70-200mm VR II (77mm filters, 54.3 oz/1,540g, about $2,400).
For tele, pros use nothing but the Nikon 70-200mm VR II. It costs $500 more than the perfectly wonderful Nikon 70-200mm VR that came before it. This new -II version just started shipping as of December 2009.
Ultra Teles top
If you really want a lighter wallet and heavy lens, try this 200-400mm lens on for size.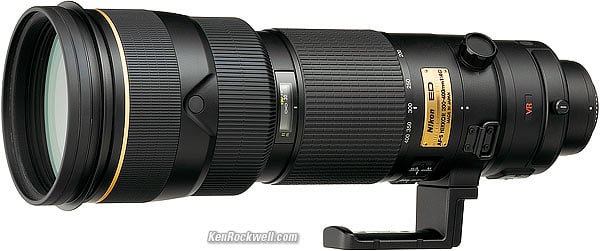 Nikon 200-400mm f/4 VR (52mm drop-in filters, 115 oz/3,275g, about $6,100).
Most serious tele shooters opt for fixed-focal-length super-teles, like the 300mm f/2.8.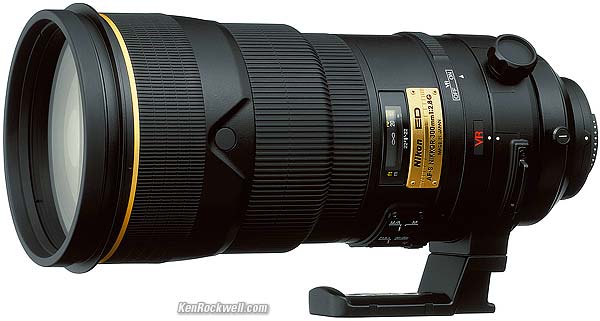 Nikon 300mm f/2.8 VR (52mm drop-in filters, 101 oz/2,870 g, about $5,300). enlarge.
The 300mm f/2.8 is a favorite of the paparazzi. It's small enough to lug around on your Vespa while harassing real people, and fast enough to shoot in any light hand-held with VR, and it focuses close enough to get yourself hurt: 7 feet (2.2m).
My favorite is the 400mm f/2.8, because it's eminently useful as-is, and with converters, can become anything up to an 800mm f/5.6. The 400mm f/2.8 is the favorite of large mammal shooters. The reason you want the newest is because it weighs four pounds less than Nikon's first AF 400mm f/2.8 AF-I.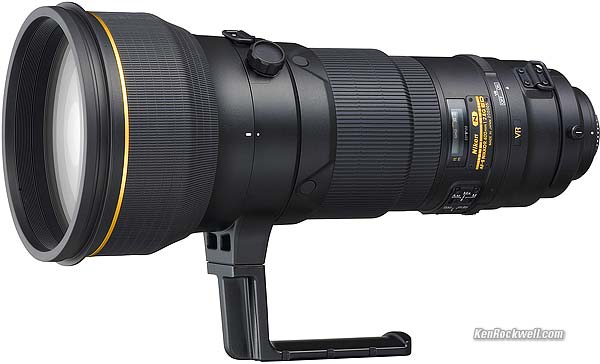 Nikon 400mm f/2.8 VR (52mm drop-in filters, 163 oz/4,625g, about $8,800). bigger.
Birders may prefer the 500mm f/4, which is lighter and less expensive than the faster 400mm lens.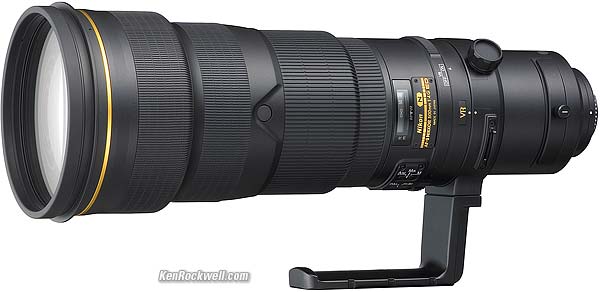 Nikon 500mm f/4 VR (52mm drop-in filters, 138 oz/3,900g, about $8,500). enlarge.
When shot from the shore, surfing is most often shot with 600mm lenses.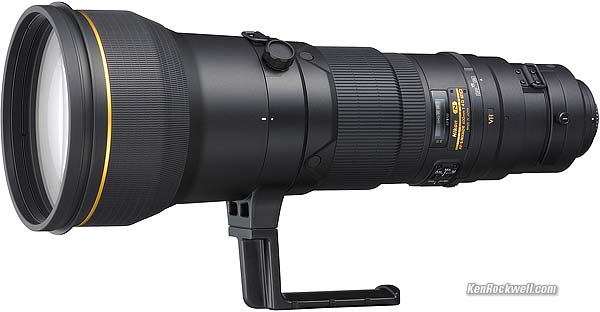 Nikon 600mm f/4 VR (52mm drop-in filters, 178 oz/5,060g, about $10,250). bigger.
That's it, the very best of Nikon.
Personally, I prefer a Nikon FA and 20mm f/4 AI, 50mm f/1.8 AI and 85mm f/2 AI-s as the only gear I'd ever need for anything, but if you want the best, and can afford the people to carry it for you, have fun!
Ken.
Help me help you top
I support my growing family through this website, as crazy as it might seem.
If you find this as helpful as a book you might have had to buy or a workshop you may have had to take, feel free to help me continue helping everyone.
If you've gotten your gear through one of my links or helped otherwise, you're family. It's great people like you who allow me to keep adding to this site full-time. Thanks!
If you haven't helped yet, please do, and consider helping me with a gift of $5.00.
The biggest help is to use these links to Adorama, Amazon, Calumet, Ritz and J&R when you get your goodies. It costs you nothing and is a huge help. These places have the best prices and service, which is why I've used them since before this website existed. I recommend them all personally.
Thanks for reading!
Ken
Home Donate New Search Gallery How-To Books Links Workshops About Contact