Born 8:16:30 PM, 15 December 2006, La Jolla, California.
8 pounds, 12.2 ounces (3,975g). 20" (51 cm).
The technical gobbledygook after each shot is the equipment I used for each photo. Many photographer friends ask.
---
31 July 2009, Friday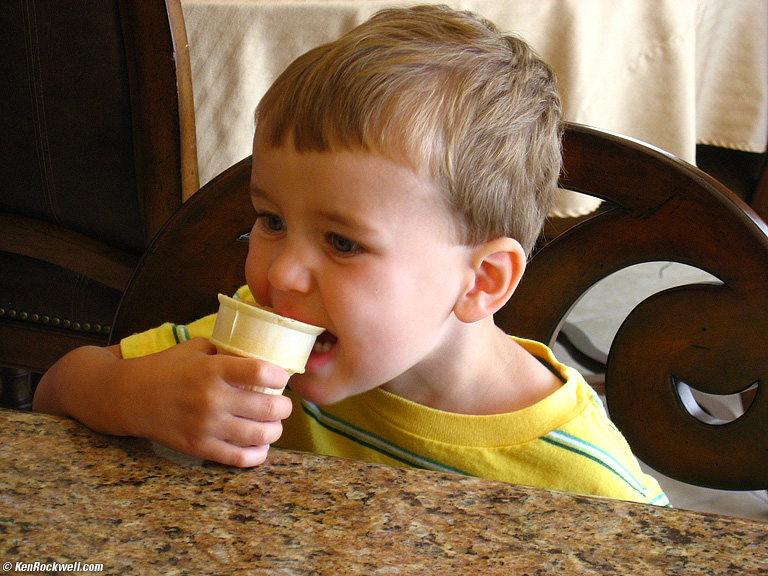 Ice Cream! (Canon SD700, daylight white balance.)
26 July 2009, Sunday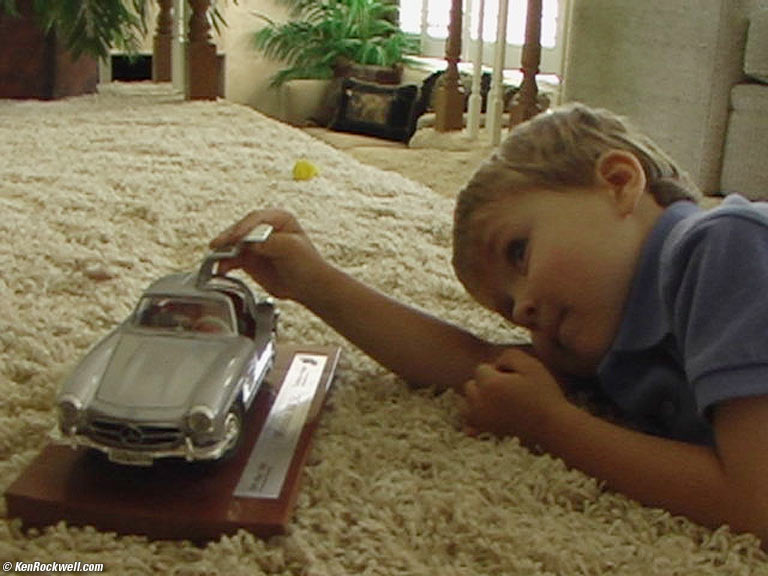 Ryan and Pops' Mercedes 300SL.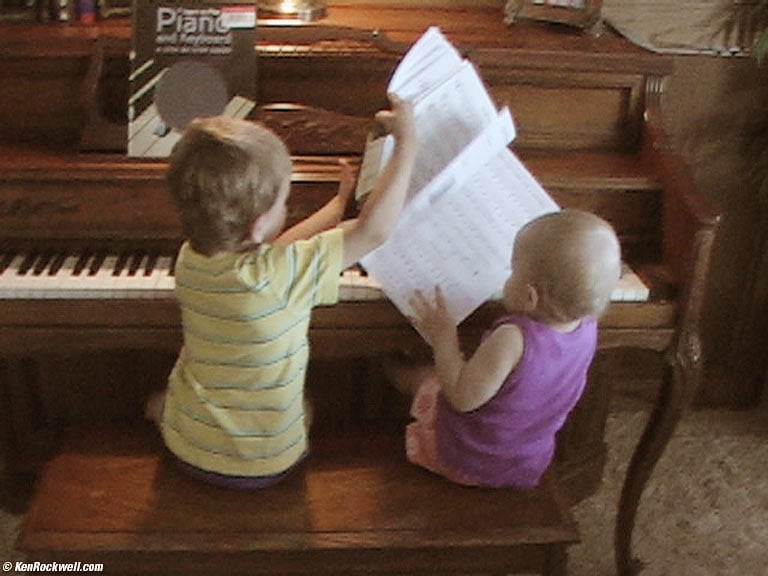 Ryan and Katie play Noni's piano. (Panasonic PV-GS120 video stills.)
Today is also the first time I've seen Ryan assemble a ballpoint pen.
25 July 2009, Saturday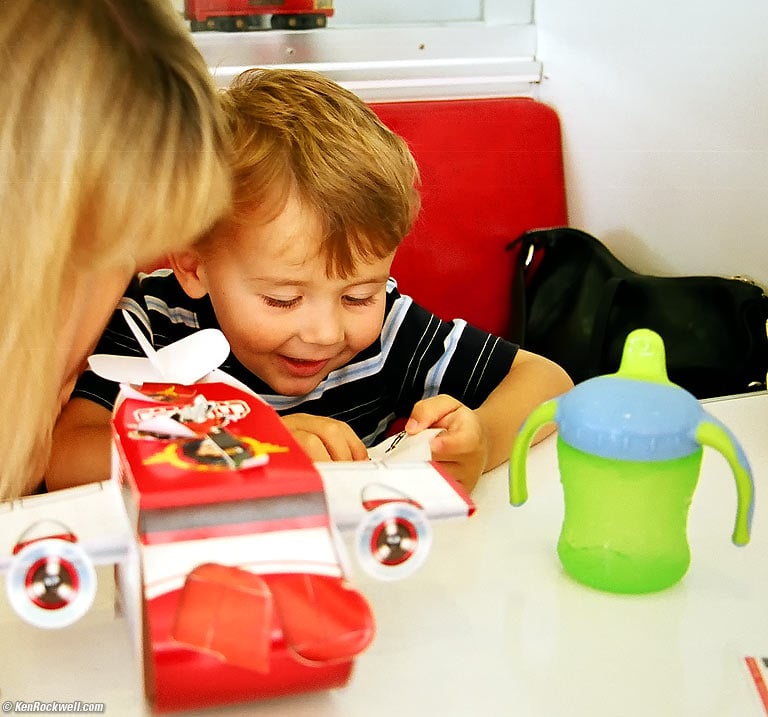 Ryan assembling an airplane childrens' menu at Ruby's.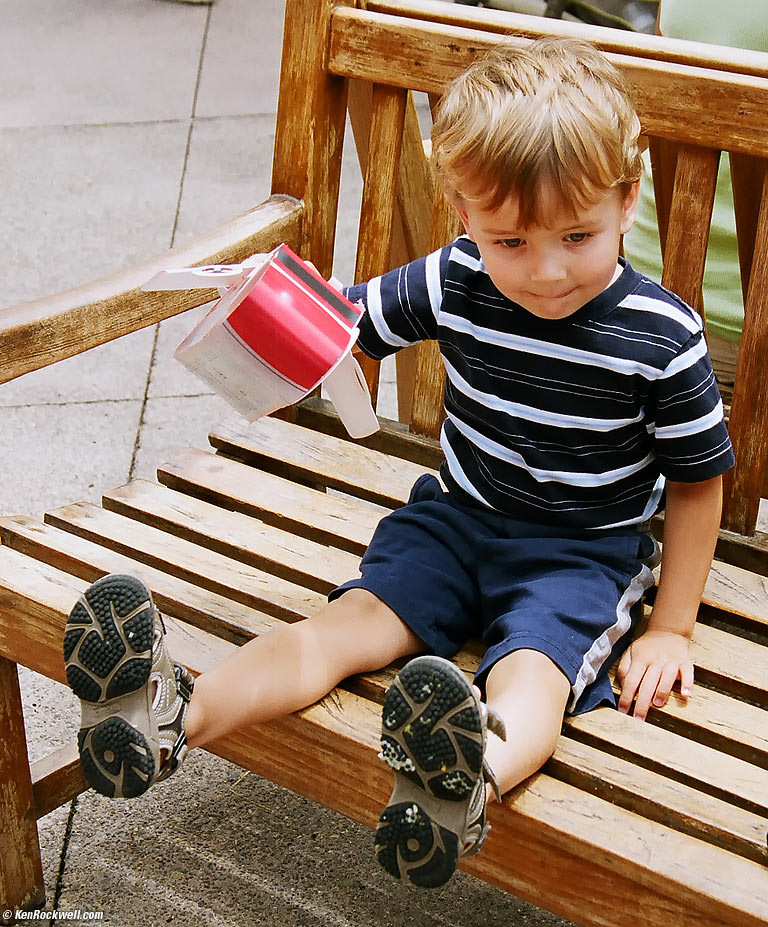 Ryan flying his menu.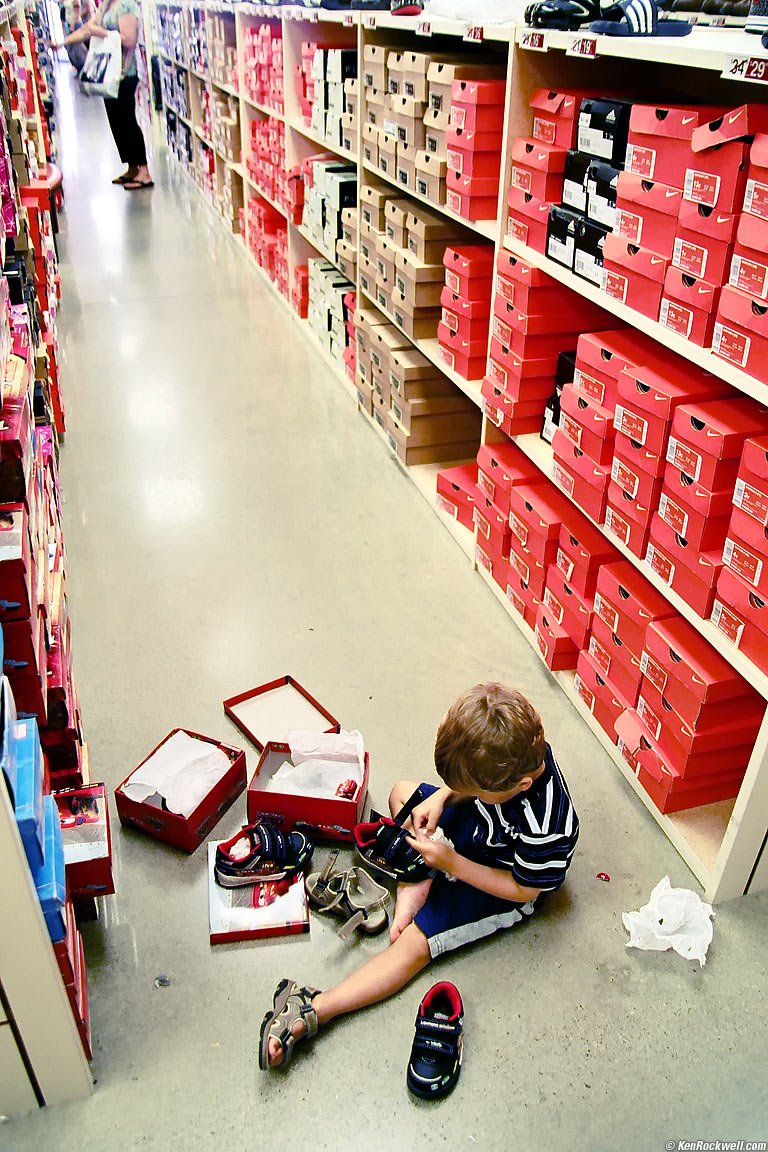 Ryan in the shoe store (he's size 10).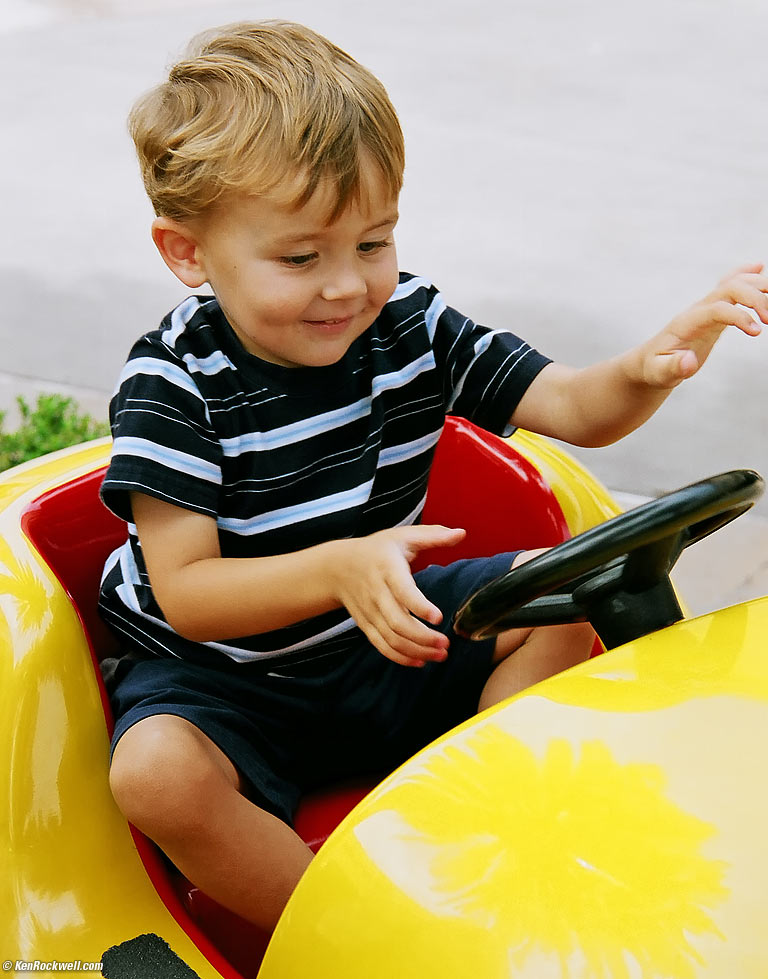 Ryan driving.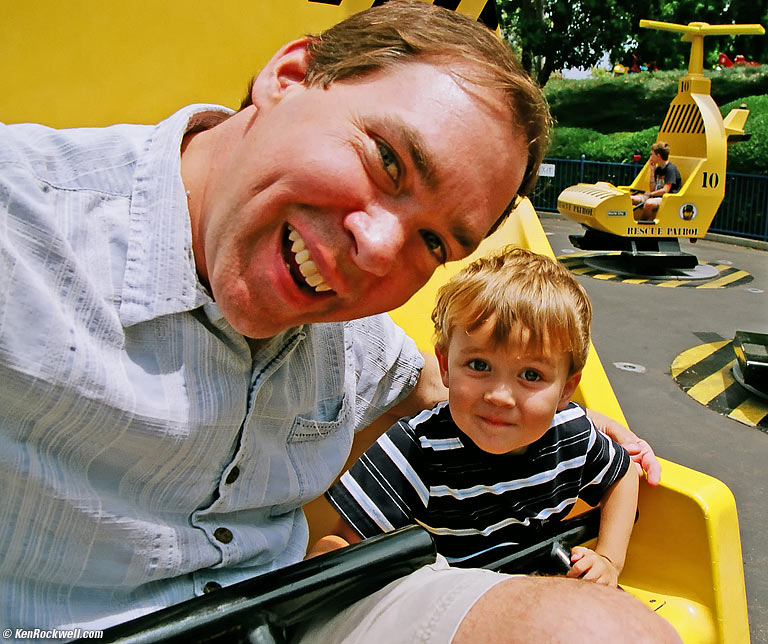 Ryan and Daddy about to go "up-down" on the helicopters at Legoland, Ryan's favorite thing to do.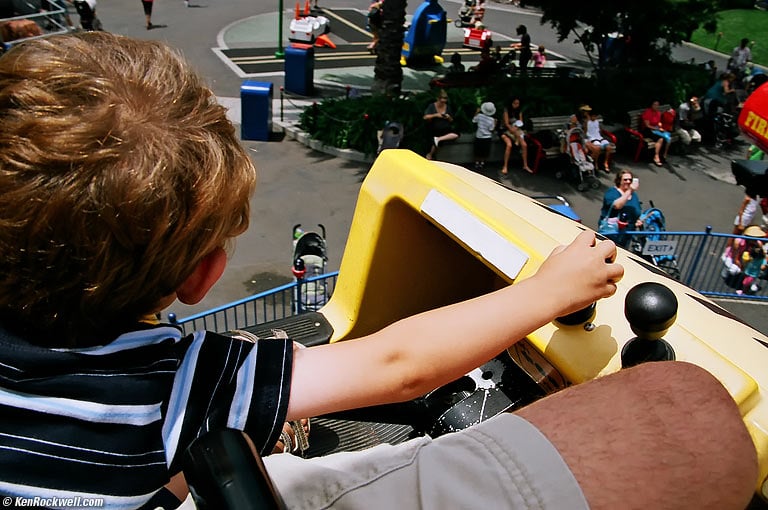 Ryan flying and waving to the world!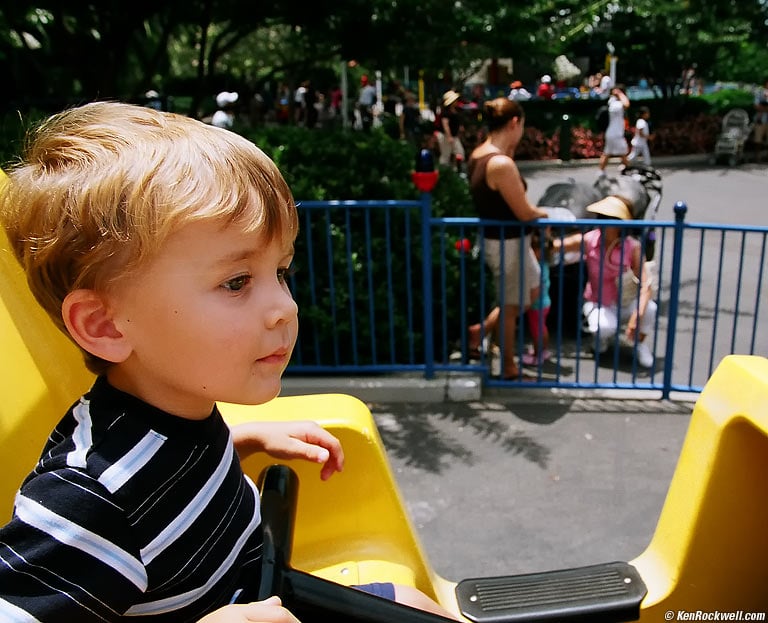 Ryan carefuly landing. (seven photos: Canon EOS 620, half a roll of Fuji Quality II ISO 100 film (made in Brazil), Canon 28-135mm IS, Costco develop and scan.)
22 July 2009, Wednesday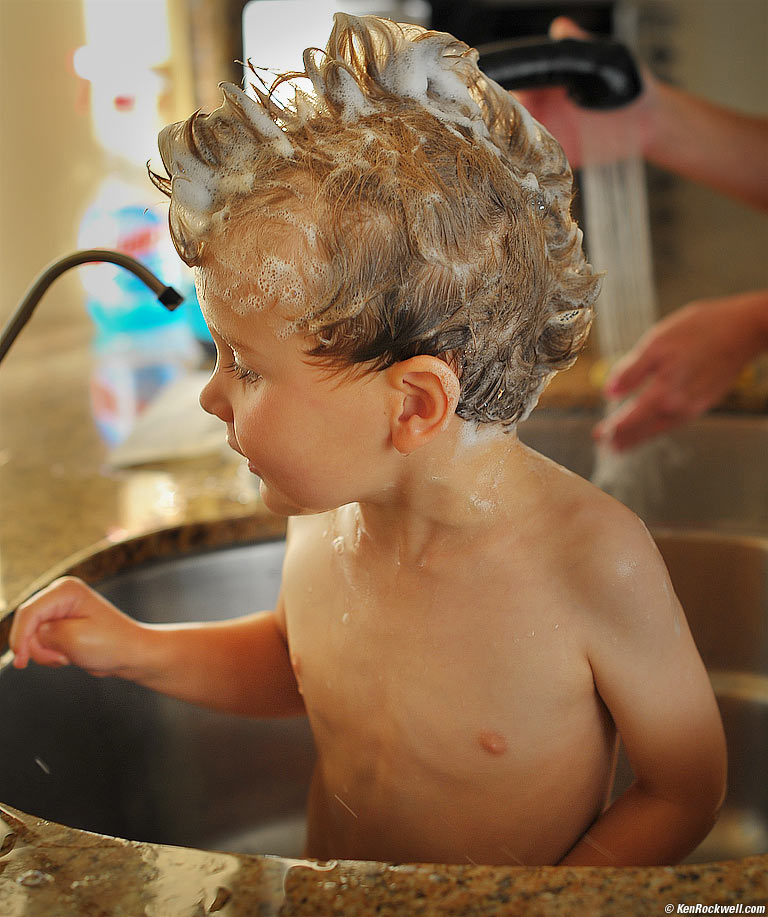 Ryan getting an evening bath in the kitchen sink.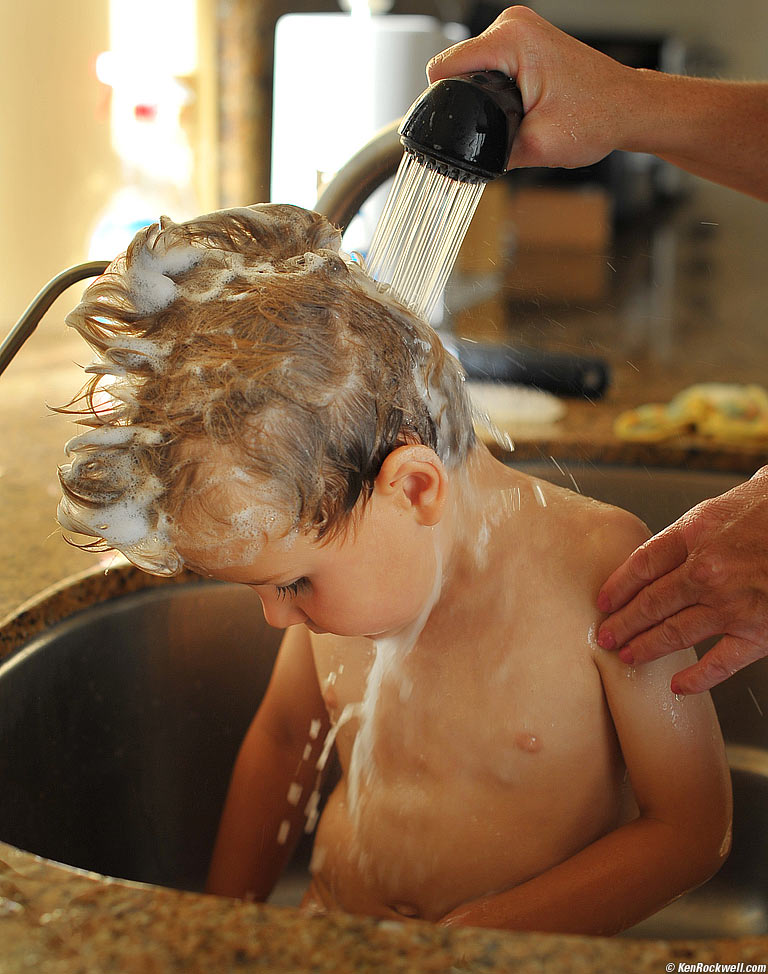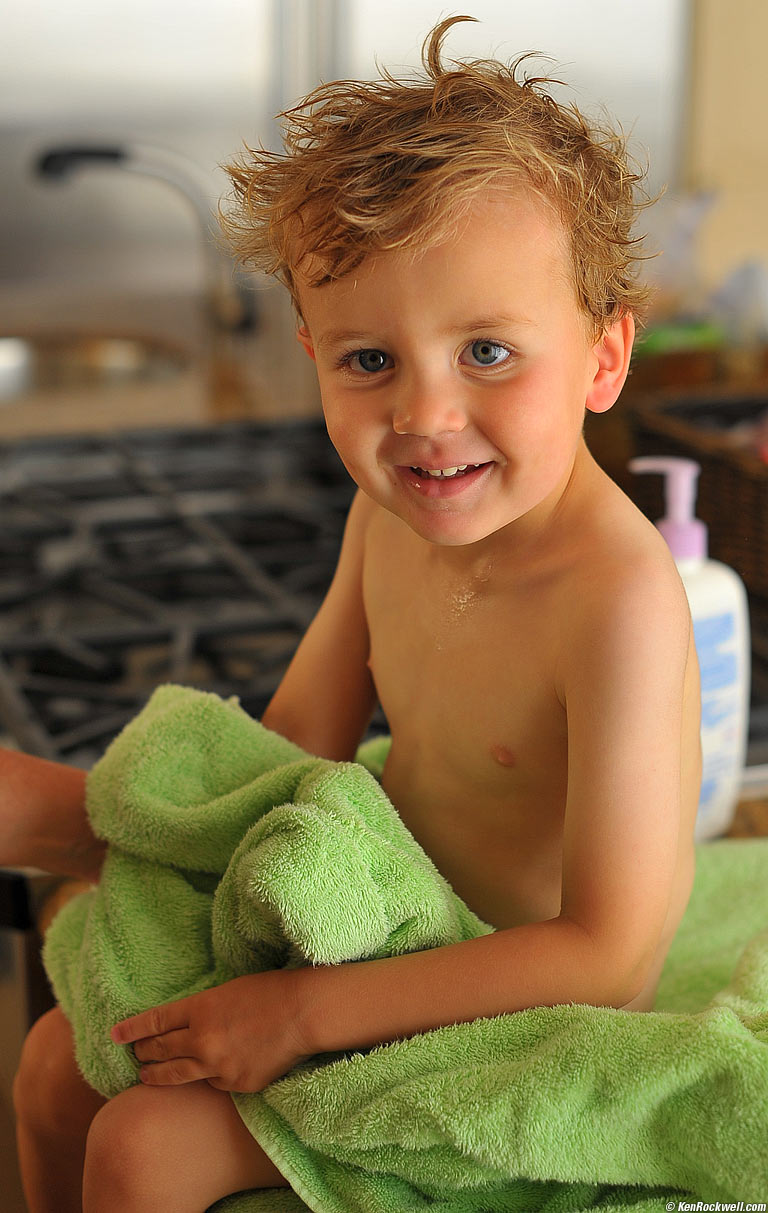 Bath all done! Yay! (three: Nikon D3, set to NEUTRAL and +2 saturation, 50mm f/1.4 AF-S, program and Auto ISO chose f/2.8 @ 1/125 at ISO 200, window light, auto WB with A3 trim.)
Ryan understands everything. If we ask him to get me a drink out of the fridge, or to lick mommy's knee, he does exactly that.
When he tries to talk to us, he goes off in some bizarre language of his own, very emphatically telling us whatever he has to say, and gives us a funny look if we don't get it.
He has a new word for fan. Its about eight syllables that sounds something like bingdindin! I'd try to spell it out for you, but I can't catch it as fast as he says it.
17 July 2009, Friday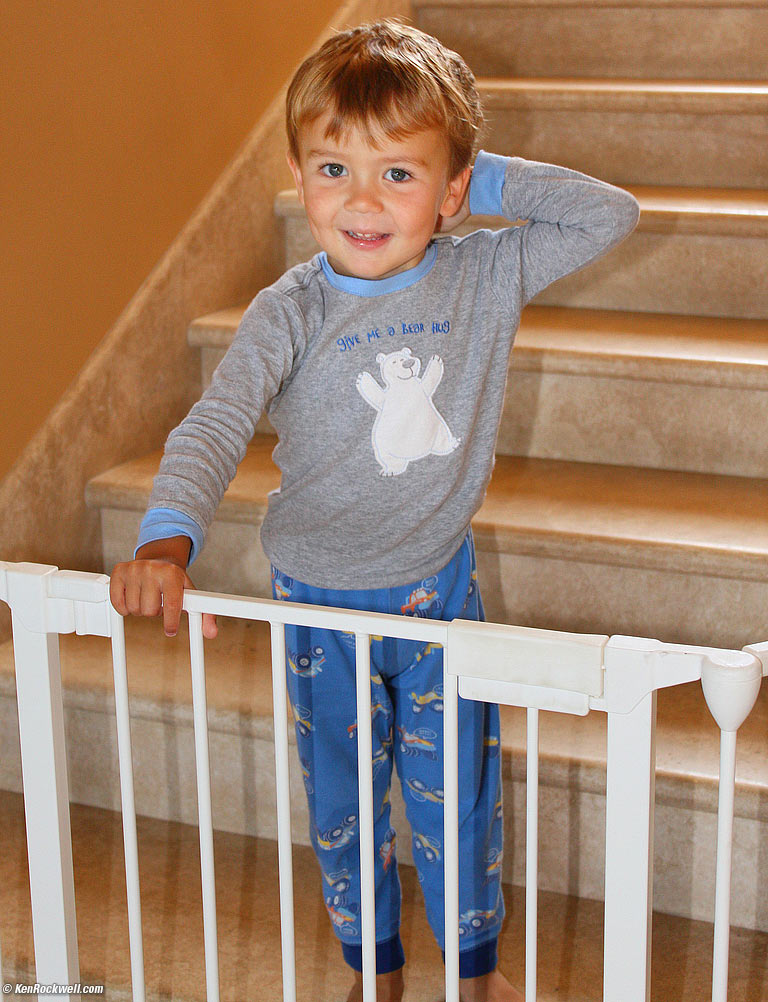 Ryan coming downstairs after waking up (night-night all done). (Canon Digital Rebel T1i, built-in pop-up flash, 18-55mm IS.)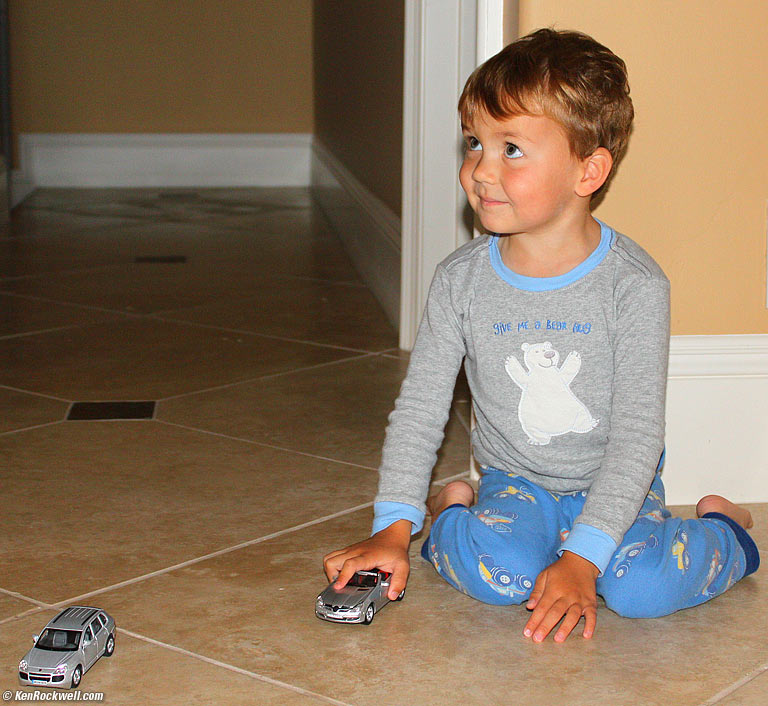 Ryan and his Mercedes SLK350 and Porsche Cayenne Turbo. Ryan's word for any Mercedes is "MEE!" and "BOO-Ah" for Porsche. (Canon Digital Rebel T1i, built-in pop-up flash, 18-55mm IS.)
12 July 2009, Sunday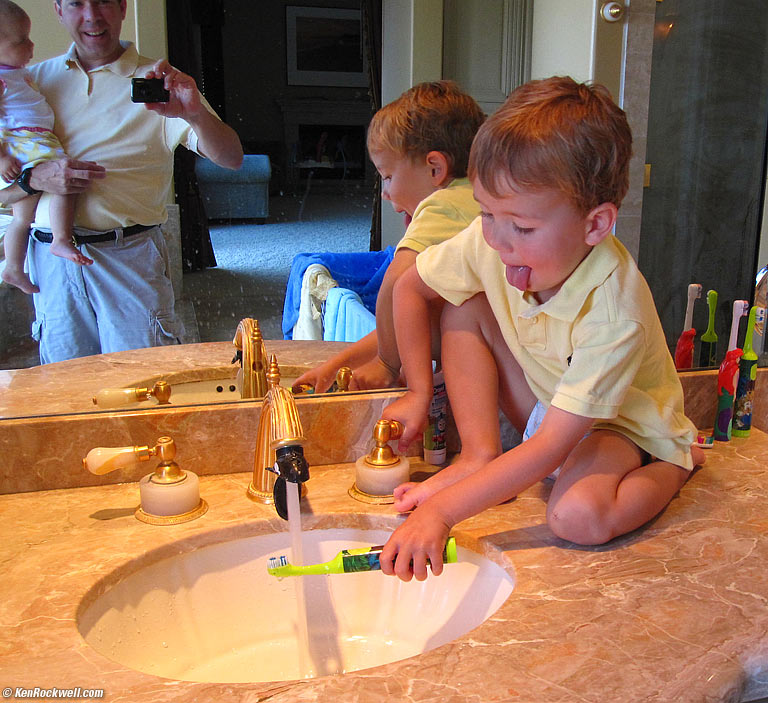 Ryan brushing his teeth Sunday morning (Katie in Dad's arms). (Canon SD780 IS, Auto ISO chose ISO 250, 1/40 at f/3.2, widest zoom setting.)
11 July 2009, Saturday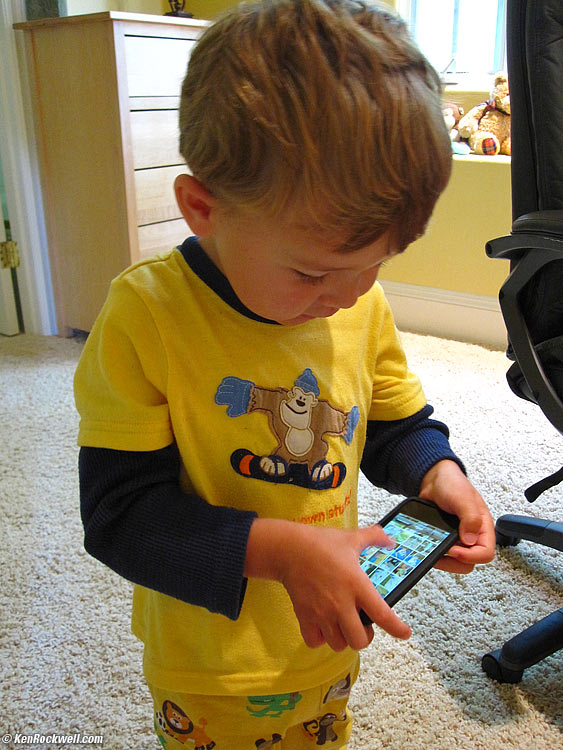 Ryan and the iPod Touch, 9:30AM. Even a 2-year-old can figure out how to see his pictures on an iPod. (Canon SD780 IS.)
Ryan takes Buster for a walk. (Canon AE-1 Program, 50mm f/1.8 FD, Program mode, Fuji Reala, Costco developing, cropped.)
08 July 2009, Tuesday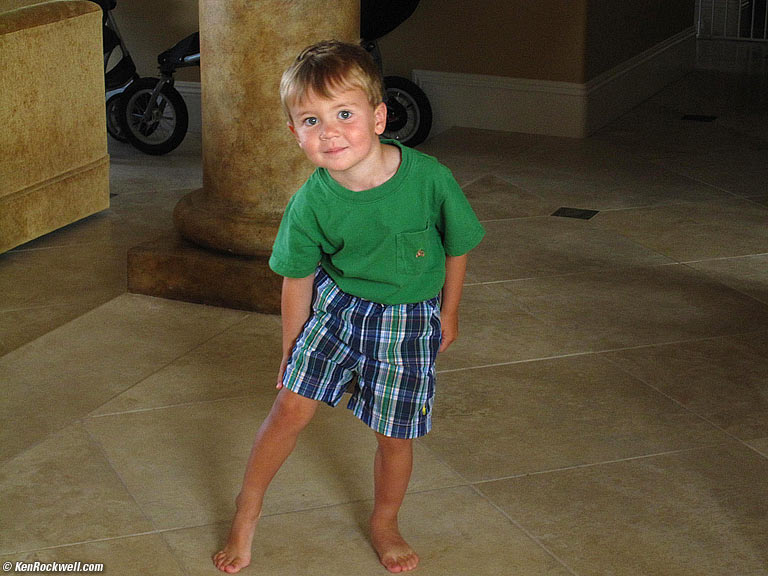 Ryan's outfit for the day.
Lunch at Angelo's: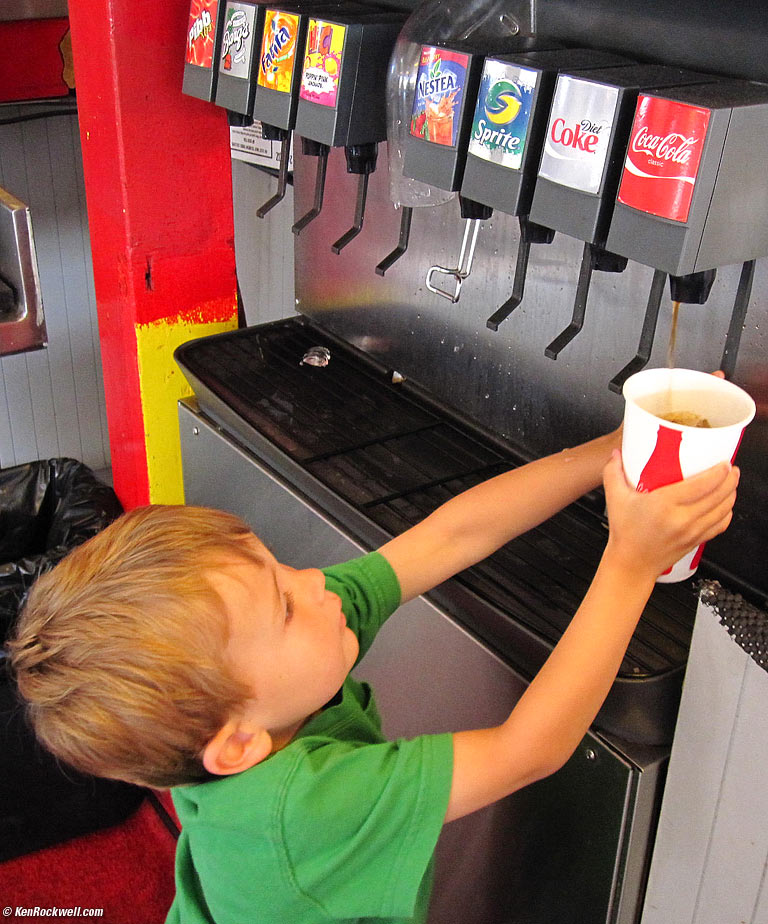 Filling Daddy's cup.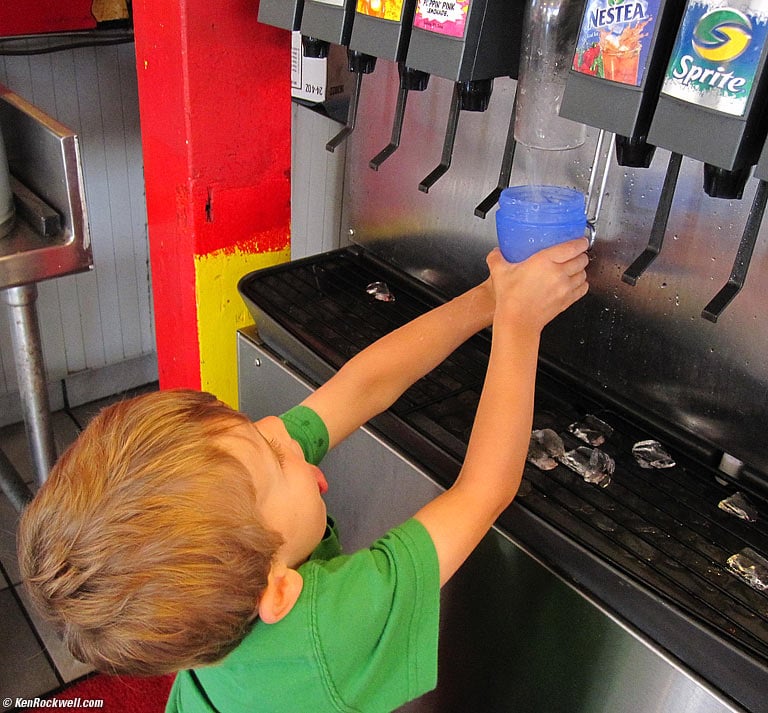 Ryan putting ice in his baba.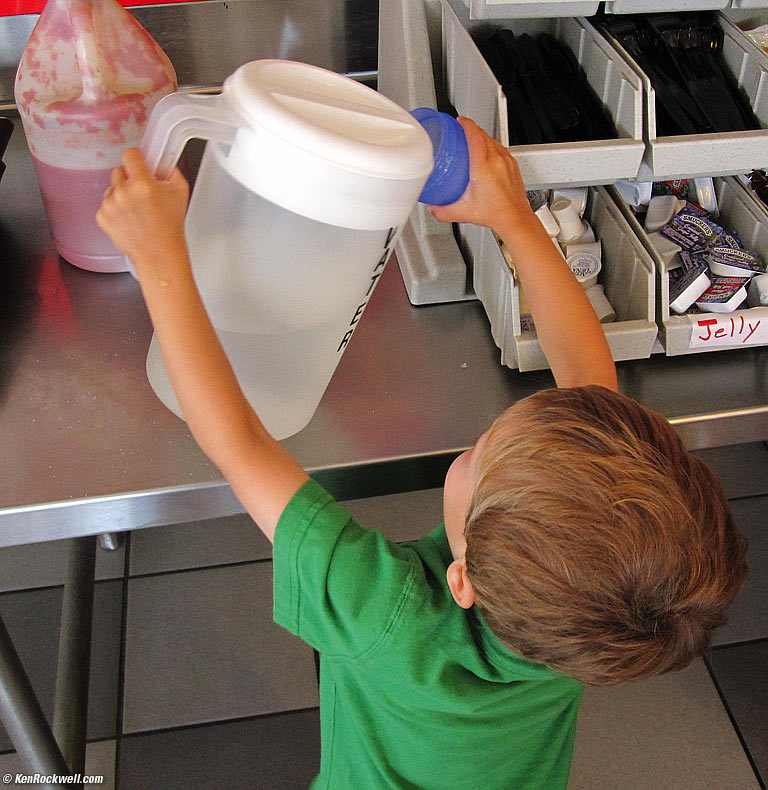 Ryan filling his baba with water.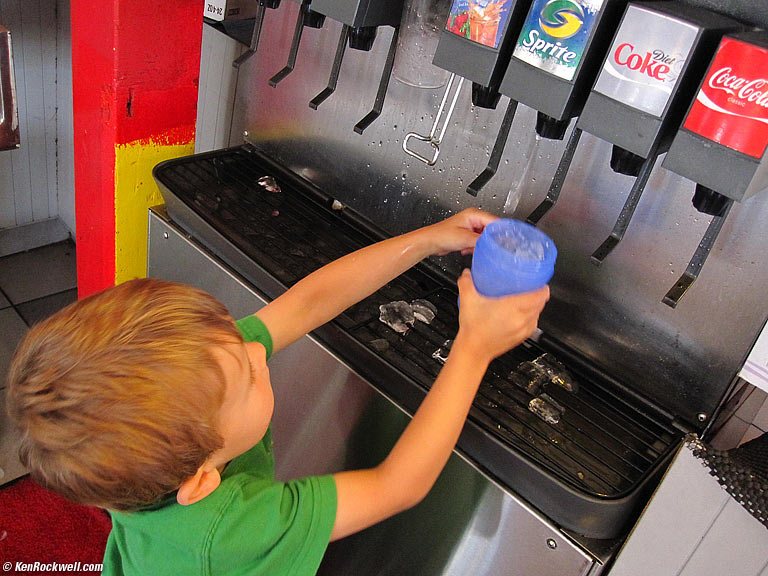 Ryan changing his mind and putting sprite in his baba instead. Ryan actually filled and emptied his baba about twelve times. When Daddy finally got him to stop, he settled on regular Coke, which probably rotted out his baby teeth. (five shots: Canon SD780 IS. Cute outfit: 1/30 at f/5 at 14.8mm at ISO 400. Last four shots are at 5.9mm (wide) at 1/30 at f/3.2 at ISO 400, except water, which was at 1/40 at f/3.2 at ISO 320. All shots made in AUTO ISO, fixed daylight WB, -2/3 exposure compensation and VIVID mode.)
07 July 2009, Tuesday
Lunch at Benihana's: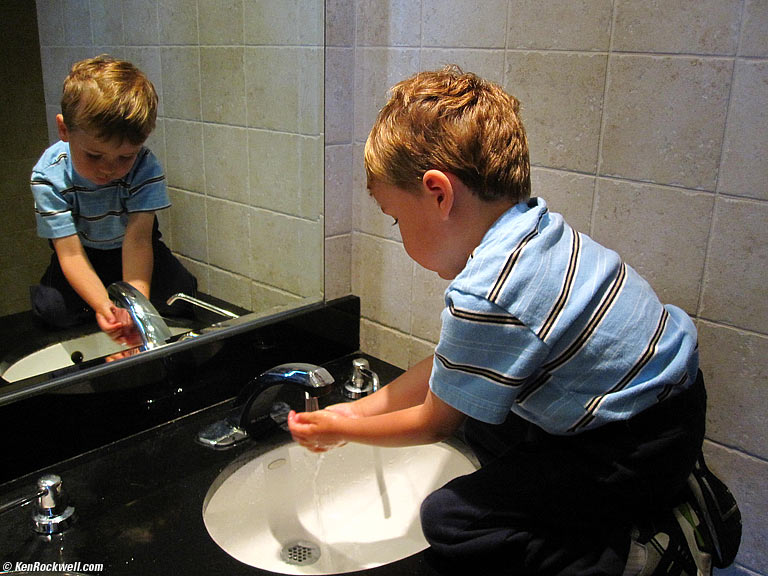 Ryan gets his hands wet,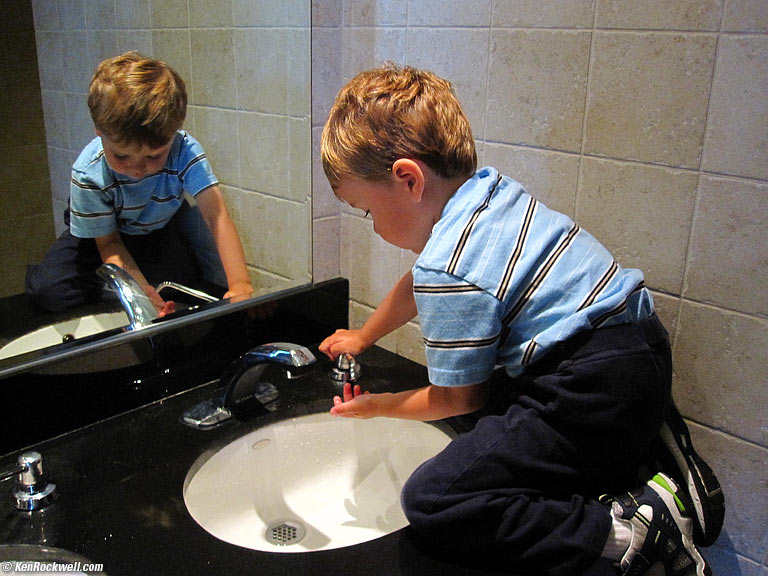 Ryan puts on the soap,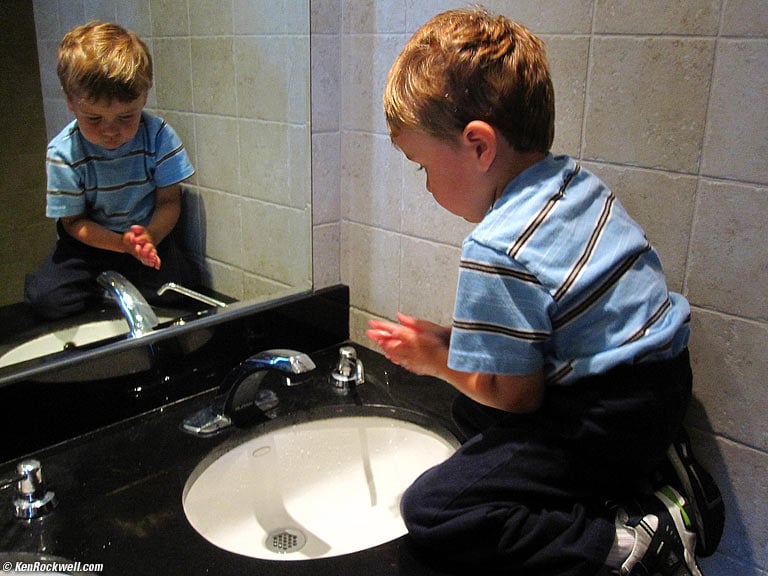 And washes his hands! He does this everywhere — any excuse to play in the water. (three shots: Canon SD780 IS.)
04 July 2009, Saturday
For the first time today, Ryan pulled the safety cover out of the wall socket and plugged in the vacuum. He vacuums, then when done, unplugs the vacuum and replaces the safety cover.
Ryan says "ball."
More Baby Ryan Rockwell Photos
June 2009 Loads of really cute water pictures!
May 2009 Loads of cute pictures!
January, February and March 2009
September, October, November and December 2008