Summer 2007 Camera Recommendations
© 2007 KenRockwell.com

I get my goodies at Ritz, Amazon, and Adorama. It helps me keep adding to this site when you get yours from those links, too.
August 2007
This page is historic. See Current Camera Recomendations.
INTRODUCTION
Everyone asks me what camera to buy. It's easy, so I'll give you my suggestions as of August 2007.
Of course my site is loaded with individual reviews of cameras and lenses, and I also have a detailed Nikon Lens Selection Guide.
The links go to my detailed reviews for each item. See also my Holiday 2006 Camera Guide for more details and examples for basic cameras for non-photographers.
SLRs
If you're serious enough to be researching it here, you probably want an SLR camera. Not that you necessarily need an SLR's interchangeable lenses, but the reason an SLR camera is superior to a compact (fixed-lens) camera is because it works instantly and gives images devoid of noise (grain) in normal use. An SLR can track moving subjects like kids, while compacts can't.
Normal SLRs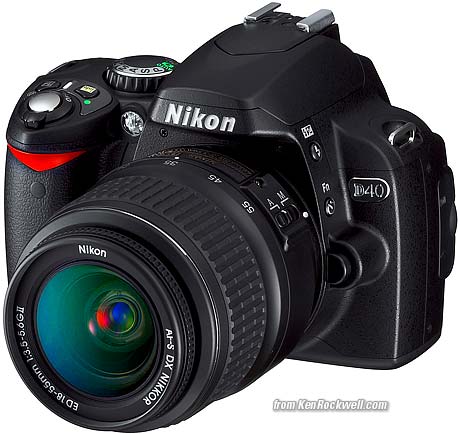 As of August 2007, my favorite camera is luckily the least expensive Nikon D40.
The D40 is super lightweight, works great and lets me make spectacular images. The battery lasts forever and it's fast and easy to use and carry. Just get one, and use the great 18-55mm lens that comes with it. I make great 12x18" (30 x 50 cm) prints from it all day long.
The D40 is very inexpensive, about $530 complete with an excellent lens and built-in flash. Back in 2002 it cost me $5,300 to get a camera with similar performance, and my D40 has a far a superior battery and LCD screen to the $5,300 camera!
I prefer my D40 to my D80 and even prefer my D40 to the newer and more expensive Nikon D40X. Resolution has nothing to do with picture quality.
The D40X exists to let Nikon fill in every price point. I prefer my D40 for its faster default ISO and faster sync speed, and it costs $200 less then the D40X.
Advanced SLRs
If I'm shooting seriously all day, I lug my Nikon D200 or Canon 5D.
I prefer my D200 for action and news, and prefer my Canon 5D for ultra-ultra wide angle lenses, landscapes and crapscapes.
My D200 is faster because it operates much faster and more intuitively with features like Auto ISO, and I have a Nikon 18-200mm VR lens which lets me shoot everything with one lens. I can turn and fire, and my D200 always gets the shot without having to twiddle settings.
If my subject sits still, my 5D has better static image quality. If I have the time to twiddle the settings., like ISO, manually or use a tripod, my 5D wins. Canon has nothing similar to Nikon's 18-200mm VR, so I need to bring at least two lenses everywhere. If I have the patience to deal with it, the image quality for large prints is far superior from my 5D, although the results are identical at normal sizes.
Because my 5D is full-frame I can get crazy ultra-ultra-wide results with my Canon 14mm lens, which no one can do at any price on Nikon's smaller sensors.
See also Nikon vs. Canon. I own and use both daily. Which is best depends on what you intend to do with the camera.
Midrange SLRs
I don't use my Nikon D80 or D70 anymore. I grab my D40 when I want lightweight and fun, and lug my D200 or 5D if I'm shooting seriously all day.
My D80, which I got before the D40 came out, falls in the crevasse between my D40 and D200. My D80 is less fun than my D40, and my D80 isn't as competent as my D200.
I prefer my D40 over my Canon Rebel XTi. It's all about ease of use, a better LCD and faster sync speed.
Sports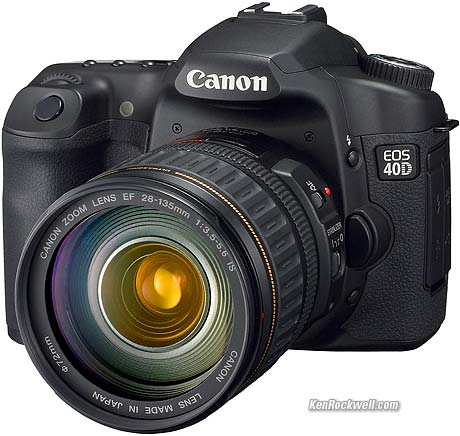 Canon 40D: 6.5 frames per second for $1,299 (needs lens).
I don't shoot sports, but many of you folks do, especially of your kids.
If I shot sports, the Canon 40D (or Canon Rebel XTi) would be my hot pick.
The 40D runs twice as fast, but costs more than, the XTi. If the XTi is what you can afford, just get it. If you have five grand, the Canon 1D Mk III is the favorite of the pros.
Canon's autofocus system and lenses are fantastic for moving objects, like kids on a field. For kid's sports shots, I'd get any of the Canon 75-300mm telephotos. Personally I'm addicted to Image Stabilization for shots of still subjects, but it's not needed for sports if you're on a budget.
See also more Canon Lens Reviews.
Flash
All the good Nikons have an excellent flash built-in. You don't need to buy another flash, but ought to for indoor people photos.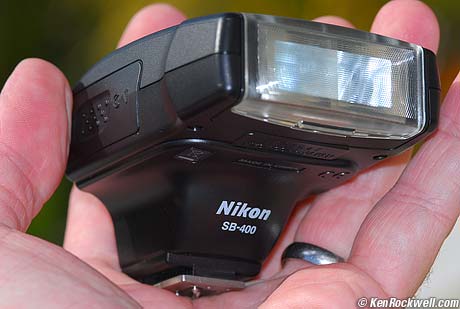 I love my tiny Nikon SB-400 flash because I point it up to bounce off my ceiling to give a natural, soft look to my photos. When you bounce the light off the ceiling it doesn't look like it was made with a flash.
Light is the most important technical part of a photo, not the number of megapixels. I'd suggest everyone get an SB-400. An SB-400 costs less than the difference between any of the Nikon SLRs. My D40 and my bounced SB-400 can make far better looking images than my D200 and its built-in flash alone.
I no longer use my larger SB-600. My SB-400 is easier to carry and works as well. If I was shooting professional portraits or sports all day of course I'd use the larger SB-600 or SB-800, but for moderate to light use I prefer my SB-400 for its size and ease of use. For instance, my SB-400 has a simple, direct ON-OFF switch but the SB-600 and SB-800 have only a push button which must be held down a moment to turn on or off, so my SB-400 works faster!
LENSES
Nikon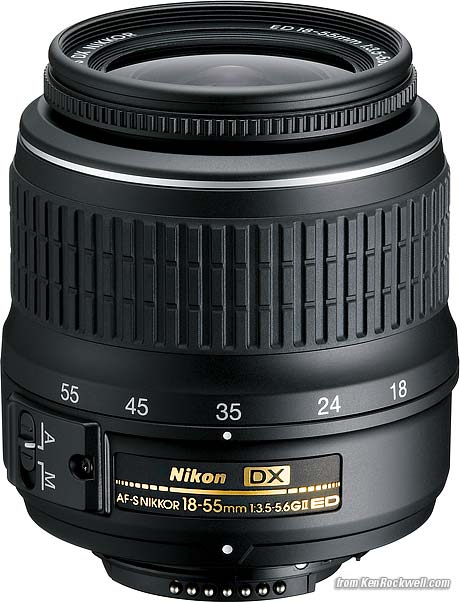 Nikon 18-55mm (shown bigger than life)
I love the tiny, inexpensive 18-55mm lens that came with my D40. It's the only lens you may ever need. If you don't know why you need something else, then this is all you need. Get out and make some great images! I will explain why I use these other lenses, which may or may not apply to you.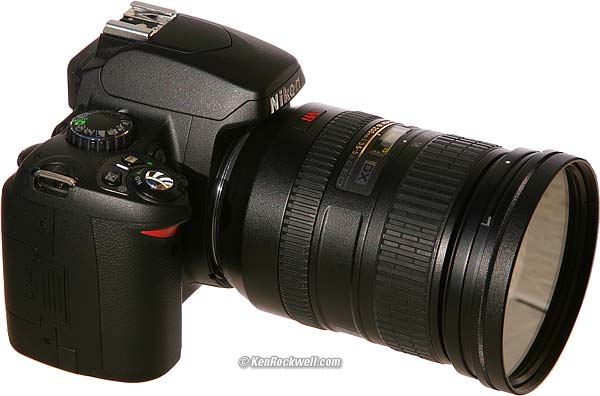 My Nikon 18-200mm VR (with step ring and 77mm UV filter) on my D40
I love my heavier Nikon 18-200mm VR because I'm addicted to image stabilization for hand-held shots in dim light, and its longer zoom range.
Since I own both, I grab whichever I think I might need that day. I prefer the portability and close-focus ability of my 18-55mm, and the VR (stabilization) and longer range of my 18-200mm.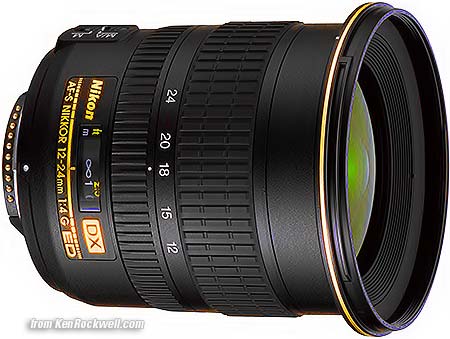 I'm a sucker for ultra wide angles, so I usually stuff my Nikon 12-24mm lens in my pocket. My 18-200mm VR and 12-24mm are all I ever need. Most people don't use ultra wides, but I do.
If you shoot sports seriously, I'd suggest the Nikon 70-300mm VR for daylight use. I'd suggest the professional Nikon 70-200mm f/2.8 VR instead if you also need to shoot indoors, as well as for concerts and plays. The expensive, professional 70-200mm f/2.8 works flawlessly, even with the inexpensive D40.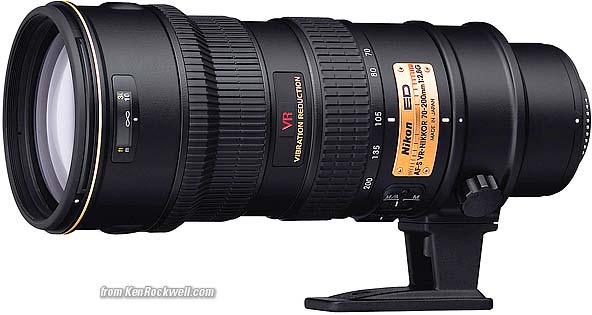 See also my huge Nikon Lens Selection Guide.
Canon
For my Canon 5D full-frame, I prefer my Canon 17-40mm f/4L ultra-wide zoom. I also love my Canon 15mm fisheye (review coming) and Canon 14mm f/2.8L (review also coming). I don't have a tele for my 5D; I shoot tele with my Nikons. If I bought a tele for my 5D, I'd probably get a Canon 70-300mm IS.
If I wanted a midrange zoom for a full-frame camera I'd get the Canon 24-105mm IS. It's sharp and IS and AF work great, but the zoom is stiff and difficult to adjust precisely at the wide end. The 24-105mm IS has a huge amount of distortion at 24mm full-frame, but it corrects perfectly with DxO software.
The inexpensive Canon 18-55mm is also excellent for the Rebels and 20D and 30D. I'd get the excellent Canon 10-22mm for ultra-wide shots with these 1.6x cameras, and the Canon 70-300mm IS for a tele.
See also my Canon Lens Guide.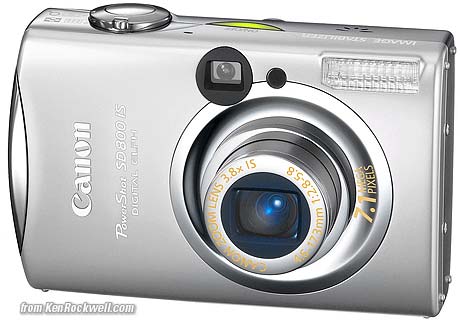 If you prefer a more compact pocket camera, I love my Canon SD700 I bought last year. It's been replaced by the Canon SD850, which is the same but better.
Very similar is the Canon SD800, which is very similar and has a slightly wider lens.
I prefer the my SD700/SD850 because it feels better-built and has a slightly longer lens. I've made over 15,000 shots on my SD700! Get whichever you prefer based on your preference of slightly wider angles (SD800) or slightly longer telephoto (SD850).
Canon makes a zillion compact cameras. They are all great. I prefer these particular models because I'm a slave to image stabilization and demand a camera small enough and tough enough to drop in my pocket unprotected.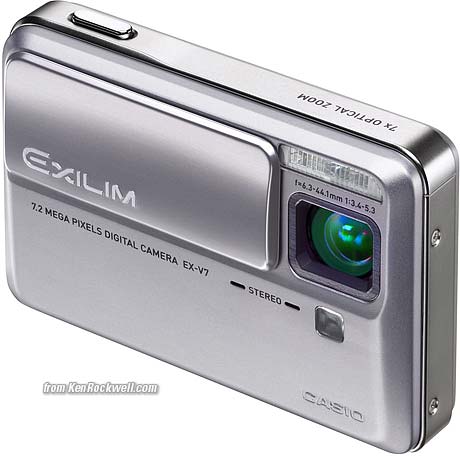 The Casio EX-V7 is also worth a look. I already owned the SD700 when Casio announced the EX-V7.
USED CAMERAS
I bought almost all of my film cameras and lenses used. My best film camera, my Linhof Technika 4x5," was built in 1956 and I still use it today. My Nikon F100 is still my favorite 35mm camera, and I bought it in 1999.
Digital is still in its infancy. What was hot last year sucks today. Everything is getting worlds better every year. Some people aren't happy that a camera for which they paid $5,000 a few years ago (a Nikon D1X for instance) is only worth $800 today and is outperformed by a $500 Nikon D40, but I think it's great. It's great because today I can get far better cameras for far less than they used to cost, so I love that what I bought a few years ago is worthless today. It's worthless today because there is much better stuff out there.
Because digital is getting so much better so fast, even a cheapskate like me always buys new. A used digital camera a year old, unless it's still the current model, doesn't work anywhere near as well as current models.
These improvements aren't as obvious as pixel specs or speeds. The improvements are serious and important, but rarely specified. Highlight rendition on my $4,000 Nikon D1H was awful. My D40 is much better. That's not specified anywhere. My D40 has far better menus and far more useful firmware features like Auto ISO and far better auto WB and auto contrast control performance than my $4,000 D1H, and those performances again aren't specified. Battery life is specified, and my D40 runs about ten times as long on a charge as a D1X on a battery that weighs one tenth as much and lasts for far more charge cycles.
Just Want Great Photos Cheap?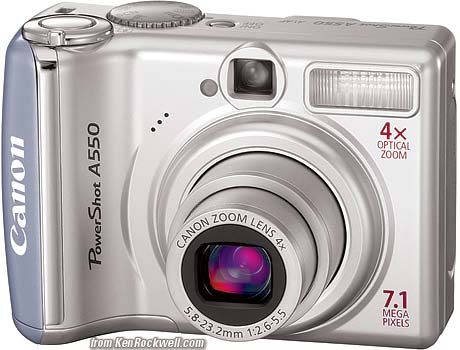 Canon A550, excellent and only about $135.
The Canon A550 is the best buy in photography for 2007. It sells for about $135!
I prefer my twice as expensive SD700 above because it has image stabilization, a bigger screen, pocketable size and a built-in rechargeable battery that lasts forever (the A550 runs on your own AA batteries). Picture quality is about the same.
I explain (and show) how a $150 camera really does make the same quality photos as a $5,000 camera on my $150 vs. $5,000 Camera page. I use fancy cameras because they let me work in a broader range of conditions and are easier and faster to use, not because the results are much different.
PLUG
If this just saved you $500 or if you find this as helpful as a book you might have had to buy or a workshop you may have had to take, feel free to help me write more.
Thanks for reading!
Ken
Caveat: The ads below come from a third party and I don't see or approve them. They are sent to your screen directly from a third party. They don't come from me or my site. See more at my Buying Advice page. Personally I get my goodies at Ritz, Amazon and Adorama.