Home Donate New Search Gallery Reviews How-To Books Links Workshops About Contact
Nikon 300mm f/4 AF-S
© 2011 KenRockwell.com. All rights reserved.
Intro Specs Performance Recommendations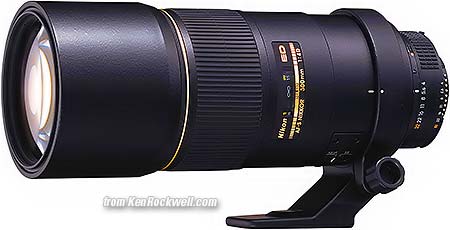 Nikon 300mm f/4 AF-S. enlarge. I'd get it at Adorama, Ritz, Amazon or B&H Photo-Video. It's not always in stock. This free website's biggest source of support is when you use those or these links when you get anything, regardless of the country in which you live. Thank you! Ken
October 2011 More Nikon Reviews Nikon Lenses All Reviews
Introduction top
Intro Specs Performance Recommendations
The Nikon 300mm f/4 AF-S lens was introduced in 2000. I haven't shot with it yet, but I have played with one several times.
It appears to be an improvement in every way over the older 300mm f/4 AF.
It is very solidly built and retails for about $1,200.
It works perfectly on every Nikon DSLR (D40 through D3, etc.), all recent film bodies and every manual focus Nikon, including my F2AS from 1979. (You'll need to have a meter coupling prong added for use with Nikons from 1976 and earlier.)
As with all other AF-S lenses, it won't focus on the oldest film AF bodies. It autofocuses on the F6, F5, F4, F100, N90, N90s, N80, N70 and N65. It won't autofocus with an N55, N60 or 8008. It will work fine manually on those older cameras, but duh, for the older cameras, get a used 300mm f/4 AF instead which focuses perfectly on them.
Specifications top
Intro Specs Performance Recommendations
Name
Nikon calls this the Nikon ED AF-S Nikkor 300mm f/4D IF.
Optics
10 elements in 6 groups.
Diaphragm
Nine-bladed diaphragm.
Stops down to f/32.
Focus
It focuses by moving internal elements.
Silent AF-S motor.
Close Focus
5 feet or 1.45 m.
This is one of the main reasons to buy this lens.
Size
3.5" (90mm) around by 8.8" (222mm) long.
Weight
50 oz (1,440g).
Take off the flimsy tripod adapter and the weight goes down to 46 oz. (1,300g).
Filters
Standard 77mm filters.
Nikon Product Number
1909.
Nikon 300mm f/4 AF-S with built-in hood extended.
Performance top
Intro Specs Performance Recommendations
I have only played with this lens once, so make sure to try it yourself before putting too much stock in my comments.
It seems to have no distortion.
It seemed to be free from ghosts.
AF is very fast, as you'd expect.
I'm suspicious of the 77mm filter size, reduced from the earlier 300mm f/4 AF's 82mm.
To get f/4 at 300mm one needs a clear aperture of 75mm, and then a larger filter size to prevent mechanical vignetting at the sides of the image at full aperture. With only a 77mm filter size I fear that either 1.) they cheated and it's not really 300mm, or 2.) there may be nasty falloff at f/4, or 3.) they cheated and it's really only f/4.5.
Unlike all other AF-S telephotos there are NO AF lock buttons on the lens. Once you have them you'll miss them.
Recommendations top
Intro Specs Performance Recommendations
Try this yourself, since my experience with this lens is limited.
When I say "try" of course I mean go photograph with it. Even a poor lens still looks plenty sharp through the viewfinder in a camera store. I shoot film and only pay attention to what I see on that film.
Watch out for the flimsy tripod mount, but even with a good mount any camera without a mirror lockup, which is all current Nikon AF cameras except the F5, will give garbagy results at shutter speeds of around 1/30 to 1/4 second.
If you have an 80-200/2.8 AF-S you can "build" the equivalent of this lens simply by adding a TC-14E to your bag. I tried it and it wasn't too impressive. Obviously the TC is a lot smaller and less expensive than the 300/4 AF-S.
Help me help you top
I support my growing family through this website, as crazy as it might seem.
The biggest help is when you use any of these links to Adorama, Amazon, eBay, Ritz, Calumet, J&R and ScanCafe when you get anything, regardless of the country in which you live. It costs you nothing, and is this site's, and thus my family's, biggest source of support. These places have the best prices and service, which is why I've used them since before this website existed. I recommend them all personally.
If you find this page as helpful as a book you might have had to buy or a workshop you may have had to take, feel free to help me continue helping everyone.
If you've gotten your gear through one of my links or helped otherwise, you're family. It's great people like you who allow me to keep adding to this site full-time. Thanks!
If you haven't helped yet, please do, and consider helping me with a gift of $5.00.
As this page is copyrighted and formally registered, it is unlawful to make copies, especially in the form of printouts for personal use. If you wish to make a printout for personal use, you are granted one-time permission only if you PayPal me $5.00 per printout or part thereof. Thank you!
Thanks for reading!
Mr. & Mrs. Ken Rockwell, Ryan and Katie.
Home Donate New Search Gallery Reviews How-To Books Links Workshops About Contact