Home Donate New Search Gallery Reviews How-To Books Links Workshops About Contact
Nikon 35mm f/1.8 FX
AF-S G NIKKOR (2014-)
© 2014 KenRockwell.com. All rights reserved.
Intro Specifications Performance Recommendations More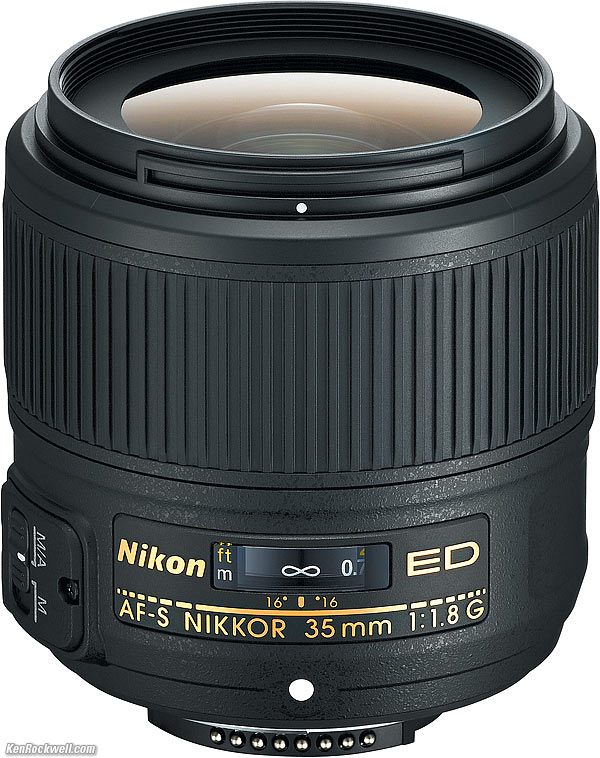 Nikon 35mm f/1.8 G FX AF-S (FX, DX and 35mm coverage, 58mm filters, 10.8 oz./305g, 0.85'/0.25m close focus, about $600). enlarge. This free website's biggest source of support is when you use these links, especially this link directly to this lens at Adorama when you get anything, regardless of the country in which you live. Thank you! Ken.
April 2014 Nikon Reviews Nikon Lens Reviews All Reviews
Why Fixed Lenses Take Better Pictures
Ideal for: Perfect for use on FX digital and 35mm autofocus cameras.
Not for: I wouldn't bother with this FX lens on a DX camera. I use the 35mm f/1.8 DX lens instead for a fraction of the price. Likewise, this G lens won't work on older 35mm AF or manual-focus cameras; use the 35mm f/2 AF or 35mm f/2 AI-s instead.
See also Nikon 35mm f/1.8 DX (for DX digital cameras) and Nikon 3.5cm f/1.8 (the world's first 35mm f/1.8 lens; for Nikon's 35mm rangefinder cameras).
Introduction top
Intro Specifications Performance Recommendations More
This Nikon 35mm f/1.8G lens is a compact, very lightweight, fast normal to wide-angle lens for full-frame (FX and 35mm) cameras. It has great optics and ergonomics in a light-duty housing.
It's all plastic and made in China, with a metal mount. The first thing that hits you about it is how light it is, and that's always how it feels: small and light.
It works great on DX cameras, but you're paying a lot more than you need to, since for DX, the 35mm f/1.8 DX does exactly the same thing for a third of the price.
The reasons to get this 35mm lens are if you are traveling light, and prefer a small, fast, fixed wide lens to a zoom.
Optically, this 35mm f/1.8 is excellent, but not that much better than any of Nikon's other 35mm lenses or zooms. The reason for this 35mm is speed for shooting action in low-light (or for shooting slow 35mm film), or if you need instant manual-focus override simply by grabbing its big focus ring. Otherwise, no big deal.
As an FX lens, this review is written for use on FX. On DX, no big deal; just know that when I mention the "corners," I'm talking about a part of this lens' image that isn't seen on DX. More at Crop Factor.
Everything works perfectly on every digital Nikon ever made, both FX and DX, from the best D4, D800 and D800E to Nikon's cheapest digitals like the D40, D40x, D60, D3000, D3100, D5000 and D5100.
It's also perfect on decent or recent AF film cameras like the F6, F100, F5, N80 and N75.
The incompatibilities for older or cheaper 35mm cameras are that:
1.) It won't autofocus with the cheapest new AF 35mm cameras like the N55, but if you focus manually, everything else works great. Even if you lose autofocus, these cameras have in-finder focus confirmation dots to help you.
2.) Late 1980s ~ early 1990s AF cameras like the N90s, N70 and F4 will focus just fine, but you'll lose VR. You'll have Program and Shutter-priority modes, but lose Manual and Aperture-priority since you have no way to set the aperture on the camera or on the lens.
3.) You're really pushing it with the oldest AF cameras like the N2020, N6006 and N8008. You'll have no AF, confused exposure modes, and no VR. Manual focus is fine, along with electronic focus indications.
4.) Since it has no aperture ring, it's just about useless with manual focus film cameras. It will shoot every shot at its minimum aperture.
See Nikon Lens Compatibility for details with your camera. Read down the "AF-S, AF-I," "G" and "VR" columns for this lens. You'll get the least of all the features displayed in all columns, since "G" (gelding) is a deliberate handicap which removes features.
Specifications top
Intro Specifications Performance Recommendations More
Name top
Nikon calls this the Nikon AF-S NIKKOR 35mm f/1.8G.
NIKKOR: Nikon's brand name for all their lenses.
AF-S and SWM: Silent Wave Autofocus Motor.
G: Gelded for cost-reduction and removing compatibility with older cameras.
RF: Rear focusing; nothing moves externally as focused except the rear element.
Aspherical: Specially curved glass to give even sharper pictures.
∅58: 58mm filter thread.
↓10↑: 10-year life expectancy before its lead-free (RoHS) solder grows tin "whiskers" that ensure its circuitry becomes unrepairable. In other words, a 10-year expected life before being thrown away.
MADE IN CHINA: Offshored to be made as cheaply as possible.
Also includes:
D: Couples distance information to the Matrix Meter. All Gelded lenses are also D.
Optics top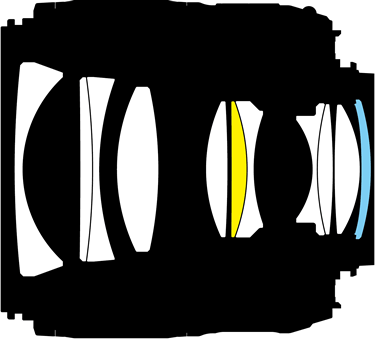 Nikon 35mm f/1.8 FX diagram. ED and Aspherical elements.
11 elements in 9 groups.
One ED element and one aspheric element.
Rear focus.
It's multicoated ("Super Integrated Coating."
Diaphragm top
7 rounded blades.
Stops down to f/16.
Relatively round to f/4, and relatively heptagonal from f/4.
Coverage top
Focal Length top
35mm.
When used on a DX camera, it gives angles of view similar to what a 50mm lens gives when used on an FX or 35mm camera.
Angle of View top
63° on FX digital and 35mm.
52º on Pronea APS.
44° on small-format DX.
Close Focus top
1 foot (0.3 meters) from the image plane.
Maximum Reproduction Ratio top
1:4.2 (0.24x).
Hard Infinity Focus Stop? top
No.
You have to let the AF system focus at infinity.
Focus Scale top
Yes.
Depth-of-Field Scale top
No, unless you consider the two useless tits for f/16 as a depth-of-field scale. I don't.
Infra-Red Focus Index top
No.
Aperture Ring top
No.
Filter Thread top
58 mm, plastic.
Does not move.
Size top
Nikon specifies 2.8" (72.0 mm) diameter by 2.8" (71.5 mm) extension from flange.
Weight top
Nikon specifies 10.8 oz. (305 g).
Hood top
Plastic bayonet HB-70 hood, included.
Caps top
Excellent LC-58 front cap and new-style dust-covering LF-4 rear cap.
Case top
Pouch CL-0915 included, but a used sock works better.
Included top
Lens.
LC-58 front cap.
LF-4 rear cap.
HB-70 plastic bayonet hood.
CL-0915 sack.
Instructions and warranty.
Quality top
Lens: Made in People's Republic of China.
LR-4 rear cap: Made in Thailand.
LC-58 front cap: Made in Thailand.
Warranty top
5 years, USA.
Packaging top
Gold-colored micro-corrugated box with translucent plastic lens holder.
Announced top
07 January 2014.
Promised for top
February 2014.
Price, USA top
$600 at introduction in January 2014.
Performance top
Intro Specifications Performance Recommendations More
Overall Autofocus Bokeh Color Coma Distortion
Ergonomics Falloff Filters Focus Breathing Ghosts
Hood Lateral Color Fringes Macro Mechanics
Sharpness Spherochromatism Sunstars Survivability
Overall performance top
The Nikon 35mm f/1.8 G is a fast, sharp, light, fast-focusing wide-angle lens.
It lets in more light than any f/2.8 zoom for shorter shutter speeds or lower ISOs for sharper, cleaer pictures than with any zoom.
Autofocus performance top
Overall
AF is fast and accurate.
AF Speed
AF speed is as we'd expect: fast, but not instantaneous.
As with all AF lenses, it won't focus in dimmer light or any faster than slower (f/2.8 or f/4) AF lenses; Nikon's AF system doesn't care about lens speed.
AF Accuracy
AF is always dead-on.
Manual Focus
Manual focus is a dream.
The manual-focus ring is most of the lens barrel!
M/A - M Switch
Nikon goofed. This switch is supposed to be labeled "A - M."
The "M/A" position means autofocus. It's called "M/A" because you also can focus manually simply by grabbing the focus ring in this position.
The "M/A" position means autofocus. It's called "M/A" because back in the old days, when Nikon had almost caught up to Canon who had been doing this for ten years before, Nikon was trying to show off that you could focus manually while in the AF position.
Paint over the extra M if you're easily confused.
Bokeh performance top
Bokeh, the character of out of focus backgrounds, not simply how far out of focus they are, is beautiful. Out-of-focus backgrounds never distract.
Color Rendition performance top
The color rendition is the same as my other Nikkor AF lenses.
Coma performance top
Coma (saggital coma flare) often causes weird smeared blobs to appear around bright points of light in the corners of fast or wide lenses at large apertures. In lenses that have it, coma goes away as stopped down.
I can't see any coma in this aspherical lens.
Distortion performance top
The Nikon 35mm f/1.8 G has some barrel distortion, about the same as Nikon's 35mm f/2 manual-focus lens. The 35mm f/2.8 AI has less distortion, and Nikon's zooms have a lot more.
This 35/1.8's distortion can be corrected by plugging a figure of +1.5 into Photoshop's lens distortion filter for shots at 3 meters (10 feet).
Used on recent digital cameras like the D90, D3100, D3200, D3300, D5000, D5100, D5200, D5300, D7000, D7100, D4, D600, D610, D800 and D800E, the distortion can be set to correct automatically in-camera! Be sure the latest firmware is loaded in your camera for it to recognize this new lens.
Ergonomics (handling and ease-of-use) performance top
Ergonomics are PERFECT!
This lens is perfectly sized to fit the hand. The only thing to grab is the huge focus ring, which may be grabbed at any time for instant manual-focus override.
If you want to force the lens into manual-focus only, the M/A - M slide switch is positioned perfectly under your thumb.
Falloff (darkened corners) performance top
Falloff on FX and 35mm is visible at f/1.8 and f/2, and gone by f/2.8. With cameras that offer vignette correction, falloff is only minor even at f/1.8.
Filters, use with performance top
58mm is a generous filter size.
There is no problem with vignetting, even with two stacked thick filters.
With a rotating Tiffen ND grad and Hoya HRT circular polarizer (total ring thickness excluding rear threads: 13.6mm), there was only the slightest vignetting at infinity, and none at close distances.
Don't waste your money on "thin" filters.
The filter ring never moves.
Focus Breathing performance top
Of interest mostly to cinematographers focusing back and forth between two subjects, the image from the Nikon 35mm f/1.8 AF-S gets larger as focused more closely.
Ghosts performance top
There are no ghosts or flare under any reasonable condition.
If you go out of your way to put the brilliant summer sun in your image and put a dark shadow on the other side to look for ghosts, you might almost see a green blob.
It doesn't vary with or without a multicoated filter on the front of the lens; which is excellent performance.
Hood performance top
The dinky plastic hood is included.
I leave mine at home.
Lateral Color Fringes performance top
There are no lateral color fringes on the D800E, which corrects them automatically if there are any.
There is some spherochromatism, which is an entirely different chromatic aberration.
Macro performance top
It doesn't get that close image-wise, but at least it's super-sharp.
Mechanics and Construction performance top
The Nikon 35mm f/1.8 G AF-S is well made in China of all plastic, with a metal mount.
Filter Threads
Plastic.
Hood
Plastic bayonet.
Hood Mount
Plastic.
Barrel Exterior
Plastic.
Focus Ring
Plastic; rubber covered.
Focus Mechanism
Feels like plastic.
Depth-of-Field Scale
None.
Internals
Feels and looks like all plastic.
Aperture Ring
None.
Mount
Dull-chromed metal.
Markings
Paint.
Mounting Index Dot
White plastic ball.
Identity Plate
Debossed metal, 18k gold filled.
Serial Number
Sticker glued into a recess on the bottom of the lens.
US Model Signified by
USA 5-year warranty paperwork in box.
Rain seal at mount
Yes.
Noises When Shaken
Mild clicking.
Sharpness performance top
Warning 1: Image sharpness depends more on you than your lens.
Warning 2: Lens sharpness doesn't mean much to good photographers.
With those caveats, the Nikon 35mm f/1.8 G is super-sharp. Its biggest flaw on the 36 MP FX D800E is somewhat less sharpness in the zonal region (about halfway out to the FX corners) at larger apertures, and spherochromatism if contrasty subjects are not in perfect focus. The corners are sharp, even at f/1.8.
What I report below is visible only only on the test range, with subjects at infinity throughout the entire image. In real photography, the subject is never flat (if it is, it's just copying you could do on a scanner), and for real subjects, this lens is spectacularly sharp, especially at f/1.8.
On the 36 MP FX D800E: (it will seem even sharper on lower resolution cameras)
At f/1.8 and f/2: The 35mm f/1.8 AF-S is reasonably sharp all over, but a little less sharp in the zonal region (about halfway out to the FX corners).
At f/2.8: Most of the zonal region sharpens up.
At f/4: The zonal region is almost completely sharp.
At f/5.6: Sharp all over.
At f/8: Optimum aperture overall.
At f/11: corners and zonal areas are sharpest, while the central area dulls slightly from diffraction.
At f/16: Diffraction limits performance.
At f/22: Diffraction limits performance.
At f/32: Diffraction limits performance.
Here's Nikon's claimed MTF: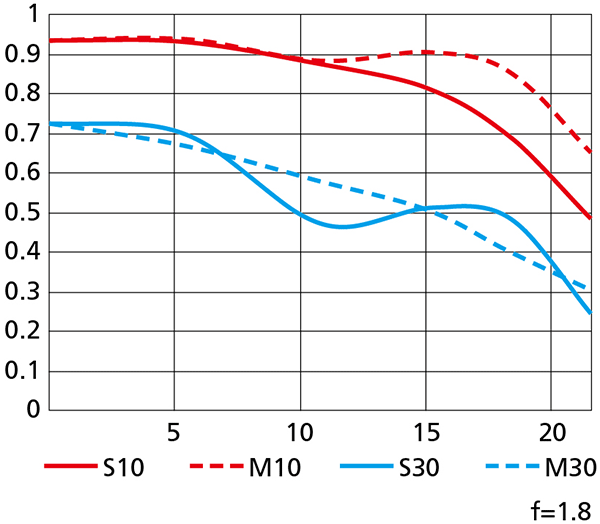 Nikon's specified MTF curve.
Note the slight drop in the zonal area at about 12mm radius.
Spherochromatism performance top
Spherochromatism, sometimes mistakenly called "color bokeh" by laymen, is a minor aberration which can add slight color fringes to out-of focus highlights.
This 35/1.8 has some minor spherochromatism, especially if you're shooting on a camera like the D800, D3300 or D7100 with crazy-high resolution and looking at images at 100%.
In normal use you'll never see anything amiss, but if you're more interested in pixels instead of actual pictures, look closely enough at bright highlights just slightly out of focus, and foreground highlights may have slight magenta fringes, and background highlights may have slight green fringes.
Sunstars performance top
While its diaphragm is relatively round at large apertures, at middle and smaller apertures its 7-bladed diaphragm is relatively straight-sided, so we get reasonable 14-point sunstars on brilliant points of light.
The sunstars aren't as crisp as those from traditional manual focus and early AF lenses, but better than from most of the recent crop of rounded diaphragm blade lenses.
Survivability performance top
The Nikon 35mm f/1.8 G AF-S' all-plastic construction works and feels great today, but don't come whining to me in ten years if Nikon can't fix or supply circuit boards and AF motors when they break.
Likewise, if you drop a heavy camera on the lens or hit the front of the lens, I suspect the front half of the lens will separate from the rear.
I consider this lens disposable, meaning that Nikon warranties it for free for 5 years and ought to have parts for paid repair for at least ten years, but I expect that after a few decades that my manual-focus 35mm lenses will still be working like new in 2030, while this one has been tossed away.
Recommendations top
Intro Specifications Performance Recommendations More
This is a very handy lightweight, disposable lens. It's optically and ergonomically superb, but lightly built, expensive and made in China.
It's very fast (f/1.8), but that's mostly useful shooting in 35mm in dim light. Today's DSLRs work so well at insanely high ISOs that there's no reason to break the bank to get f/1.8 instead of f/2.8.
f/1.8 doesn't offer much narrower depth-of-field than f/2.8. If you want narrow depth-of-field, forget any 28mm or 24mm lens, and just use a longer lens like the 50mm f/1.8G or 50/1/8 D. Focal length has much, much more to do with depth-of-field than aperture. For fantastic ability to throw backgrounds out-of-focus, get the 85mm f/1.8G instead, which costs less.
Ideally if you carry this lens, carry only the lightweight 85mm f/1.8G in your pocket, and these are the only two lenses you'd ever need for anything and everything, especially if you use digital zoom (DX cropping set as a Function Button call-up) on FX cameras as I do. I'm serious; less is more.
Do not carry this lens with you if you're also carrying a zoom which covers 35mm, or anything in the 24-35mm range. You'll be duplicating, meaning you'll be carrying too much. You don't need to cover ever millimeter. See Assembling a System.
These caveats are all I can say bad about this great lens. Get one, and it's the only wide lens you'll ever need for a decade.
Deployment
I'd leave a 58mm Nikon Clear (NC - UV) filter on the lens at all times. I would leave the hood at home.
If I was working in nasty, dirty areas, I'd forget the cap, and use an uncoated 58mm Tiffen UV filter instead. Uncoated filters are much easier to clean, but more prone to ghosting.
For color slides like Velvia 50, I use a 58mm Hoya HMC 81A outdoors.
For B&W film outdoors, I'd use a 58mm Hoya HMC K2 Yellow or 58mm Hoya HMC Orange.
More Information top
Intro Specifications Performance Recommendations More
Help me help you top
I support my growing family through this website, as crazy as it might seem.
The biggest help is when you use any of these links when you get anything, regardless of the country in which you live. It costs you nothing, and is this site's, and thus my family's, biggest source of support. These places have the best prices and service, which is why I've used them since before this website existed. I recommend them all personally.
If you find this page as helpful as a book you might have had to buy or a workshop you may have had to take, feel free to help me continue helping everyone.
If you've gotten your gear through one of my links or helped otherwise, you're family. It's great people like you who allow me to keep adding to this site full-time. Thanks!
If you haven't helped yet, please do, and consider helping me with a gift of $5.00.
As this page is copyrighted and formally registered, it is unlawful to make copies, especially in the form of printouts for personal use. If you wish to make a printout for personal use, you are granted one-time permission only if you PayPal me $5.00 per printout or part thereof. Thank you!
Thanks for reading!
Mr. & Mrs. Ken Rockwell, Ryan and Katie.
Home Donate New Search Gallery Reviews How-To Books Links Workshops About Contact